10 places to get rice dumplings for the Dragon Boat Festival happening Jun 7
This year, unusual ingredients like quinoa, Omnipork and Mao Shan Wang durian make their appearance alongside traditional recipes.
The Dragon Boat Festival or Duanwu Jie has been celebrated for about 2,000 years and commemorates the death of Qu Yuan. By all accounts a patriotic poet, he drowned himself in a river to avoid seeing his beloved China invaded and conquered by the State of Qin. His death on the fifth day of the fifth lunar month has been commemorated by the eating of dumplings ever since… or so the story goes.
In these modern times, Duanwu has spawned a tradition of restaurants creating ever more delicious rice dumplings, filled with all manner of delightful things like meat, dried scallops, red beans and even quinoa and Omnipork. Here's our edit of the rice dumplings you'll want to get your hands on this year.
CHERRY GARDEN
The Five-Grain Fried Rice Dumpling (S$18) takes inspiration from the popular dish of the same name that's been a stalwart on Cherry Garden's menu. Each fragrant parcel harbours a mix of brown, glutinous and black glutinous rice, sorghum and millet. This mix is fried with the likes of chicken, chestnuts, mushrooms and oyster sauce before it's all wrapped in bamboo leaves. The Black Garlic Rice Dumpling (S$18) is always a hit, with sea whelk, preserved vegetables, bamboo charcoal powder, black garlic and succulent kurobuta pork. Available until Jun 7.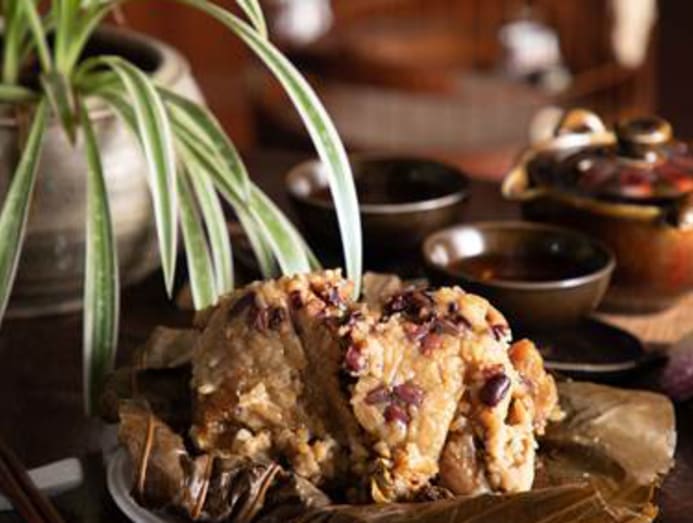 mandarinoriental.com/singapore/marina-bay/fine-dining/restaurants/cantonese-cuisine/cherry-garden
CRYSTAL JADE
Ingredients like sweet chestnuts, mung beans and roast pork belly are given an added jolt of flavour thanks to an umami-packed black bean sauce brought in from Taiwan. This Black Bean Roast Pork Belly Dumpling (S$8.80) is certainly one for those who love robust flavours. A tasty vegetarian option is available in the form of a Mushroom and Chestnut Black Glutinous Rice Dumpling (S$6.80), which sees shiitake mushrooms first sauteed for depth of flavour and mixed in with the gleaming grains of black rice. Available until Jun 7.
estore.crystaljade.com/productlist/category/ricedumplings
DIN TAI FUNG
This Taiwanese chain's rice dumplings are flown in from the motherland and come shaped like rectangular pillows rather than the traditional Singapore-style triangles. This year, the chewy grains of Taiwanese glutinous rice enrobe a filling of mashed red beans (S$5.50) for a sweet option. Traditionalists can still ask for the Rice Dumpling with Flavoured Pork (S$6.50), which features meat marinated in 15 spices and condiments. While the Red Bean Dumplings are only available while stocks last, the Flavoured Pork Dumplings are available all year round.
dintaifung.com.sg/promotions.php
HAI TIAN LO
The traditional Cantonese dish of steamed Pork Belly with Salted Fish informs the dumpling of the same name (S$18.80) at Hai Tien Lo, and what a comfortingly delectable offering it is. Besides the namesake ingredients, these dumplings also come studded with mushrooms and peanuts. Back by popular demand is the Traditional Rice Dumpling (S$33.80), an abundant parcel filled with roasted duck, pork belly, assorted preserved meats, Japanese mushrooms, dried scallops, salted egg yolks, chestnuts, green beans, lotus seeds, and premium glutinous rice. Gather your kith and kin, because this one's made for sharing. Available until Jun 7.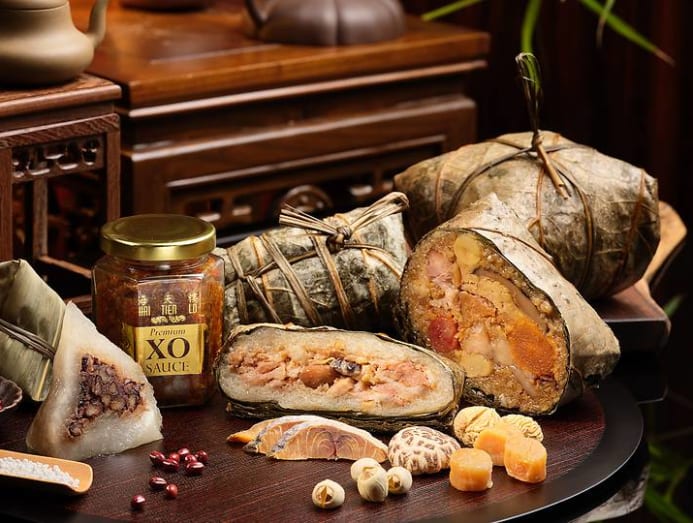 HUA TING
The health-conscious will find succour in Hua Ting's rice dumping with Pork Bone Cartilage and Organic Black Garlic (S$18.80). With less fat than traditional dumplings and plenty of collagen, these dumplings are studded with organic black garlic for added, earthy flavour. For a more decadent option, there is the Mao Shan Wang Durian and Sago Dumpling (S$16.80) that is lush and creamy with the pungent king of fruit and added texture from smooth sago pearls. Available until Jun 7.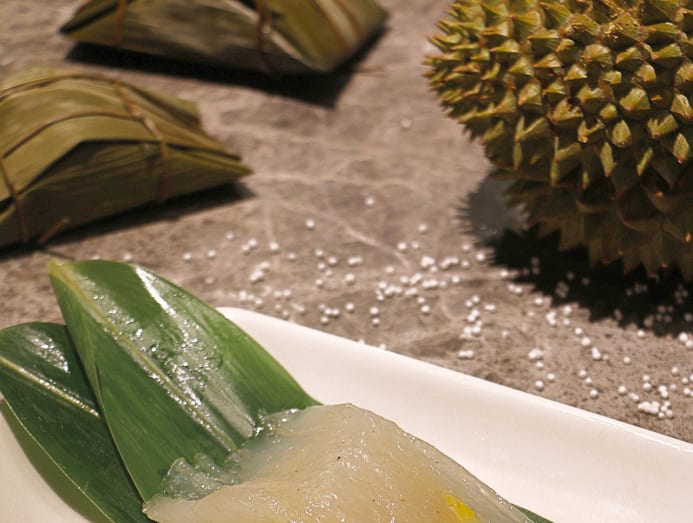 millenniumhotels.com/en/offers/asia/orchard-hotel-singapore/dining/hua-ting-restaurant/exquisite-handcrafted-rice-dumplings
JADE
To imbue his Traditional Pork Belly Dumplings (S$12) with lots of flavour, Jade's executive chef Leong Chee Yeng stir-fries the glutinous rice with five spice and dark soy sauce before packing them into scrumptious parcels with marinated pork belly, salted egg yolks, shiitake mushrooms, black-eyed beans and chestnuts. Vegetarians can now have their rice dumplings and their "meat" too with Jade's Five-Grain and Assorted Mushrooms with Omnipork Glutinous Rice Dumplings (S$10). They feature five-spice-scented glutinous rice mixed with wholesome grains like oats, barley and brown rice. In place of pork in the filling is Omnipork, made from a blend of plant-based proteins, flavoured lightly with ginger. Available until Jun 7.
shop.fullertonhotels.com/en_SG
MAN FU YUAN
Four new dumpling flavours make their debuts this year at Man Fu Yuan. There's a Lao Gan Ma Chilli Sauce Chicken Rice Dumpling (S$13.80), with tender chicken and shrimp blended with the famous Chinese condiment and encased in glutinous rice marbled with the dye of butterfly pea flowers. There's also a Hakka version with preserved vegetables (S$13.80) that features meltingly tender braised pork belly with preserved mustard greens, and a Black Sesame Rice Dumpling (S$8.80) with a lush centre of sweetened sesame paste. Available until Jun 7.
singapore.intercontinental.com/festive/shop
MITZO
This modern Cantonese restaurant has introduced three rice dumplings, leading with the decadent Abalone Rice Dumpling (S$28) that's chock full of premium abalone, dried scallops, duck, kurobuta pork belly, lotus seeds and green beans wrapped in glutinous rice. The Nonya dumpling (S$15) gets a modern update with the use of kurobuta pork belly braised with sliced candied winter melon, while the sweet of tooth might fancy the Sweet Rice Dumpling with Rose Lotus Paste (S$8), comprising a filling of white lotus paste scented with rose tea. Available until Jun 9.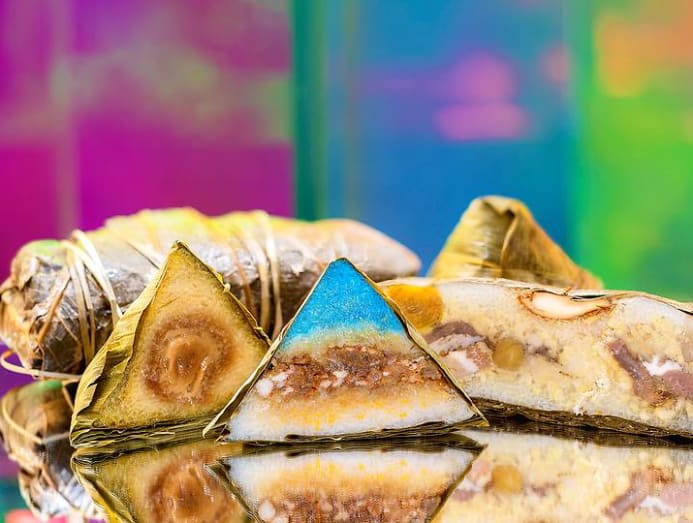 SHANG PALACE
There is nothing traditional about Shang Palace's Eight Treasures Dumpling with Mixed Grains and Organic Quinoa (S$20.80), yet it somehow seems completely apt for the season. Instead of being wrapped in bamboo leaves, the ingredients – cordyceps flowers, red dates, wolfberries, rice and organic quinoa – are packed into a bamboo tube and steamed. Suitable for vegetarians and delicious regardless of your dietary preferences. Available until Jun 7 for takeaway only.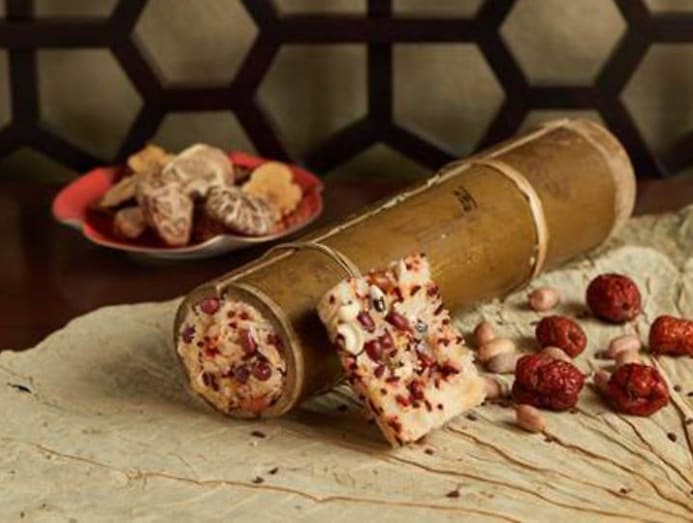 SUMMER PALACE
Perennial favourites return to Summer Palace, with the likes of Steamed Abalone Rice Dumplings (S$38) filled with abalone, black mushrooms, chestnuts, green beans, dried scallops, roasted duck and salted egg yolk. A hale and hearty parcel, this makes a satisfying meal in itself. The Steamed Dried Oyster Rice Dumpling (S$28) is reminiscent of the flavours of the Lunar New Year, with a mix of dried oysters, sea moss and kurobuta pork. Available until Jun 7.