Mid-Autumn revelry: 12 places to load up on mooncakes this year
Make those calories count.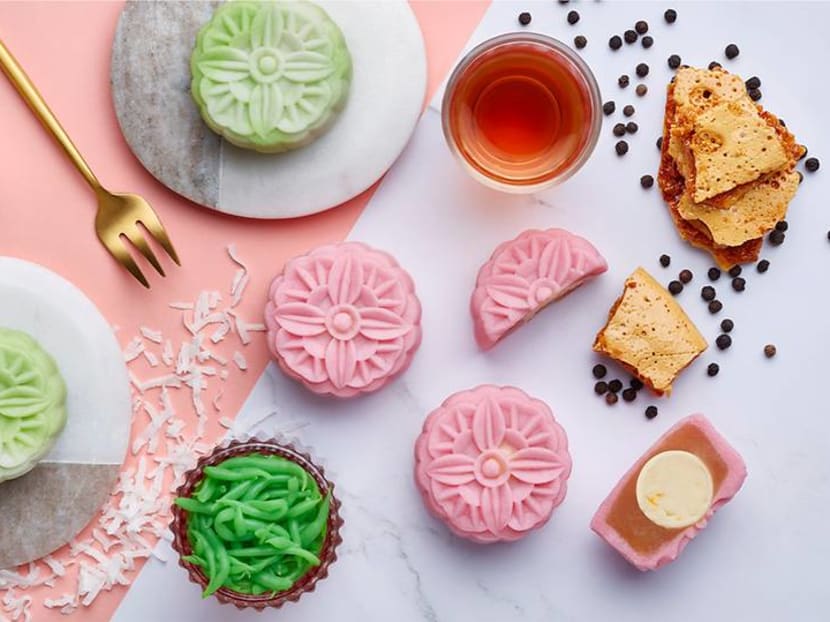 Every year, mooncake offerings get ever more creative, weird and wonderful. But like the charms of an impeccably cut suit, there is something to be said for the allure of classic flavours like white lotus paste with a salted egg yolk or two. This list, then, features familiar favourites, some given gentle twists like a zip of yuzu in the lotus seed paste or a good-quality chocolate truffle snuggled within.
In this age of levitating gold-leaf-encrusted dragon-fruit-and-jam creations, we think the good-old durian mooncake falls under the banner of old-school staple as well. That explains the clutch of durian offerings that have made it to this list, too.
BLUE LOTUS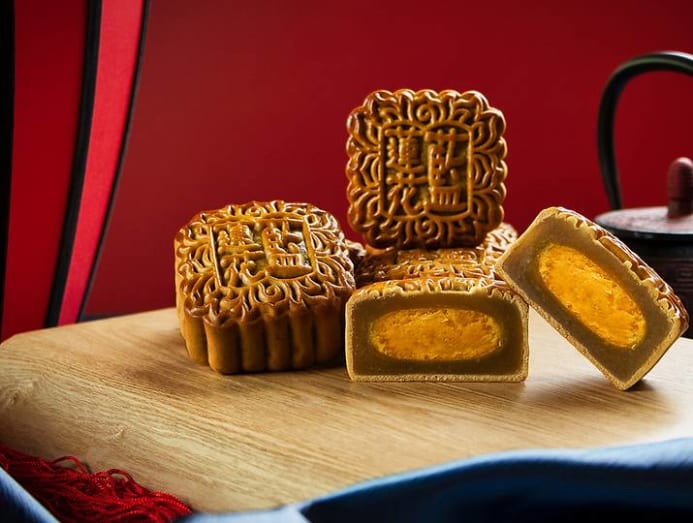 Mooncakes come in pretty tingkat boxes this year at Blue Lotus restaurants. Available in blue and white, and stamped with the restaurants' signature lantern motifs, the boxes hold good-old classic Premium Egg Yolk Blend mooncakes with white lotus paste (S$78 for a box of four), or Mao Shan Wang Durian mooncakes (S$88 for a box of four) featuring supple, chewy snow skins.
bluelotus.com.sg/midautumn-collection
CRYSTAL JADE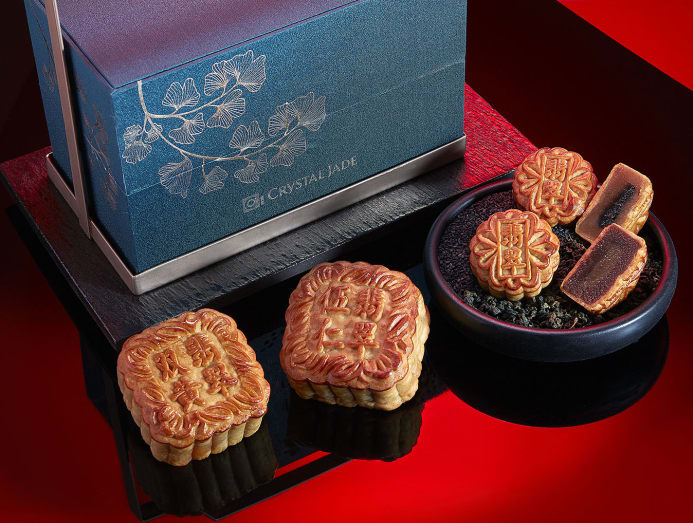 No fancy snowskin mooncakes at this Cantonese stalwart. Crystal Jade is sticking firmly to tradition this year, with well-made renditions of classics like Assorted Nuts and Jinghua Ham (S$62 for a box of four); White Lotus Paste with Melon Seeds (S$58 for a box of four), and White Lotus Paste with Single Yolk (S$62 for a box of four). Its Eight Mini Treasures box (S$68) features four Black Sesame and Lotus mooncakes, and four Oolong Pu'er, which as their name implies, marries the fragrance of the two Chinese teas in a velvety white lotus seed paste.
FAIRMONT SINGAPORE
Traditional baked white lotus paste mooncakes are brightened with citrus notes and speckled with bits of fresh apricot (S$72 for a box of eight), while Fairmont's snowskin collection gets the chocolate truffle treatment. Think Champagne Truffle with Chocolate Ganache (S$76 for a box of eight), Rum and Raisin Chocolate Truffle (S$74 for a box of eight), and French Earl Grey-infused ganache with chia seeds (S$72 for a box of eight).
FENG SHUI INN
The chefs at Resort World Sentosa's flagship Chinese restaurant have come up with what has to be our favourite twist on the traditional mooncake: A Crispy White Lotus Custard Milk Mooncake (S$78 for a box of six). Beneath the crisp, friable strands of pastry is a perfectly balanced lotus seed paste wrapped around an orb of molten salted egg yolk custard. Though they come with heating instructions (10 seconds in a toaster oven), these delicate babies are scrumptiously oozy at room temperature. Just cut into them, stand back for a minute, and watch the silky centres trickle ever so slowly out of their dwellings – slow enough for you to capture it for your Instagram feed.
GOODWOOD PARK HOTEL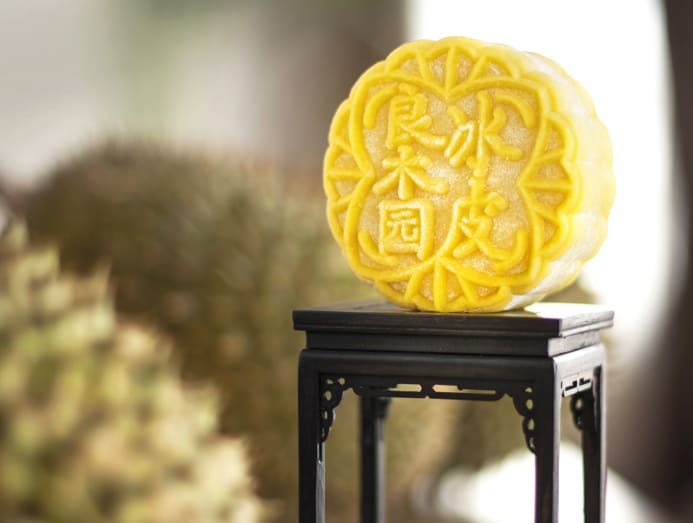 Durian desserts are synonymous with Goodwood Park, so of course there are D24 snowskin mooncakes (S$46 for a pair) to be had, along with the return of popular offerings like the blue pea flower snowskin mooncake with white lotus seed paste (S$43.80 for a pair). This year brings with it a Premium Duo (S$62) of Mao Shan Wang and Black Thorn durian snowskin mooncakes, the latter encased in sleek black snowskin dusted with gold flakes.
festivepromotions.goodwoodparkhotel.com
HANG HEUNG CAKE SHOP
Fans of Hong Kong heritage brand Hang Heung Cake Shop rejoice. As of August 13, mooncakes from this almost-century-old bakery are available at BreadTalk stores. Its lotus seed paste is purportedly made from scratch using top-quality lotus seeds which are skinned and cooked for several hours before pureeing to a fine paste. The range comes in classic flavours like Signature White Lotus Paste with Double Yolk (S$17 each), Red Bean Paste (S$12 each), and Mixed Nuts (S$18).
JW MARRIOTT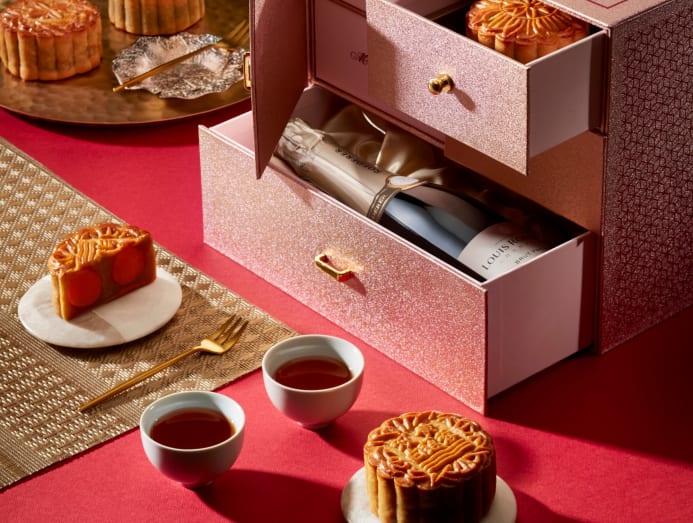 In collaboration with modern Chinese restaurant Madam Fan, JW Marriott has brought back its popular Pu'er Tea mooncakes (S$74 for a box of four), this time studded with chia seeds that are a lovely textural counterpoint to the tea-infused filling. Among its selection of new flavours is a Premium Mixed Nuts mooncake (S$82 for a box of four) with pecans and almonds suspended in a cinnamon-scented lotus paste. To truly celebrate the Mid-Autumn festival, ask for the Madam Fan Mooncake Box (S$188). The rose gold velvet vessel is designed like a jewellery box, with drawers that hold the mooncakes and a 375ml bottle of Louis Roederer champagne.
festive-jwmarriottsingapore.oddle.me/en_SG
MARINA BAY SANDS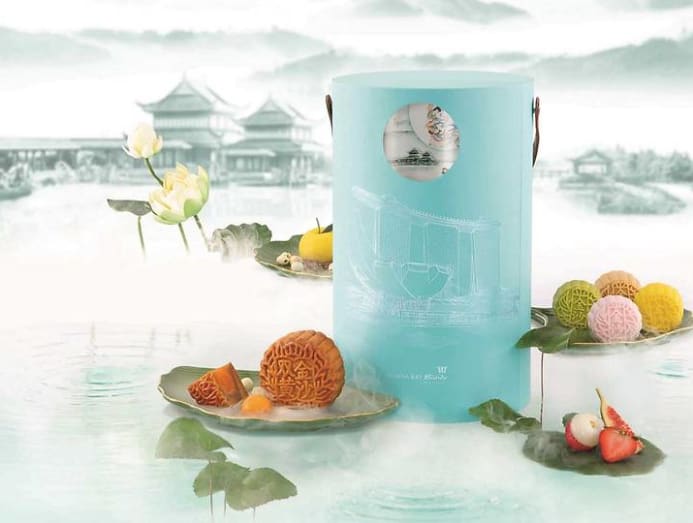 Cradled in a lovely celeste blue box with a tan leather strap, this year's mooncakes from Marina Bay Sands manage to toe the line between traditional and new with impressive balance. In one rendition, baked lotus paste mooncakes are flavoured with brown sugar and toothsome dried Chinese longans to yield a pleasant mellow sweetness; while in another, lotus paste is mixed with the earthy sweetness of red bean paste (S$80 each, for a box of four). The Strawberry Lychee Snow Skin mooncake is filled with a low-sugar green bean paste infused with lychee tea and striated with strawberry compote. There's also a Honey Fig Passion Mooncake comprising green bean paste sweetened with acacia honey and passionfruit, and studded with a fig compote (S$80 for a box of four snowskin mooncakes). They're all just novel enough that grandma would still approve.
marinabaysands.com/deals/mooncakes-presale.html
SHANG PALACE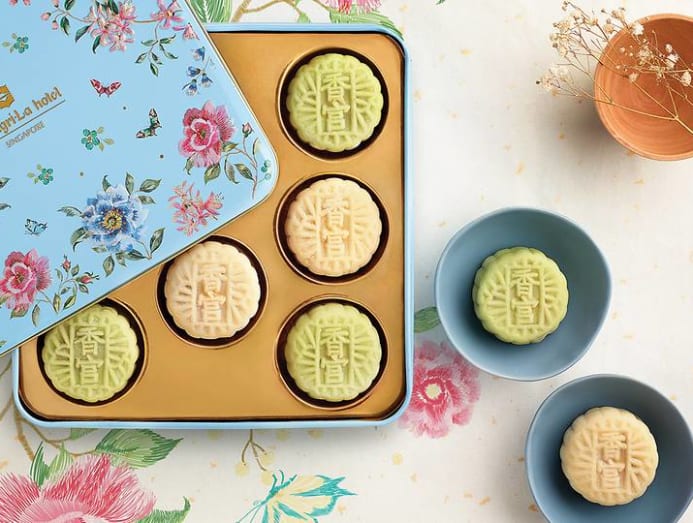 At Shangri-La Hotel's stalwart Chinese restaurant, an otherwise ordinary snowskin mooncake with a reduced-sugar white lotus paste filling is anointed with a silky kaya and white chocolate truffle in its centre (S$80 for a box of four). This year also sees the introduction of a white lotus paste snowskin mooncake spiked with a splash of sake and fresh yuzu juice and zest (S$80 for a box of four). The evergreen Mini Baked Custard with Bird's Nest (S$120 for a box of eight) mooncake is back too, but only available for retail from the hotel itself and at its pop-up booth in Ngee Ann City.
shangri-la.com/singapore/shangrila/offer-detail/dining/mid-autumn-splendour
SHANG SOCIAL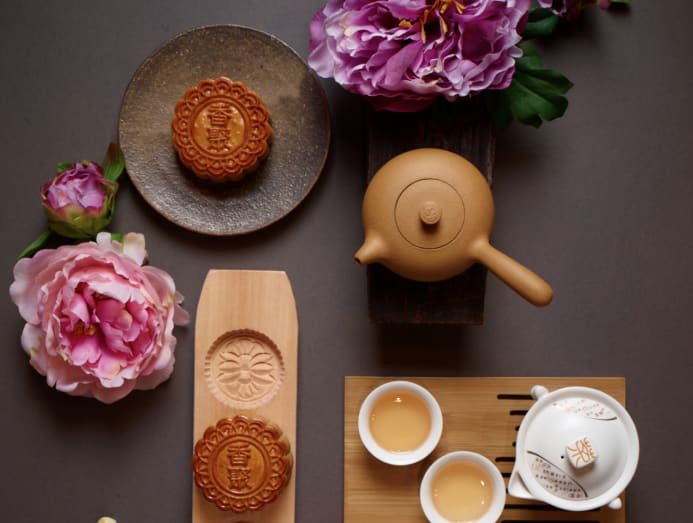 Shang Social's traditional baked mooncakes come in four simple flavours that young and old alike will enjoy. There are white lotus paste mooncakes with a single or double egg yolks, a plain reduced-sugar white lotus paste mooncake, and another with black sesame, taro and cashews. Buy all four and they'll come in a crimson silk vessel fashioned after a Chinese imperial jewellery box, and include a complimentary miniature tin of Glutinous Pu Erh Tea.
To order, call 6346 0260 or email reservations [at] shangsocial.com ()
THE MARMALADE PANTRY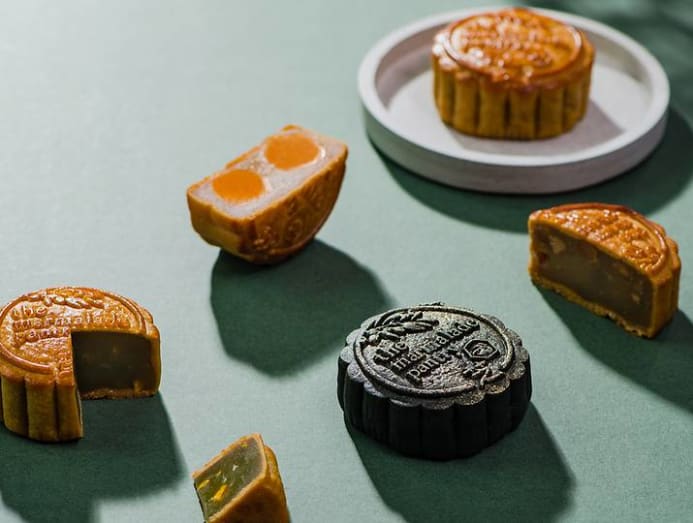 Joining the restaurant's classic offerings is a Jade Paste with Cempedak Mooncake that puts a fragrant twist to the traditional baked mooncake. Also new is the Charcoal Baked Mooncake with Black Sesame and Melon Seeds. The mooncakes come in a classic ruby red bag made from PU leather and lined with red suede. This reusable bag is made from a single piece of material with no stitching involved. So, if you choose to eschew the calories of a mooncake, you can still leave the party with a cute bag. Prices start from S$64 for a bag of four mooncakes.
order.themarmaladepantry.com.sg/en_SG
YAN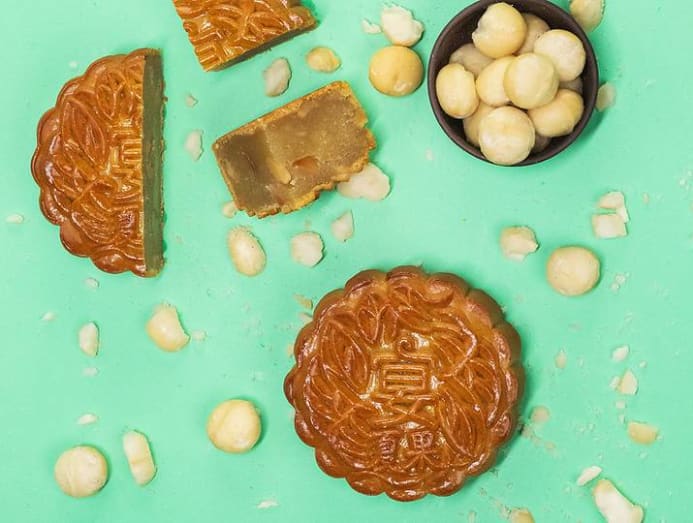 At this modern Cantonese restaurant, paper-thin swirls of pastry twirl themselves around a filling of silky yam paste that can be had plain (S$64 for a box of four) or with a single salted egg yolk squirrelled within (S$68 for a box of four). Making its debut this year are Mao Shan Wang Durian Mooncakes (S$98 for a box of four) encased in a sunny yellow snowskin. Other classic flavours abound, including White Lotus Paste Mooncakes with Macadamia Nuts (S$64 for a box of four).