S$5,500 for a bottle of rare whisky? At The Fullerton, you can try a shot for S$166
At new whisky gastrobar Signature Reserve at The Fullerton Hotel Singapore, you can choose from over 500 labels or let a whisky butler help you decide with an omakase menu.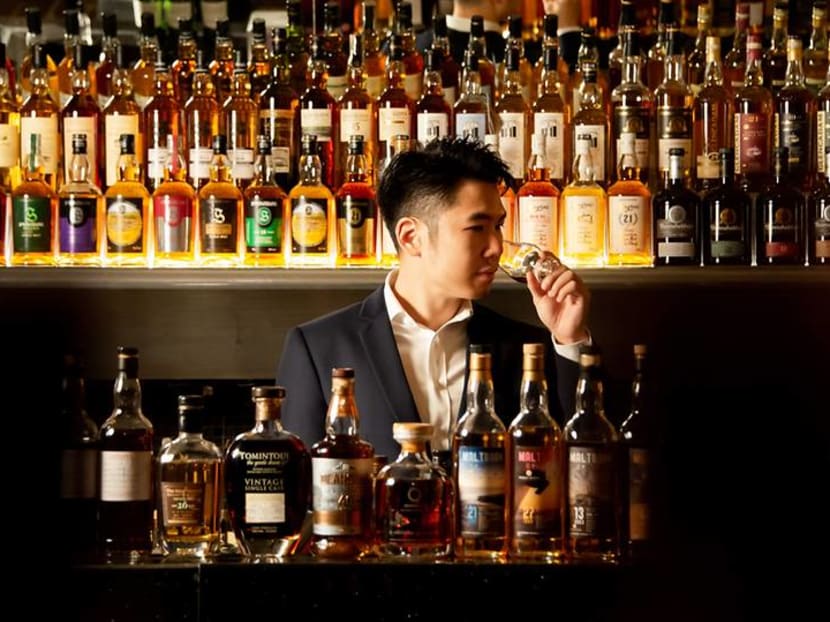 As borders remain closed and the wanderlust grows, Singapore's F&B scene continues to draw a captive market with creative experiences from exclusive food-drink collaborations to atmospheric spaces to sample unique spirits.
Fresh off the stills is Signature Reserve at The Fullerton Hotel Singapore, a collaboration between Quaich Bar and Benjamin Tan, co-founder of Singapore's first online whisky tasting club Whisky Butler.
It's hard to miss the classy space, especially with the red London postbox and life-sized bear (no relation to the Fullerton's mascot) at its entrance, surrounded by shelves of glistening bottles.
Charles Lim, who oversees business development at TSH Corporation, the group behind Signature Reserve, Quaich Bar and other drinks concepts such as The Other Room and The Other Roof, says that Signature Reserve is about making whisky appreciation more accessible and encouraging people to enjoy the liquor rather than hoard it.
Besides a menu of over 500 whiskies by the glass including rare drams and limited-edition series from mainstream and lesser-known boutique distilleries, there is also an extensive selection of boutique wines, bubblies and cocktails such as a refreshing and locally inspired White Chrysanthemum Whisky Sour with whiffs of pandan in a concoction of Glencadam single malt, white chrysanthemum and local beer reduction.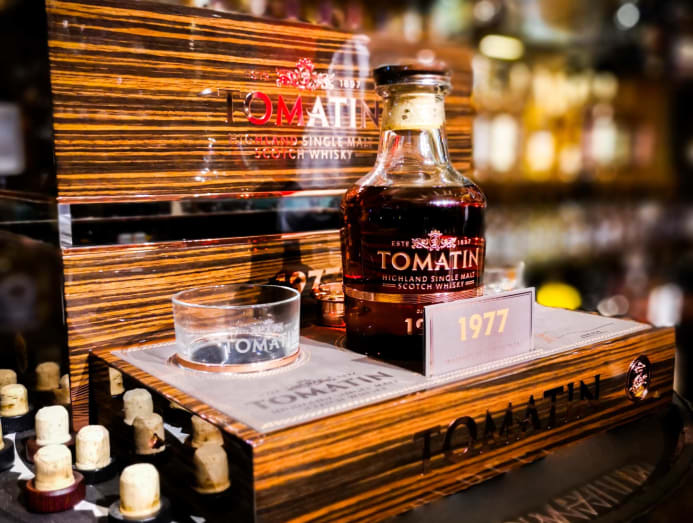 Not sure which dram to try? Go for a themed tasting flight or better yet, let a whisky butler craft a whisky omakase menu for you – a first in Singapore, according to Tan. Just let the team know your preferred drink profile and they will put together a flight of four whiskies and a cocktail with food to match.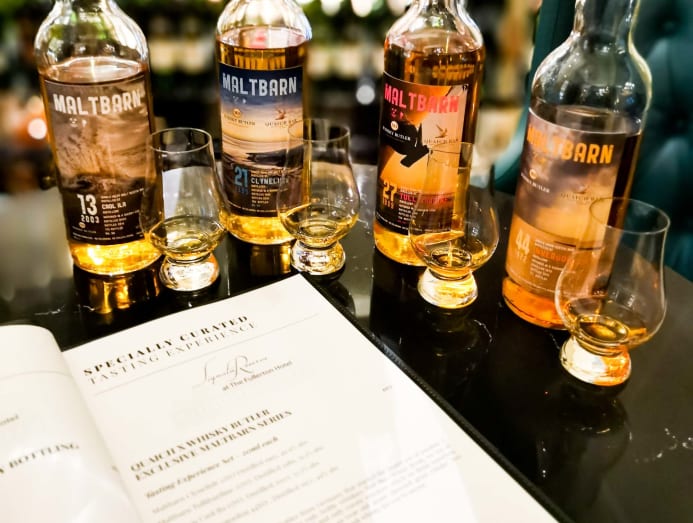 In a sampler prepared exclusively for CNA Luxury, we enjoyed a deliciously aromatic pairing of lamb skewer grilled Xinjiang-style with smoky fennel with the fruity, peaty Ledaig 18 Year Old single malt. The honeyed notes of a Deanston 18 Year Old accentuated a lime-glazed teriyaki chicken yakitori, while a tiramisu using Islay single malt Bunnahabhain Toiteach a Dha left a beguiling black forest and dark cherry finish.
"We wanted to open up the opportunity for people to try rare and unique whiskeys without having to think they have missed the boat in getting something that is no longer accessibly priced," said Tan. "Only when you try it can you truly understand whether you like it, instead of depending on someone else's opinion.
"We're not about putting the most expensive bottles out there but only the ones with meaningful stories. What I recommend is what touches my heart and what I love as a whisky drinker."
Discussions are underway with The Fullerton Hotel Singapore to provide in-room whisky tasting experiences and pairing dinners in the restaurants. If that happens, we can all toast to spirited "Slainte Mhath!" staycations.