Why wine-pairing meals are more popular than ever and where to find the best in Singapore
Fine-dining restaurant chefs are seeing a more adventurous bent towards small producers and boutique wineries in their wine-pairing meals, which often entice regulars to make repeated visits.
The rich tropical stone-fruit notes of the white wine were the perfect foil to the savoury swirls of a 32-egg yolk taglierini garnished with salted cod and flecks of 32-month-old Parmesan rind. The sparkling wine with a creamy texture yet crisp acidity also stood up well to the starters.
These courses would have been part of an ordinary wine-pairing meal at one Michelin-starred Italian restaurant Art di Daniele Sperindio, if not for the fact that the winemakers of Californian Freeman Vineyard and Winery were also present to share the stories behind the elegantly named 2019 Ryo-Fu Chardonnay and the one-off 2019 Yu-ki Estate Blanc de Blancs that was released to celebrate the winery's 20th anniversary last year.
Now that fuzzy videos of overseas vineyards and wine tastings are a thing of the past, wine-pairing meals with producers actually being on-site are again in vogue. At a media lunch preview of this one-night only pairing dinner held in January, Freeman's winemaking couple Ken and Akiko Freeman shared how the complex character of their wines are shaped by West Sonoma Coast's unique terroir of steep hillsides, fog-shrouded valleys and bracing ocean winds. The interaction brings a sense of place and deeper affinity with the wine, not to mention the heartwarming story of two wine lovers from completely different parts of the world being brought together by a hurricane.
Art's chef-owner Daniele Sperindio said: "Our customers are getting more adventurous with their choices, and they often seek smaller producers and boutique wines for a sense of discovery which gives them a closer emotional connection with the producer's story. Our one-off wine pairing dinners do very well. Our regulars are always looking forward to these special and I would usually create exclusive off-menu dishes based on the characteristics of the wines."
As a rule of thumb, most restaurants match wines to their cuisine. At one Michelin-starred Nouri, chef-owner Ivan Brehm would select wines to match the day-to-day menu and create new dishes that complement the wines at special pairing events. He sees wine pairings as a way of conveying the spirit of a restaurant and being an interesting learning opportunity for both diners and the culinary team. Nouri's beverage programme focuses on labels that highlight their provenance, such as a beautiful and complex Georgian 2020 Nine Oaks Kisi Qvevri that was aged underground in clay Qvevris (large clay vessels). The fruity mineral wine stands up to the Barbarians' Head dish, which is Turkish dumplings in a spiced beef consommé, yet highlights lighter aromatics of lemon zest and fragrant spices.
At Brehm's other culinary space, the multi-disciplinary kitchen Appetite, the wine list deep dives into grape varietals and their expressions around the world, from the popular Cabernet Sauvignon to the hard-to-grow Nebbiolo from Italy's northern Piedmont region.
When you don't know what to choose among hundreds of labels on the list, pairing options are your best friends. Louis Toh, head sommelier of Raffles Hotel Singapore, has observed that "approximately half of our guests who opt to enjoy wines with their meal will choose the wine pairing option". On Mar 4, the hotel's Italian restaurant Osteria BBR by Alain Ducasse will hold a gala dinner featuring 10 of Tuscany's most respected and emerging winemakers such as Bibi Graetz, an artist-turned-winemaker who founded his winery in 2000, and the historic Il Marroneto, whose minimal-intervention Brunello Di Montalcino is lauded as being among the region's best.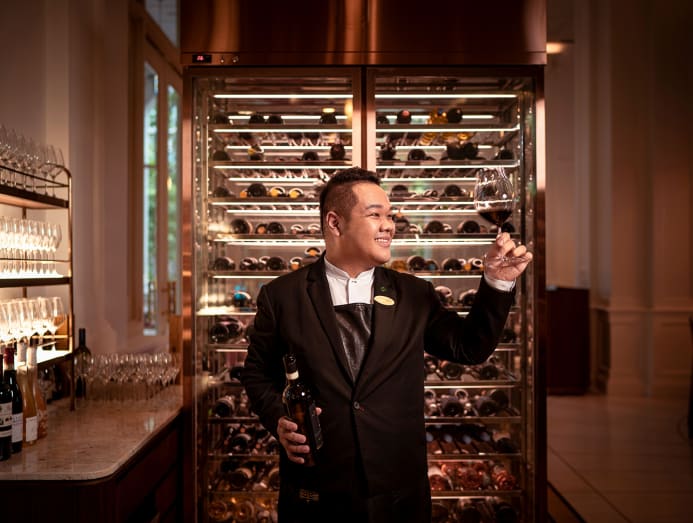 Cloudstreet's group beverage manager Vinodhan Veloo added frankly: "I think you would be foolish not to offer a wine pairing with a degustation menu at your restaurant. Apart from being really fun to curate and how it would provide the opportunity for you and your guests to taste a multitude of wines regularly, wine pairings are also very profitable if done smart so everybody wins." The two-Michelin starred restaurant offers two standard and premium options so pick one each among a group of friends and you can try a larger variety of wines at your table.
It doesn't hurt that switching between the conventional and the quirky scores creativity points for a restaurant too. Last year, three Michelin-starred Odette had a six-course menu featuring 11 wines from Dirk Niepoort, who has been called Portugal's most important winemaker. Diners also got to imbibe Korean liquors and wines that are not usually available here during a four-hands collaboration with New York's two-Michelin starred modern Korean restaurant Atomix.
In January, two Michelin-starred Jaan by Kirk Westaway embarked on a new collaboration with French organic and biodynamic winery M Chapoutier to have their best wines served as wine flight experiences at the modern British restaurant, in addition to their regular wine pairing option. According to Rajeshwaran Gopal, head sommelier for Fairmont Singapore & Swissôtel The Stamford, the theme would change every quarter and "it would be similar to a wine dinner setup with wines sourced straight from the domaine's library collection".
Brehm noted: "One of the benefits of this era is information and access. Wines from small areas of the world, or which are limited in supply, are able to cultivate markets far away from where they are made. Educated and opinionated drinkers can find their own wine 'tribe' and expression through drinking choices. Guests are curious for the new and are exposed to a wide variety of options. Diversity and difference is how the F&B industry is able to reinvent itself and keep guests engaged."