Collecting wines and spirits via NFTs: A risky fad or a rosy future?
Physical bottles of wines and spirits attached to NFTs (non-fungible tokens) have arrived on blockchain platforms, demonstrating that these aren't just for digital merchandise. What does this mean for wine merchants and collectors?
It took just 12 seconds for Australian wine producer Penfolds' first barrel of wine tied to an NFT (non-fungible token) to be sold when it was launched on Nov 24, 2021.
The vintage 2021 barrel, which was sourced from the winery's Magill Cellar 3, was dropped on BlockBar, the world's first direct-to-consumer NFT marketplace for luxury wines and spirits. It was bought by an international buyer for US$130,000 (S$176,600).
"We were blown away by the interest in the barrel NFT," said Kristy Keyte, Penfolds' chief marketing officer, adding that the sale was a testament to the quality of the wine.
NFTs are a recent phenomenon in the digital asset world of cryptocurrencies. An NFT is a unit of data stored on a blockchain or a secure digital ledger. It sounds like a cryptocurrency, like Bitcoin or Ethereum, but there is a key difference: Unlike cryptocurrencies, NFTs are not interchangeable and thus "non-fungible". Each NFT is a one-of-a-kind cryptographic token that represents a unique asset or item.
Still confused? Think of cryptocurrencies as basketball trading cards. If you grew up in the 1980s (like this writer), you'd have begged your mum to buy you packets of those glossy NBA cards. You and your friends decide that the cards featuring Scottie Pippen and Larry Bird (millennials, please Google them) are of equal value and can be traded. Bitcoin and Ethereum are interchangeable like that.
You have a Michael Jordan card, and it's unanimously agreed that a Jordan can't be swapped for any other card. That's your NFT.
NFTS YOU CAN DRINK
Since they emerged on the blockchain scene a few years ago, NFTs have largely been tied to digital artworks, music, and games; a category that is changing how artists, both unknown and famous, are monetising their forms of art and entertainment.
Buyers first set up a digital crypto wallet before purchasing the NFTs with cryptocurrency like Ethereum. They may also resell their NFTs within the NFT marketplace.
Proponents believe NFTs will democratise the art industry; opponents question the value of digital art. In June 2021, a "Covid Alien" avatar from CryptoPunks, an NFT collection of pixel art characters, was sold for over US$11.7 million at a Sotheby's auction. Whether an avatar for your social media is as valuable as a Van Gogh painting on your wall is a discussion for another day.
With wines and spirits now joining the NFT fray, the once disparate crypto and gourmet worlds have merged. People can now purchase and trade NFTs linked to something not only collectible but physical, edible; gustatory. 
The buyer of Penfolds' wine NFT will have his barrel converted into 300 bottle NFTs at the date of bottling in October 2022. The buyer will own all 300 bottle NFTs, which can be resold or transferred via the BlockBar platform. The physical bottles, which will be stored in BlockBar's facility in Singapore, can be redeemed by the purchaser after the release of the wine in October 2023.
Penfolds followed up with a second NFT on BlockBar on Jan 18, 2022, this time offering individual NFTs linked to 300 bottles of Penfolds Magill Cellar 3's Cabernet-Shiraz 2018. It was the first time Penfolds was selling individual bottles of wine from Magill Cellar 3 – hitherto the cellar's wines were offered only as barrels. 
"We see great value in our partnership with BlockBar and the opportunity to reach new consumers through exciting innovations," said Keyte. "NFTs will continue to play an important role in Penfolds' portfolio of limited edition, ultra-luxury wines."    
Californian wine giant Robert Mondavi also got in on the act, launching NFTs tied to 1,966 1.5-litre porcelain wine bottles on its website via blockchain technology last December. The vessels, which hold Cabernet Sauvignon-based wines, are created by French luxury porcelain house Bernardaud.
There are signs that old-fashioned Bordeaux winemakers may warm up to the idea of releasing wines in the blockchain domain. In June 2021, Saint-Emilion-based Chateau Angelus partnered with Cult Wines, a UK-based wine investment company, to offer an NFT linked to one barrel of Angelus 2020 and an original 3D digital artwork of the estate's iconic bell, on OpenSea, an NFT marketplace.
Chateau Angelus' chief executive officer and owner Stephanie de Bouard-Rivoal said it is important for the estate to "embrace new technologies and be proactive when it comes to preparing ourselves and the property for the future".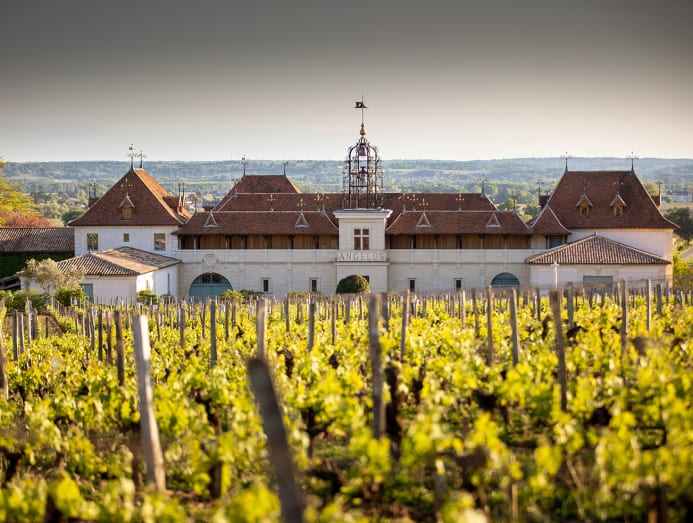 Spirit brands have also launched NFTs on BlockBar: Royal Salute released a 51 Year Old whisky from its Time Series Collection last December. In January, Hennessy offered two NFTs tied to Hennessy.8. The cognac – a blend of eight eaux-de-vie selected by Hennessy's master blenders – is housed in a crystal carafe created by Baccarat.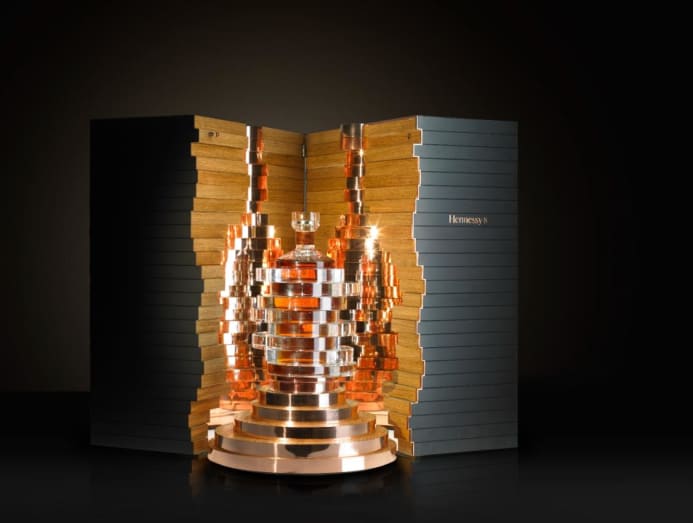 BRILLIANT CONCEPT BUT BEWARE THE RISKS
Wine experts and merchants in Singapore have mixed views about this blockchain-based development in alcohol commerce, with sentiments ranging from enthusiasm to ambivalence.
Alice Wee, executive director of wine distributor Wine Clique, said blockchain technology guarantees privacy protection, visibility, and traceability, which the wine industry has needed for years to counter fraudulence, especially for fine wines.
Wine importer Kot Selections' managing director Ong Yixin said the wine NFT concept "seems very niche at the moment, with more smoke than fire".
"Blockchain as an underlying technology sounded like a great idea to prove chain of custody a few years ago but with NFTs, the financial or speculative motive seems stronger," he said. "I don't think most wine consumers would care about wine NFTs, but investors are savvy enough for any NFT so long as the underlying physical asset has some value, which is true for some wines."
So far it has largely been the big wine brands who have jumped on the NFT bandwagon. Ong thinks small or boutique wineries will eventually give the NFT game a shot, especially for cult wineries focused on direct-to-consumer sales.
"Wine distributors will also have an incentive to start issuing NFTs for their rare wines if [the concept] becomes more promising," said Ong.
Sean Ou, principal trainer of The Beverage Clique, a wine and spirits training and consultancy company, said the trading of wine NFTs presents an opportunity for wine merchants and customers to explore since the trading of fine wines as a commodity is a common practice in the real world.
However, he is concerned about the potential for fraud within the supposedly secure blockchain. "Considering that [the NFT scene] will be the playing field for the affluent, fraudsters and scam artists will set their eyes on a new tantalising channel for them," he said.
Blockchain expert and co-chairman of Blockchain Association Singapore, Chia Hock Lai, said NFTs tied to both digital collectibles and edibles like wine share the same cyber risks, such as a user losing his private keys to his crypto wallet and hence access to his NFTs, or a crypto wallet getting hacked.
For NFTs tied to digital files or collectibles, there's a risk that the company that issued the NFTs may go bust, leaving buyers with tokens tied to assets that don't exist anymore. Chia said the same scenario is also possible for NFTs tied to edibles like wines and spirits.
"For those investing in wine NFTs, in addition to adopting good cyber hygiene, they should also check on the credibility of the company selling the wine NFT, and if insurance is available to cover any loss," said Chia.
He added that wine NFTs do represent a brilliant use of blockchain technology. "[It provides] both digital proof of ownership and transparency," he said. "There are also ways to fractionalise wine NFTs to make expensive wine more accessible to collectors or investors. As such, wine and spirit NFTs could appeal to the crypto natives, who are usually younger and prefer all things digital, and this segment is growing.
"In my view, only edibles that are of high value and not easily perishable, such as a bottle of unopened wine, are suitable to tokenise as NFTs."
Things don't look very rosy for NFTs now, though. The crypto-verse is rife with warnings of a big NFT crash, alluding to the Bitcoin crashes in recent years.
Chia said there is currently a high level of excesses in the NFT market. "With the NFT market tied intrinsically to the cryptocurrency market, which is currently in a bear market as of January 2022, I won't be surprised to see some corrections," he said.
"[But] it also depends on the type of NFT. For NFTs whereby its underlying asset is something like wine, the pricings will be less susceptible to market forces of supply and demand vis-à-vis cryptocurrencies – in other words, pricings will be tied more to the value of the wine instead," added Chia.
Wine Clique's Wee foresees that blockchain technology will be a long-term trend.
"The consumer goods industry, including the wine market, is openly adapting to these digitalisation shifts," she said. "Given that the wine industry has always been traditional and a step behind modern changes, it's great to see that some recognised producers are jumping into the new digital innovation."