What happens when you blend grapes from Australia and France? An audacious wine that's a world's first
Combining Cabernet Sauvignon and Merlot from Bordeaux with Shiraz from Barossa Valley, Penfolds' new wine is an act of winemaking audacity and bravura. CNA Luxury got a special preview of the Australian wine producer's latest project in Bordeaux.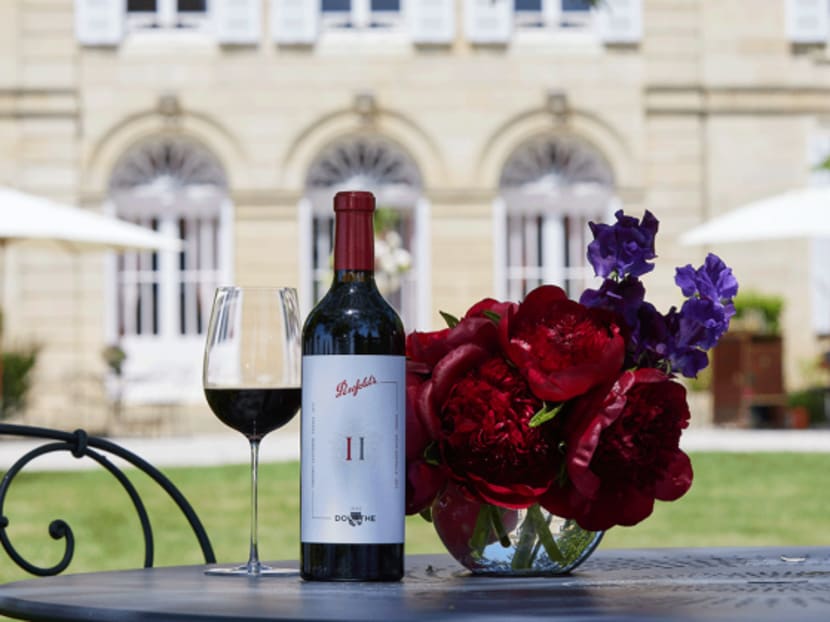 The wine universe consists of two realms: The Old World and the New World, each governed by its own precepts that define its parameters, which, in turn, set consumer expectations. Most people would not fault an Aussie Shiraz for being big and jammy. Few would dismiss a young Bordeaux for not drinking well now as it needs to be cellared.
Top winemakers in the Old World and the New World are connected by a common goal – the pursuit of terroir or, in its simplest term, a sense of place from the wine, be it from a vineyard or region. Terroir can't be easily proven, but it can be felt. For example, many Aussie Shirazes have a eucalyptus aroma because eucalyptus trees are planted near vineyards in Australia.
Until very recently, this construct above was basically the wine world as we knew it, an immutable system of traditions, boundaries and beliefs.
Leading Australian wine producer Penfolds has decided to flip it on its head. It has launched Penfolds II, a red wine that is a blend of Cabernet Sauvignon and Merlot from France's Bordeaux, and Shiraz from South Australia's Barossa Valley. It is a world's first.
As the Roman numeral in its name suggests, Penfolds II is a blend of the New World and the Old World; an amalgamation of Northern and Southern Hemispheres, in which borders, and any strict sense of terroir, are wiped away by the marriage of tannins and dark fruit from different continents. It's neither French nor Australian. It is, as Penfolds' chief winemaker Peter Gago calls it, "a wine of the world".
If the Penfolds II has a prototype, it'd be the Penfolds Bin 149, a Cabernet Sauvignon from California's Napa Valley that includes just 14.9 per cent of Cabernet Sauvignon from South Australia. While it's a New World-meets-New World partnership, it still qualifies as an "American wine" as US wine law requires 75 per cent of the grapes to come from its country to be recognised as such.
The Penfolds II is more audacious in its scope and execution.
Last month, a select group of international media, which included CNA Luxury, got a preview of the new wine in Bordeaux. Gago and his team kept the identity of their collaborative partner in Bordeaux secret till the final moment – we had no idea which chateau we were heading to till our bus pulled into the gravelly driveway of Chateau Belgrave, a stately property located in Haut-Medoc, an appellation on Bordeaux's Left Bank.
Chateau Belgrave belongs to Dourthe, a wine producer with a history that dates back to 1840 (four years before Penfolds was established). The company owns nine properties in Bordeaux, including Chateau La Garde, Chateau Le Boscq and Chateau Reysson.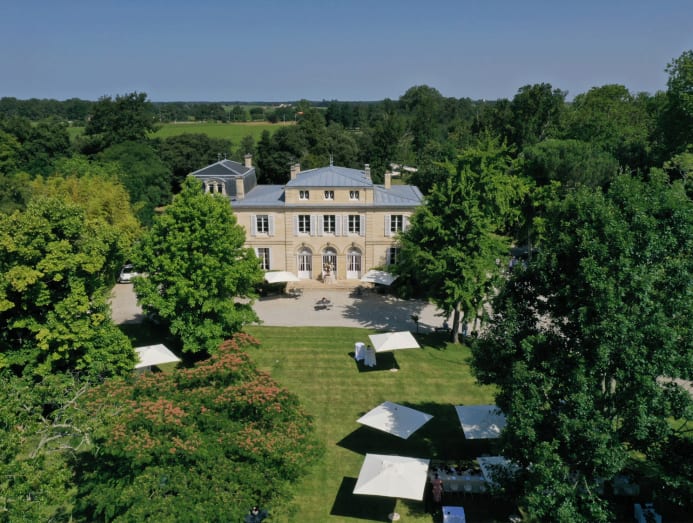 For Gago, the collaboration with Dourthe represents a new chapter for Penfolds. "This all started with us asking the question, 'What if?' This is about looking at the next stage [of winemaking], the next 178 years of Penfolds," he said.
FINDING A LIKE-MINDED PARTNER
Penfolds' partnership with Dourthe isn't their first collaboration with a French wine producer. In 2019, together with Reims-based Champagne Thienot – who is also Penfolds' agent in France – it launched three Thienot X Penfolds champagnes from the 2012 vintage.
The collaboration was the first time an Australian winery had teamed up with a maison to make wine in Champagne.
The champagnes were a joint effort between Gago and Nicolas Uriel, Champagne Thienot's chef de cave or chief winemaker; both worked towards a style they agreed on.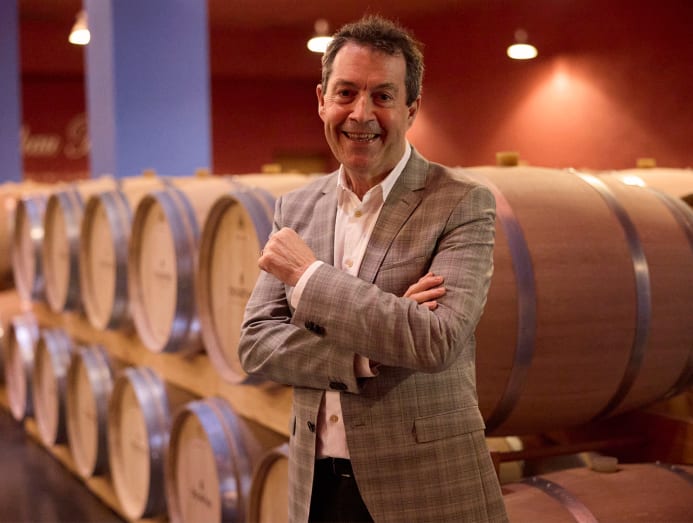 While Gago has been making headlines over Penfolds' luxury red wines, such as the Grange and the multi-vintage G3 and G4 blends, he is certainly not new to sparkling winemaking, having started his career as a sparkling winemaker for Penfolds more than 20 years ago. (He still keeps the newspaper advertisement of the Penfolds sparkling winemaker job he applied for in the late 1980s.)
This year, Gago and his friends at Thienot plan to release the Thienot X Penfolds non-vintage rose champagne, which CNA Luxury sampled over a media lunch. It is crisp and refreshing, with cherry notes and a minerally edge.
Stanislas Thienot, Champagne Thienot's director, said the partnership with Penfolds "made sense". "Even though we come from two different wine worlds, we are also, in a way, similar," he said. "The art of blending is something they do well at Penfolds, and for us too, since blending is the DNA of champagne."
Finding a like-minded partner was more crucial for Penfolds when they went to Bordeaux. Unlike with Thienot where all provenance of the grapes came from Champagne (and legally so), the Bordeaux project was radical – combining New World and Old World fruit. You don't just walk into this storied French winemaking region, with its imposing chateaus that serve as bastions of tradition, and announce your grand plans of making an unprecedented style of wine together. Someone may come at you with a pitchfork.
For Dourthe, they came with open-mindedness.
The company has a reputation as an innovative wine producer. It is experimenting with wine maturation in amphorae or clay vessels. It created an original Bordeaux wine, the Essence de Dourthe, a blend of the best Cabernet Sauvignon, Merlot and Petit Verdot sourced from four of their properties: Belgrave, Le Boscq, La Garde and Grand Barrail Lamarzelle Figeac.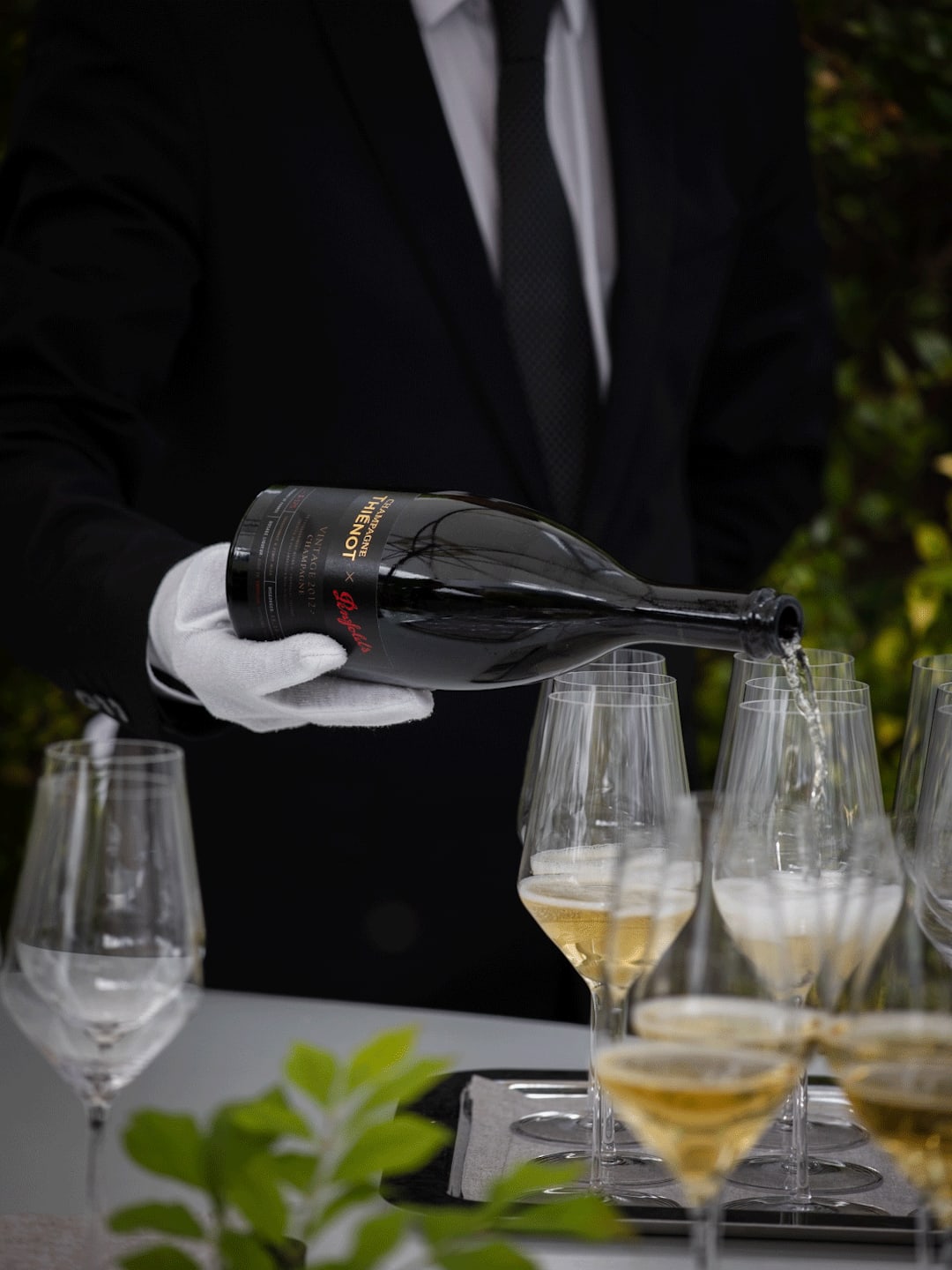 The Essence de Dourthe reinforced Gago's belief that the Dourthe team were the right folks for Penfold's new adventure in Bordeaux. "It was like, 'If someone was willing to make such a wine, I wonder if they will do a project like this?'," said Gago. "Essence de Dourthe resembles what we have been doing at Penfolds but [such a blend] is unusual for Bordeaux. It tells us that here's a group that was willing to try things."
The Penfolds II, a 2019 vintage, is aged for 18 months in French and American oak barriques and hogsheads. The breakdown of the blend is 59 per cent Cabernet Sauvignon, 29 per cent Shiraz, and 12 per cent Merlot. It is very much a Cabernet-Shiraz blend, a style of wine that is synonymous with South Australia but alien to Bordeaux. Only 4,500 bottles are available.  
Early talks on Penfolds II began in 2013, and both parties didn't have a template; they weren't sure if it was going to be a Bordeaux-style (Cabernet-Merlot) or a Barossa-style blend.
According to Frederic Bonnaffous, Dourthe's chief winemaker, the Penfolds and Dourthe teams experimented with various blends – Cabernet Sauvignon from Bordeaux with Cabernet Sauvignon from South Australia; Merlot from Bordeaux with Cabernet Sauvignon from Down Under – before settling on Cabernet-Shiraz as it gave "a very good balance".
The different harvest seasons in the Northern and Southern Hemispheres – August to October in France, and February to April in Australia – meant Penfolds began making wine with their 2019 crop before Dourthe.
Gago and Bonnaffous did the first tasting of their wines at Chateau Belgrave in December 2019. Then the pandemic arrived, and international borders began to shut. The rest of their work was done via Zoom video calls, with samples sent to each other. Gago joked that it was easier to argue with his French counterpart over Zoom instead of in person.
Because it's illegal to bottle a wine with foreign or imported wine in France, the French components were shipped in stainless steel pallet tanks to South Australia, where Penfolds did the blending and bottling of the final wine.
Gago said: "I think Frederic's fear in the early days was we were going for a big and bold Aussie-French wine. But no. It's not about bigness. Honestly, if there was a directional theme, it would be palate and structure, rather than flavour and character."
A BALANCED, EXPRESSIVE WINE
What struck CNA Luxury about the Penfolds II is its lush, generous mid-palate. The Cabernet lends a lovely, minty graphite character, while the Shiraz adds layers of dark fruit, liquorice, and oily touches. At no point does either component stand out. The tannins are rather soft for such a youthful wine. In short, it is a very balanced and expressive vino. It looks set to be another Penfolds hit.
It will be interesting to see how sommeliers identify this wine when served blind. And whether their eventual answer leans towards a Southern or Northern Hemisphere wine is no slight towards the collaborative winery with the lesser vote. This isn't a wine about any specific terroir or regional identity. As Gago put it succinctly earlier, it's a wine of the world. The fact that it so effortlessly conceals the geographical identities of its interwoven fruit from two hemispheres is a testament to the skilful blending of the winemakers at Penfolds and Dourthe.
Will there be a Penfolds II 2020? Penfolds hasn't put out any official word on it yet. But Valentin Jestin, Dourthe's sales and marketing director, has hinted that they "may not do the same blend every year". "It may even be a blend between two vintages," he added.
For now, the folks at Penfolds and Dourthe are excited to see how the Penfolds II 2019 will age. With its fruit from the hallowed gravel soils of Bordeaux, will it age better or longer than any Aussie Cabernet-Shiraz? Gago said it's early days yet. "Let's watch this programme; let's go on a journey," he said.  
Thienot X Penfolds non-vintage rose champagne, from S$160; Penfolds II, from S$500. Both wines will be available from the last quarter of 2022. More information here.