COVID-19 and a new era of wine service in Singapore's fine-dining scene
Get ready for interactive digital wine lists, more non-verbal cues, and shorter wine dinners as sommeliers adapt to a new normal.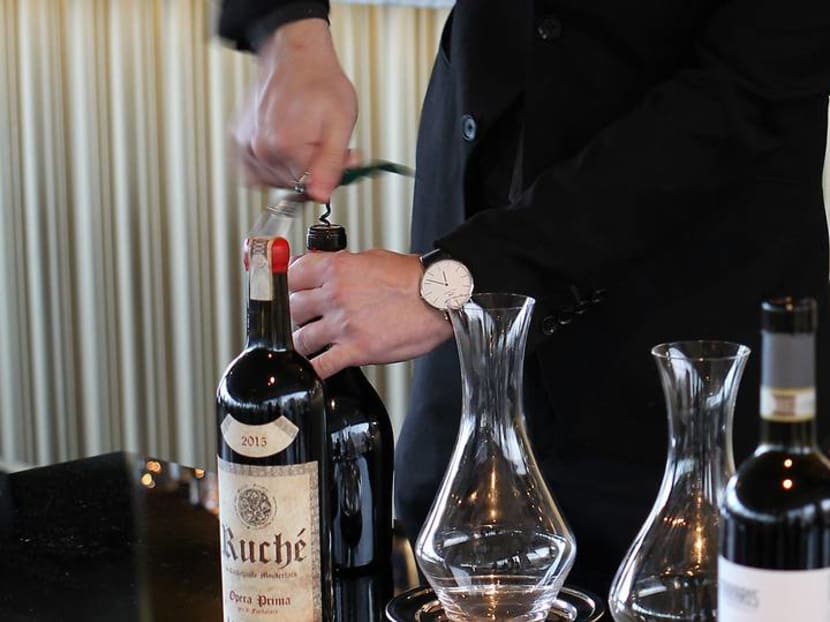 Since reopening for dining-in on Jun 22, fine-dining restaurant Les Amis, like other F&B establishments in Singapore, has had to comply with restrictions concerning food service operations in Phase 2. Apart from safe distancing, wearing masks and taking the temperature of guests (the restaurant has installed a thermal temperature scanner at its entrance), the staff haven't had to change many of their procedures.
The restaurant has always limited its seating capacity to 50 guests per service.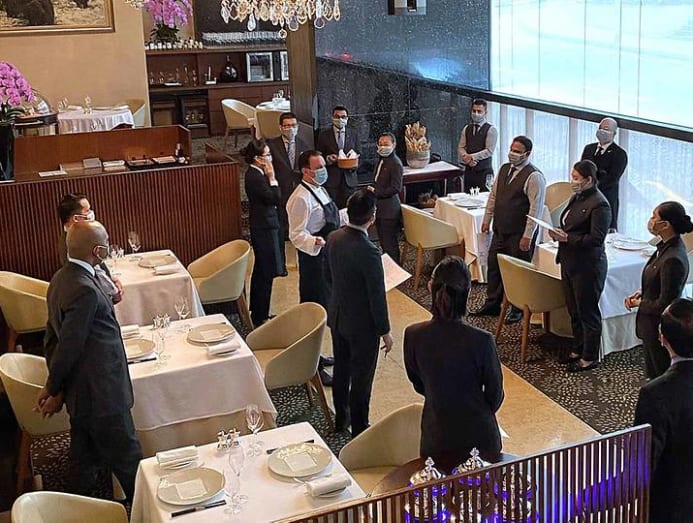 "We are blessed with space in the restaurant: The distance between the tables has always been more than one metre. Our trolley service also ensures a distance between us and the guests," said Rajeshwaran Gopal, Les Amis' director of wines, adding that wine service is carried out on the trolley.
With the ban on the sale and consumption of alcohol after 10.30pm, that three-hour multi-vintage Burgundy wine dinner plan isn't feasible now. Gopal and his team are prepared to "offer shorter dining experiences" to fit the time constraint: A half bottle of wine – or wines by the glass – may be recommended instead of a full bottle. They'd also explain to guests that they may not have enough time to round off their meal with a glass of Port or sweet wine.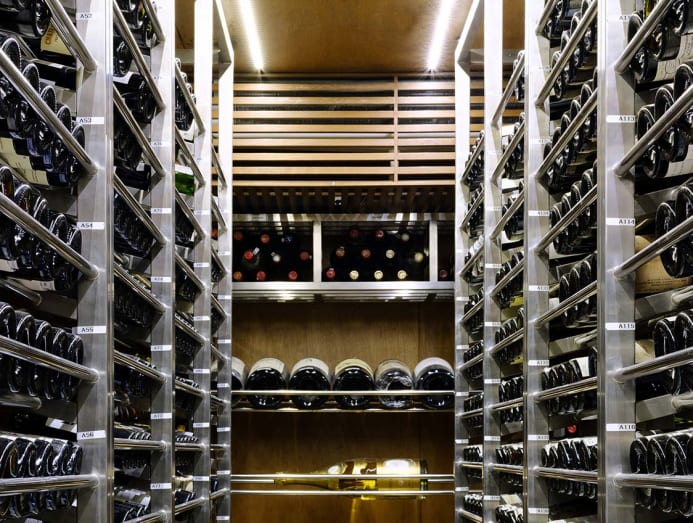 "The only thing that stands out is the mask: It's something we are still getting used to because the main component of wine service is your communication [with the customer], which involves using body language. This means we have to be more expressive, to compensate for the [lack of] facial expressions," said Gopal.
Similarly, at Art Restaurant – il Lido Group's Italian fine-dining establishment at National Gallery – group beverage manager Riccardo Nardone is particular about getting his masked team to use body language to enhance the wine presentation. For example, using gestures of the wrist to indicate to a diner to proceed with the tasting of the wine.
Art Restaurant, which is presently being hosted at its sister rooftop venue Aura, is also working on an intuitive digital menu for food and wine, which will replace the PDF document that customers can download from its website. Guests will then be able to browse the menu from their own mobile devices at the restaurant.
Browsing digital wine lists (and menus) – an idea which many fine-dining restaurants here had hitherto been slow to adopt – looks set to be the new norm in a COVID-19 world. The days of the leather-bound wine list may well be truly numbered.
At La Dame de Pic – Raffles Hotel Singapore's French restaurant – guests can access the wine list on their mobile devices by scanning a QR code.
"Most of our guests at La Dame de Pic prefer to browse our menus and wine lists on their own devices. It does not appear to be any less or more daunting when compared with reading a physical wine list," said Eric Li, head sommelier of Raffles Hotel Singapore. "Our sommeliers are ready to assist those who might prefer recommendations or need some advice to enhance their gastronomic experience."
At Odette, wine lists are presented on iPads, which are handed to diners.
"As traditional or physical wine lists are challenging to sanitise and maintain, we've moved towards offering digital format wine lists on iPads, which are disinfected after each use," said Vincent Tan, head sommelier of Odette. "With the close guidance of our sommeliers, guests can discover our full wine collection and easily swipe through the list with additional peace of mind.
"While safe distancing and masks may make conversation more challenging, we cannot allow the restrictions to compromise our ability to serve our guests," he added. "It's critical to continue meticulous tasting and inspection of wines, despite the extra precautionary steps required to do so in the process."
Gopal thinks that wine tasting during service, in which a sommelier samples the wine in a separate glass to ensure it is not spoiled before serving it to a guest, is a key aspect of wine service that should not be skipped in fine-dining amid the current precautions. "I am glad we can take off our masks to do a quick tasting to make sure the wine is in its optimum condition," he said.
One thing is for sure – sommeliers will eventually have to take on a more multi-faceted role, one that takes them beyond the ambit of their restaurant.
"Adaptive skills such as switching roles in the industry will be key for sommeliers to stay in the playing field," said Nardone. "We can no longer stick to the traditional way of serving wine. We must be versatile enough to pick up online wine retail and build our sales networks."
Tan expects sommeliers to have a more prominent online presence and remote access. "For example, allowing the customer to communicate with a sommelier before arriving at an establishment to get advice or recommendations, instead of having to rely only on face-to-face interactions at the venue. [It's about] catering to the experience in advance."