Tired of working from home? You can book a suite to work from a hotel instead
WFH doesn't have to mean just working from home. If you need a change of scenery, these hotels are offering Work From Hotel packages.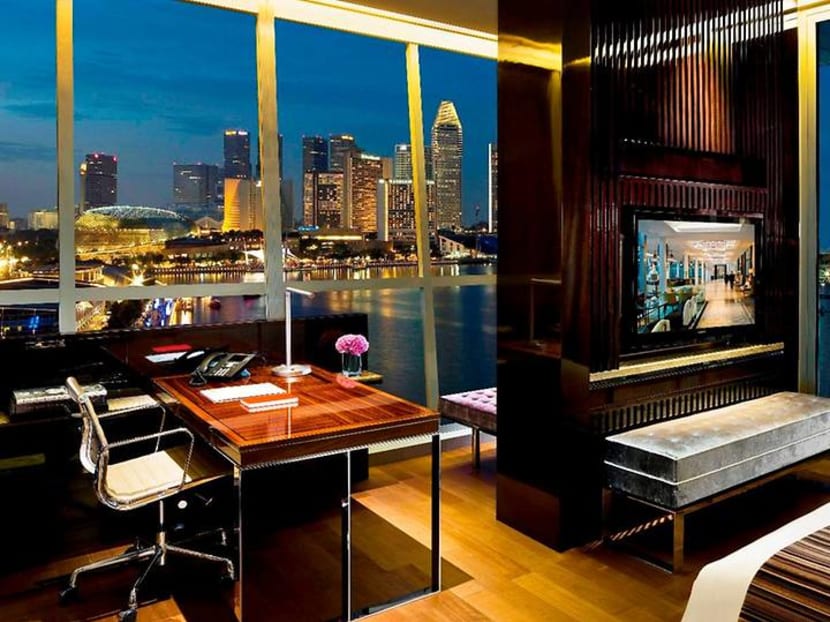 The house is in a mess, the kids are fighting for attention and meals need to be prepared. In recent months, the COVID-19 pandemic has forced us to turn our homes into makeshift offices, but with countless distractions, staying focused can sometimes be difficult.
If you need a quiet respite to power through your to-do list, hotels in Singapore are now offering Work From Hotel packages. For less than the cost of a full staycation, you'll get a hotel room (typically for either eight or 12 hours), along with other perks such as in-room coffee and F&B credits (hurray to no cooking!). 
In case you need a midday break, some hotels are even offering access to the pool and fitness centre. Not to mention, these hotel suites are definitely Zoom meeting-friendly too, so you don't have to scramble when your colleagues call for a last-minute (virtual) huddle.
CROWNE PLAZA HOTEL CHANGI AIRPORT
If you live in the east, consider booking a room for a couple of hours at Crowne Plaza Hotel Changi Airport. For S$160++, the hotel's Work From Hotel Room Package gives you access to one of the hotel's comfortable and well-appointed rooms for a total of eight hours anytime between 7am to 7pm.
Other benefits include dining credits worth S$30 nett; a complimentary upgrade to Premier Room; a safety amenity kit with a protective face mask and hand sanitiser; plus complimentary WiFi, coffee and tea.
For more information, click here

INTERCONTINENTAL SINGAPORE
Heritage hotel Intercontinental Singapore is offering a Work & Meet From Hotel package, starting from S$150++ per day. This gives you a private room from 7am to 7pm. To perk up your morning, there's also an in-room Nespresso machine along with TWG Tea sachets for your afternoon tea. This package also includes a bento lunch, a healthy energy shooter and complimentary high-speed WiFi.  
For more information, email Jocelyn.loi [at] ihg.com, or call +65 9186 3460
SOFITEL SINGAPORE CITY CENTRE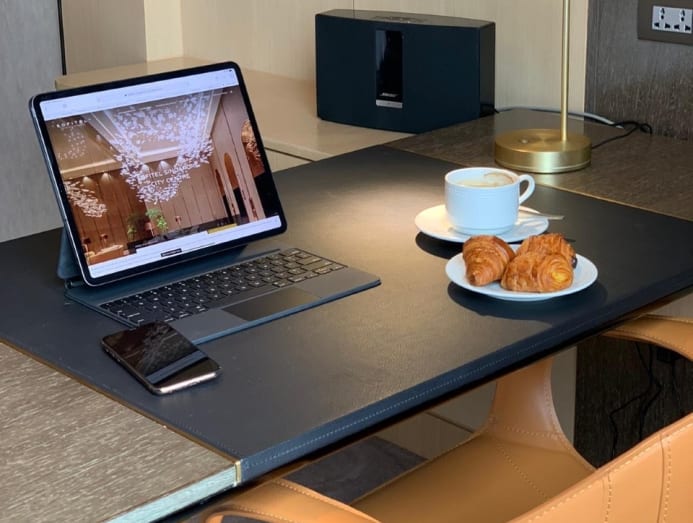 The Work From Home Guest Room Package from Sofitel Singapore City Centre touts "luxurious air-conditioned guest rooms, equipped with a dedicated working area, high-speed Internet, privacy and premium amenities", according to the hotel's website.
Starting from S$190++ per person, you can book either the Luxury Room or Prestige Suite for a total of eight hours. You can choose a time slot based on your working style between 7am to 7pm. In addition, this package comes with complimentary high-speed WiFi; water, coffee and tea; and an energising mini bar.
For more information, click here

FULLERTON HOTEL SINGAPORE & FULLERTON BAY HOTEL SINGAPORE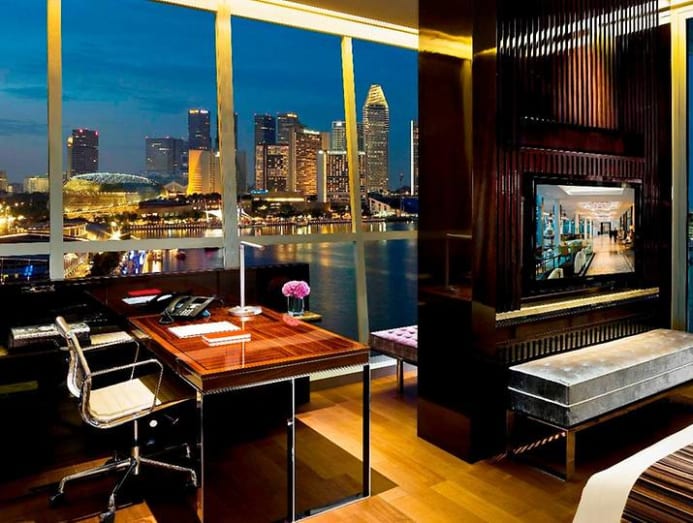 Fullerton Hotels's two Singapore properties are offering the Work From Fullerton package, with rates starting from S$210 nett for a room at Fullerton Hotel, and from SS$300 nett for a room at Fullerton Bay Hotel.
Both hotels offer flexible check-in and check-out for 12-hour usage between 7am to 11pm. The package also comes with a S$50 nett F&B credit; complimentary in-room Nespresso coffee; TWG tea and complimentary parking. The cherry on top of the cake – you'll also get access to the gym and swimming pool, if your schedule allows for a quick afternoon dip or an evening workout.
For more information on Fullerton Hotel, click here
For more information on Fullerton Bay Hotel, click here
HOLIDAY INN SINGAPORE ATRIUM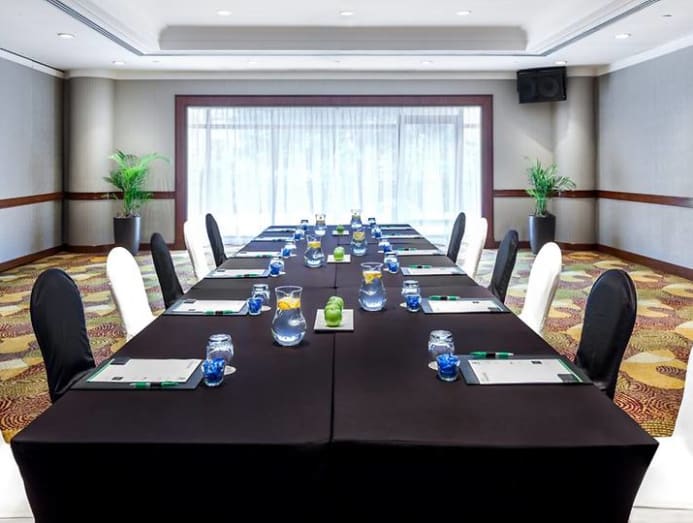 If a hotel suite sounds a little too lavish, Holiday Inn Singapore Atrium's Work From Hotel package includes private usage of a meeting room for 12 hours from 7am to 7pm. For S$200 nett, the package also includes complimentary car park; high-speed Internet access; refreshments and writing materials. For S$8 nett, you can also order a lunch or bento dinner.
For more information, email catering.sinhi [at] ihg.com