World's 50 Best Restaurants: Singapore's Odette breaks into the top 10
Odette jumped 10 spots to clinch No 8. Meanwhile, Singapore's Burnt Ends also made a triumphant debut on the list at No 34.
French fine dining restaurant Odette from Singapore has broken into the top 10 list of The World's 50 Best Restaurants, an annual list that celebrates the best names in gastronomy from around the world.
The restaurant, helmed by chef Julien Royer, leapfrogged 10 spots to claim its place at No 8 on this year's list. The 2021 list, which was revealed on Tuesday (Oct 5), is the first edition since 2019, where Odette placed at No 18. Last year's event was cancelled due to the pandemic.
"It is a privilege to be here alongside our peers at The World's 50 Best Awards Ceremony today, even more so to climb to No 8 on this prestigious list," chef Royer wrote on Odette's Instagram page. "We could not be happier challenging ourselves at every turn and to continue to be able to do what we love; today is a wonderful reminder of the intangible value this industry brings."
This year, there are two Singapore restaurants on the list. Australian-style BBQ restaurant Burnt Ends, helmed by chef Dave Pynt, made its triumphant debut at No 34. It last placed at No 59 in 2019 and did not make the cut for top 50.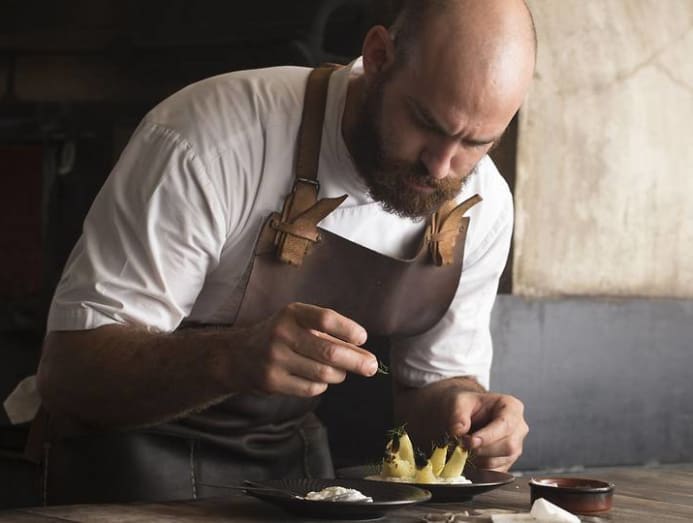 The 2021 list was announced during a live ceremony that took place in Antwerp, Belgium. This year's event saw restaurants from 26 countries across five continents place on the list.
Noma, the acclaimed tasting menu restaurant helmed by chef Rene Redzepi in Copenhagen, landed at the No 1 spot. It takes over from French restaurant Mirazur, which has now moved to the Best Of The Best category for previous No 1 winners.
Other restaurants in Asia that featured on the list include Hong Kong's The Chairman at No 10. Although The Chairman was crowned No 1 in the Asia's 50 Best list, Odette has surpassed it on the World's 50 Best list. 
Tokyo's Den and Narisawa came in at No 11 and No 19 respectively, while a new entry from the city, Florilege, took the No 40 spot.
Shanghai's Ultraviolet placed at No 35, while Bangkok's Suhring featured at No 40.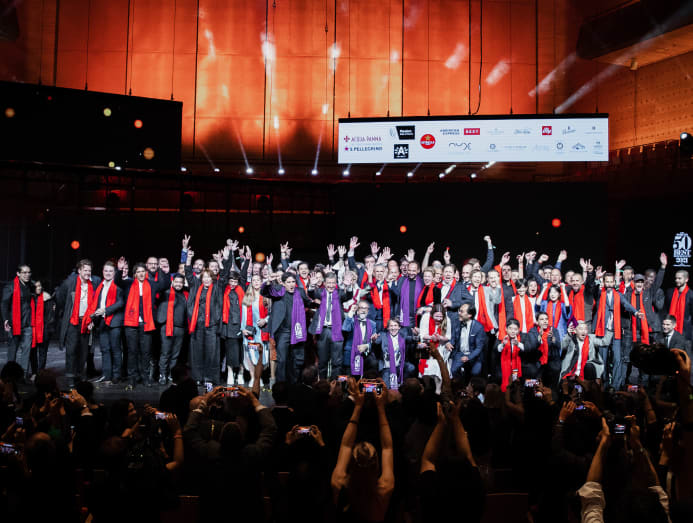 See the full list below.
1. Noma (Copenhagen, Denmark)
2. Geranium (Copenhagen, Denmark)
3. Asador Etxebarri (Axpe, Spain)
4. Central (Lima, Peru) *Best Restaurant in South America*
5. Disfrutar (Barcelona, Spain)
6. Frantzen (Stockholm, Sweden)
7. Maido (Lima, Peru) (up three places)
8. Odette (Singapore) *Best Restaurant in Asia*
9. Pujol (Mexico City, Mexico) *Best Restaurant in North America*
10. The Chairman (Hong Kong) *Highest Climber Award*
11. Den (Tokyo, Japan)
12. Steirereck (Vienna, Austria) *Art of Hospitality Award*
13. Don Julio (Buenos Aires, Argentina)
14. Mugaritz (San Sebastian, Spain)
15. Lido 84 (Gardone Riviera, Italy) *Highest New Entry Award*
16. Elkano (Getaria, Spain)
17. A Casa do Porco (São Paulo, Brazil)
18. Piazza Duomo (Alba, Italy)
19. Narisawa (Tokyo, Japan)
20. DiverXO (Madrid, Spain)
21. Hisa Franko (Kobarid, Slovenia)
22. Cosme (New York City)
24. Septime (Paris, France)
25. White Rabbit (Moscow, Russia)
26. Le Calandre (Rubano, Italy)
27. Quintonil (Mexico City, Mexico)
28. Benu (San Francisco, California)
29. Reale (Castel di Sangro, Italy)
30. Twins Garden (Moscow, Russia)
31. Restaurant Tim Raue (Berlin, Germany)
32. The Clove Club (London, UK)
33. Lyle's (London, UK)
34. Burnt Ends (Singapore) *New entry*
35. Ultraviolet (Shanghai, China)
36. Hof van Cleve (Kruishoutem, Belgium)
37. SingleThread (Healdsburg, California)
38. Borago (Santiago, Chile) *Sustainable Restaurant Award*
39. Florilege (Tokyo, Japan) *New entry*
40. Suhring (Bangkok, Thailand)
41. Alleno Paris au Pavillon Ledoyen (Paris, France)
42. Belcanto (Lisbon, Portugal)
43. Atomix (New York City) *New entry*
44. Le Bernardin (New York City)
45. Nobelhart & Schmutzig (Berlin, Germany) *New entry*
46. Leo (Bogota, Colombia)
47. Maaemo (Oslo, Norway)
48. Atelier Crenn (San Francisco, California)
49. Azurmendi (Larrabetzu, Spain)
50. Wolfgat (Paternoster, South Africa) *Best restaurant in Africa*