S$2,200 for dinner? 3 of the world's most expensive dining experiences
From a multi-sensory dining adventure in Spain to a dinner in Shanghai at a secret location, these are the world's most bank-busting dining experiences.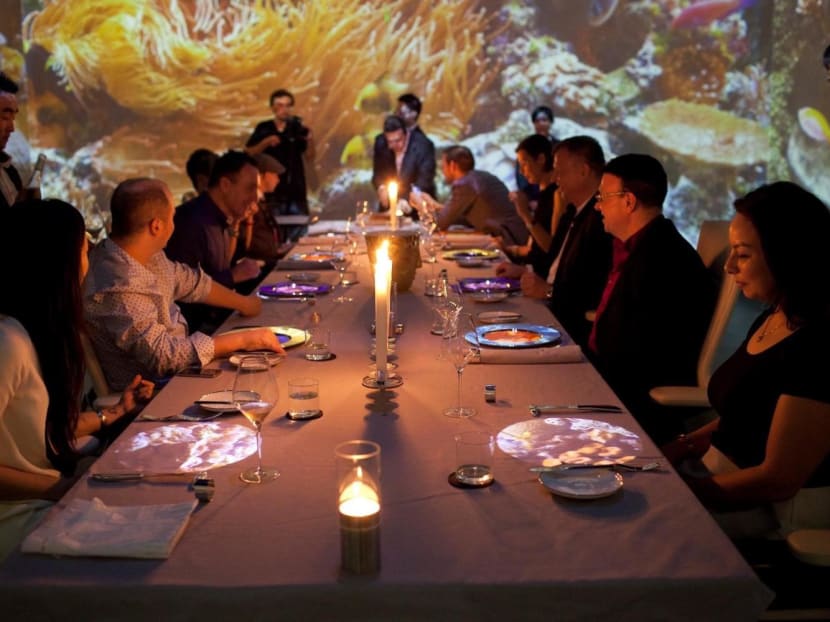 They say money can't buy happiness, but can it buy you a truly unforgettable dining experience? A new study by Merchant Cash Advance has uncovered some of the most expensive sensory dining experiences in the world.
Here's a look at three unique restaurants with sky-high price tags.
THE FAT DUCK IN MELBOURNE, AUSTRALIA
Average price: US$525 (S$705) per person 
British food wizard Heston Blumenthal brought his three-Michelin-starred restaurant The Fat Duck to Melbourne in 2015. The price tag? A whopping US$525 per person.
The menu took diners on a "journey of history, nostalgia, memory and emotion", with dishes such as salmon lollies, snail porridge and "Sound of the Sea", a sculptural plate of seafood, seafood, panko "sand" and an iPod (yes, an Ipod) tucked into the conch shell.
While enjoying the dish, diners listened to the sound of waves crashing and seagulls flying overhead, meant to evoke nostalgic seaside memories.
ULTRAVIOLET IN SHANGHAI, CHINA
Average price: US$900 per person
This secret restaurant in Shanghai serves only 10 diners at a time and no one really knows where it is. Instead, diners are brought to the restaurant by bus, where they will dine in a room with bare walls and no decor.
The room is fitted with 360-degree wall projections, table projections, scent diffusers and a multichannel speaker system. The room transforms itself throughout dinner, taking diners through different landscapes from an abstract otherworldly setting to a rainy day in London. The meal consists of 20 courses, crafted by French chef Paul Pairet.
SUBLIMOTION IN IBIZA, SPAIN
Average price: US$1,635 per person
Sublimotion in Spain is arguably the world's most expensive restaurant. Here, diners with deep pockets are in for a truly immersive dining experience that includes a sound and light show for which they have to don virtual reality headsets.
The restaurant seats just 12 diners at a time. The 20-course gastronomy meal is the brainchild of Michelin-starred chef, Paco Roncero. It opens only during the summer season and the menu changes every year.