Hong Kong's iconic Yung Kee Restaurant emerges after a S$9 million renovation
As Yung Kee turns 80 in 2022, we speak to third-generation owner Yvonne Kam to find out the secret of her family's success, and if she has any special message for the restaurant's many fans in Singapore.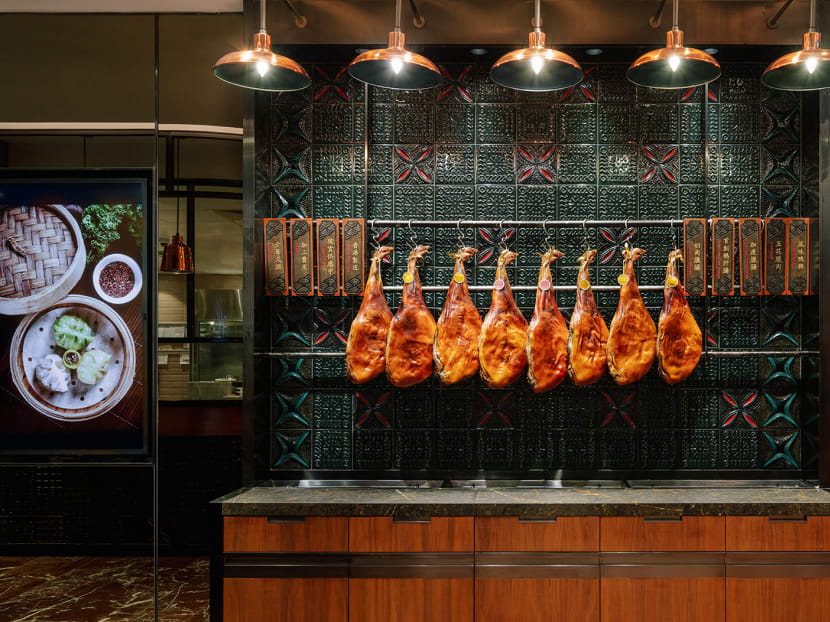 Back in the days when flying internationally was as easy as getting on a bus, an overnight or weekend trip to Hong Kong was never complete without ticking off a few food boxes.
Crumbly, buttery egg tarts from Tai Cheong bakery were a must, as were bouncy fish balls in curry sauce, while for a fix of delicious Cantonese siu mei roasted meats, there could be only one: Yung Kee. Not only that, but their cutely-named "flying goose" option allowed you to take a whole bird home with you.
This true Hong Kong institution is proudly marking a major milestone in 2022 as it celebrates its 80th anniversary, but for painfully obvious reasons, it's only the city's permanent residents who have been able to enjoy their roast goose, char siu pork and more since the SAR's borders shut.
However, when the city does re-open to Singaporeans and others, diners are set for a serious treat as the Wellington Street favourite has undergone a S$9 million renovation project. Then again, reinvention has long been part of the Yung Kee story, reflecting Hong Kong's own growth in the process.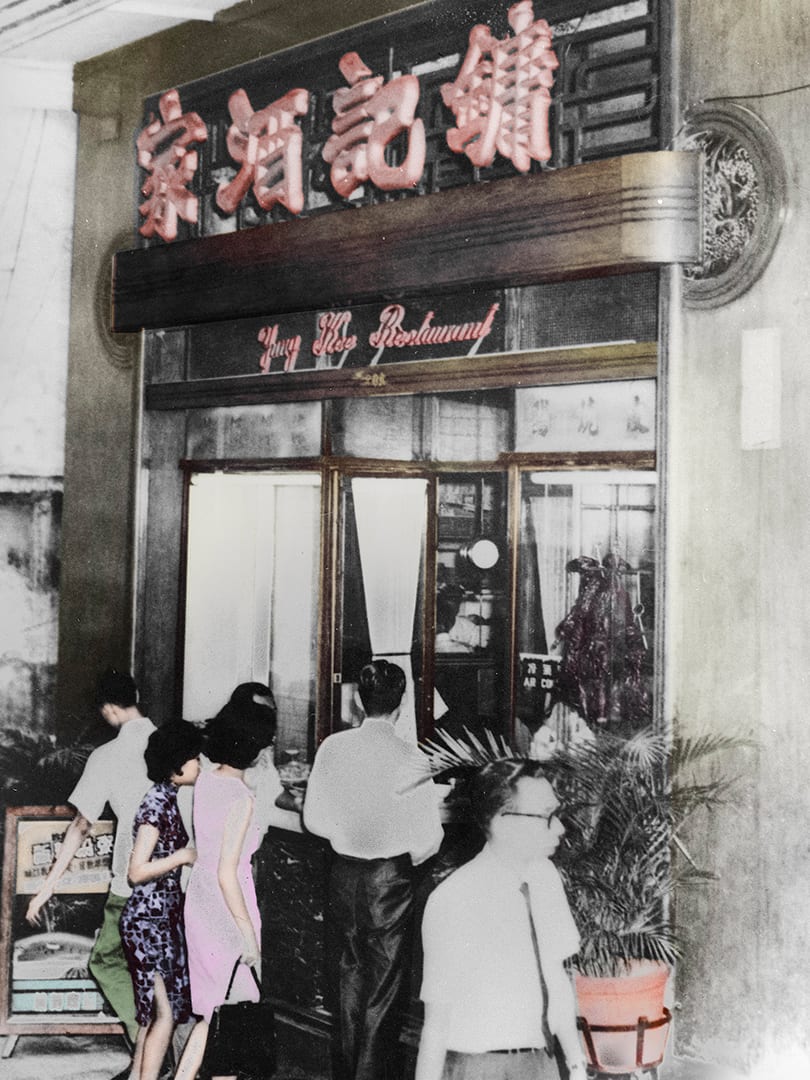 Back in 1936, founder Kam Shui-fai opened a humble street-side dai pai dong, before it moved to its first permanent building in Sheung Wan in 1942. After being bombed during the second world war, another move ensued to Pottinger Street, the first location where the business really began to take off in the booming post-war years.
Locals and international visitors alike flocked to try their roast goose, a sign of prosperity and plenty as compared to the hardship of the war years. Their final move – to the location they still call home, in the heart of Central on the cusp of Lan Kwai Fong – came in 1964.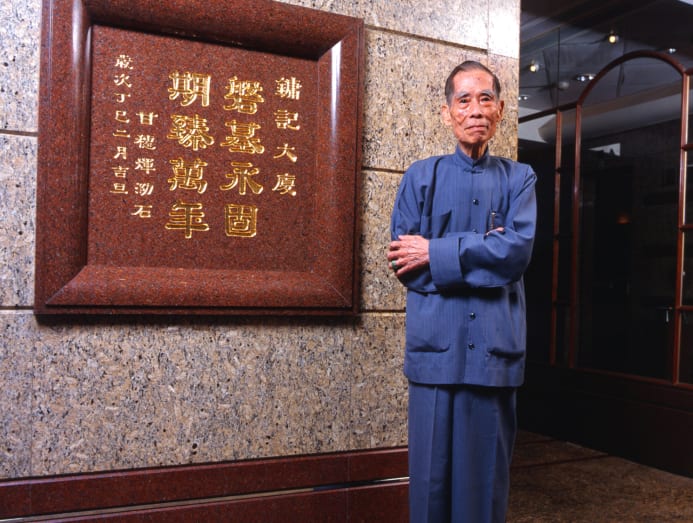 Today it is Kam Shui-fa's granddaughter, Yvonne Kam, who has overseen the striking transformation of the restaurant as it seeks to remind Hong Kong diners of its reputation and history for all its expressions of Cantonese cuisine – not just its roast meats.
But more than that, the renovations seek to preserve their heritage, turning the restaurant into a living museum that celebrates their own history but also the development of Hong Kong's famous food culture.
It was clearly a substantial undertaking, but Kam explains that in the end it was a "blessing" to be able to do it: "We first needed to upgrade the kitchen, but then decided just to do the renovation slowly and do it well. There are not very many restaurants like this one, still run by a single family. This past decade has been the most difficult part of our history with COVID-19, the protests and a lawsuit, all things that could knock out a restaurant. But we're grateful to still be here."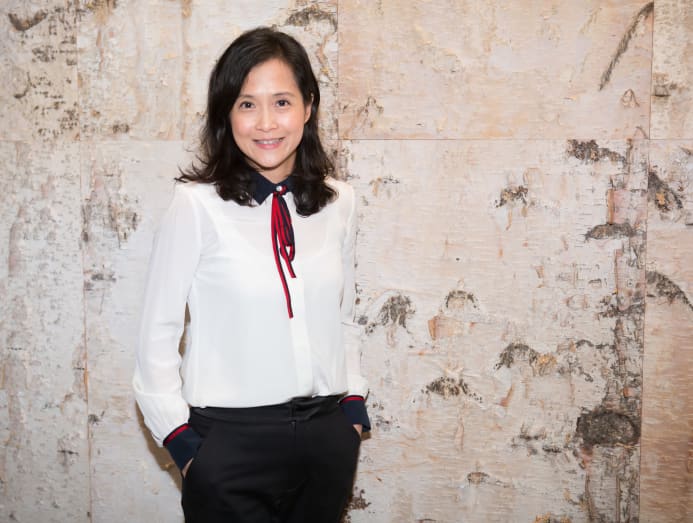 "This past decade has been the most difficult part of our history with COVID-19, the protests and a lawsuit… But we're grateful to still be here." – Yvonne Kam
WHAT YUNG KEE LOOKS LIKE AFTER ITS RENOVATION
Clearly no expense has been spared on the renovation. While it obviously helps that they own the entire building, each floor of the 400-seat restaurant has a distinct personality and feel.
Only the ground floor has remained largely untouched by the renovation, representing Yung Kee's humble dai pai dong beginnings. Photography of the first shopfront,  a wooden statue of calligraphy master Wang Xizhi by a goose pond and original booth seating – updated with cushions and panels – join a busy takeaway area where hungry office workers pick up steaming bowls of congee, dim sum and char siu fan to go.
The first floor has modernised the classic teahouse, with highlights including their original salvaged hand-crafted Italian floor tiles and the striking gold-lacquered restaurant signage from 1945, now above a corner bar. A private dining area also features chandeliers inspired by the Wong Kar-Wai classic from 2000, In The Mood For Love.
But it's the second floor which steals the show thanks to the dragon and phoenix stage, painstakingly restored by no less a team than those who worked on the restoration of Beijing's Forbidden Palace. Stone-carved calligraphy by renowned Chinese writer Lin Yutang and a full set of porcelain Buddhist saints figures in red, white and blue glazing are two examples of exquisite craftsmanship. As Kam explains, the investment was absolutely more than worth it because the family restaurant "has huge sentimental value – it's priceless to us".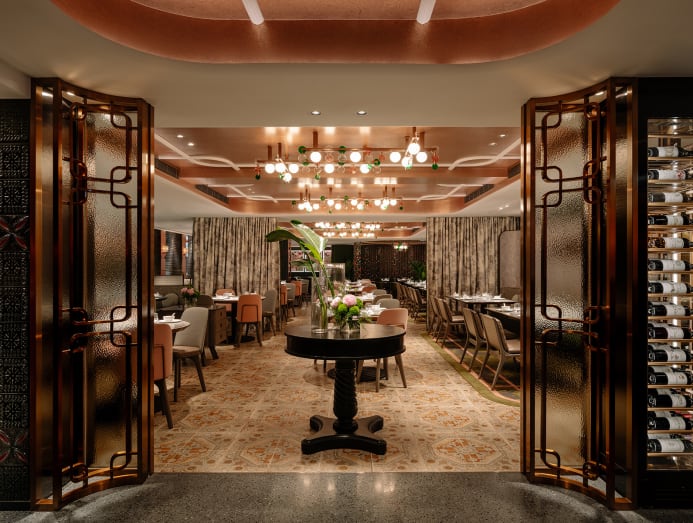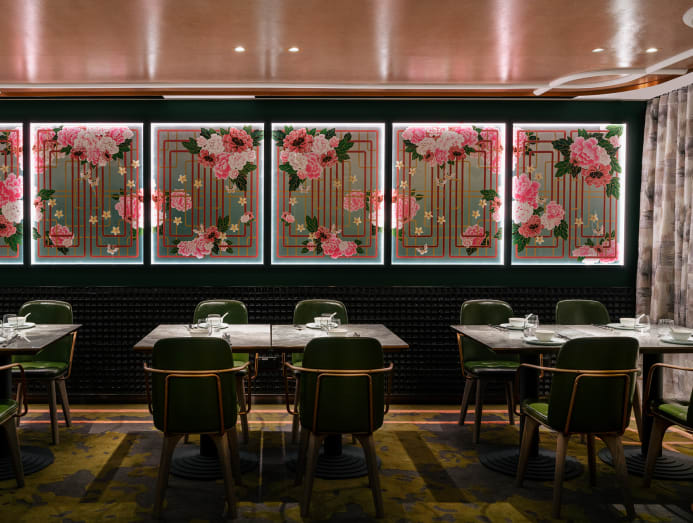 Taking time and money to preserve heritage is far from the norm, however, in the Fragrant Harbour: "Hong Kong is very fast-growing, so retaining history and heritage here does not happen as easily as in Singapore. When I last visited Singapore I went to Chinatown where there were still tiny shops selling very specialist things, like they used to in Hong Kong. I was really impressed," said Kam.
But more than the design, it's naturally the food which counts most. Happily, here too they have invested while retaining their heritage and history.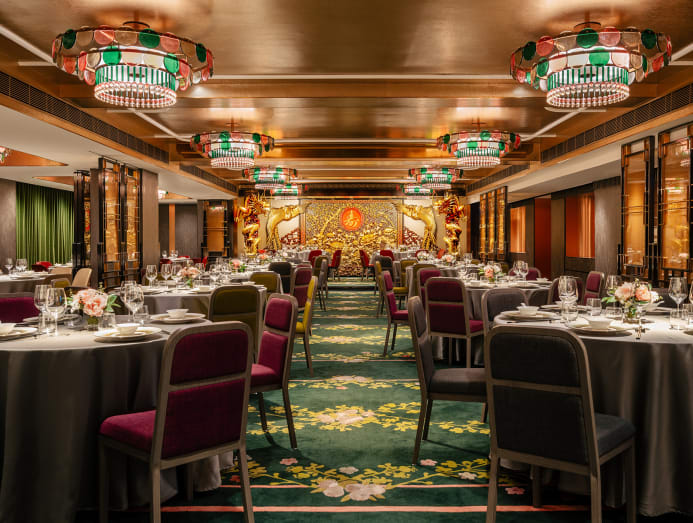 "When I last visited Singapore I went to Chinatown where there were still tiny shops selling very specialist things, like they used to in Hong Kong. I was really impressed." – Yvonne Kam
More than half a century ago, Fortune magazine included Yung Kee in its list of the Top 15 Restaurants in the World – a long time before the World's 50 Best monetised a similar idea. That recognition is one of more than 100 major culinary awards bestowed to date.
Kam is very keen to stress that Yung Kee is far more than just roast meats, a misconception even among locals who don't realise the breadth of their menu offerings. "Yung Kee is special because we have four different departments: Roasting kitchen, dim sum, congee and noodles."
There are other notions she is keen to dispel: "The younger generation would only come here with their parents, not with friends. We have been seen as very traditional, not cool enough, while another perception we're trying to change is that we're expensive. For example, our ground floor offering for wonton noodles, congee, and char siu rice is well below HK$100 (S$17.5), the same as a bowl of ramen elsewhere."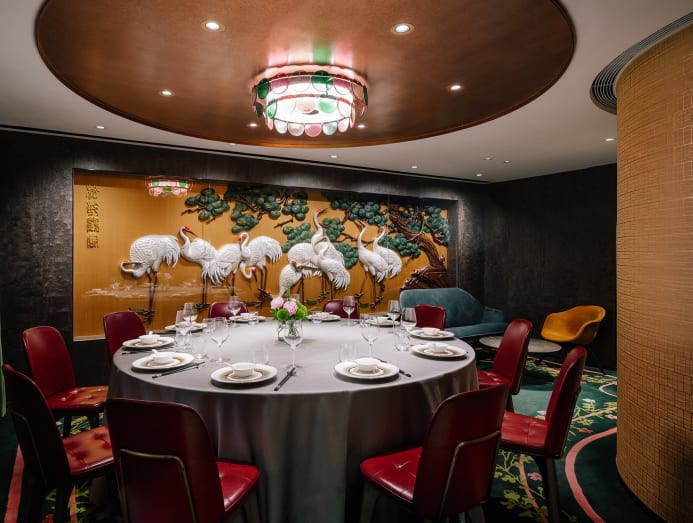 HAS YUNG KEE'S FOOD CHANGED OR REMAINED THE SAME?
Dining on the striking second floor runs considerably more expensive than their ground floor dai pai dong, but it is a tour de force of Cantonese cooking, showing exactly what eight decades of experience can bring. At a recent taste test, their dim sum were delicate and delicious, a lobster tail toast was a fun elevation of the prawn toast classic, while their take on XO chilli sauce had us asking for more.
But their fame is based mostly on siu mei – and rightly so.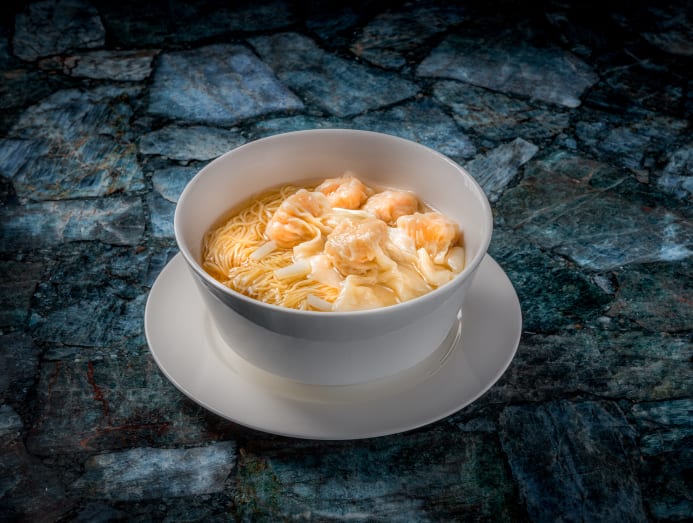 Smoked premium pork belly was a fabulous rendition of the classic dish, thanks to first being boiled in a mix of star anise, black cardamom and bay leaves, before then being steamed and finally smoked with cane sugar, chrysanthemum and tea leaves. The smoke is subtle, complex and the perfect foil to decadent, fatty belly.
Their pigeon features two Cantonese preparations, namely braised legs and stir-fried fillet. The former is marinated then air-dried to ensure crispy skin and tender meat once it emerges from the fryer. The stir-fried version then showed expert knife technique and finesse to let the gamey notes come through, but never overpower.
There could be only one crowning glory, namely their legendary Charcoal roasted goose in Pipa style, a dish that you need to pre-order. You quickly learn why.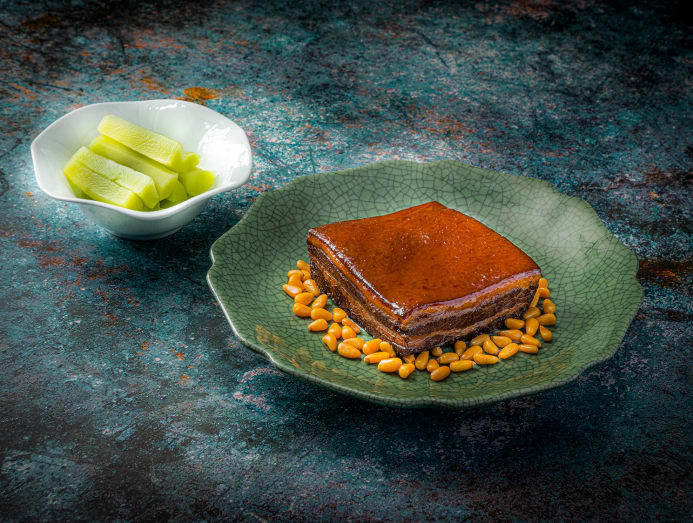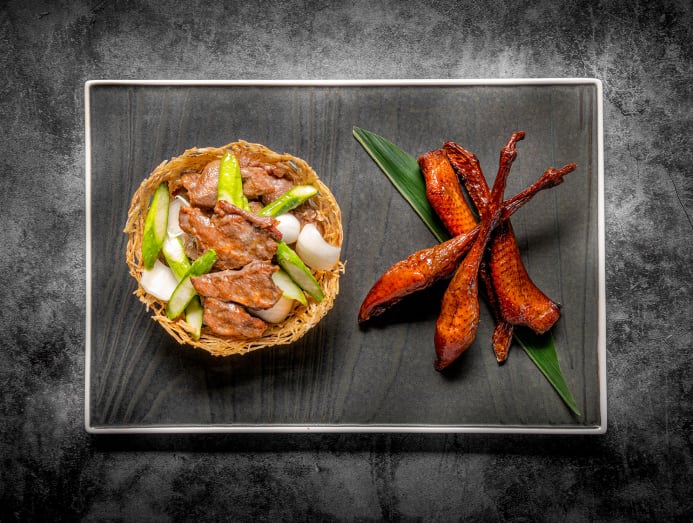 The goose is first deboned and flattened to present it in the form of a pipa, the traditional Chinese instrument. Then they marinate in a secret sauce based on fermented red bean curd, before air drying it for six hours then roasting – not once, but twice. Why? It delivers the perfect reddish-brown colour, incredibly moist meat and the all-important crispy skin.
Silence descended around our table as we took in this ultimate example of Cantonese culinary technique. Despite dizzying global events and change everywhere, it's reassuring to know that some things have stood the test of time. This is still some of the world's finest roast meat.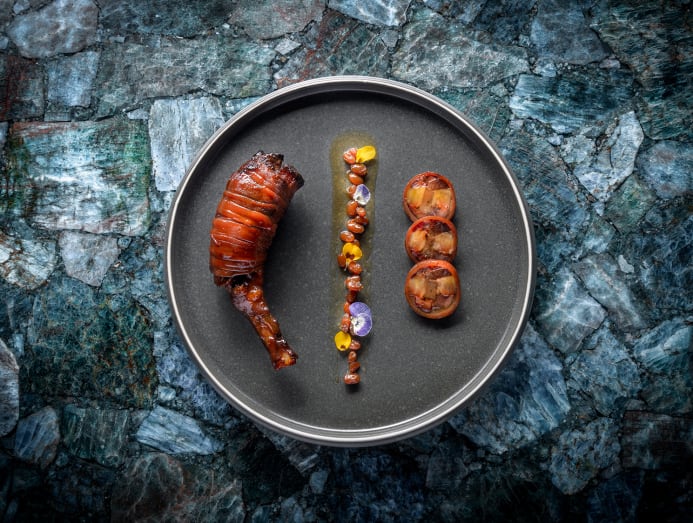 Many others agree, from US presidents to a German chancellor, Thai princesses to countless Cantopop celebrities – not to mention generations of Singaporeans.
Indeed, when we ask Kam whether she has any special message for Yung Kee's many fans in Singapore?
"I really wish overseas visitors can come back, as we represent Hong Kong food culture. I hope they can come and see our brand new face, take our food back home – and post lots on Instagram!"
"I really wish overseas visitors can come back, as we represent Hong Kong food culture. I hope they can come and see our brand new face, take our food back home – and post lots on Instagram!" – Yvonne Kam