Métiers d'art timepieces explore a side of watchmaking beyond engineering and micromechanics, but via artistic crafts that are no less technically challenging
Far from being just functional timekeepers, watches have long also served as canvases with which to showcase various artistic crafts. These skilled pursuits, or métiers, include enamelling, marquetry and guillochage. Each is a unique domain unto itself, with the work performed by artisans who specialise narrowly in their chosen fields through years of practice. The results are breathtaking, as each resulting timepiece is a miniature work of art.
From scenes in nature to daring feats of yore, métiers d'art timepieces have explored different subjects, many of which are completely unrelated to horology. What's more, the creative nature of such work knows no limits; different crafts are often used in combination within a single watch, much like how an artist mixes different colours on their palette. What is limited, however, are the timepieces themselves. Métiers d'art watches' very nature precludes mass production of any form, and they are typically released either as one-offs or as a limited series.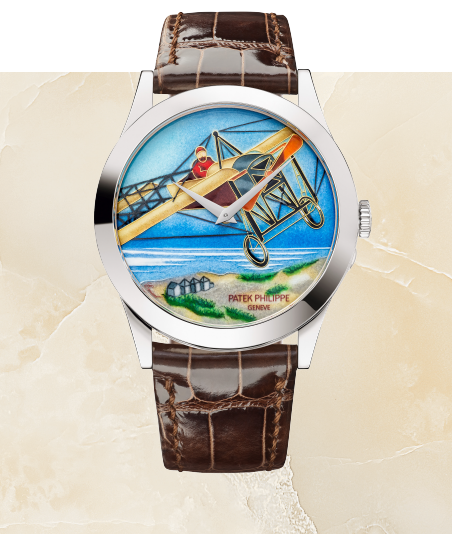 Different colours of vitreous enamel "set" at different temperatures, which necessitates multiple rounds of painting and firing to achieve the final product.
In Ref. 5089G-089, Patek Philippe pays tribute to the first crossing of the English Channel by an aeroplane, which Louis Blériot accomplished in 1909 in the Blériot XI monoplane. To create its dial, the enameller first outlines the necessary elements using gold wire measuring just 0.45mm by 0.1mm in cross-section. A palette of enamels are then applied painstakingly, before miniature painting is done on the enamel surfaces to fill in the finer details. Finally, several coats of flux, a transparent enamel, are added to intensify the brilliance of the dial. This timepiece is part of a series of three, with its two siblings paying tribute to the first non-stop flights across the Atlantic and the Pacific oceans respectively.
French writer Antoine de Saint-Exupery, best known for writing The Little Prince, once remarked that perfection is achieved not when there is nothing more to add, but when there is nothing left to take away. The Breguet Classique 7337 epitomises this with its guilloché dial. Guillochage is a form of decorative art that uses machines called rose engine lathes to engrave repeating lines — both straight and curved — into a surface in order to create patterns. The craft is difficult not just because of its intricacy, but also because hand-turned guilloche dials demand finesse in maintaining a consistent depth across the engraved lines. On this timepiece, the offset central portion of the dial has been decorated using the hobnail guilloché pattern. The outer dial, on the other hand, features a circular barleycorn motif. These are both traditional guilloché forms, which contrasts against the contemporary design of the dial's layout. The hand-hammered moon, rendered in gold at 12 o'clock, lends yet another touch of artistic sensibility to the watch, with its textured surface providing balance to what is otherwise an aesthetically orderly dial.
EACH MÉTIER IS A UNIQUE DOMAIN UNTO ITSELF, WITH THE WORK PERFORMED BY ARTISANS WHO SPECIALISE NARROWLY IN THEIR CHOSEN FIELDS THROUGH YEARS OF PRACTICE.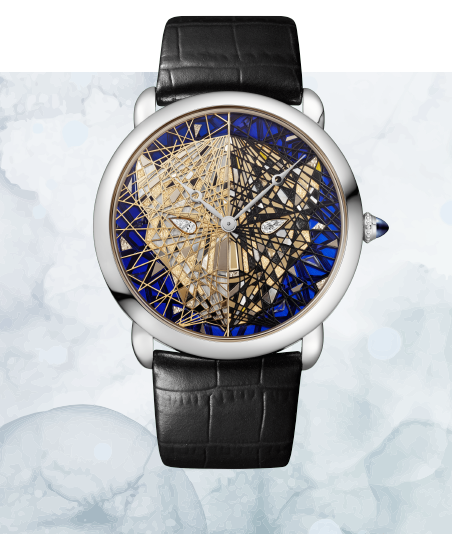 Given the work required for each example, the timepiece is available in a limited run of just 30 individually numbered pieces.
The Ronde Louis Cartier Sparkling Panthère watch features Cartier's iconic panther motif through a graphic, avant-garde interpretation that demands closer examination. The dial here is a work of marquetry. This technique works by cutting pieces of the desired material(s) out first, then fitting them together like a jigsaw puzzle. Working at such a miniature scale, however, challenges the artisan to shape each element precisely to fit perfectly together, while keeping each element safe from chipping, tearing or breaking. For each Sparkling Panthère watch, 124 pieces of straw, wood, yellow gold, white gold, sapphire fragments, and mother-of-pearl are used. The icing on the cake are the two pear-cut diamonds used for the panther's eyes. Some 44 hours of work are put into creating each dial. The final result? An exercise in contrasts between light and darkness, all within a timepiece measuring just 42mm across.
The Jaeger-LeCoultre Rendez-Vous Sonatina Peaceful Nature - Koi depicts a koi swimming beneath the rippling surface of a pond, with willow branches framing the scene. Pulling off this masterpiece is a laborious process. To begin, the dial blank is thoroughly cleaned, then covered with lacquer — layer by layer — in order to build up the deep black background. This is followed by miniature painting, first using gold lacquer paint to imitate Japanese maki-e lacquer. The rest of the scene is painted next, with the final step being the application of tiny gold paillons (flakes), which play with the light differently to add further depth to the dial. The finishing touch here are the rows of diamonds on the bezel and dial, which lend a sparkle that enhances visual interest.
DIFFERENT CRAFTS ARE OFTEN USED IN COMBINATION WITHIN A SINGLE WATCH, MUCH LIKE HOW AN ARTIST MIXES DIFFERENT COLOURS ON THEIR PALETTE.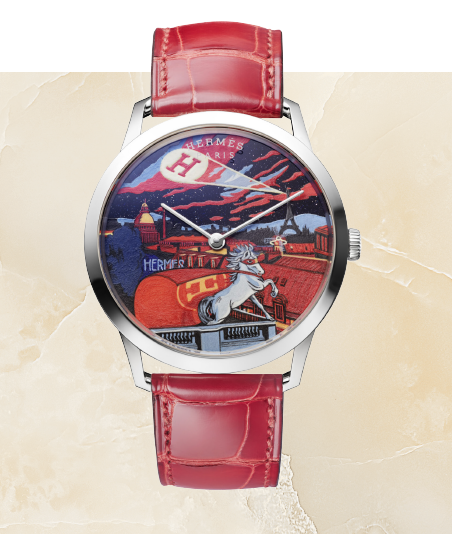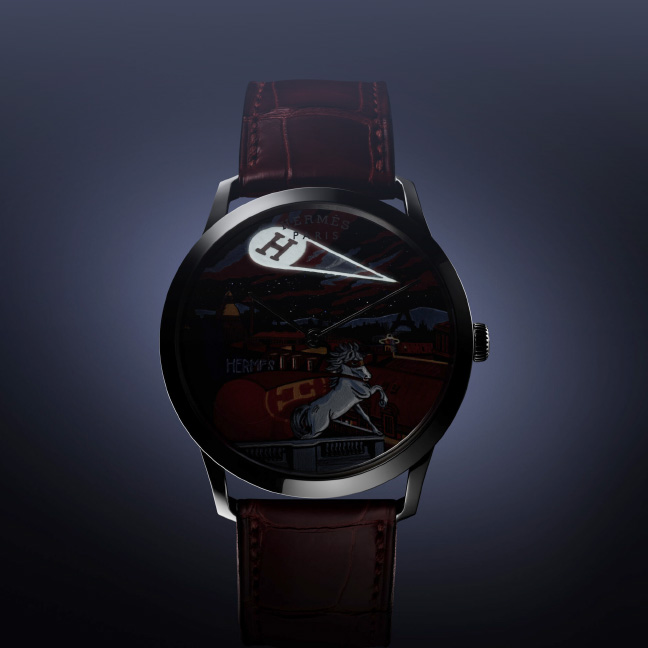 Like the masked superhero on its dial, the Slim d'Hermès Minuit au Faubourg has a hidden guise that only appears in the dark. The watch presents a scene that looks straight out of a comic — complete with an art style reminiscent of examples from The Golden Age of Comic Books — but with the brand's signature twist of irreverent playfulness. This was executed via micro-painting on a dial base of aventurine, with the uncovered portions serving as the night sky. Doing so creates a layered work with depth, while also given the effect of making the dial appear like a canvas. What is especially interesting here is how the beacon shining from the Eiffel Tower has been painted in Super-Luminova — in the absence of light, it glows with a soft luminescence like an actual projection.
Vacheron Constantin frequently goes beyond the dial in its expression of artistic crafts, and the limited edition Traditionnelle Tourbillon watch is one such example. This timepiece's lugs and bezel bear a series of volutes (carved in bas-relief) to represent the sky as it is depicted in traditional Chinese art. Doing so sets the scene for the dial, which has been decorated in guilloché and finished with a galvanic treatment to create a textured silver background. Upon it, a dragon and phoenix dance around a pearl. These elements have all been rendered in pink gold, with the mythical creatures engraved by hand and the pearl sporting a blend of hand-polishing and sandblasting. Intricate details aside, the myriad textures on the dragon, phoenix and pearl all speak to the skill of the artisans, who had to work with the elements' limited depth given space constraints within the watch.