For Chanel, watchmaking is a natural extension of its creativity, with a design-centric approach backed by technical expertise
What gives a brand legitimacy in watchmaking? Commonly-proffered answers include an integrated manufacture, experience with high complications, and a suitably long history with watchmaking patrimony. Indeed, these characteristics can reflect expertise and authenticity. They are far from definitive though.
As a relative newcomer to the world of fine watchmaking, Chanel has put forth its own answer. Since its maiden foray into the industry in 1987, the brand has followed a unique philosophy of putting design at the core of its watchmaking, with technical expertise being the means to fulfil the designer's creative vision. The result is an enviable line-up of timepieces that belies the maison's short history, as well as an alternative view on what fine watchmaking constitutes.
A New Dawn
Chanel's timepiece division has always been a reflection and extension of the brand's wider oeuvre. To that end, watchmaking activities at Chanel draw heavily on the maison's rich heritage for inspiration.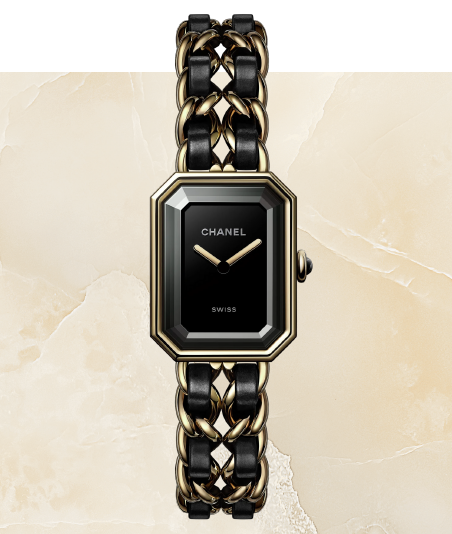 The Première Édition Originale (2022), a throwback to the very first Première watch unveiled in 1987, with just the subtlest tweaks to update the original.
This was apparent from the get-go with the brand's 1987 debut, the Première. The timepiece's silhouette alluded to the classic No. 5 perfume's bottle stopper and Paris' Place Vendôme — icons closely associated with the brand — to create an instant link between Chanel's product pillars. This practice of translating design languages across products would go on to create other icons like the Boy Friend and Code Coco watches.
CHANEL ESCHEWS THE PURSUIT OF TECHNICAL SAVOIR FAIRE AS AN END UNTO ITSELF, INSTEAD USING IT AS THE MEANS TO FULFIL THE DESIGNER'S CREATIVE VISION.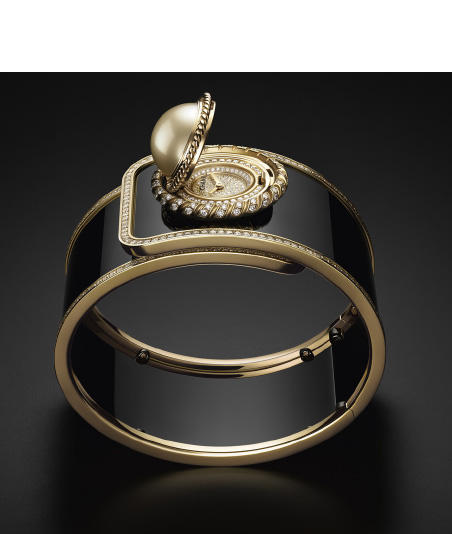 The Hors-Série Mademoiselle Privé Bouton Golden Pearl Motif watch (2022) is a secret watch that's worn as a cuff bracelet.
Elsewhere, ideas and motifs have also been reinterpreted. Just last year, for instance, the brand unveiled the updated Mademoiselle Privé Bouton collection featuring objets d'art that also tell the time, each inspired by the symbols that were dear to the maison's founder, Gabrielle "Coco" Chanel, and the objects she surrounded herself with.
The Beating Heart
The counterpoint to the creativity that drives Chanel watches' designs is the technical expertise to realise them, from movement development to material engineering. Chanel has steadily expanded its know-how in this area. For a start, there is the movement itself. Here, the maison has made great strides in recent years, with new timepieces bearing movements conceived, developed and produced in-house.
The watershed moment was the release of the Monsieur de Chanel (above) in 2016. The Calibre 1 movement driving the watch was a revelation with its beautiful architecture and considered finishing. What was even more impressive was how cohesive the timepiece was technically and aesthetically.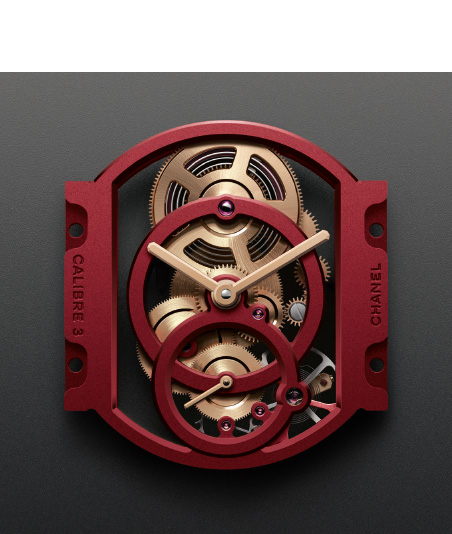 The coloured Calibre 3 that powers the Boy Friend Skeleton Red Edition (2022) offers a bolder look that emphasises the movement's architecture.
Just a year later, the brand followed up with the Première Camélia Skeleton bearing Calibre 2, its first skeletonised movement. The calibre epitomised Chanel's design-first approach by employing openworking techniques to realise the creative vision of a camellia in bloom. There were still more to come, with Calibre 3 in the Boy Friend Skeleton and Calibre 5 in the J12 Diamond Tourbillon being particular highlights.
Modern Alchemy
Movements aside, Chanel also sought to master various materials. This is especially so for ceramic, which the brand introduced in 2000 in the J12 watch. Despite having desirable properties such as being hypoallergenic and scratch-resistant, ceramic is challenging to produce, machine and finish. What's more, it was not perceived as being luxurious, which made Chanel's decision to render the first J12's case and bracelet in black polished ceramic a bold one.
The move proved to be prescient. The J12 collection's extensive usage of ceramic made ceramic its calling card and single-handedly elevated the material to luxury status.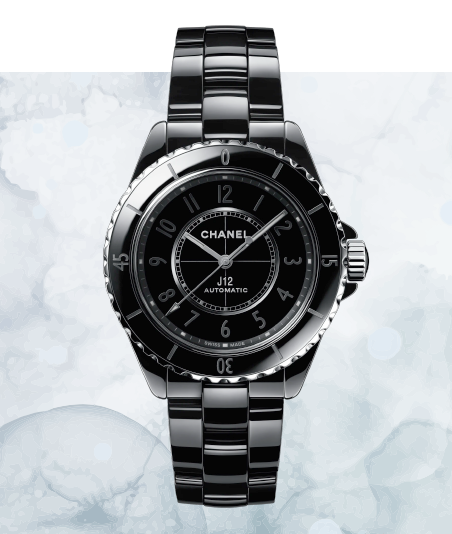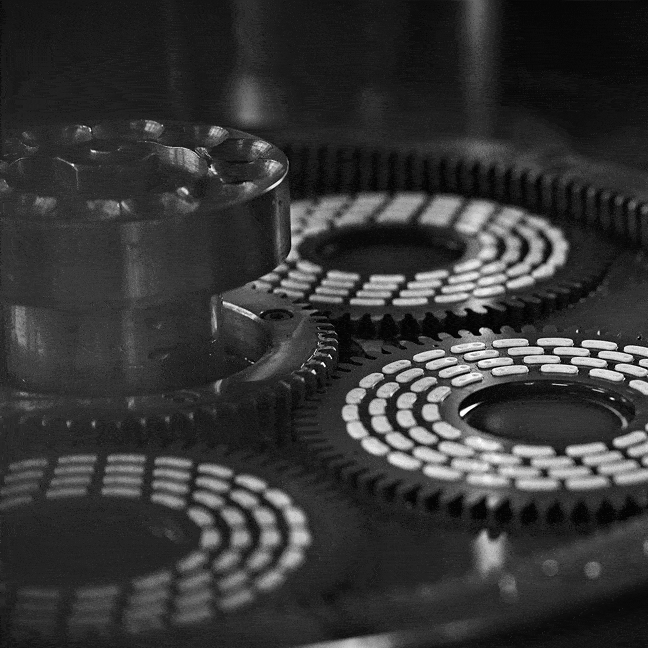 CHANEL HAS SCULPTED THE VARIOUS FORMS OF THE J12 WATCH IN CERAMIC OVER THE YEARS, AND ELEVATED THE WATCH TO ICONIC STATUS.
Beige gold is another noteworthy example. This proprietary alloy bears a neutral hue that's more subtle than the more commonly seen variants of pink gold. Launched in 2014, beige gold has expanded Chanel's tonal palette, and become an identifiable signature that's used across its product lines.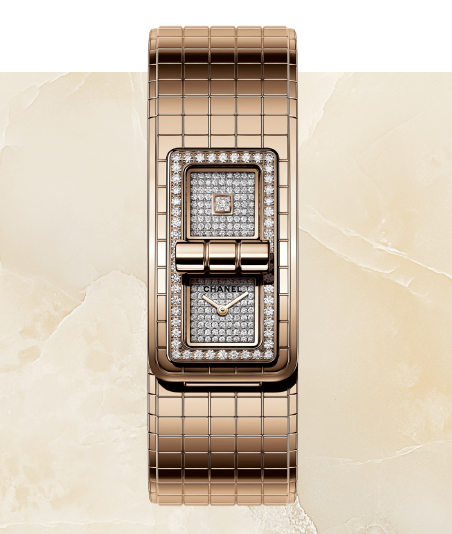 The Code Coco in beige gold (2019) melds watch and jewellery while alluding to Chanel's iconic quilted motif.
Miniature Art
The final piece of the puzzle concerns decorative crafts, which include gem-setting as well as métiers d'art techniques like enamelling and micro-engraving.
Gem-set timepieces are a staple within Chanel's line-up, and the brand's experience as a jeweller has enabled it to push the boundaries of watch design here. Case in point: the J12 Paradoxe (above), which sees diamonds being precisely set — pavé style — to create a dramatic graphical glitch effect. The same level of precision and control is also seen in the diamond-set tourbillon cage of the J12 Diamond Tourbillon and elsewhere.
Meanwhile, métiers d'art techniques are used by Chanel to create watches from the subtle and understated to ornate displays of artistry. Beyond the more commonly-seen techniques, Chanel routinely works with rarer, more challenging variations of existing métiers, as well as unusual ones.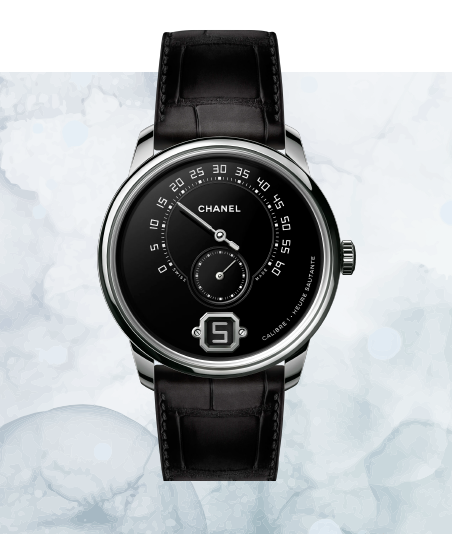 The Monsieur with a black Grand Feu enamel dial (2017) presents a monochromatic look that spotlights the perfectly-proportioned dial elements.
An example of the former is the black enamel dial found in a variant of the Monsieur watch released in 2017. While enamelling isn't particularly rare these days, black enamel dials are seldom seen, given how notoriously difficult they are to produce. The result is well worth it though — the Monsieur's black dial presents a stunning warmth and depth that's only possible with enamel, to cast the model in a new light.
As for unusual métiers, the maison has given form to its artistic vision with crafts including embroidery, glyptic (i.e. precious stone engraving) and mother-of-pearl marquetry. These techniques are employed to produce sublime works of art that parallel the brand's haute couture creations in beauty, audacity and rarity. One example is 2023's Mademoiselle Privé Pique-Aiguilles (above), which blends couture and horlogerie through techniques such as lacquering and beading.
A Different Take
Changes in the watchmaking industry — including attitudes — take place at a glacial pace. Chanel has, however, caused quite a stir within just four decades. From the J12's outsized impact on how ceramic and women's timepieces are viewed, to its in-house movements' influence on watchmaking aesthetics, the maison has precipitated a rethink about the possibilities in horology.
Far from being just an agent provocateur, however, the maison has also carved out a niche by developing its unique design-driven approach to watchmaking. This, in turn, has made it a respected and influential voice within the larger industry.
A DIFFERENT PERSPECTIVE
See how a leading fashion house has gone its
own way in watchmaking.
Discover