Hublot scores yet another first in watchmaking with a colour never before executed in sapphire crystal. To understand this new SAXEM material is to understand Hublot's fusion of art and science
Hublot stands out with a unique approach to watchmaking that sees the brand making an art of material science. The next chapter in this story is the Big Bang Tourbillon Automatic Yellow Neon SAXEM, which debuts a new material — SAXEM in neon yellow — that's previously unseen in the industry at large. This is, by the way, just one of many innovative materials that are proprietary to the brand.
To understand the significance of the new watch, one must first delve into what SAXEM (Sapphire Aluminium oXide and rare Earth Mineral, a proprietary blend of materials developed by Hublot) is, and how Hublot has made the journey to reach its enviable level of expertise in material development since 1980.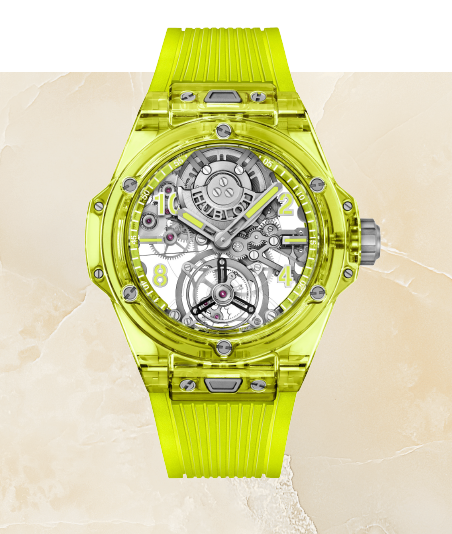 Yellow Neon
SAXEM is a first in
watchmaking, and
was developed
in-house by Hublot.

First, Different and Unique
Innovations in material science and engineering are often the key to advancing various aspects of the movement, dial and case. To achieve this, Hublot has quietly engaged in fundamental research on materials for decades. This is relatively rare in the industry, since most other watch brands lack the resources — let alone the willingness — to carry out research and development in this area. In contrast, Hublot operates its own foundry, as well as metallurgy and materials laboratory, at its manufacture in Nyon, Switzerland.
HUBLOT HAS ENGAGED IN FUNDAMENTAL RESEARCH ON MATERIALS FOR DECADES, THANKS TO ITS METALLURGY AND MATERIALS LABORATORY, AND FOUNDRY.
Such a setup has enabled some truly ground-breaking work to be done, and even drawn the interest of external organisations such as the European Space Agency (ESA), which is exploring SAXEM's potential in satellite-related technology. Hublot's CEO, Ricardo Guadalupe, often opines that Hublot likes to be first with innovations because it gives the brand a chance to find success and stay ahead of the pack. This is reflected in the brand's credo — "Be First, Unique and Different" — and has indeed led to much success and many firsts in the industry.
Material Science
By investing in the development of its own materials, Hublot has been able to craft captivating timepieces with fine control over how each one looks and feels. This doesn't just include cutting-edge materials, but also traditional ones such as gold. In fact, the brand traces its work in material engineering back to 1980, when it made the audacious attempt to fuse rubber and gold.
This work has borne fruit elsewhere. Magic Gold, for example, is a gold alloy that's proprietary to Hublot, and possibly the hardest and most scratch-resistant 18k gold in the world. Other unique materials that have been introduced by the manufacture in various forms include denim, concrete, ceramic and sapphire. Hublot even lays claim to its own alloy, Hublonium, which is produced from a special blend of primarily magnesium and aluminium.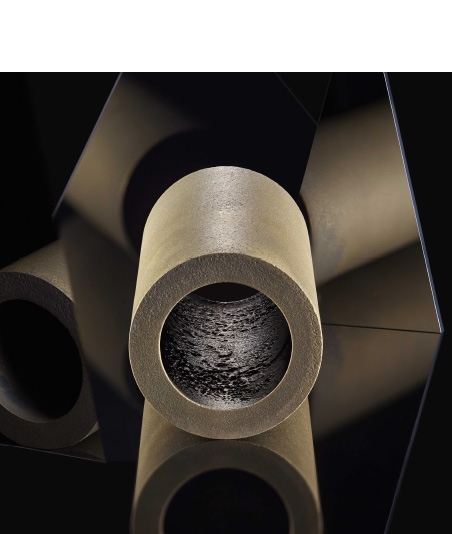 Magic Gold is
an 18k gold alloy
developed by
Hublot.


Even the seemingly innocuous play with colour demands much work. Consider Red Magic, Hublot's first coloured ceramic, which achieves its signature hue with iron oxide and a specialised material fusion process. The implication here is that every colour of ceramic requires its own tailored manufacturing process, and consequently its own cycle of research, development and production. The same is true of sapphire, which takes on different colours based on the presence of metals and metalloids in its structure.
Colour Coordination
In nature, the colour of sapphires is entirely the result of chance. Hublot has, however, developed processes to precisely control various aspects of this material's aesthetics during its production. This was demonstrated in 2019 with the Hublot MP-11 in SAXEM — the first timepiece from the brand to be cased in this material — which presented an intoxicatingly rich shade of green far more vivid than anything seen in natural sapphire. The follow-up came earlier this year at the LVMH Watch Week with the unveiling of the Big Bang Tourbillon Automatic Yellow Neon SAXEM.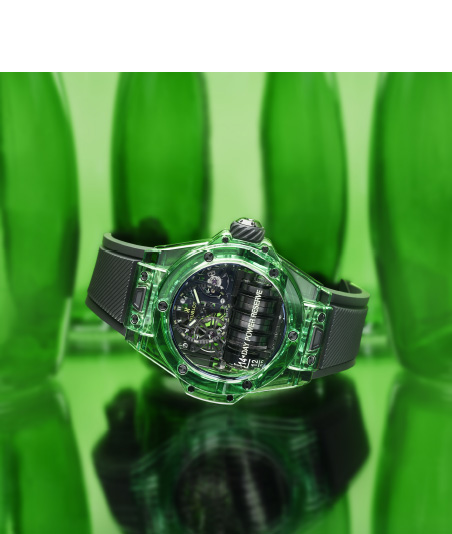 In 2019, Hublot
introduced SAXEM to
watchmaking with the
Big Bang MP-11.


"It has taken us almost three years of research after the MP-11 to develop a new colour fit for our Big Bang watch, while also being totally transparent and completely scratch-resistant," shared Guadalupe. "Once again, Hublot is pushing the possibilities of technology and aesthetics to create a unique neon yellow manufacture piece."

It seems almost unreasonable for a new colour in a wristwatch to require such a lengthy development, but the manufacture had to find the right rare earth material to obtain the desired colour and optical qualities. This is especially apparent when one looks at the new timepiece in person. The colour appears to emanate from the material itself, but is actually a result of refraction and reflection. The distinctive yellow hue is also consistent when viewed from any angle — a quality that that sets the material apart from most of its contemporaries.
The Big Bang Tourbillon Automatic Yellow Neon SAXEM's signature fluorescent neon yellow is a result of tiny, precise amounts of lutetium that were added to the sapphire. For comparison's sake, the previous SAXEM in emerald green was created using a mixture of minerals including thulium, holmium and chromium. Despite the presence of these additives, the watches remain transparent and as scratch-resistant as any "regular" sapphire. What's more, Hublot contends that SAXEM is even more optically brilliant, which makes for an even more dazzling presence on the wrist
THE BIG BANG TOURBILLON AUTOMATIC YELLOW NEON SAXEM'S SIGNATURE FLUORESCENT COLOUR IS A RESULT OF TINY AND PRECISE AMOUNTS OF LUTETIUM.
Like its predecessor, neon yellow SAXEM's usage in Hublot's new Big Bang timepiece marks a premiere for the watchmaking industry. Given the brand's penchant for pushing the envelope in material engineering, more colours will undoubtedly be unveiled in the future.

The Hour Glass is the exclusive partner of Hublot in South East Asia.
MODERN ALCHEMY
Discover the fusion of creativity and
material engineering.
Discover