SPECIAL FEATURE
Scintillating Brilliance
Four exceptional gem-set creations showcase Patek Philippe's
mastery of both haute horlogerie and haute joaillerie, and reinforce
the brand's position as a leader in the world of watchmaking
Haute horlogerie and haute joaillerie are two sides of the same coin, each a highly technical field that demands savoir faire honed over years of experience. The magic happens when they are put together; in tandem, watchmaking and jewellery craft can produce masterpieces that serve as both functional timekeeping devices and objets d'art.
At Patek Philippe, gem-setting has always been used to adorn timepieces alongside other métiers such as enamelling and guillochage, with the Antique Collection housed at The Patek Philippe Museum in Geneva offering several exceptional examples of the manufacture's work.
Do not be mistaken though — as a decorative technique, Patek Philippe has employed gem-setting in areas far beyond just jewellery watches for women. Rather, the brand also makes it a point to enhance the mechanical sophistication of its most complicated timepieces with joaillerie and haute joaillerie line extensions. In fact, Patek Philippe has just unveiled four new timepieces that do exactly this, with the Grandmaster Chime Ref. 6300G and Perpetual Calendar Chronograph Ref. 5271 each welcoming a pair of bejewelled references that explore new aspects of their respective models.
A Tour de Force
First unveiled in 2014 to mark the 175th anniversary of the manufacture, the Grandmaster Chime Ref. 6300G is the most complicated wristwatch in Patek Philippe's regular collection. This veritable masterpiece houses a total of 20 complications, with the sheer number of indications needed to present all their information prompting the brand to develop a double-face case with two dials. Such a case architecture does not compromise on wearability in any way though; Ref. 6300G comes complete with a patented rotation mechanism, and can be effortlessly worn with either dial facing up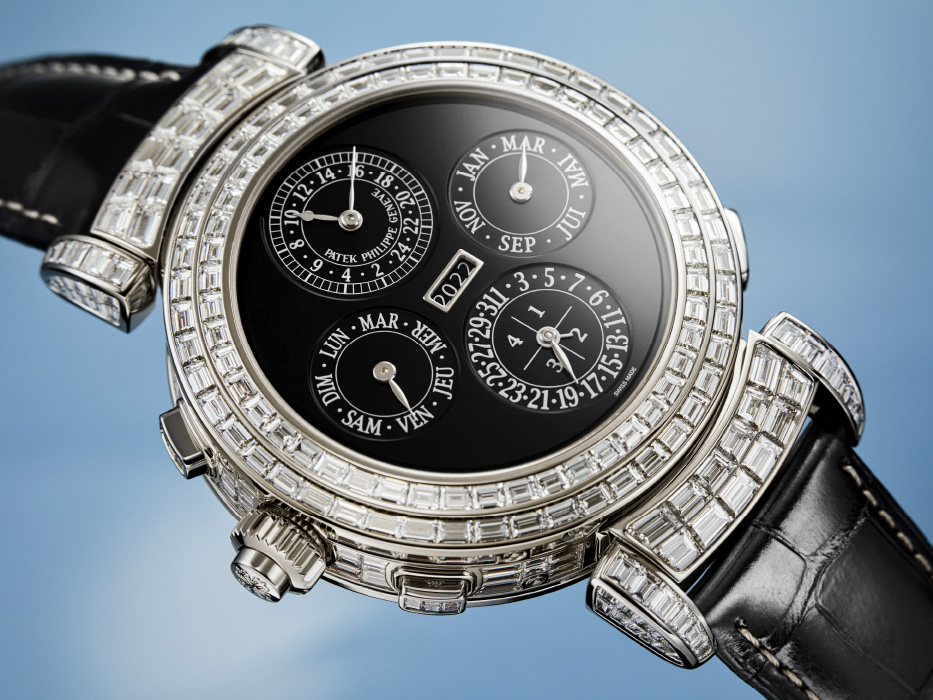 Calling Ref. 6300 a grand complication is quite the understatement. The most compelling way to illustrate this is perhaps through a look at its chiming mechanism, which sports five different modes. The first three are already highly complex, and consist of the grande sonnerie, petite sonnerie and minute repeater. Beyond these, Ref. 6300 also debuted two patented new modes: an alarm that strikes the time and a date repeater. These variations of the striking complication are, in turn, accompanied by others from the perpetual calendar to the second time zone display.

Ref. 6300 has welcomed two additional references that embellish the technical brilliance of the timepiece through the sparkle of gems. In Ref. 6300/400G-001, the case and deployant buckle have been paved with 409 baguette-cut diamonds totalling 31.35 carats — using the seamless invisible setting technique, no less — to accentuate the black opaline dials and alligator strap.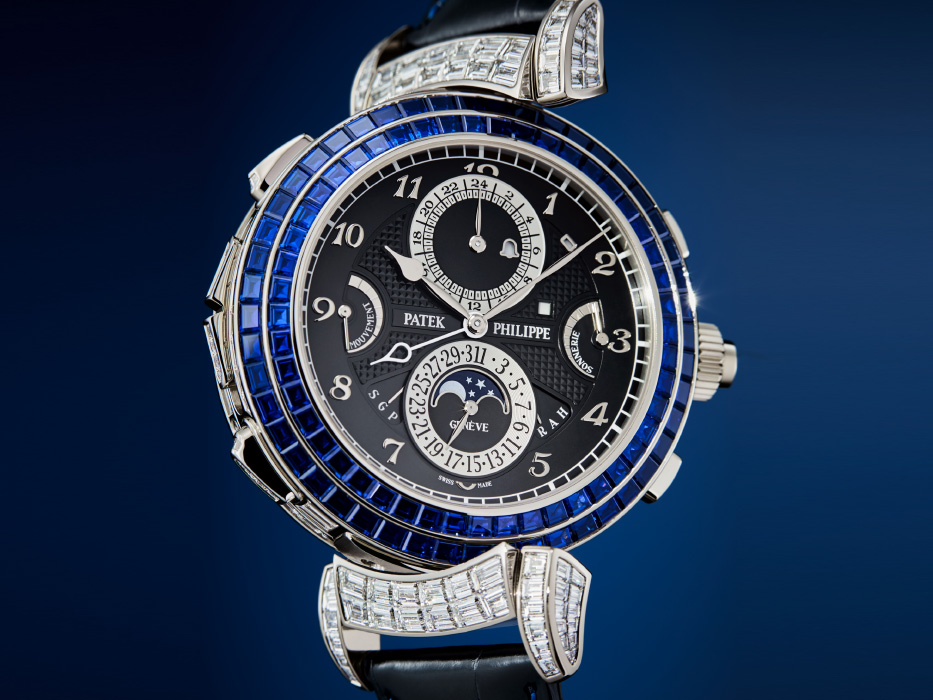 Ref. 6300/401G-001, on the other hand, uses 291 baguette-cut diamonds and 118 baguette-cut sapphires totalling 20.54 carats and 11.9 carats respectively to present a similar look, albeit with the clasp and bezel for one side of the watch set using sapphires instead. In lieu of consistency, Patek Philippe has opted for contrast here instead, with two different looks being presented depending on which side of the dial is facing up.
Reinterpreting A Classic
Patek Philippe has similarly unveiled new jewellery interpretations of the Perpetual Calendar Chronograph Ref. 5271, which features the classic combination of its two eponymous complications in a pairing first made iconic by 1941's Ref. 1518.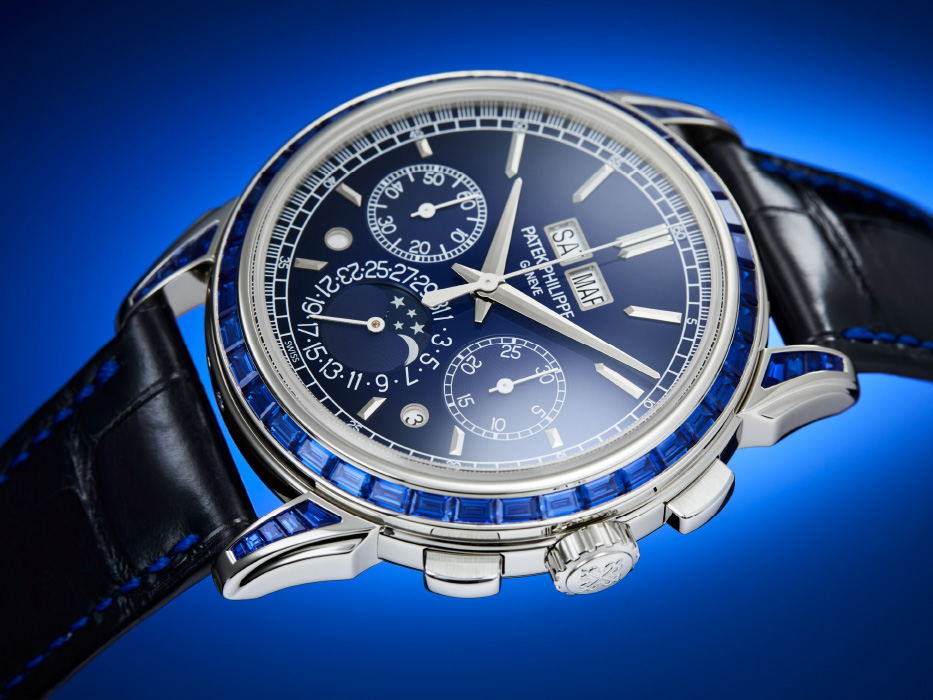 Ref. 5271's predecessor, Ref. 5270, was first unveiled together with the CH 29-535 PS Q calibre in 2011. The watch quickly became a classic that stood out for melding traditional hallmarks of movement architecture — such as its horizontal clutch — with innovations that led to six different patents.

The first version of Ref. 5271 followed three years later in a platinum case set with diamonds, and it has been joined by two additions sporting new colours with matching gemstones. In Ref. 5271/11P-010, 80 baguette-cut sapphires totalling 5.16 carats adorn the watch's bezel, lugs and clasp to lend a touch of blue to the same platinum case. These are matched by a lacquered dial — also in blue — that sports a graduated effect with a dark, almost black rim. Ref. 5271/12P-010 adopts a similar style, but does so in red instead. To that end, the watch has been set with 80 baguette-cut rubies (5.25 carats in all) in the same places, and presents a lacquered dial with a crimson centre that darkens towards the edge.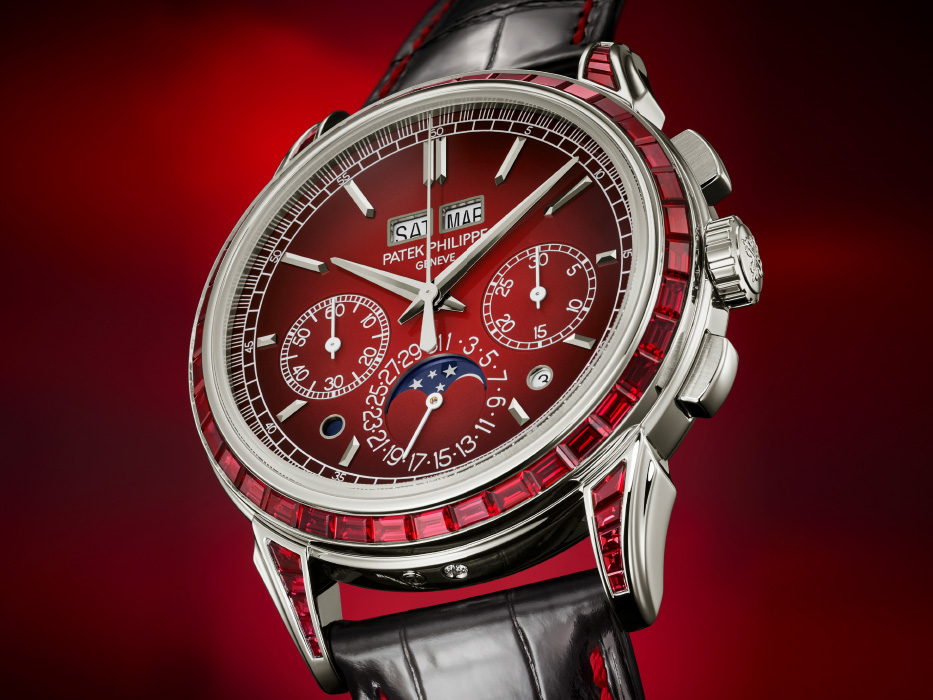 The two new timepieces retain the high legibility of their predecessor, not least because of the intuitive arrangement of the dial displays. Note, for instance, how the perpetual calendar's displays have been sorted into various apertures, with the date and moon phase indicators combined into a single sub-dial at six o'clock. The symmetrical layout makes for an aesthetically pleasing look as well, which contributes to the watch's harmonious appearance. Of course, the white dial markings and chapter ring also serve to create a high-contrast look, thus making these eminently useful complications a cinch to read and operate.

In many ways, the four new creations represent a "business as usual" approach for Patek Philippe, which has developed and maintained an enviable expertise in both haute horlogerie and haute joaillerie. The brand's aficionados, however, will be delighted with how their addition has significantly bolstered the brand's lineup of gem-set timepieces. The annual production of these watches will be limited though, in view of their movements' complexity, as well as the work and expertise needed to create them. They are available at Cortina Watch, alongside the rest of Patek Philippe's collections.
AN EXCEPTIONAL VIEW
An expansive range of high complications with
a bejewelled twist awaits.
Discover