Christie's George Michael collection includes Damien Hirst, Tracey Emin
Two years after his death, George Michael's prized art collection, featuring works by Young British Artists (YBAs), will be auctioned at a Christie's sale in London this evening.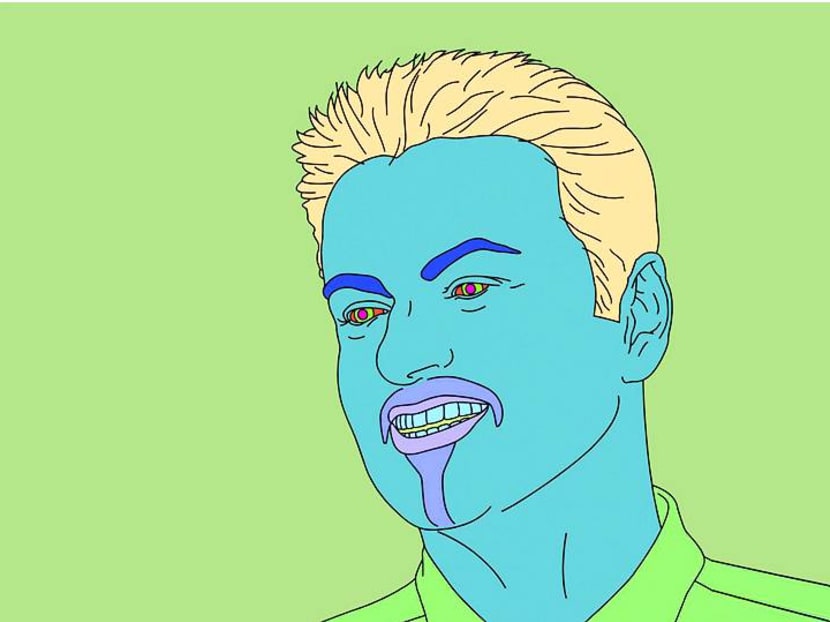 George Michael's collection of 61 works will be the subject of a live auction at Christie's London this evening (3am on Mar 15, Singapore time). Another 112 works, smaller in size, are in an online auction that ends on Mar 15. The most affordable lot is expected to fetch between £100 and £200 (S$178 and S$356), while the top lot could rake in as much as £1.5 million (S$2.67 million).
Since premiering as an exhibition in New York in early February, The George Michael Collection has visited Los Angeles, Hong Kong and Shanghai, before returning to London earlier this week in preparation for the auction.
Speaking to The New York Times, Michael's former partner Kenny Goss revealed what drove his passion for art. "George and I discovered our love of art when we got together," he said of their meeting in 1996. "The art we collected was based on our interest and our friends in the YBA movement. We bought what we liked from artists we knew and respected."
Those artists include the most influential names of their time, such as Damien Hirst, Tracey Emin, Jake and Dinos Chapman, Chris Ofili and Gary Hume. The YBAs began exhibiting in the late 1980s, and were famous for their shock tactics. Think Hirst's The Physical Impossibility of Death in the Mind of Someone Living – a tiger shark preserved in formaldehyde – and Emin's My Bed, a slept-in bed surrounded by rubbish.
Michael's assembling of the bold works of the YBA outline a rebellious attitude that he sought to characterise throughout his musical career.
"He found… something familiar with the Young British Artists, and that was rebellion," Cristian Albu, Christie's Co-Head of Post-War and Contemporary Art, told Yahoo Entertainment. "All the parties were rebels at heart and a rebel in imagination, and so was George Michael when he was writing his lyrics, when he was choreographing his videos and when he was doing his concerts."
Michael rose to fame as one half of the British pop duo Wham!, and died at home on Christmas Day 2016, aged 53. 
GEORGE LOVES KENNY – TRACEY EMIN (LOT 47), 2007
This unique work by Tracey Emin in soft pink and pale blue neon was first exhibited in Dallas in 2007 by The Goss-Michael Foundation in A Tribute to Tracey Emin. Estimates place its final bid between £40,000 (S$71,280) and £60,000 (S$106,920).
THE INCOMPLETE TRUTH – DAMIEN HIRST (LOT 5), 2006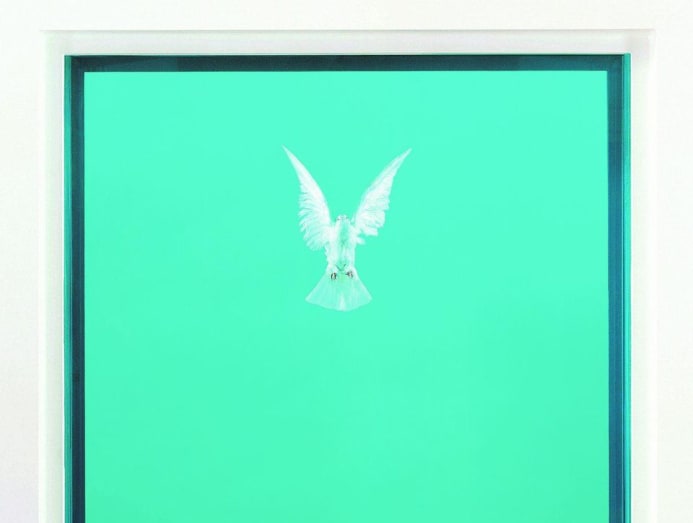 First exhibited in 2007, the formaldehyde-preserved dove encapsulates the crux of Hirst's Natural History works: "That failure of trying so hard to do something that you destroy the thing that you're trying to preserve," wrote Hirst in 2005.
The work is akin to the artist's most famous formaldehyde work, The Physical Impossibility of Death in the Mind of Someone Living. It's estimated to fetch between £1 million (S$1.78 million) and £1.5 million (S$2.67 million) at the evening auction.
COMMISSIONED PORTRAIT UNTITLED (GEORGE) – MICHAEL CRAIG-MARTIN (LOT 105), 2007
A portrait of the singer on an LCD monitor that changes colour, this commissioned work has already broken the upper limit of the £60,000 (S$106,920) bid with a current online bid of £85,000 (S$151,472).
Speaking to The New York Times, Michael Craig-Martin recalled his initial excitement when Michael first reached out to him. "I don't know how Kenny and Michael became aware of my portraits, but they were immediately excited. George did not have time to sit, but he came to the studio at one point and I was quite taken by him. He wasn't starry at all, just a wonderful person."
"He was a real collector of the YBAs: Damien [Hirst] and Sarah Lucas and Tracey Emin. There was a real spirit among that generation, and I think he and Kenny both really liked that: The excitement of it, the ambition of it."
YET TO BE TITLED – CECILY BROWN (LOT 12), 2008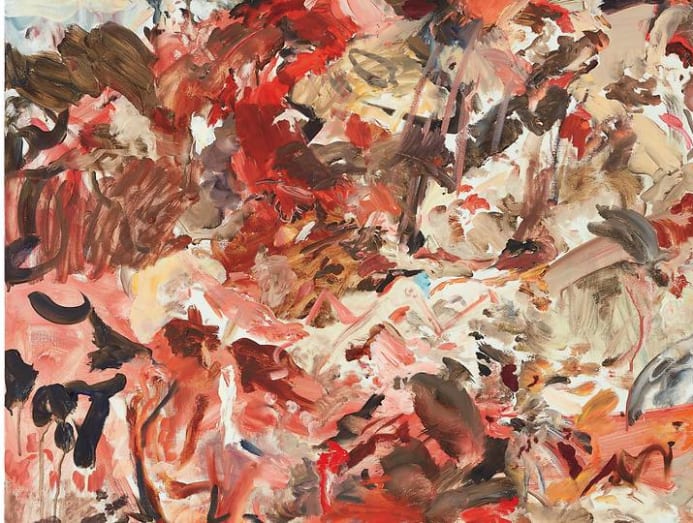 The work by British painter Cecily Brown is very much in the same vein as her larger body of works: The use of large canvases and an Abstract Expressionist gestural style seen most commonly from more than half a century ago. The New York-based artist once remarked: "People say to me, you paint like a man from the 1950s; and I say, someone's got to do it."
The piece is estimated to fetch £350,000 (S$623,710) to £550,000 (S$980,110) at the evening auction.
CARELESS WHISPER – JIM LAMBIE (LOT 10), 2009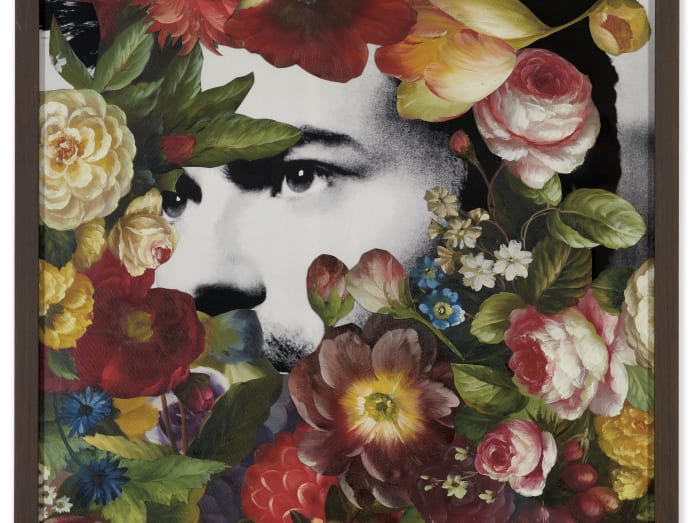 Strongly influenced by pop culture, the work by Glasgow artist Jim Lambie is characterised by colourful sculptural installations made from everyday modern materials, including pop culture objects such as posters and album covers, and household accessories.
Named after Michael's 1984 hit of the same name, Careless Whisper sees painted flowers on a black and white George Michael poster and is expected to fetch between £12,000 (S$21,393) and £18,000 (S$32,090).