What the 50th anniversary of the moon landing means for Omega Moonwatch fans
Four collectors share their Speedmaster Moonwatch stories, as well as their wish lists for the upcoming commemorative collection.
For most of us, the 50th anniversary of the moon landing is all about remembering the ingenuity of mankind, the wonders of science and technology, and how the universe will soon be our playground. For Omega fans, however, it's a reminder that new Speedmaster Moonwatches are coming.
Omega earned its association with space exploration's defining moment by being the first watch to make it to the moon, on the wrist of Buzz Aldrin. (Neil Armstrong left his Speedmaster in the lunar module as a backup.) Since then the Speedmaster chronograph was dubbed the Moonwatch, became one of the most iconic models ever, and now even has its own fan-generated hashtag (#SpeedyTuesday) that led to a limited edition series.
The cult of the Moonwatch is a dedicated one, so its members were right in guessing that a commemorative piece would be some kind of throwback to a vintage model, because the Omega Speedmaster Apollo 11 Anniversary Limited Edition – the first commemorative piece, released on Mar 12, 2019 – is exactly that.
It takes after the BA145.0220 from the 1970s – the very first Speedmaster to commemorate the 1969 lunar mission – and bears the same burgundy bezel and black markers, but with the gold case and bracelet upgraded to an alloy Omega calls "Moonshine Gold". The original movement was also replaced by the Master Chronometer 3861 calibre.
Creative director Shengjin Ang is one of many collectors who accurately predicted a gold watch for the golden anniversary, and joins plenty more in hoping a steel version will follow. "It is a really beautiful watch that uses modern technology and materials to honour the past, but I am disappointed that it will not be fitted with the returning 321 movement," Ang mused.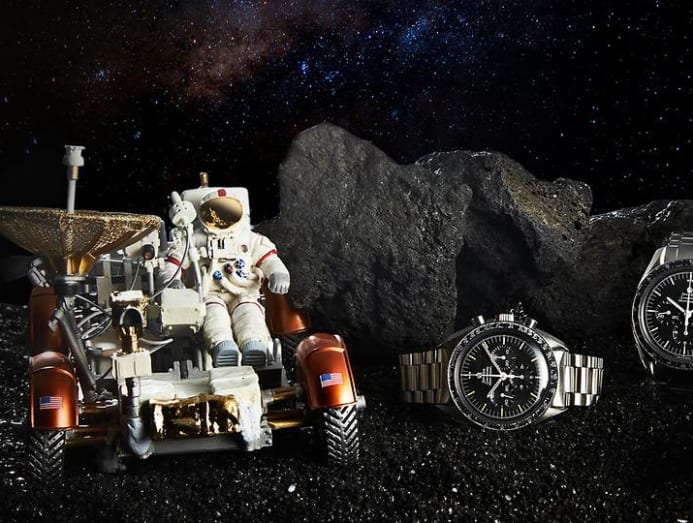 He had his eye on Moonwatches when he started working with filmmakers and photographers in 2003, all of whom had fancy watches. "The Moonwatch shared my design philosophy. It was complex, yet simply designed and functional. The watch spoke to me, and I knew I had to have one one day." That day came 12 years later when he purchased the Ref. 3570.50, the first of five Moonwatches to come.
Indeed, the Speedmaster's timeless design and thrilling story makes for an enticing rabbit hole to fall through. Eddie Sng, managing director of Agility International Logisitcs, can relate, citing astronaut Jack Swigert's Speedmaster as the ultimate Moonwatch.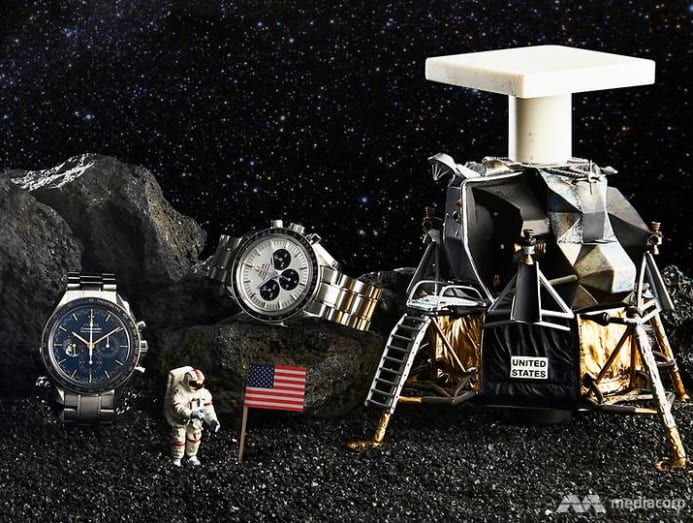 "Commander Jim Lovell used it to time the Apollo 13's engine burn to get them safely back to earth in 1970. Timing was so important and the Moonwatch did its job perfectly," he said. Sng added that his is an "Omega family" so his wife and two sons have at least one Moonwatch each. Sng himself owns five, but his favourite is the Speedmaster "From the Moon to Mars". "It celebrates the human spirit," he explained. "We've landed on the moon, and Mars is next."
There are lighthearted reasons to love the Moonwatch, too. "When Omega launched the Speedmaster "Snoopy" in 2003, I was intrigued. I thought it was really cool that a professional watch that went to the moon had a comic book character on the dial," said Lim Ee Chiat, director of industrial supplies and services firm CISS.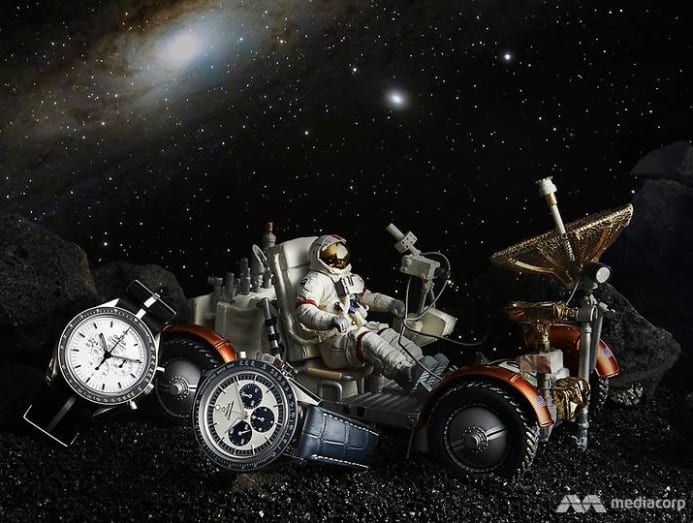 For the uninitiated, the Peanuts character became NASA's symbol for spaceflight and flight safety after the completion of the Mercury and Gemini projects. Since 1968 the Silver Snoopy award was given to employees and contractors for outstanding achievements related to mission success, Omega included.
Quipped Lim: "My Speedmaster Silver Snoopy Award 2015 has the most sentimental value to me. I love how Omega had a luminous Snoopy lying down with a thought bubble that read: 'Failure is not an option!' How could I say no to such profound words?"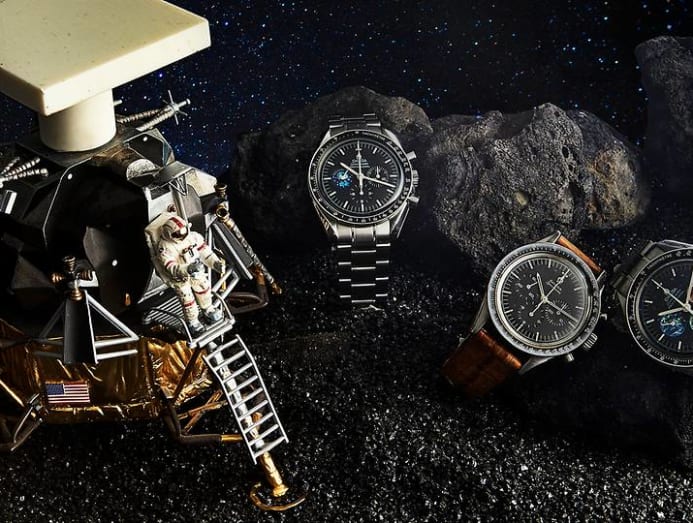 Even for seasoned collectors like civil servant George Tan, it's hard to resist the charms of Silver Snoopy. "The 2003 Speedmaster Snoopy was the first 'Speedy' that my wife liked. Unfortunately I didn't know that when I sold it to my god sister, so it took me nearly 16 years to re-acquire one in a pristine, complete box set. It was also three times the original price," he recalled. As the owner of 32 Speedmaster watches, 22 of which are manual-winding Moonwatches, Tan claims he can easily recognise a Moonwatch on someone's wrist from afar.
There's a laundry list of features collectors are hoping to see in the rest of the anniversary pieces: Black ceramic dials, bolder colours, souvenirs, a reintroduction of copper coloured movements and sub dials bearing everything from a luminous astronaut to the Apollo capsule. Now we'll just have to wait and see if Omega knows its fans as well as they know its Moonwatches.
MOON MADNESS
These watches never left our atmosphere, so they brought our celestial neighbour to the wrist instead.
HERMES
ARCEAU L'HEURE DE LA LUNE
With two stationary moons on the dial, Hermes has flipped the traditional moon phase indicator on its head by having the time and date sub dials do all the travelling instead. The pair of mother-of-pearl moons on the Hermes Arceau L'Heure De La Lune are parked at 12 and 6 o'clock on a meteorite or aventurine dial, while the floating lacquer sub dials rotate like satellites around the watch face once every 59 days. A refreshing take on a familiar complication, each dial option is limited to 100 pieces.
RJ
ARRAW 6919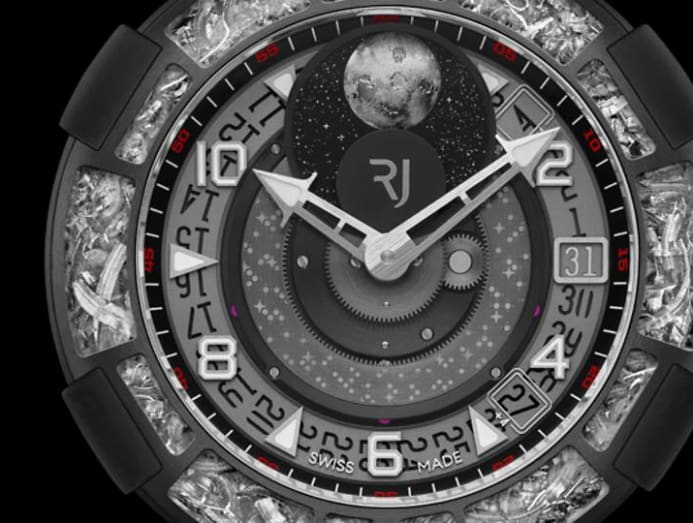 Ever wanted to go to the moon? Well, you can't. But thanks to RJ's new watch you can have a souvenir from the world's first manned moon landing. The Arraw 6919 has a bezel made from a combination of high-performance acrylic glass and parts from the Apollo 11 spacecraft, and is attached to the case via a metal grid inspired by the design of the Apollo 11's command module. A three-dimensional moon completes its journey around the dial every 29.5 days.   
SPEAKE-MARIN
ONE&TWO ACADEMIC FULL MOON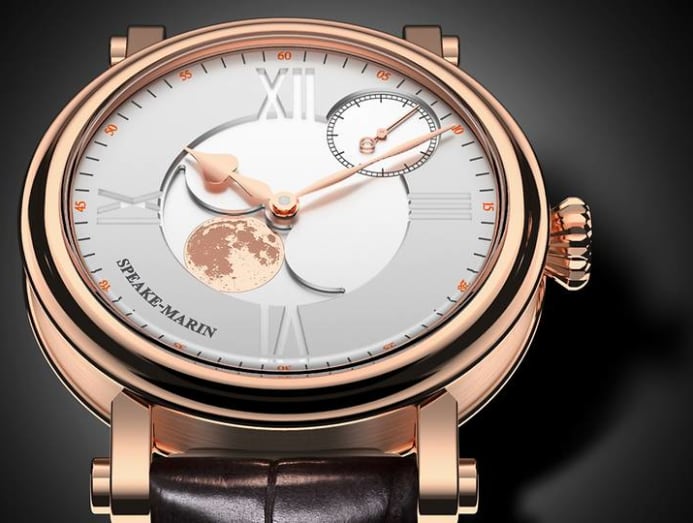 Part of Speak-Marin's updated One&Two collection, the Academic Full Moon adds a moon phase to the clean Academic style. Positioned at 7 o'clock, the moon aperture adds even more depth to the cut-out dial, with two moons — one white and one orange — taking turns appearing through the window. The in-house calibre SMA03 was chosen as the base for this model likely because of its unusually positioned small seconds at 1:30 (possibly the only brand to do so) serving as a symmetrical counter point to the moon phase.
BOVET 1822
RECITAL 23 MOON PHASE
If you thought Bovet 1822 was done making astronomy-loving complications with the completion of the Recital trilogy of watches last year, think again. It's now the ladies' turn, beginning with the Recital 23 Moon Phase. It is the brand's first women's timepiece to feature its signature "writing slope" case (where the bezel inclines at 6 o'clock), and comes with a hemispherical dome at 12 o'clock bearing the engraved and lume-filled moon. Because of Bovet's expertise in astronomical complications, this moon phase requires correction only once every 122 years.
JAQUET DROZ
GRANDE SECONDE MOON SERPENTINITE EDITION
Meteorite or moon rock might be a more thematically fitting material for a lunar watch's dial, but Jaquet Droz opted for something much closer to home: A stone extracted from the Matterhorn. Known as serpentinite because of its resemblance to snake skin, the charcoal-coloured mineral sits in beautiful contrast to the Grande Seconde Moon Serpentinite's white gold rings, hands, numerals and appliques. Even the moon disc, on which the white gold moon and stars sit, is made from the stone. Limited to 88 pieces and available only in Switzerland.
Art direction and styling by Jasper Loh, photography by Aik Chen.