From RM7.5 million, you can now own a villa on Desaru Coast. But should you?
Minor International has launched Anantara Desaru Coast Residences – its first Anantara-branded villa development in Malaysia. Is it a good move to purchase a foreign property in light of the pandemic?
The Malaysian resort of Desaru Coast has been touted in recent years as an up-and-coming luxury destination. Only two hours from Singapore, it boasts pristine beaches and stunning natural landscapes.
Several luxury resorts have also opened in Desaru in recent months, including One&Only Desaru Coast and Anantara Desaru Coast Resort & Villas.
Now, investors and home buyers will have the opportunity to own a property on the resort with the launch of Anantara Desaru Coast Residences – the first Anantara-branded villa development in Malaysia.
The property features 20 private pool villas developed for "family-friendly luxury", ranging in size from 3,100 sq. ft. to 6,426 sq. ft. Three- and four-bedroom options are available, each with direct access to the beach with views over the South China Sea.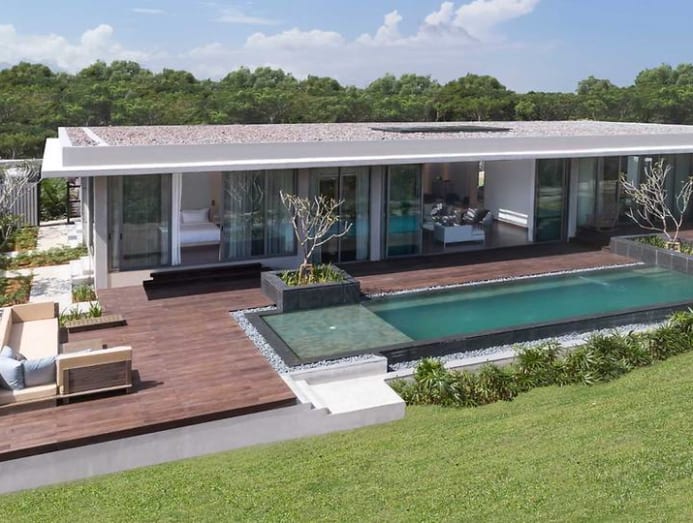 The villas are available for purchase at a starting price of RM7.5 million (S$2.5 million), topping out at around RM15.5 million.
Developed by hospitality, restaurant and lifestyle company Minor International and Themed Attractions Resorts & Hotels, a subsidiary of Khazanah Nasional Bhd, the residences will be managed and serviced by the adjacent Anantara Desaru Coast Resort & Villas.
Owners will get full access to the resort's facilities, including a private beach, a lagoon pool, an ocean-fronting infinity pool, Anantara Spa, a fitness centre, kids' and teens' clubs and a variety of restaurants.
THE BRANDED RESIDENCE ADVANTAGE
"Branded residences – those that are managed by a global hospitality brand through an adjoining hotel or resort – offer exceptional benefits and versatility," commented Micah Tamthai, Vice President of Real Estate at Minor International. 
"Leveraging the developer's and operator's combined expertise, they offer assurance in terms of quality and service standards, including those governing the safety and well-being of residents, for additional peace of mind amidst the current global pandemic."
"The branded residences model also presents an opportunity for investors to generate both short- and long-term returns," he added. 
"With a full complement of resort amenities, buyers benefit from hassle-free home ownership, and the opportunity to earn returns through a resort-managed rental programme. In locations like Desaru Coast, they will also benefit from capital gains arising from being a first-mover in a pioneering destination with vast growth potential."
In its 2019 Branded Residences Report, Savills estimated that the average premium for branded residences over a non-branded product starts at 35 per cent – rising to as much as 70 per cent in emerging destinations.
In addition, the branded luxury residence sector is growing around the world, especially in Asia-Pacific. According to a March 2020 report by C9 Hotelworks on the sector, Asia now has a third of the world's branded residences. While Thailand, Vietnam and the Philippines lead the Asia-Pacific's luxury branded residence development, it is just beginning to gain traction in Malaysia.
According to the Savills report, of the 12 branded residences that were under construction in the Asia-Pacific in 2019, only three were located in Malaysia.
"Whether they're purchasing a villa as a personal holiday home or as an investment property, Anantara Desaru Coast Residences offers owners a world-class luxury experience in a tranquil seaside resort, and the peace of mind that their asset will be well looked after to maximise returns," concluded Tamthai.

SECOND HOMES IN PANDEMIC TIMES
While travel restrictions are still in place around the world, the pandemic has not dampened the desire for high-net-worth individuals (HNWIs) to own second homes around the world.
According to the Knight Frank Global Buyer Survey 2020, over 26 per cent of respondents said they were more likely to buy a second home as a result of the pandemic, presumably to enhance their lifestyle and to use as a retreat in the event of future outbreaks. 
This is a sentiment echoed by Widya Lesta, Head of International Residential of JLL Singapore. "The pandemic has increased demand for second lifestyle homes for the HNWIs, and we certainly see that in our properties in safe havens such as the Swiss Alps, where it is proven that people are able to work remotely and can still be connected and productive."
Other important considerations when purchasing second homes include ample outdoor space and privacy, Knight Frank reported. 
However, nearly two-thirds of buyers say that when looking for a second home abroad, they would be influenced by the government's handling of the COVID-19 crisis. To that end, countries such as Germany, Austria, Greece, the United Arab Emirates, Singapore and New Zealand may rate higher, Knight Frank said. 
The strength of Anantara Desaru Coast Residences nonetheless lies in its accessible location and range of lifestyle facilities. 
"Across the region, COVID-19 restrictions have placed a higher premium on space. The mainstreaming of flexibility and remote work does play to the strengths of the resort markets in desirable regional locations like Malaysia," said Adam Bury, Executive Vice President of Investment Sales in Asia Pacific for JLL Hotels & Hospitality Group.
"Desaru will have the advantage of accessibility from Singapore once complete. More importantly, the development will benefit from a range of lifestyle facilities which are becoming increasingly difficult to access in Singapore, such as golf courses. With the right product, we're confident there could be genuine and sustained interest from Singaporean investors and consumers, and other buyers who seek diversified and enhanced lifestyles post-COVID-19," said Bury.