The architects designing the Punggol Digital District on creating a greener Singapore
The founding directors of WOHA Architects, Wong Mun Summ and Richard Hassell – who designed the Circle Line's Stadium and Bras Basah stations, and who are now working on the master plan for the Punggol Digital District – share their vision for creating vibrant and sustainable Asian cities.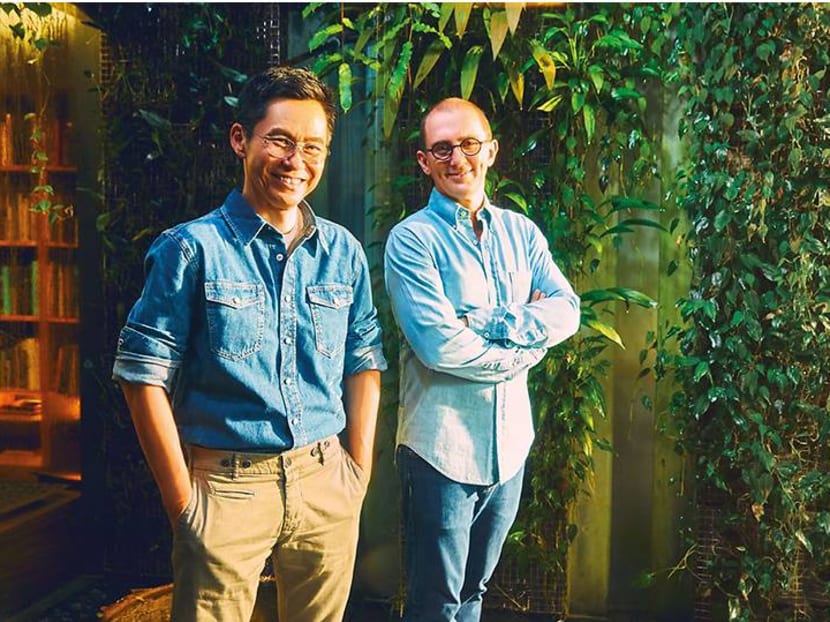 What will the future look like? "Blade Runner in the tropics," said Wong Mun Summ. "Blade Runner meets Avatar," added Richard Hassell. The two founding directors of architecture firm WOHA have a knack for finishing each other's sentences and, in this case, they are drawing on two iconic science fiction films to describe a specific swathe of Singapore's future – the Punggol Digital District, a 50ha development whose construction started this year, and is slated to open progressively from 2023.
WOHA designed the master plan for the district, which will house the Singapore Institute of Technology's new campus, a business park by developer JTC, as well as community amenities. Touted as an innovative hub for attracting tech talent and catalysing interactions and collaborations that may just help to supercharge Singapore's economic growth, the project will also be a large-scale embodiment of the core principles that WOHA has been refining for decades. 
"A lot of the discussion about architecture in the last 20 years has been about aesthetics. And aesthetics are important," said Hassell. "But when you approach architecture from a systems point of view, you develop an attitude that looks beyond creating a standard podium and tower, then cladding that with an interesting design. We are basically saying that every construction we make is interacting with all the other systems in a city and the natural world. And we have to really think about how it can perform at a very high level in relation to these systems."
GREEN SPACES
How will these ideas manifest in a district rather than a building? For starters, "a big chunk of mature forest in the Punggol Digital District will be preserved", said Hassell. "A biodiversity study has been done that shows it already has lots of animals living in it, so it will be an active and diverse forest, not a dry recreated one. People should be able to stroll through a nice shady environment." Indeed, there will be an emphasis on creating pedestrian-friendly, people-centric spaces, "which will make this place feel very different", said Wong.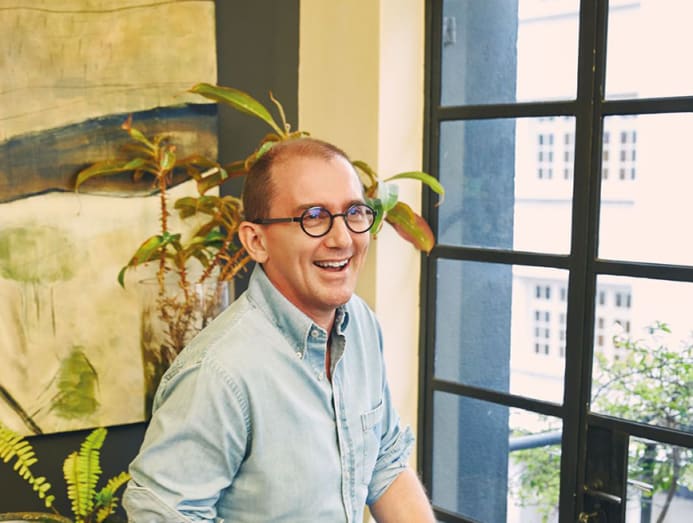 It's no surprise that the founders of a firm that's become famous for buildings lined, draped and topped with lush foliage would revel in the presence of organic nature in a place whose raison d'etre is man-made technology. Addressing what they have described as the social dysfunction of densely packed, yet increasingly isolating modern metropolises is also a long-standing WOHA preoccupation. But make no mistake: The future – in Punggol anyway – may draw on deep-rooted ideas about natural and communal vitality, but cutting-edge technology will also help to make it hum. Think underground networks traversed by autonomous vehicles delivering goods, rooftop solar power systems soaking up the sun, and sensors that can analyse the very air we breathe.
Imagine, in other words, if we thought about an urbanised environment not as a collection of self-contained inert structures, but as an ecosystem in its original sense – a community of organisms whose interactions are fundamental to collective survival. What if the Garden City didn't just look green, but was reframed in terms of cultivating resilience?
"We can no longer think in a very simple way where one land parcel is only for one use," Wong stressed.

Hassell elaborated: "Our architecture prototypes have set new directions in showing how systems thinking works. We're hoping to test these ideas in this sizeable district to show they work, and roll them out at an even larger scale in the future."
AT THE START
Of course, the reason the Garden City, or any city for that matter, would need to think about becoming self-sufficient in the first place is because of the spectre of climate change. Increasingly frequent extreme weather phenomena in recent years have pushed the issue more insistently into the public consciousness, and things could well get worse – a lot worse.
"I don't think we're going to see a gradual decline. What I think is more likely is that there will be a tipping point, where suddenly one collapse triggers another," said Hassell. 
"The world is a complex system. We have interrupted the system, and it's hard to predict where it's going to go."
If, for instance, the planet can no longer sustain food production, a place such as Singapore that imports the bulk of its food supplies will become exceedingly vulnerable. "Every country would say we need our food for our own people, we don't care how much you pay us. There could be wars over water, mass migration to escape the damage of climate change – the impact could be really terrifying. People should be a lot more worried than they are right now, enough to commit real resources and strategies to solving the problem."
"I'm a little more positive," said Wong. "The technology that can help is out there." What's needed, he believes, is bottom-up advocacy by citizenry and some long-term planning from governments. "There have been enough wake-up calls already, everyone is aware of the problem. We all need to save the world."
The seeds for their world view were planted in their youth. Hassell was very much influenced by his father, who has a PhD in geology and was very ahead of his time in terms of his environmental interests. The air-conditioning in the elder Hassell's office was solar-powered, and he even built a zero-energy country house.
Hassell and Wong became architecture students in the 1980s, the former at the University of Western Australia and the latter at the National University of Singapore. Declining petroleum supply and escalating fuel prices in the 1970s had spurred an interest in alternative energy, and both men recall being exposed to ideas about sustainability in environmental science classes. Another prevailing idea at the time was regionalism, Wong recalls, which examined architecture's relationship to specific climates and cultures.
But by the time they met in 1990, while working at Kerry Hill Architects, the fuel crisis had passed and an era of conspicuous consumption was well on its way. The starchitect syndrome, where brand names created buildings with unique forms, dominated the field.

The challenge of creating architecture that addressed climate change was "a problem that we didn't know the solution to", added Hassell. "From a design, research and innovation point of view, that was actually very exciting."
It took them a while to get going. After several years of designing resorts at Kerry Hill, they struck out on their own with WOHA in 1994. "We felt the most urgent sustainability issues were happening in cities, and doing beautiful resorts in remote locations felt a bit like the orchestra playing on the deck of the Titanic while it was sinking," said Hassell. Or, as Wong put it: "We wanted to get real."
THE GREAT EXPERIMENT
They started by designing houses, experimenting with strategies in natural ventilation and permeable design that tempered the impact of intense equatorial heat and lashing monsoon rains, while not sealing these habitations off from their climatic environments. This laid a foundation for what Wong calls a "contemporary tropical language". In 2000, they resolved to try for larger public projects and entered a competition to design two MRT stations. Their winning entries would eventually be realised as the Circle Line's Stadium and Bras Basah stations.
In 2001, they entered another competition, this time to design Duxton Plain, a public housing development. They didn't win that one, but it was nevertheless a seminal experience. "We proposed ideas that may have been too ahead of their time," said Wong. But the ideas left an impression on the authorities, and their time would come.
For instance, in its Duxton Plain design, WOHA had proposed high-rise buildings punctuated by interconnected "sky streets" and "sky villages", which would not only be spaces for placing greenery that could contribute to biodiversity, but also recreate the social vibrancy of street‑level interactions. In 2007, this concept was refined for SkyVille@Dawson, and finally realised when that public housing development was completed in 2015. Said Wong: "Those ideas – thinking of a building as a three-dimensional matrix in the sky with streets, villages and facilities all outdoors and up high– are still being used in our projects."
DESIGNING FOR OUR ELDERLY
Take Kampung Admiralty, an 11-storey pioneering retirement village that integrates public housing for the elderly with healthcare and wellness facilities, as well as a childcare centre, eateries, retail stores and a rooftop community farm. Opened in 2017, it has won numerous awards, including World Building of the Year at the prestigious World Architecture Festival in 2018.
"It's been designed with a lot of care, and it's a very robust building," said Hassell. Besides sustainable systems for filtering water and capturing solar energy, "what I think is the most interesting thing about Kampung Admiralty is the juxtaposition of the various facilities and uses", said Wong. "For example, the elderly residents can enjoy a communal 'sky park' near their homes, but they can also easily access the busy plaza on the ground floor and all the amenities. There are a fair number of seniors in wheelchairs, but you'll also find young families. It's a great mix, and it doesn't feel like a facility for the elderly."
At the time of the design competition for this development in 2013, he remembers, there had been some public contention over the idea of building retirement homes in regular neighbourhoods – otherwise known as the "not in my backyard" (or "Nimby") syndrome. "We felt it was so important for us to demonstrate how it could be done well."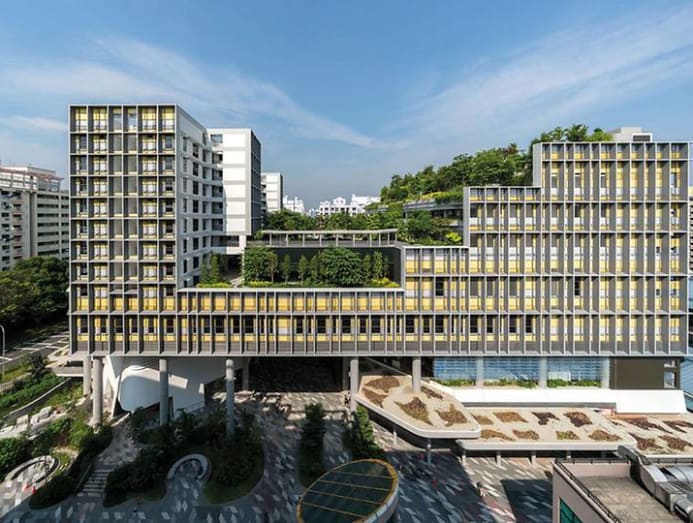 "Oftentimes, architecture is like a prison for them," Hassell explained. "It isolates them and makes it difficult for them to come out." By designing for a diversity of users and creating opportunities for them to interact, "we've allowed for different systems to interplay". And a more complex and intertwined ecosystem, perhaps, may well yield more fruitful connections – another form of resilience.
This well-received development could prove influential for subsequent eldercare projects not just in Singapore, but abroad. There has been a lot of interest from China, Australia and Europe in replicating the concept, "but the conditions need to be right before a project like this can take place", Wong cautioned. Where a small city-state like Singapore can be more effective at getting many government agencies to work together, that may not be the case in larger and more complex contexts. "If the design parameters and laws are different, are you prepared to change them if you want something like this? Helping them to examine their policies is where we can start to make a difference."
LOOKING FORWARD
Ask them what project they would like to tackle next, and Wong goes for a literal moonshot. "Maybe terraforming some place in outer space?" he mused wryly. "We may eventually need to live in a self-contained system outside earth." While this planet still spins, however, they have faith that their painstakingly honed insights and skills will prove useful for Asia's fast-growing cities. "We can work across large and small scales, and that is vital," said Hassell. "If you only think of the large scale, you can't make environments that are humane. We are constantly reminding ourselves to think: What would this design feel like for a human?"
A case in point: Visit the rooftop farm in Kampung Admiralty, and you'll find a collection of plants that will be familiar to people who still remember what it was like to live in a kampong, including buah cherry trees whose fruits village children once used as slingshot ammunition. Imagine growing old here if you used to be one of those children, a tangible connection to your past growing in your communal sky garden. What does the future look like? If we play our cards right, it could, hopefully, look something like this – a sustained kinship with living, breathing histories. 
A version of this story first appeared on Singapore Tatler.