With people staying at home more often, are mechanical clocks making a comeback?
No matter what phase we're in, it's still safest to stay inside. And this gives us the perfect chance to appreciate horology on a grander scale.
When one thinks of haute horlogerie, the mind jumps automatically to wristwatches draped in jewels and stuffed with complications, and perhaps the occasional historically significant pocket watch. But we shouldn't forget clocks, especially when their only crime is being unwearable.
When Christie's put up 101 Cartier clocks in a landmark sale this July that closed with a sale total of CHF2,115,000 (S$3.2 million), featuring pieces that echoed the aristocratic preferences from the Belle Epoque to the Art Deco era and 20th century, we were reminded that with so much more real estate, clocks offer a great deal to admire.
From decoration to mechanical design, the most impressive ones can easily be statement pieces for the home. Here are our picks from your favourite watchmakers to get you started.
ANTON SUHANOV LOTUS TRIPLE-AXIS TOURBILLON
Konstantin Chaykin alum Anton Suhanov struck out on his own in 2019 but his debut masterpiece as an independent watchmaker wasn't a watch, but a clock.
The lighthouse-inspired Pharos clock was a breathtaking beacon that set the course for the young Russian horologer, because it seems like plans to make something wrist-sized is still on the back-burner.
Suhanov's latest creation is the Lotus clock, and its time-telling capabilities are secondary to its ability to widen eyes in wonder. Shaped like the flower, seven rhodium-plated brass petals surround a glass sphere containing a triple-axis tourbillon, where each cage completes one revolution every 18, 21 and 60 seconds respectively. The petals themselves are also built for movement, slowly opening and closing over the course of 24 hours.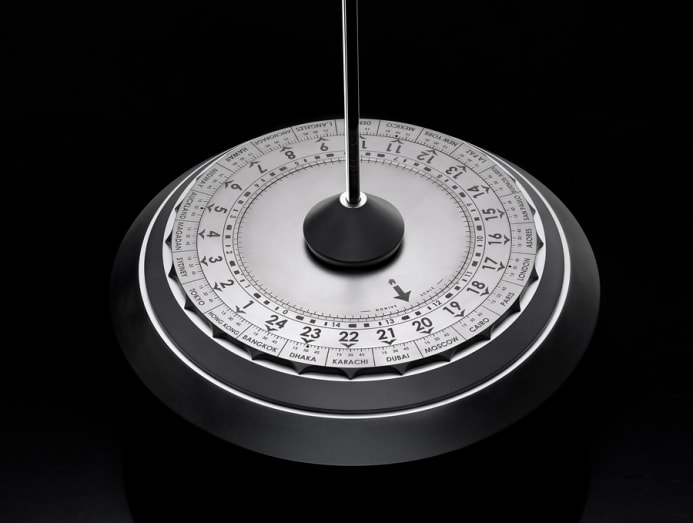 The time is located at the base of the stem, where the hours and minutes can be read off two rotating discs. An encircling cities ring can also be adjusted to set the world time. The entire thing stands at a height of 29cm and will run for two weeks before it requires manual winding via a key. Limited to seven pieces.
CHANEL COCO CLOCK
Who better to tell you the time than the woman whose style has stood the test of it?
Cheeky yet somehow still chic, Chanel's new tabletop accessory puts its founding figure squarely in the spotlight, using her arms as hour and minute hands and they make their rounds along a dial ringed with 166 diamonds.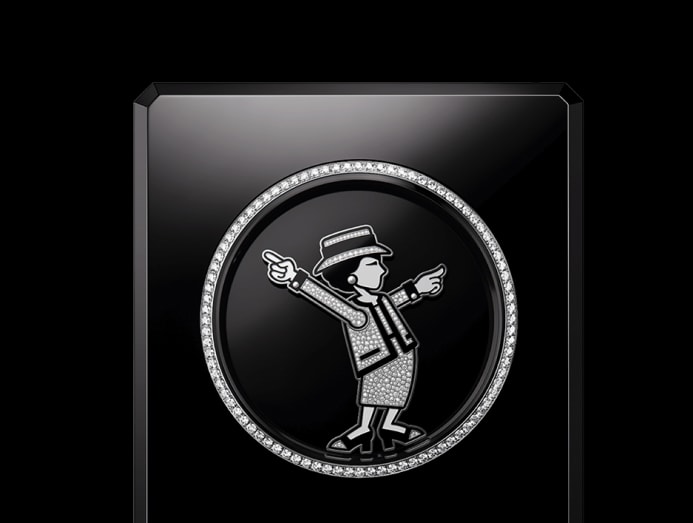 The icon herself is laid out in black obsidian, diamonds and pearls, while the white gold base of the clock boasts a further 305 brilliant-cut diamonds.
An exhibition window on the other side lends some horological street cred as the blackened movement – using the key-wound L'Epee calibre with eight-day power reserve – is exposed, also surrounded by diamonds. Limited to 10 pieces.
HUBLOT MECA-10 CLOCK
Hublot is a brand that knows not to take things too seriously all the time, which is how the Meccano-inspired Meca-10 watches came to be in 2016.
The construction toy's signature design elements like the perforated metal strips were combined with an original in-house movement that resulted in a watch that was as visually interesting as it was mechanically sound thanks to a 10-day power reserve. What better movement to admire up close?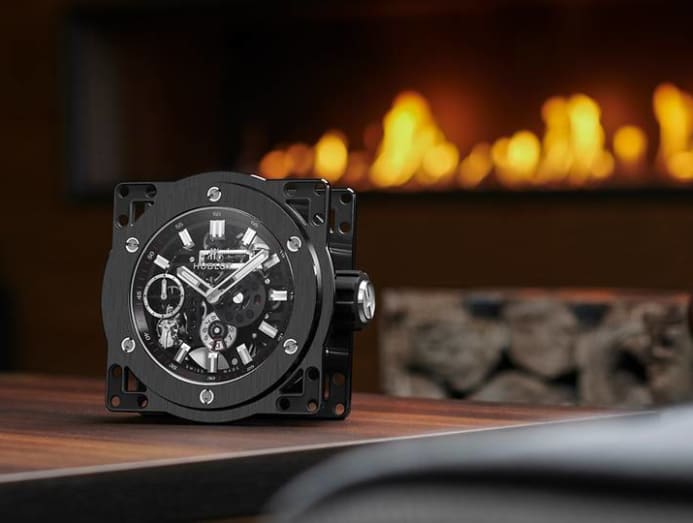 At four times the size of the original, you won't need a loupe to admire the movement of the Hublot Meca-10 Clock. The architecture and build is virtually unchanged, but the case has been modified from the Big Bang's to a more desk- or wall-friendly square. It was constructed with the help of famed clock specialists L'Epee (best known for MB&F's zany clocks), and comes in steel or black PVD-coated steel.
JOHN-MIKAEL FLAUX LE GUEPARD SONNERIE-AUTOMATON CLOCK
The talent of John-Mikael Flaux was so apparent during his apprenticeship at the prestigious Lycee Edgar Faure watchmaking school in France that his first job upon graduation was to work on grand complications for Ulysse Nardin in 2012.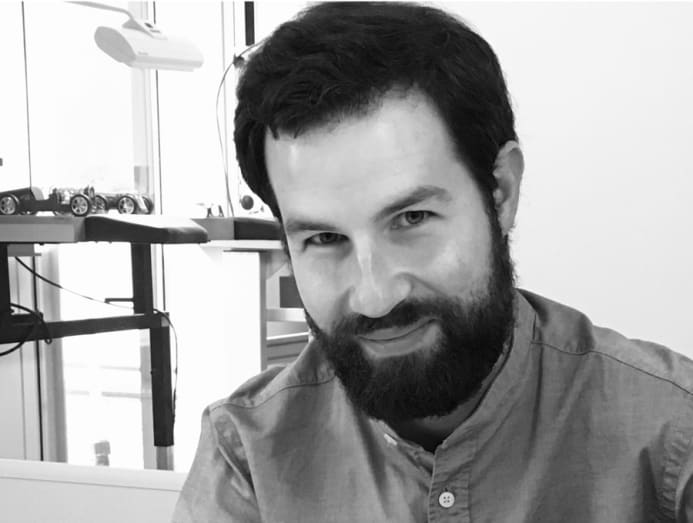 But fancy kinetic clocks are where Flaux's passion truly lies, and so in 2018 he set up his own atelier dedicated to just that. From his dreams and hands sprung whimsical clocks in the shape of cars and automatons depicting a fencing duel.
His latest creation, Le Guepard, features an automaton plus a sonnerie complication, where a mechanical cheetah moves to the chimes of an hour-striking complication. Press the cheetah's tail and the hours will chime on demand. Understandably, the power reserve for such a clock is only 45 hours.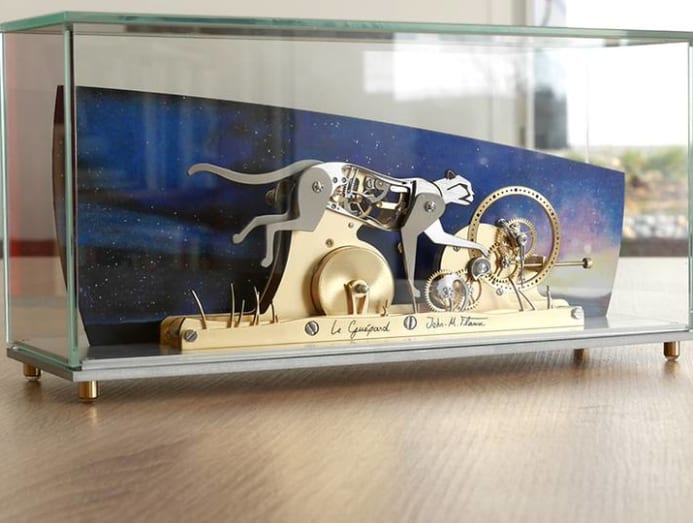 The starry acrylic background in this model was painted by miniature painter Line Descombes, but those who order one of the seven pieces made will be able to customise the backdrop and dictate the types of decoration on the movement.
MB&F STARFLEET EXPLORER
Why settle for a traditional round clock when you can have a space station give you the time?
MB&F's crazy adventures in clock-making with L'Epee began in 2014 with the creation of the Starfleet Machine, and it's since been an entertaining journey filled with jellyfish, robots, spiders and more. But the latest co-creation harks back to its roots with the smaller, simpler Starfleet Explorer.
Standing at just 11cm tall and 16.5cm wide, it's almost half the size of its predecessor, but no less beautiful to behold. There are still no traditional hands, so hours and minutes are displayed using discs and apertures. The minutes can be found on a dome at the very top, rotating under a fixed aperture, while the hour ring below it remains fixed while the hand rotates. And just for fun, there are also three small spaceships that orbit the movement once every five minutes.
The clock can be placed upright or on its side, and is available in three versions (blue, green or red) at 99 pieces each.