2020's most painstakingly-produced watch dials and why they matter
Even at a time when lavish spending isn't at the top of most people's minds, it's comforting to know that art is still being made. And this year's crop of tickers have given us some masterpieces for our eyes to feast on.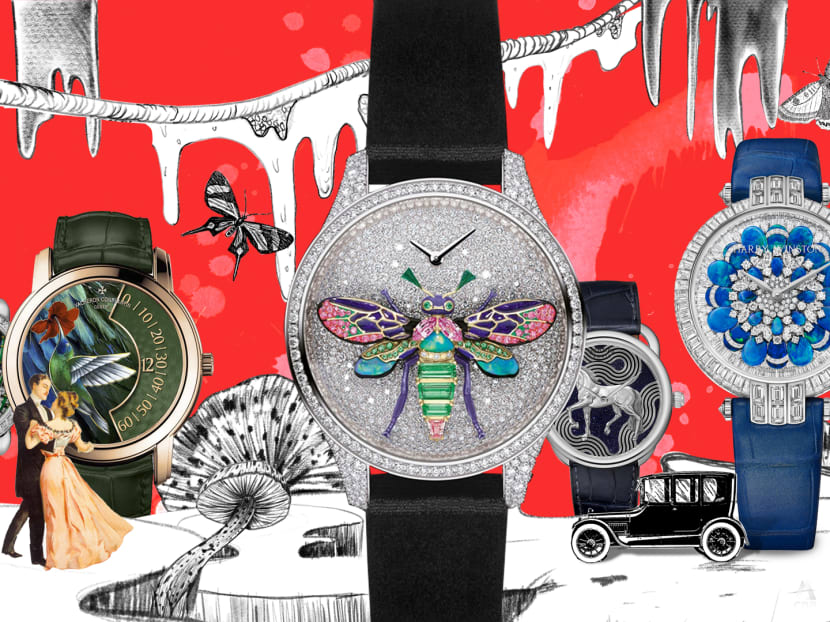 A lot of what makes a mechanical watch a luxury product is hidden inside, blinged out cases notwithstanding. But the value of a metiers d'art (loosely translated as artistic) watch is much more apparent. They're beautiful, they're handmade, and they're often one-of-a-kind. As far as astronomically high-value items go, rare handcrafts don't really need to justify their price tags.
Even during a time when lavish spending isn't at the top of most people's minds, it's comforting to know that art – yes, even the priced-out-of-reach kind – is still being made. And this year's crop of tickers have given us some sumptuous masterpieces for our eyes to feast on.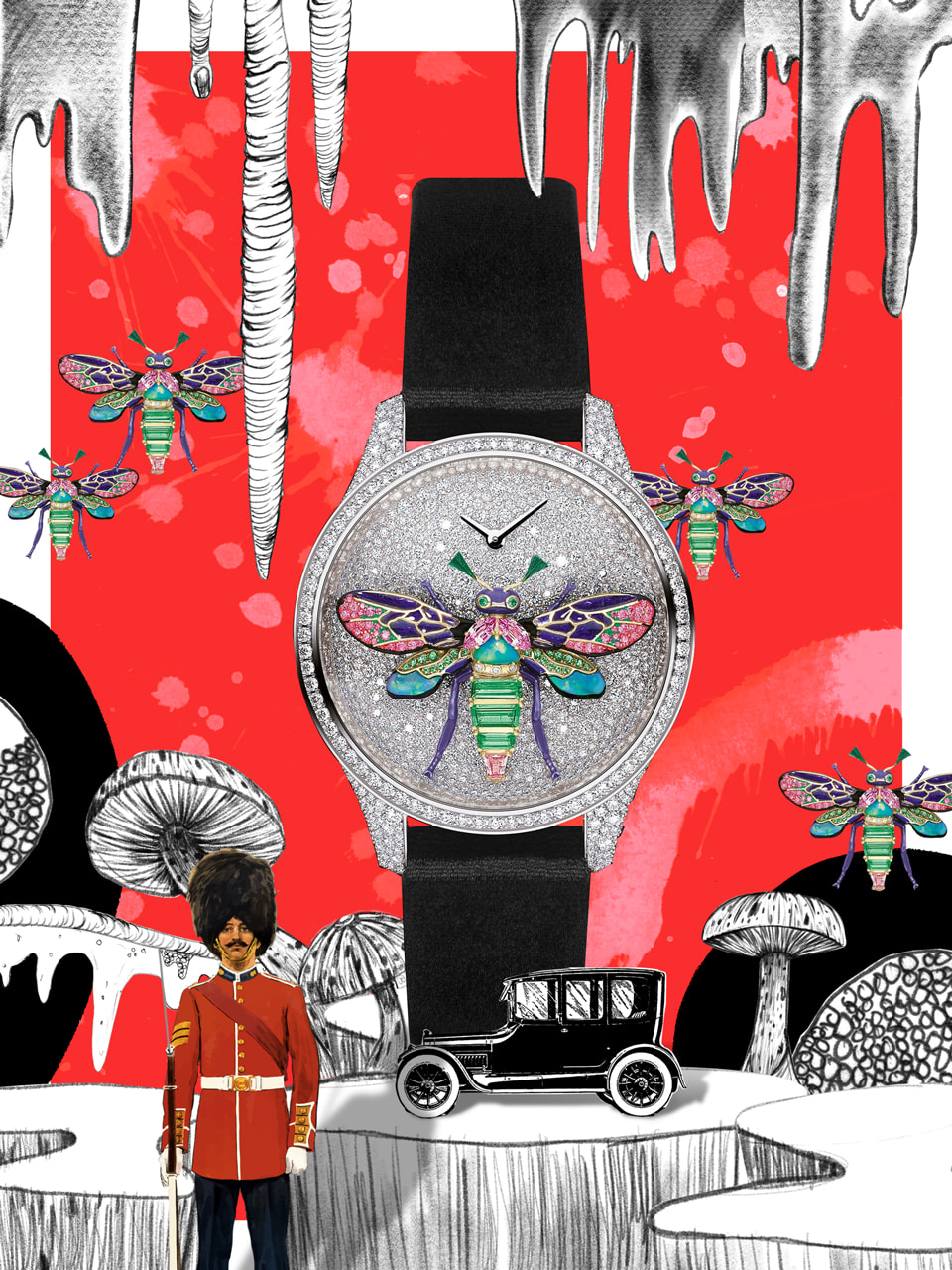 Among the brightest to shine in the lineup is Dior. Splendid stones can stand on the strength of their cut and resplendence alone, but the art of gem-setting is not one to be dismissed. In the right hands, even the most mundane motifs can come alive in magical ways. Part of Dior's 2020 high jewellery watches are a trio of one-off models featuring bejewelled bees.
The dial, already blanketed in snow-set diamonds (where stones of different sizes appear scattered in a random pattern with as little metal showing as possible), is further decorated with a bee made with a smorgasbord of gems, such as emeralds, pink sapphires, rubies, opals, and even feathers.
Inspired by Christian Dior's rose gardens and the tireless bees that populate them, the fantastical recreations even have spring-set wings that will flutter whenever the watch moves.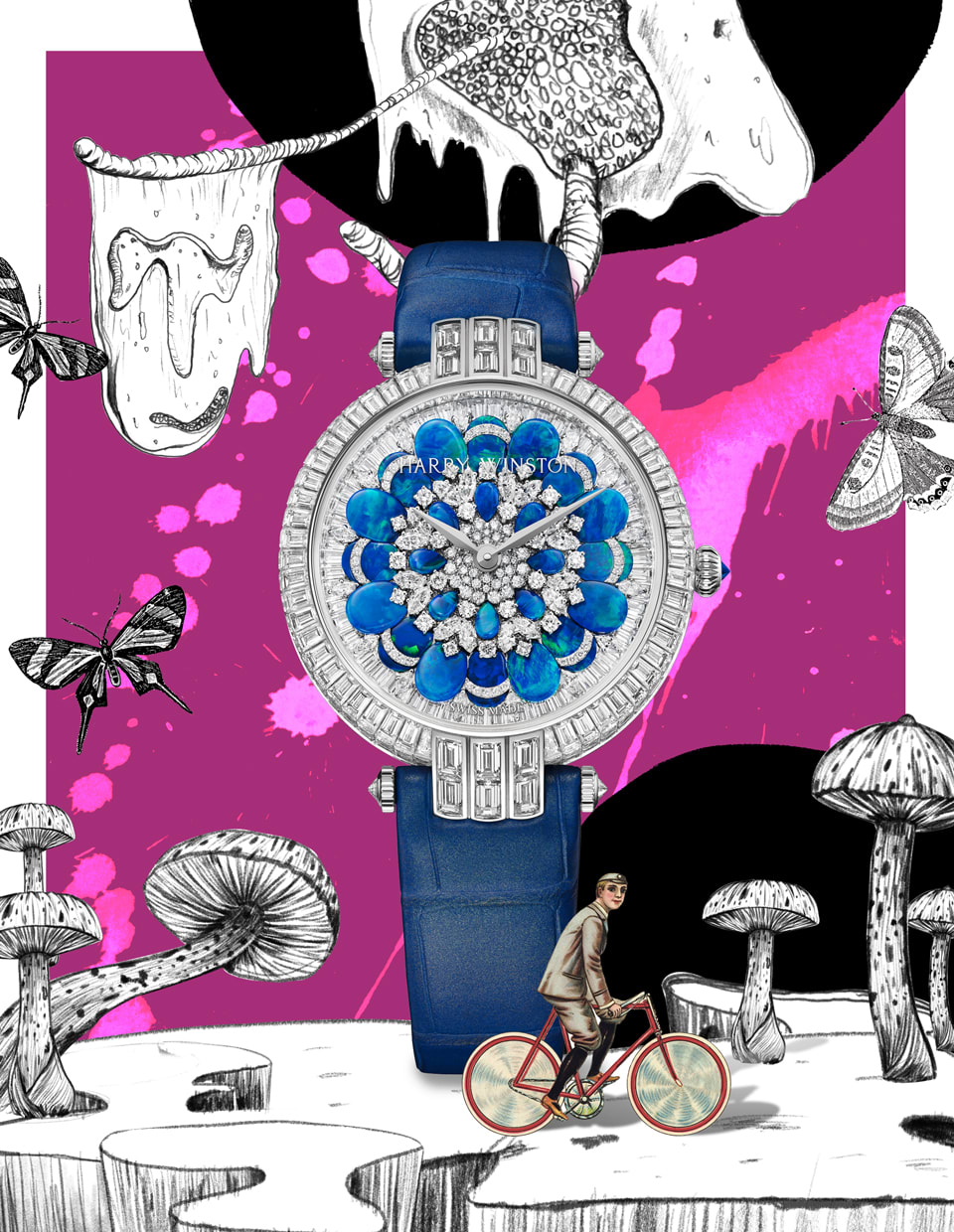 Gardens are full of muses for jewellers, and Harry Winston has chosen the floral route in its Premier Hypnotic Chrysanthemum Automatic 36mm, choosing peacock opals for its multiple tonalities of blue and green.
To create depth, the gem-setters had to work in layers, the first of which is composed of 60 baguette-cut diamonds. On top of them come 32 marquise-cut and 160 brilliant-cut diamonds interspersed between the opals. Framing all of that is an 18K white gold case set with 161 baguette-cut diamonds using the challenging invisible setting that conceals the metal framework below.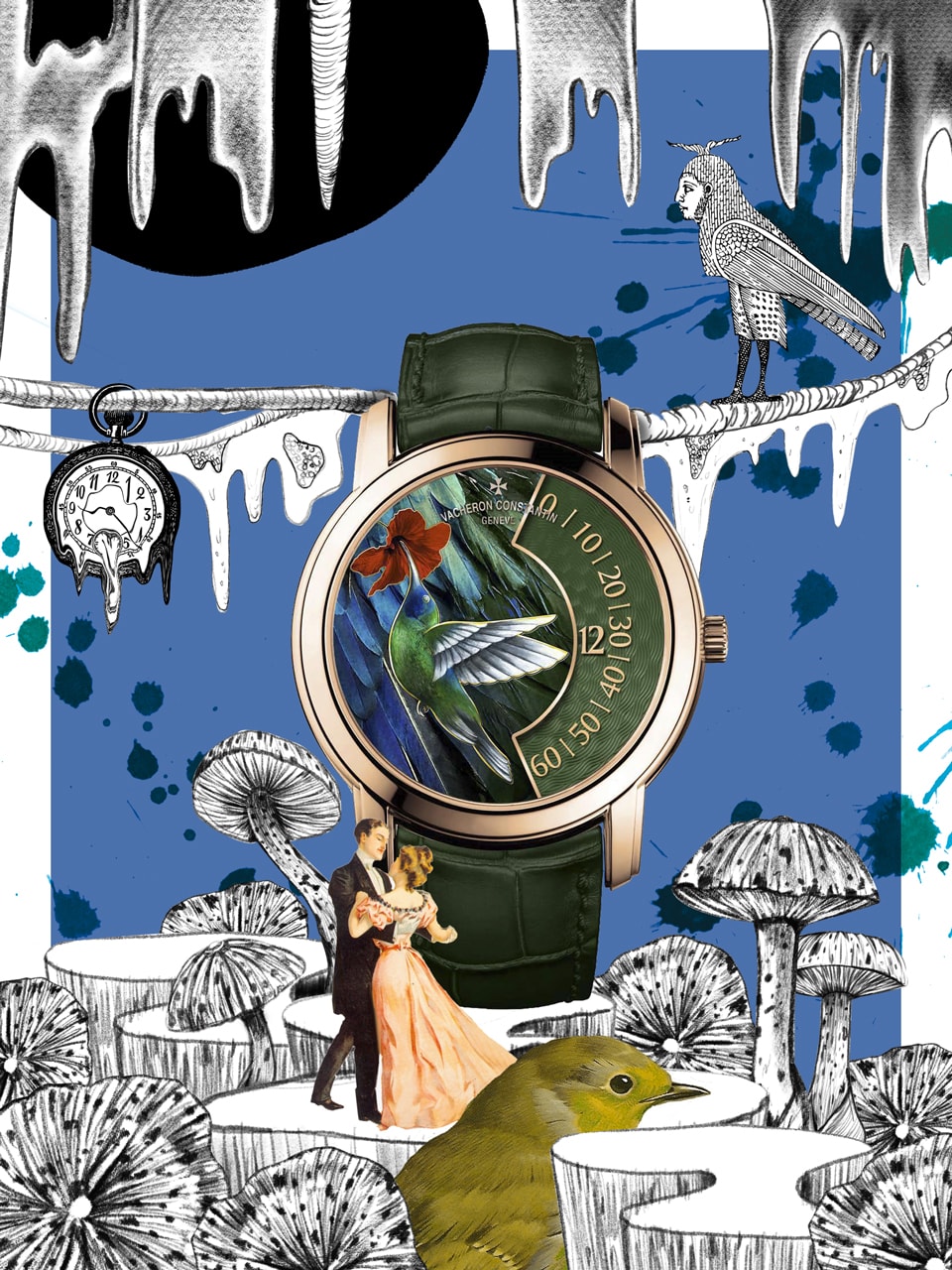 Unless you're a man of very specific tastes, such high jewellery creations are usually intended for women. But the wonderful thing about metiers d'art is that there are techniques that transcend gender expectations.
When Vacheron Constantin decided to add to its La Musique du Temps series this year, it chose to honour the musical theme not with minute repeaters galore like it did for 2019, but a quartet of unique dials, each featuring a different songbird.
With champleve enamel bringing the birds to life on the left side of the dial and hand-turned guilloche on the right serving as the backdrop to the wandering hours-style time indication, the Les Cabinotiers Singing Birds are artistry and horology combined. While everyone is welcome to appreciate their beauty, not everyone can lay claim to them, as there is only one of each made.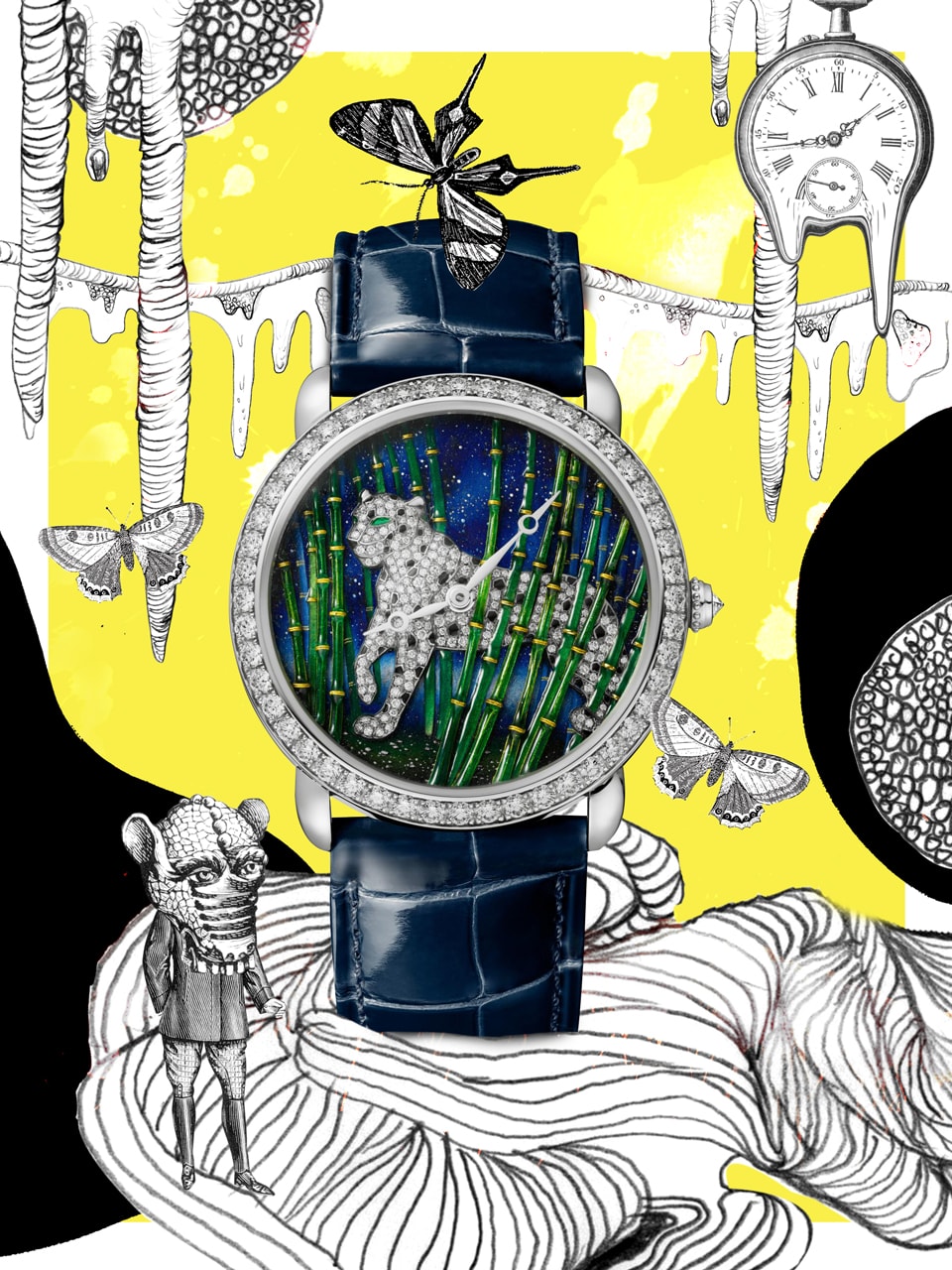 You'd stand a better chance obtaining one of Cartier's artistic creations. The first is the Ronde Louis Cartier Straw and Gold Marquetry. Now that marquetry has enjoyed its moment in watchmaking in recent years, using everything from leather to butterfly wings, Cartier has decided to keep things interesting by piecing together two materials – straw and gold – to depict its beloved panther motif. 
This wonderfully textured dial was created with 75 blades of straw in 11 colours, more than 65 pieces of satin-finished gold pieces as well as enamel in various shades. Of the 100 hours it takes to make one watch, 97 are spent on the dial alone.
The second watch is the Ronde Louis Cartier Enamel Filigree. Here a glittering panther prowls through a bamboo forest made of rods of enamel fastened to the case with strands of yellow gold. In the background, champleve enamel and miniature painting was used to create a dynamic nighttime background. Both panther watches are limited to just 30 pieces each.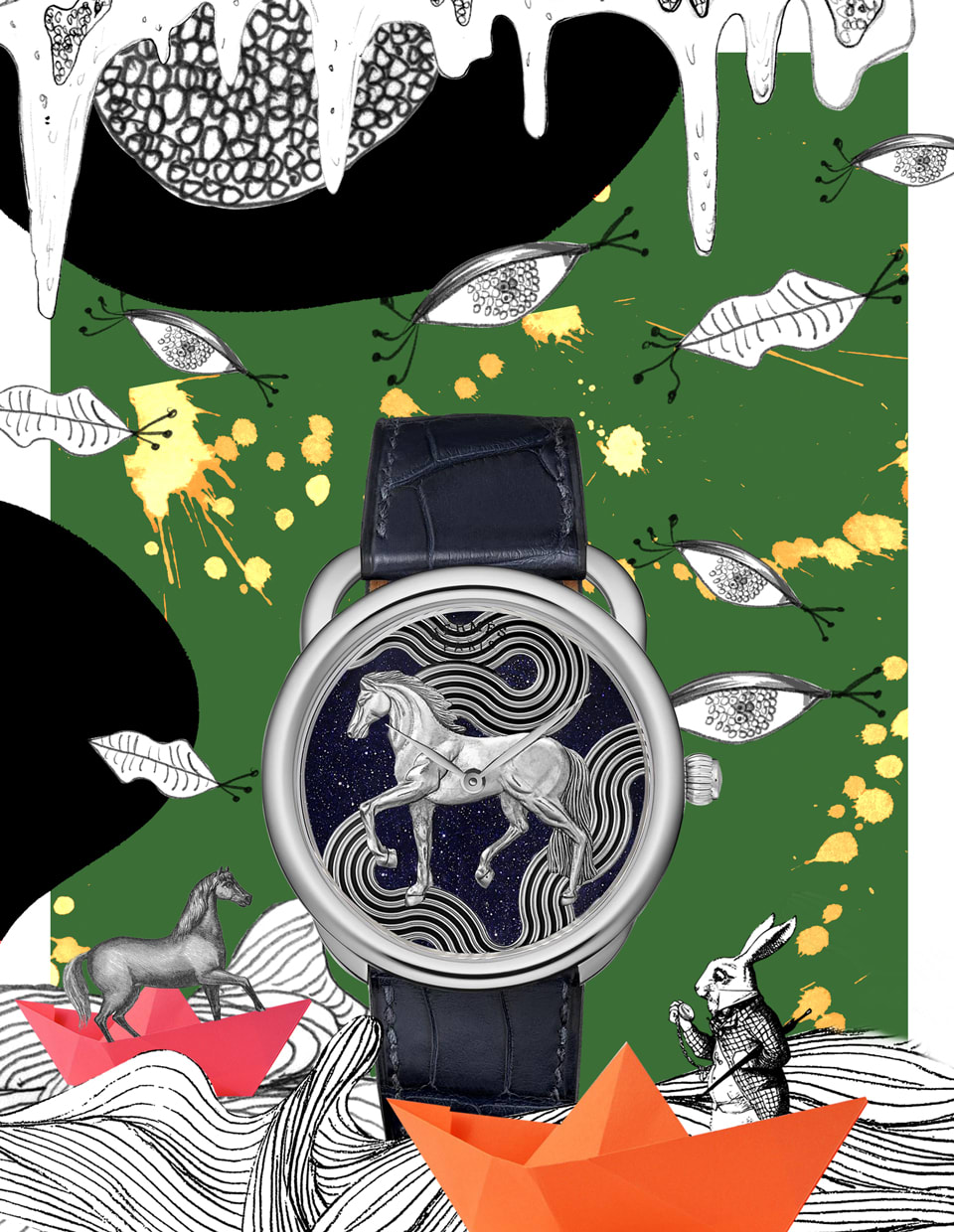 But don't be fooled into a thinking a simpler looking dial takes less time or effort. The two Hermes Arceau Cheval Cosmique watches, which feature the brand's famous cosmic horse motif from Italian printmaker Gianpaolo Pagni, have now been rendered in white gold, taking craftsmen almost a week to complete. These too have a small run of 24 pieces each for the mother-of-pearl or aventurine dial.
Metiers d'art watches aren't rare for the sake of it. There just aren't many people who are at the skill level these brands (and prices) demand. High-end mechanical watches cost what they do not just because of the precious metals they use (if even that) but because some processes are still painstakingly done by hand.
While it's true that there are some components and operations that need to be automated for the sake of precision, others, like finishing and assembling for instance, can be done by hand.
But when it comes to metiers d'art, anything short of the meticulous actions undertaken by an individual who has dedicated their life to perfect a skill most of the world has forgotten about would defeat its entire purpose.