Bangkok's skyline is undergoing a transformation – and these megaprojects are at the heart of it
Mixed-use ventures along the city's landmark Rama IV Road like One Bangkok and Dusit Central Park are upping the ante for development in Thailand's capital.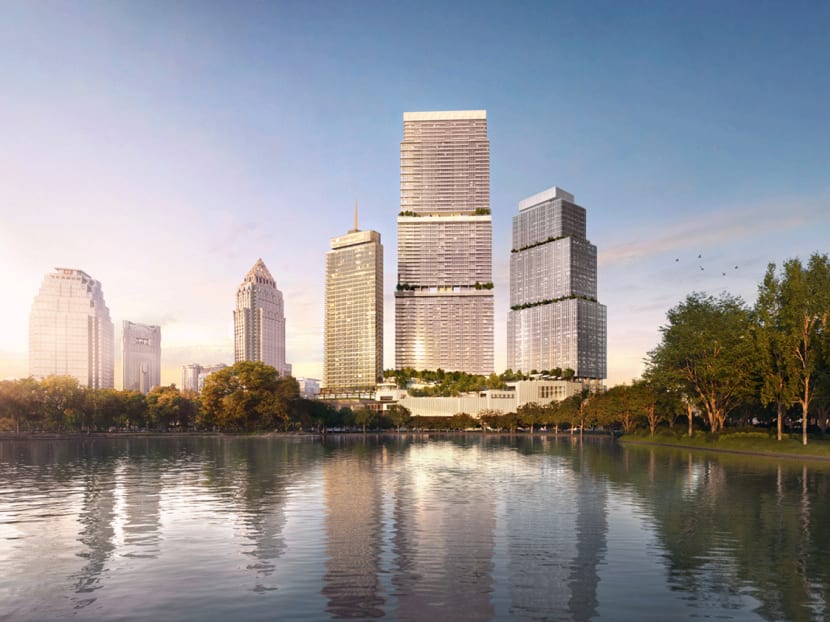 The monument of Thailand's King Vajiravudh located outside Lumphini Park has borne witness to many changes over the decades.
The statue was modelled by Italian sculptor Corrado Feroci. And the inanimate version of the king has had a grandstand view of Bangkok's breakneck evolution from his plinth since it was inaugurated in 1942.
Silom Road, just over the Saladaeng Junction, has transformed from a relatively sleepy thoroughfare into Bangkok's equivalent of Wall Street.
Directly opposite the statue's perch, meanwhile, once stood the Dusit Thani Bangkok hotel: Thailand's tallest building when it was erected in 1970 and long a byword for luxury tourism in the country's capital.
The site where the hotel was is currently cleared. But it's readying itself for a spectacular second act.
The upcoming Dusit Central Park will be a collection of branded service residences, the second iteration of the 259-key Dusit Thani Bangkok hotel, the 80,000 sq m Central Park shopping centre, and Central Park Offices, a grade-A 40-level office tower with a built area of 90,000 sq m.
The 46-billion-baht (S$1.8 billion) development, a partnership between Dusit Thani Public Company Limited and Central Pattana Public Company Limited, will be embedded on a 23-rai (3.68 ha) plot of land overlooking the centennial Lumphini Park, Bangkok's foremost inner-city green lung.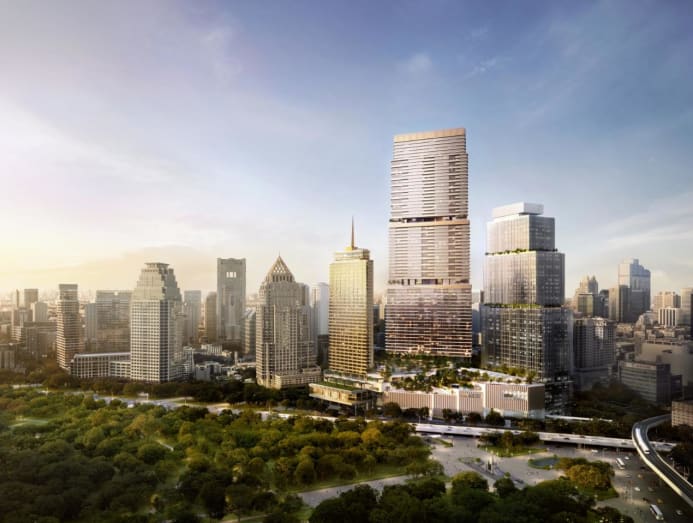 Thailand has had numerous transformative monarchs over the centuries. And the reign of King Mongkut – King Vajiravudh's grandfather – was as impactful as any.
The king ruled over his country for a relatively short time, his tenure lasting for just 17 years between 1851 and 1868. During that period, Siam – as it was then known – was increasingly feeling the pressure of western expansionism.
To bolster his country and prevent conflict with threatening colonial powers he initiated modernisation in technology and culture.
Therefore, it is appropriate that the artery bearing his posthumous name – Rama IV – has become synonymous with the breakneck evolution of Bangkok.
"Rama IV Road makes the perfect alignment and direct interlink with main avenues in Bangkok," said Marciano Birjmohun, director of the Singapore-Thai Chamber of Commerce. "It, therefore, possesses one of the main criteria of mixed-used developments. And that's connectivity."  
Thailand's capital has never been one for standing still. All over the city, new real estate projects and infrastructure progress as rapidly as a speeding tuk-tuk driver on an empty soi. But the activity underway on Rama IV Road is remarkable even within this hyperactive context.
Linking upper Sukhumvit with Charoenkrung Road and Bangkok's older quarters, the thoroughfare passes by historical and cultural landmarks such as Hualamphong Railway Station, Lumpini Park, and Khlong Toei Market, the city's biggest fresh market.
BANGKOK'S ICONIC URBAN PROJECTS
It's the vast construction sites that pepper its flanks that are nurturing the future signatures in the Thai capital. Here, workers are grafting round the clock to bring two of the country's most significant mixed-use real estate projects – Dusit Central Park and One Bangkok – to realisation.
"As it overlooks the famous Lumpini Park, it (Dusit Central Park) will be akin to the prestigious developments beside Hyde Park in London or Central Park in New York City," said Suphajee Suthumpun, Dusit International Group CEO.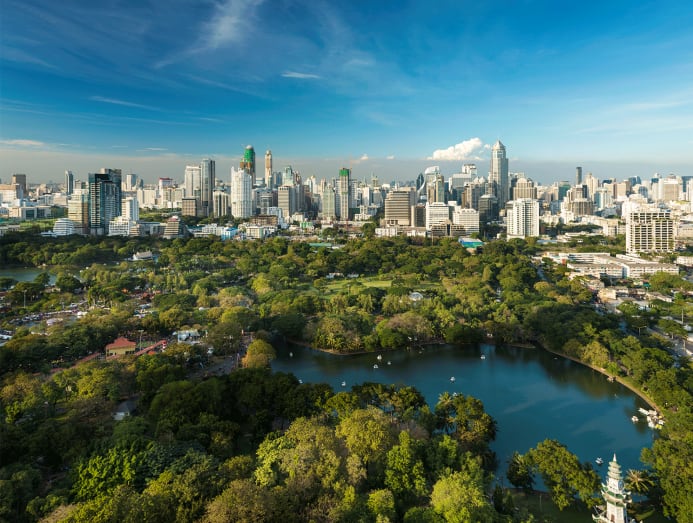 "Dusit Thani Bangkok was created as a landmark hotel, and over its 50-year history, it welcomed royalty, world leaders, and celebrities from around the globe. Dusit Central Park marks the next chapter in the story of this Thai icon and the project is a historic project not just for the company, but for the whole of Bangkok," he said.
"Our location is the 'super-core CBD' of a major global city. When such areas are developed, they become iconic urban projects that define their destination and represent their community. It is a great responsibility for which we are deeply honoured and proud."
The two key proponents of the new branded residences are said to be "community" and "wellbeing". So, alongside 24/7 five-star hotel services available for homeowners – access to its restaurants, a concierge, limousines, private spa and salon treatments, personal trainers, and so on – there will be an emphasis on spaces that promote a lively social environment. These include a sky kitchen, banqueting room, and kids' play area.
In line with the wellness focus, there will also be a swimming pool, a fully-equipped fitness centre, and a health and wellness centre offering curated consultations, beauty treatments, and more.
Plus, homeowners will get exclusive access to the residents-only Roof Park.
These design details are the work of the project's architects, Dragon Company Limited, a collaboration between Thailand's Architects 49 International and one of the world's most recognised architectural firms in Hong Kong-based OMA, founded by legendary "starchitect" Rem Koolhaas.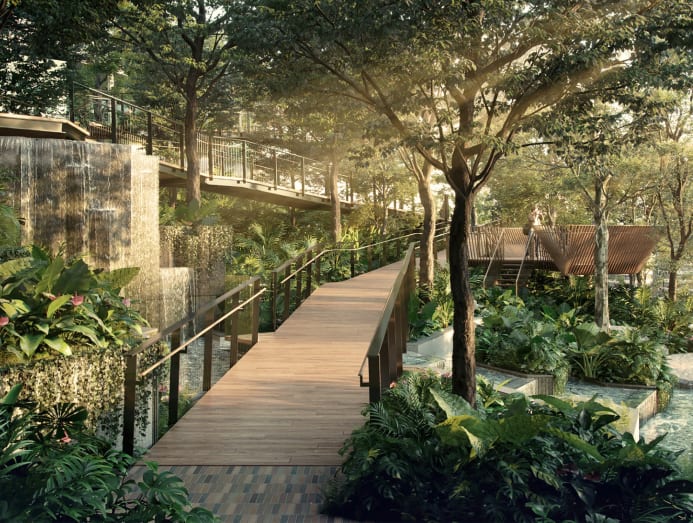 According to lead architect Michel van de Kar, the project involves the integration of several buildings into a larger whole; each element will merge into a single podium that works as a delicate transition between lush Lumpini Park and the dense city surroundings.
"Under the concept of 'Here for Bangkok', Dusit Central Park is envisioned as a complete lifestyle destination for the people of Bangkok," added Suphajee Suthumpun. "Designed to appeal to people of all ages and interests, whether professional or personal, the abundance of lifestyle options will undoubtedly make Dusit Central Park a vibrant social hub for both locals and visitors."
It's far from the only future icon on the strip. When One Bangkok opens at the junction of Witthayu Road and Rama IV, a few hundred metres along the road from Dusit Central Park, it will be the most expensive real estate project in Thai history.
It will be the largest integrated development in Bangkok's central business district with an investment value of over S$4.7million (exclusive of land cost). When fully completed, the project will include five premium Grade A office towers, four distinct retail precincts, five luxury and lifestyle hotels, and three luxury residential towers. Its 430m Signature Tower will be one of the ten tallest buildings in ASEAN. A dedicated shared space for art and cultural activities and exhibitions will be part of the project.
"One Bangkok will reshape and redefine its urban landscape in a positive and lasting way as the largest private sector property development initiative undertaken in Thailand," said Panote Sirivadhanabhakdi, group chief executive officer of Frasers Property Limited, the joint developer of One Bangkok.
"Our ambition is to build sustainable developments that improve quality of life and are part of the fabric of the community. It is our goal to constantly create offerings that connect with its surroundings and become a global landmark that the community can be proud of. We believe One Bangkok is an offering worthy of what Thailand's capital can deliver on the world stage."
BEYOND RAMA IV ROAD
While Rama IV Road is in the spotlight, it is far from the only location in Bangkok that is undergoing dramatic change due to mixed-use development.
To the north of Lumpini Park, Sindhorn Village offers luxury residential, hotels such as Kimpton Maa-Lai and Sindhorn Kempinski, and a retail and leisure precinct called Velaa. On the city's outskirts, meanwhile, the Forestias by developer MQDC covers an area of 64 hectares, nearly one and a half times the size of the world's smallest country, The Vatican. A 16 km elevated walkway will pass over the centrepiece, a 4.8-hectare wooded area.
A well-executed mixed-use development essentially creates its internal ecosystem, in which each of the various components benefits from its proximity to the others. An upscale shopping centre is more likely to prosper if placed within easy walking distance of luxury residential con and hotel rooms designed to harbour affluent clientele.
Thailand analysts say that developers and investors alike are aware of which way the wind is blowing.
"The benefits of mixed-use development extend far beyond enhancing the social good," added Birjmohun. "All over the globe, mixed-use developments are rising. Changing demographics and an evolving real estate market create demand for high-quality, integrated, and walkable communities. Mixed-use developments add more value to stakeholders. They represent the future of our communities, not just in Bangkok, but everywhere."