Want Sting as your neighbour? This London property is your answer
You might also spot The Beckhams at Battersea Power Station, a £9 billion (S$15.3 billion)-dollar development that is London's most exciting piece of prime real estate.
New York City has its Hudson Yards, where British starchitect Thomas Heatherwick's public art installation – Vessel – stands 16 stories high as an iconic landmark in the trendiest new neighbourhood in Manhattan's New West Side.
In a design exchange programme of sorts, London has imported one of the most influential architects of the century, Canadian-born American architect Frank Gehry, across the Atlantic for its own mega-development: Battersea Power Station.
The third phase of this £9 billion (S$15.3 billion) project – quite positively London's largest, most ambitious and most eagerly anticipated new residential, retail and leisure destination – will see Gehry Partners join forces with Norman Foster's Foster + Partners for the first time to create The Electric Boulevard: A public pedestrian gateway to the entire 42-acre (8 million sq. ft.) development.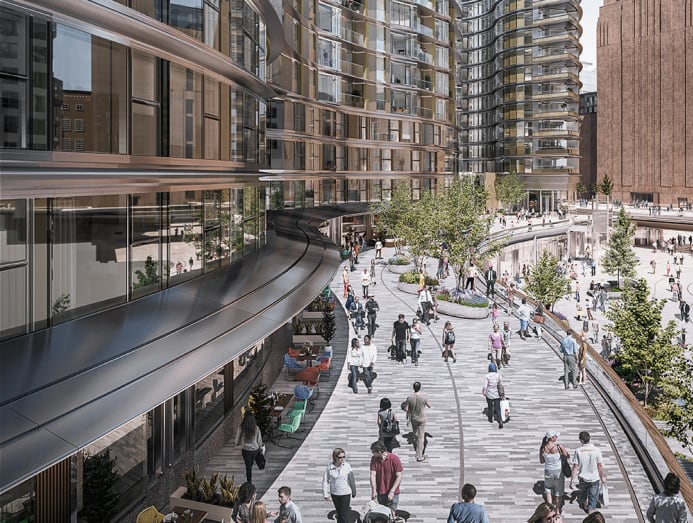 Gehry has been commissioned to design a series of buildings to the east of the boulevard collectively known as Prospect Place, which include double-height street-level retail units as well as the architect's first-ever residential building in the UK.
Named such, we suspect, to pave their way onto the world's most-loved boardgame as prime pieces of real estate, should a future Monopoly update materialise.
"It is a very attractive investment proposition," said Simon Murphy, Chief Executive Officer of Battersea Power Station Development Company (BPSDC), in conversation with CNA Luxury.
OPEN FOR BUSINESS
Dubbed the Jewel in the Crown of Nine Elms on the South Bank, the city's grand plan to transform and revitalise the entire district of Central London, by former UK Prime Minister David Cameron, Battersea Power Station is set to create more than 20,000 new jobs and inject approximately £20 billion into the UK economy when fully complete in 2025.
The mega project is divided into eight phases, which began with the groundbreaking of Phase 1 – Circus West Village – on July 4, 2013, on the 80th anniversary of the historic building first generating power.
In its heyday, Battersea produced a fifth of London's power (equivalent to half the output of a modern nuclear power plant), and provided electricity to several London icons including Buckingham Palace, the Houses of Parliament and Wimbledon.
The first homes in Circus West Village, designed by SimpsonHaugh and Partners and De Rijke Marsh Morgan (dRMM), went on sale in January 2013.
In what is said to be one of the fastest-selling developments on record, 75 percent of the 865 one- to three-bedroom apartments, townhouses and penthouses (starting at £338,000 for a studio) were sold off-plan in the first four days alone and the rest, within weeks.
Four years later in 2017, Battersea's first homeowners moved in when Circus West Village opened, along with its wide range of amenities and services including a 35,000 sq. ft. pop-up space, a 15,000 sq. ft. gym, an indoor swimming pool and a health spa plus 23 independent restaurants and retailers. Circus West Village residents also have access to a private Residents Club, The Riverhouse, replete with a bar, private dining space, library and cinema spread over 5,000 sq. ft.
STING-SPOTTING & CELEBRITY SIGHTINGS
According to Murphy, one can often spot Sting at the Italian restaurant on the grounds, as the former frontman of British rock band The Police purchased a unit during Phase 1, where, incidentally, fellow musician Elton John performed during the launch party.
Celebrity sightings continue in the vicinity as Victoria Beckham's design studio is also situated in Battersea. "You can sometimes see David playing soccer in the park with their boys," Murphy revealed.
"As placemakers, you don't create a great space if all you do is build flats. You want to create an interesting and dynamic space where people want to live, work and play," he continued. "The UK doesn't do enough of that… And very rarely do you get people brave enough to take on a project like this, as our investors have."
The consortium behind the redevelopment of the former industrial brownfield site includes Malaysia's Sime Darby Property, S P Setia and the Employees' Provident Fund; their presence personified at the heart of the development via a Malaysia Square.
As a nod to its investors, the square is part of Phase 2 of the project – the refurbishment of the Power Station itself – and sits at the southern entrance of the station, showcasing the country's culture, diversity and heritage, and links with the UK.
RESTORING AN ICON
Originally built in two stages between 1929 and 1955, the Power Station was permanently closed in 1983 but remains one of the largest single brick buildings in Europe and most significant surviving examples of Art Deco architecture. So iconic is the station that it even appeared on the cover of Pink Floyd's 1977 album, Animals.
Restoration works for the Grade II* listed Power Station began in early 2014 and is slated to be completed in 2020.
In seeking to preserve the world-famous landmark on the London skyline, UK architectural firm WilkinsonEyre has reconstructed the chimneys identical to their predecessors; painstakingly dismantling the original chimneys that were disintegrating from disuse, and rebuilding new chimneys to the precise specification of the originals with the same combination of concrete and steel reinforcement, painted to match the original colour.
A viewing platform will later on be built at the top of the northwest chimney, offering visitors 360-degree panoramic views of London's skyline from a height of over 100m.
As for the station's turbine halls from the 1930s and 1950s, they will be transformed into a commercial space including three levels of retail plus six floors of offices with anchor tenant Apple letting 500,000 sq. ft. of space.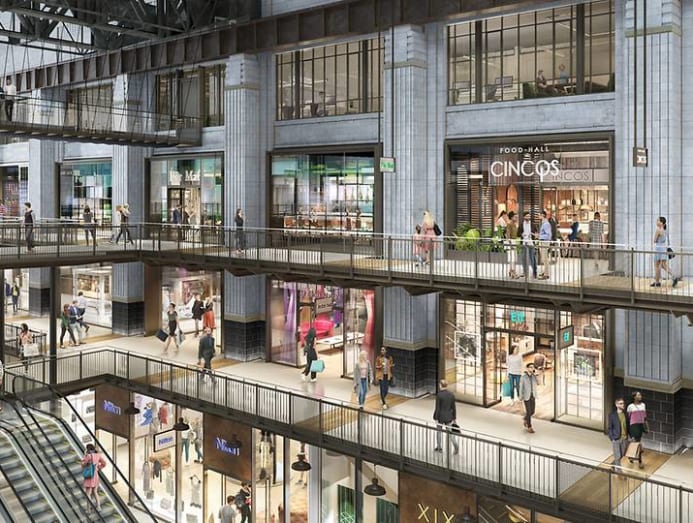 When the Power Station opens on the south bank of the River Thames in 2021, it will be the first time in 30 years that the public will be able to walk through its doors.
Phase 3 will also see the addition of a hotel – art'otel London Battersea Power Station – and when Phases 4 to 8 are complete, another 750,000 sq. ft. of offices, 130,000 sq. ft. of retail space and 1,372 new homes will come onstream from 2022.
Then, there's the extension to the London Underground Northern Line, which will give the mega development its own tube station, with the BPSDC footing over £200 million of the bill.
The first major tube line extension since the millennium, said Murphy, is "game-changing piece of investment" that will facilitate the flow of 40 million visitors per year when it is completed in two years.
BREXIT FEARS UNFOUNDED
Given the magnitude of the project, the question begs: Are Brexit fears dampening interest?
"In terms of cross-border investment, London is number one – it's going to generate interest despite Brexit," assured Philip Mason, International Sales Director of BPSDC.
"London," he added, "is a prime location for people who are looking to diversify their assets."
Unsurprisingly, most of its non-UK buyers are coming from China these days.
"China became an important market for us in the last three years," Mason offered.
"Aspirational Chinese are always looking for education opportunities for their children. We have seen a big shift towards Chinese buyers."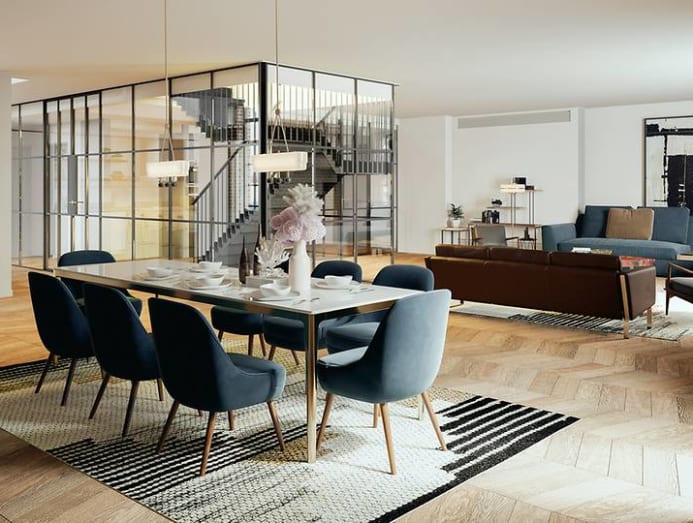 Hong Kong, he concedes, has been "a bit quiet" but the company is beginning to see a renewal of interest.
It's a similar case for Singapore buyers and Mason is "hoping to see shoots of recovery" in this market.
And what of capital appreciation of the earlier residential units sold?
"It's been good; the London market is fairly flat at the moment but we're still seeing good traction," said Murphy.
Ultimately, he said, "People are buying into a good global story." And who wouldn't love sharing stories of Sting and the Beckhams milling about in their friendly neighbourhood?