The Bentley Flying Spur V8 is an impossibly elegant limousine that's also a turbocharged powerhouse
When luxury knows no limit, the Bentley Flying Spur V8 Mulliner edition is the quintessential picture of opulence, that has some surprises up its sleeve. The most high-tech Bentley yet is also remarkably agile.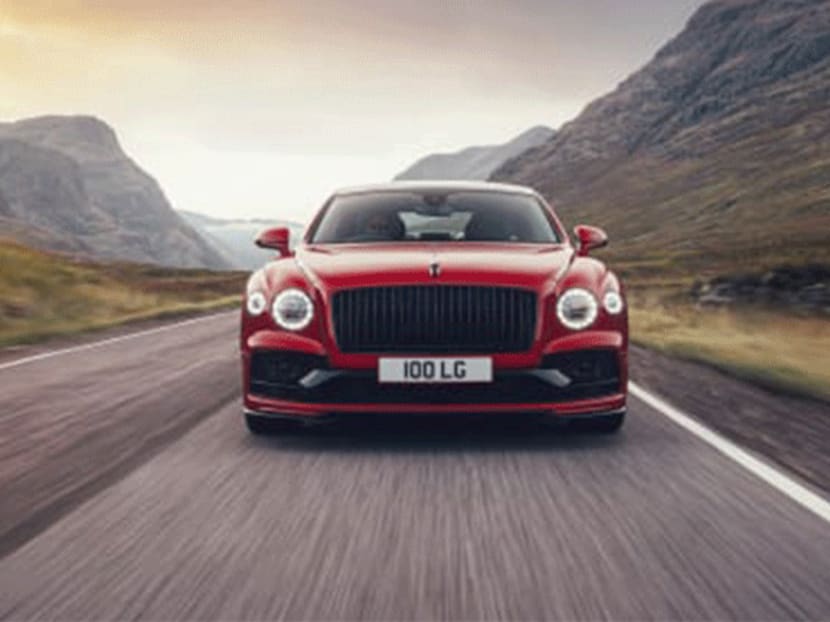 Can you drive a Bentley like a sports car? Apparently, yes. Should you, though? Probably not.
But you will certainly be tempted to do so, as the Bentley Flying Spur is a spirited V8 powerhouse, after all. And boy, is she a riot of fun behind the wheel.
We've never described agility as being addictive but here we are, sitting blithely behind the wheel and never once feeling its 2.3-tonne heft. She's a delight to drive, and also bespokely built for those who delight in being driven.
Unexpectedly wieldy, she glides effortlessly and elegantly, powered by a 4.0-litre, twin-turbocharged V8 engine that produces a peak power of 542bhp and 770Nm torque that propels the grand limousine from standstill to 100km/h in a mind-altering 4.1 seconds. All accompanied by an emotive yet tasteful exhaust note that you'll hardly be able to hear from inside the oh-so-silent insulated cabin.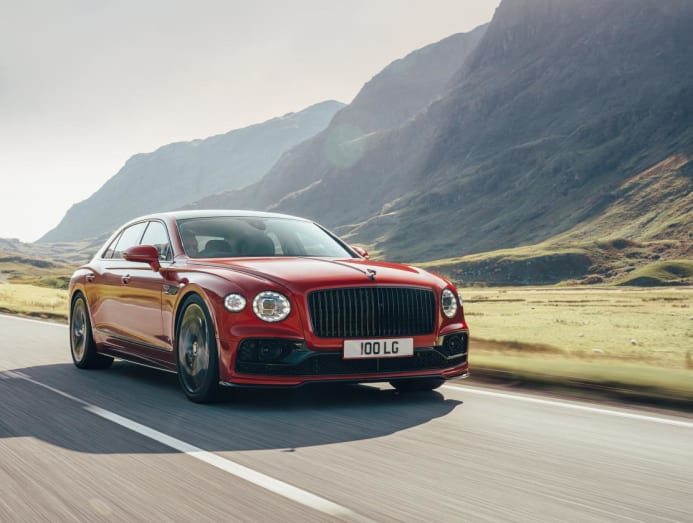 Just imagine what the 6.0-litre, twin-turbocharged W12 version would feel and sound like.
Needless to say, handling is exceptional. This four-door V8 is 100kg lighter than the W12 variant so she feels more agile and responsive, enhanced with the latest powertrain and chassis advancements like Active All-Wheel Drive, Adaptive Air Suspension, Torque Vectoring by Brake as standard.
Also available with a V6 hybrid powertrain, this third-generation model is more dynamic, more high-tech and even more luxurious than you could probably imagine. 
And the Flying Spur V8 we test-drove, equipped with the optional Mulliner Driving Specification, certainly captured our imagination – and hearts – over just one weekend with her.
COMMANDING PRESENCE AND PRESTIGE
Her elegant roofline commands presence and prestige, as does the iconic Flying "B" mascot on the bonnet, which has not been seen on a Flying Spur since the 1950s – inspired by a bird of prey – poised and serene when stationary but immensely powerful and agile when in motion – ascending and descending gracefully whenever the car is unlocked and locked.  
Then, there are those crisp, signature lines on her profile, achieved by seamless panels created by superforming – a process where aluminium is heated to 500 degrees Celsius and shaped by air pressure – resulting in the largest superformed panel ever seen in the automotive world and giving the Flying Spur its stunning, unified feel.
It all sits regally on an exceptionally long 5.3m wheelbase, as customary for a luxury limousine such as this, fitted with 22-inch Mulliner wheels featuring Bentley's "B" logo in fun, self-levelling badges that spin.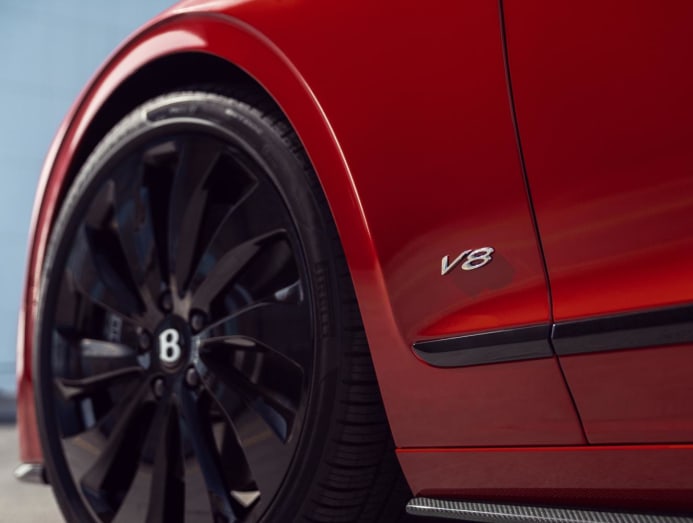 This rather youthful feature meets exquisite exterior detailing that further announce the fact that the Flying Spur occupies a league of luxury you'll only meet in uncommon hours.
The double-diamond matrix radiator grille, for starters, professes a uniqueness that could only be Bentley. The jewel-like LED matrix headlamps on each side flaunt an eye-catching cut-crystal effect that ensures they sparkle, even when not lit.
Meanwhile, the tail lamps recall the signature Bentley "B" motif and if you look close enough, you'll see the light strip itself follows an intricate diamond knurling pattern that echoes the knurling detail on the controls inside the car.
FIRST CLASS SEATS
More intricate craftsmanship awaits inside every Bentley, but the Mulliner-specced edition takes it several notches higher.
Perched at the pinnacle of the range, it exudes next-level luxury feels with its abundance of bespoke possibilities featuring distinctive Mulliner aesthetics crafted to cocoon you in luxury in your fully personalised Bentley. 
Here, luxury truly knows no limit. Every inch of the interior is upholstered by hand and refined to gorgeous effect. The double diamond pattern on the radiator grille is carried through to the tactile interior, where lofted diamond-quilted seats bearing embroidered Bentley emblems complemented by three-dimensional diamond-patterned doors convey a sumptuousness exclusive to the first-class experience.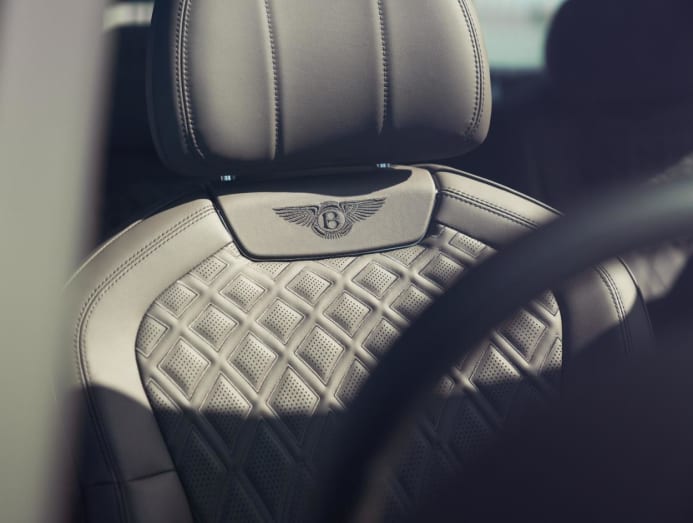 Then, there are the colours. Oh, the delicious hues. The interior of our test-drive model was sheathed in duo-tone shades of white and a maroonish tone they call Cricket Ball, accentuated by accent seat piping and contrast stitching, and it was all achingly beautiful to behold.
This handcrafted quality flows onto the console, where the rotary switches, vents and an analogue clock (exclusive to the Mulliner edition) also echo those unique jewel-like diamond knurling details, as well as onto the exquisite marquetry inlays of the sustainably sourced veneers.
There's also the leather-trimmed gear lever, which, by design or not, curiously reminds one of a Magic 8 ball, and leather-trimmed-everything for that matter.
Look up and the sky's the limit with the glass-to-glass panoramic sunroof that fills the cabin with natural light, complete with motorised shade, of course.
THE MOST HIGH-TECH BENTLEY YET
One of the things we particularly love about the Flying Spur is how it manages to marry analogue aesthetics and digital modernity with such finesse.
The optional, industry-first Bentley Rotating Display is a consummate example of this.
When you step into the Flying Spur, you're in for an illusive treat. All you see at first is the beautiful crown cut walnut veneer of the dashboard. Start the engine, however, and suddenly, the central section of the veneer rotates to reveal a 12.3-inch high-definition touchscreen displaying three customisable digital tiles that could display navigation, media, etc.
Press a button and you'll leave the digital world behind as the second rotation introduces three distinguished looking analogue dials showing the outside temperature, a compass and a chronometre.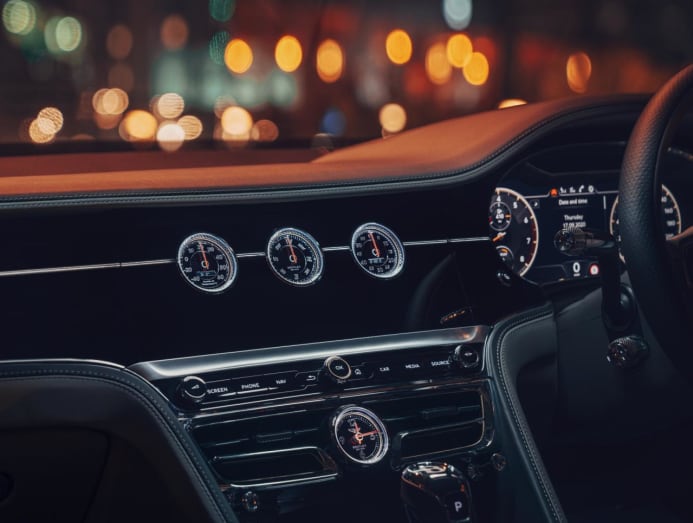 If you prefer an entirely uncluttered look, another press of the button returns you to the beautiful glossy timber veneer hiding both digital screen and analogue dials from view.
That said, Bentley's latest limousine is its most high-tech yet. The suite of driver and safety assist features are way too many to mention, but suffice it to say that drivers can expect all the technical assistance at their fingertips to help manoeuvre this exceptionally long limousine in this urban environment.
Our Mulliner-specced Flying Spur came with a spacious four-seat configuration (compared with five in the other versions), replete with in-seat massage functions for all four occupants.
These days, luxury means more screens, and passengers in the rear can immerse themselves in an endless stream of entertainment during their journey via the optional Rear Entertainment System comprised of two removable, high-definition, 10.1-inch screens mounted on the back of the front seats. Both are pre-installed with Netflix and other streaming apps, or you can cast content directly from your phone via the device mirroring function.
As for your audio journey, you have three top of the line options for your sound system, including Bang & Olufsen and the industry-leading Naim, and you can stream audio seamlessly to your personal headphones via Bluetooth, too.
Need to get work done on the road? No problem. Backseat passengers also have at their disposal electronically-deployed deluxe veneer and hide-trimmed picnic tables that unfurl much like tray tables in business or first class of an airplane.
Add a two-bottle drinks cooler (optional) in the rear cabin and you can create the ultimate vibe – to entertain and to be entertained while on the road.
In an age that embraces taking more conscious care of your wellbeing, the thoughtful inclusion of an ioniser that filters dust, pollen and other particles thus ensuring a steady flow of clean air in the cabin is certainly a welcome addition. Purity? Now that's luxury.
BENTLEY FLYING SPUR V8 SPECIFICATIONS
ENGINE: 3,996cc 32-valve V8 twin-turbocharged
POWER: 542bhp at 6,000rpm
TORQUE: 770Nm @ 2,000-4,500rpm
TRANSMISSION: Eight-speed automatic with paddle shift
ACCELERATION: 4.1 seconds
TOP SPEED: 318km/h
FUEL CONSUMPTION: 10.0 litres/100km 
PRICE: S$979,000 (without COE)