Take a deep dive: Here are the best diving watches for men this season
So what if you're not planning an adventure into the deep? Everyone could use an accessory that is stylish and tough.
Whether or not one dives has very little to do with the desire to own a diving watch. There is something about wearing an instrument built for a specific, potentially life-endangering activity that adds to one's sense of daring and adventure, however far that notion is from the reality of a modern white collar life.
Still, diving watches are as tough as they look, and for that reason alone they make excellent choices for those who like their things to last.
Diving watches need to be ISO 6425-compliant, which means they need to be water-resistant to at least 100m, be visible in darkness, and be able to measure elapsed dive time (through a marked bezel, for instance) among other things.
When combined with stylish flourishes via fancy colourways, indexes and hands, you get everything you could possibly need from a brawny timepiece. Here are our current favourites.
TUDOR PELAGOS FXD "MARINE NATIONALE"
This one's for the military geeks. Tudor's partnership with the Marine Nationale (the French navy) from 20 years ago, when it was supplying its Submariner watches to divers, was revived last year for a new model built exactly to the navy's specifications.
This means no date window or helium escape valve, and a lowered water resistance from 500m to 200m, which allows for a slimmer case profile of 12.75mm – 1.5mm skinnier than the standard Pelagos.
The bezel was also designed to be bidirectional, with deeper notches for an easier grip and with markings that will help time pre-planned routes rather than elapsed dive time. The lugs and case are machined from a single block of titanium with fixed strap loops for maximum security. The caseback is commemoratively engraved, serving as a constant reminder to civilian owners that the very same watch is being worn on trainings and missions halfway across the world.
BLANCPAIN FIFTY FATHOMS BATHYSCAPHE
The Blancpain Fifty Fathoms earned its place in diving history in the 1950s, when Captain Robert Maloubier of the French navy adopted the brand's premier diving watch for his Frogmen unit.
It looked every bit the military tool (which certainly earned it a great many fans for decades) but those who preferred something just a little more daily life-friendly veered toward the Bathyscaphe, which had a less pronounced bezel and a cleaner dial.
Revived in 2013, the new Fifty Fathoms Bathyscaphe closely follows the design of the 1950s original, and is offered today in 43mm with an in-house automatic calibre boasting a five-day power reserve and silicon balance spring. The bezel insert is also made of ceramic and Liquidmetal, the latter being an alloy that bonds perfectly with ceramic, resulting in completely flush markings.
RESERVOIR HYDROSPHERE BLACKFIN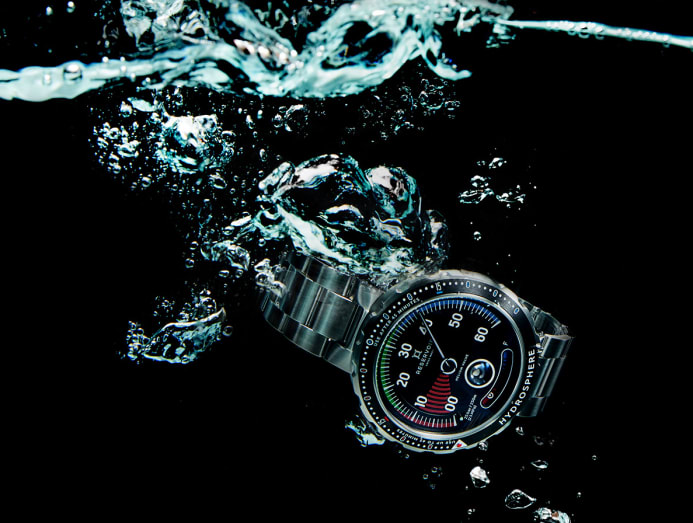 Dive watches all tend to look somewhat similar because they usually prioritise utility over creativity. But Francois Moreau, founder of Paris-based Reservoir, was so enamoured with gauge displays that he has found a way to incorporate it into a dive watch.
The Hydrosphere Blackfin is unusual in that it features a large retrograde minute hand, a jumping hour indication, and a uniquely designed bezel to get around the conundrum of reading elapsed time on a 240 degree arch.
For the first 45 minutes, position the triangular pointer ahead of the minute hand and read the scale as you normally would any other dive watch. But between 45 and 60 minutes, simply move the pointer ahead of the minutes again, but read the second scale in blue (marked "use after 45 minutes") to continue the measurement once the hand retrogrades.
This quirky offering is powered by the ETA2824-2 calibre with a proprietary module developed by Telos, and has a water resistance of 250m.
JAEGER-LECOULTRE POLARIS MARINER MEMOVOX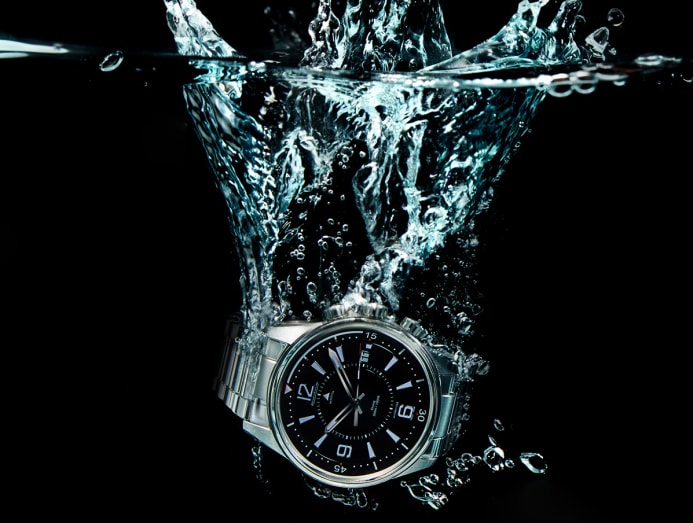 Despite this watch's vintage parentage – the Memovox debuted in the 1950s and the Polaris hails from the late 1960s – the Polaris Mariner Memovox looks refreshingly modern thanks to its blue and orange livery and bold typeface.
Unlike many diving watches, this one doesn't have an external rotating bezel for dive time. It is instead housed underneath the crystal and controlled by a second crown. Because of the importance of this function, this second crown has an orange security band that indicates an unscrewed crown, which could lead to water damage if not fastened properly before entering the water.
And since this is a Memovox, there is also a third crown that operates the watch's charming alarm function. Its smoked dial (in three textures!) and steel bracelet makes this a viable dress option for those who want to go from beach to ballroom.
BREITLING SUPEROCEAN HERITAGE B20 AUTOMATIC 42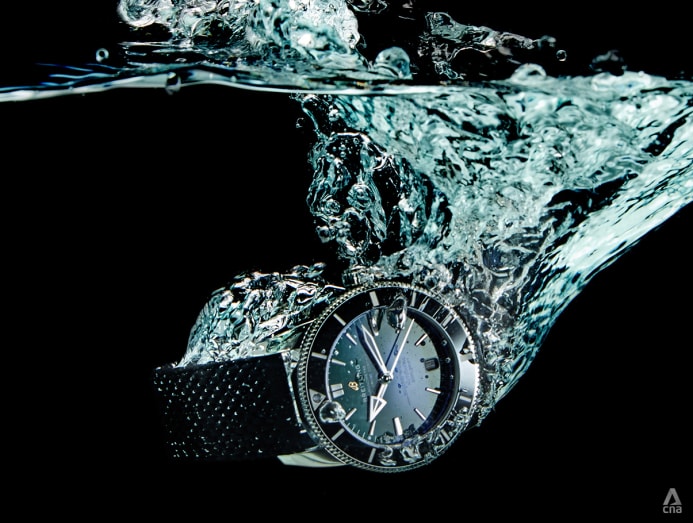 When Breitling released its first diving watch, the Superocean, in 1957, it blew competitors like Omega and Rolex out of the water with a then-unprecedented water resistance of 200m. The legacy continues to live on as the second generation of the modern remake continues to offer rugged good looks with modern materials and know-how.
The current models are the result of an update in 2017, which gave the Superocean Heritage a new ceramic insert instead of an aluminium one, a luminous marker at 12 o'clock, slightly redesigned hands and a new movement courtesy of Tudor – the Breitling B20, based on Tudor's MT5612.  (The latter can also be found in the Tudor Pelagos and Heritage Black Bay.) The COSC-certified calibre comes with a power reserve of 70 hours, and will still be safe at depths of 200m.