Is your luggage due for an upgrade? 5 high performance brands to consider
If you're planning to travel in 2022 for business or leisure, it might be time to invest in high quality luggage from the likes of Rimowa, Samsonite, TUMI and others.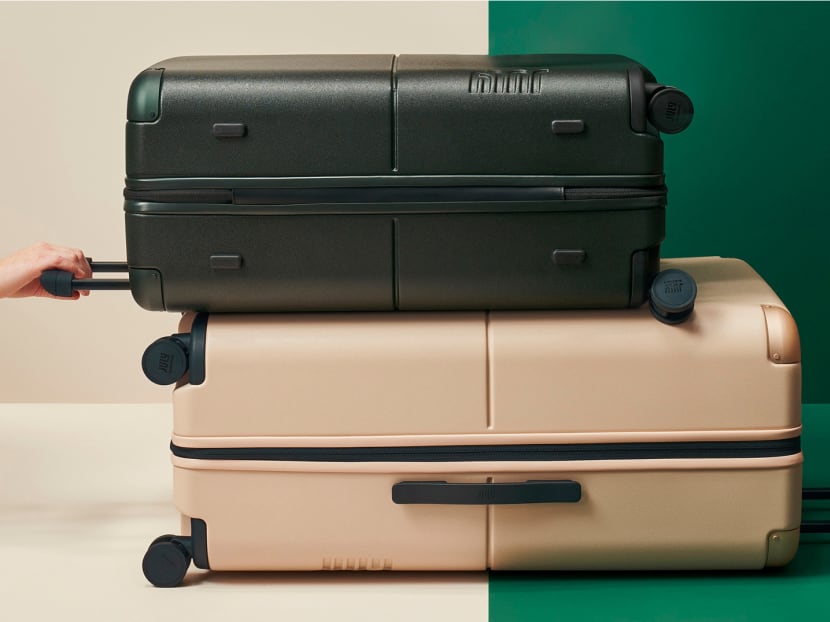 More so than any of the items you'll pack for your holiday, your suitcase is here to stay. To travel smart is to select a case that best suits your needs and style. And investing in quality luggage only makes getting there all the more enjoyable. We dare say it can make or break your experience, especially when you're pulling carry-ons along endless airport corridors during lengthy layovers.
A lightweight polycarbonate case might mean you can pack a bit extra and avoid an overweight baggage fee, while an eye-catching roller in a cheery colour will not just set the holiday mood but also ensure you can spot it from three conveyor belts away.
If you're looking for heritage, quality, and craftsmanship, Rimowa is the brand for you. Founded in 1898 in Cologne, Germany, the label boasts cases crafted almost entirely of lightweight but sturdy aluminium and a patented multi-wheel system. While Rimowa has typically catered to the no-nonsense traveller looking for slick functionality, it has recently found ways to infuse fashion into its heritage designs through collaborations that include Off-White, Supreme, and Dior.

TUMI on the other hand is an all-American brand founded in New Jersey in 1975 – in spite of its name which refers to Peru's national symbol, a ceremonial knife. Best known for its practical construction and quality craftsmanship, the brand prides itself on technology-first design that underscores durability and functionality. It boasts a reputation as one of the toughest luggages around, and it is the only one with the license to use Tegris, arguably the strongest lightweight material.
To prove their luggage was strong and mighty, Samsonite, which was founded back in 1910 and is now one of the most popular luggage brands in the world, took its name after the Bible's Samson. The company boasts a wide range of products that includes hardside and softside bags, backpacks, and travel accessories, and has proved itself dependable for making just about everything a traveller needs to get from point A to point B.
Meanwhile little has changed about the way Bric's crafts its signature leather collections since the company was founded in 1952 by Mario Briccola. Today, its elegant leather goods are still produced at family-run factories in Como in Italy, and even the brand's modern hard polycarbonate cases continue to feature leather trim details both as its signature and in a bid to honour Bric's artisanal heritage.
The new kid on the block is July. Born in Melbourne, Australia, the brand has gained a reputation for being tough to break and beautiful to look at. Intent on bringing more mindful design around how we travel, July is also dedicated to service – for a start it offers a lifetime warranty. Its features include curvature innovation to create more resistance to hard knocks and a unique wheel and handle housing system to create an eggshell shape around the corners. In addition, its aerospace-grade polycarbonate casing features a scratch-proof texture that is sophisticated and minimalist at the same time.
A CITY JAUNT

No matter which big city you are heading to for your urban getaway (but in particular European ones, which are notorious for their luggage-unfriendly cobblestoned streets), you'll appreciate the smooth rolling double wheels and the elongated double tube pull handle on the Samsonite Proxis.
Count on effortless and stable manoeuvring when you are on the go whether you are hiking up the hilly streets of Central in Hong Kong or Montmartre in Paris. The luggage itself is made of a multi-layered resilient material developed by Samsonite that bounces back into shape, offering remarkable resilience and lightness – all of which means it is less likely to get dented. Personalised tags with your initials monogrammed also make your suitcase truly yours.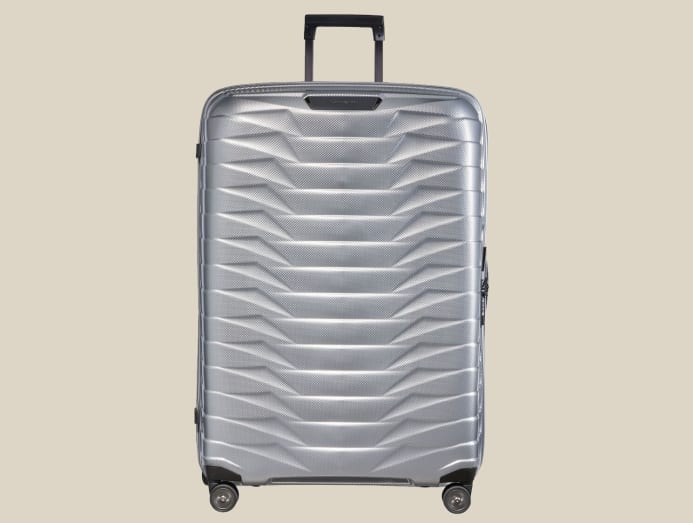 Similarly indestructible is the Aero International Expandable 4 Wheeled Carry-On from TUMI. The engineering science behind Formula One constructor McLaren and the product innovation of TUMI have come together for a seamless integration of lifestyle and technology.
Echoing automotive design, this carry-on is crafted with a mix of exceptionally durable materials including Tegris, an aero-inspired moulded front panel. The dynamic influence continues with compression straps reminiscent of McLaren's six-point harness, while papaya-hued highlights bring a signature touch. The cherry on top is that it comes complete with a USB port (though power bank is not included), guaranteeing that this expandable case delivers superior functionality and versatility without sacrificing design.
However, if the flair of a bygone era is what you're after, you'll love Bric's elegant Bellagio 2.0 30″ Spinner Trunk. Outfitted with enlarged wheels that ensure smooth rolling and a matching shell and interior lining for a seamless appearance, it features a classic iconic silhouette that is crafted from lightweight and durable materials. What's brilliant is that its zip comes with TSA-approved locks and is also water repellant. This good looking beige version with leather trim is a flawless combination of form and function, and as its name suggests, it's perfectly capable of smooth swivelling.
A BEACH ESCAPE

It's generally understood that beach vacations, whether you are heading to the Maldives or Goa, don't require you to lug along an oversized luggage since you'll mostly be in beachwear (or nothing at all). As such, cabin carry-alls tend to be sufficient for a short jaunt, and they conform to budget airline luggage restrictions anyway.
This sleekly designed Samsonite Red ROBO II in a gorgeous Bordeaux red is not only practical and lightweight, but will have you travelling in style. It is equipped with a smooth rolling wheel system for easier manoeuvrability, while the TSA locks and double-zip fastening add extra security and strength. This stylish case also features a fully-functional interior with multiple compartments so you can easily organise your dirty garments, compression straps so you can fit more in, and a handy packing checklist so you never forget the essentials.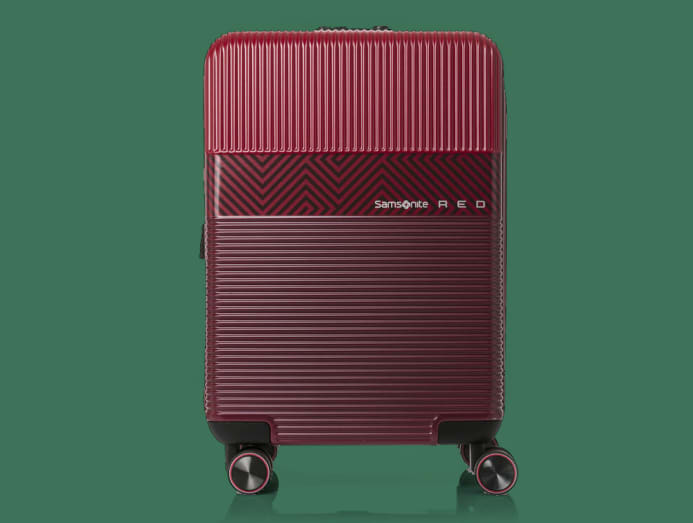 Just soaking in the sublime and uplifting orange colour of this Rimowa Essential Cabin suitcase makes you feel like you are on a holiday already. Widely regarded as the first luggage brand to produce a polycarbonate suitcase, the German brand can be counted on to provide the best in high-tech functionality.
This strong, durable, and lightweight cabin suitcase is designed to fit in most airline overhead compartments and the ideal travel tool for purposeful travellers. Perfect for two to three days of travel, this suitcase is engineered to offer seamless adjustment for maximum comfort and smooth manoeuvrability, and quite frankly is the ultimate in hard shell luggage innovation.
Maybe with all the remote working from home the last two years, you finally figured that you might as well work remotely from Bali. And if you're expecting a long stay, this calls for a larger suitcase to lug your belongings. Offering maximum storage space without compromising style is this deep trunk from July that gives you the freedom to pack more for better adventures.
The 80/20 case split allows you to store bulky items on the deep side with ease, so your shoes and toiletries bag all have a home inside. The heritage style with the aerodynamic curves is a subtle throwback to the 50s, albeit reinterpreted in a modern form with a glazed German polycarbonate shell. And just like suitcases of yore, you can experience the joy of packing without zips – simply unclip the twin latches and lift to open. The icing on the cake is that it has not two but a 20-height multi-stop telescopic handle so you can pull with comfort.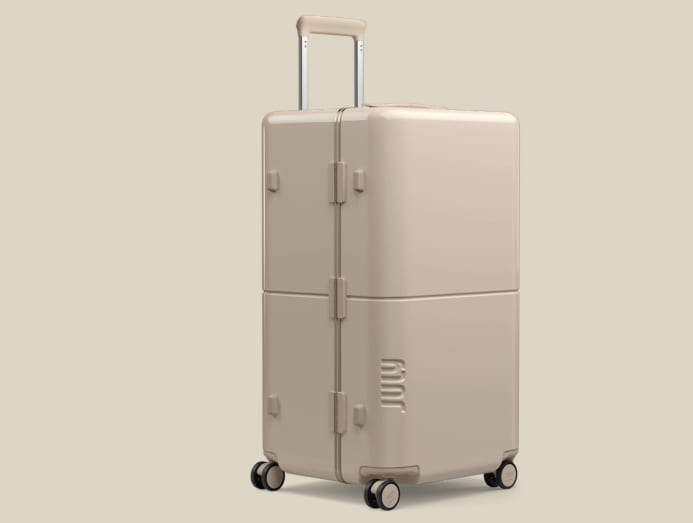 A BUSINESS JUNKET
It's not always all fun and games, and sometimes getting on that plane is a necessity to seal a deal. You'll want not only a suitcase that can withstand the occasional baggage claim ding and inclement weather, but one that will also allow you to make a good impression while you are at it.
This Evoa hardside suitcase by Samsonite is evolutionary because it brings suitcase design to a new pinnacle. Elegant, sophisticated, functional and innovative, it merges business and leisure travel with the best usage experience. For a start, it is mounted with an innovative Aero-Trac suspension wheel system, which effectively reduces rolling vibration and rolling noise.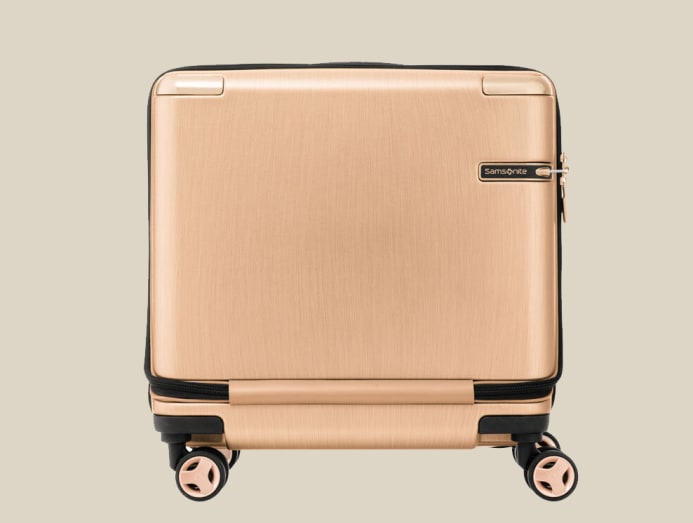 Evoa is also equipped with an integrated anti-theft zipper, which provides maximum protection to your belongings that may be of a sensitive nature. Protected by metallic corner guards and decorated with a brushed texture, the design is minimalistic yet modern. This elegant rolling tote also features a front pocket that allows quick access to your laptop and tablet on the move.
Equally striking from a distance or at close range, this 19 Degree Small Compact 4 Wheeled Brief from TUMI boasts a modern silhouette with fluid-looking, angled lines. Made with a recycled polycarbonate shell, it is lightweight and flexible, yet durable. It features multiple pockets for your laptop, two tablets, and everything else you need when working on the go. The compact size is designed to fit under the seat on most airlines, while the 4-wheeled system offers quiet and effortless manoeuvrability in every direction. There is no double that business will be pleasure with this handsome wheeled brief.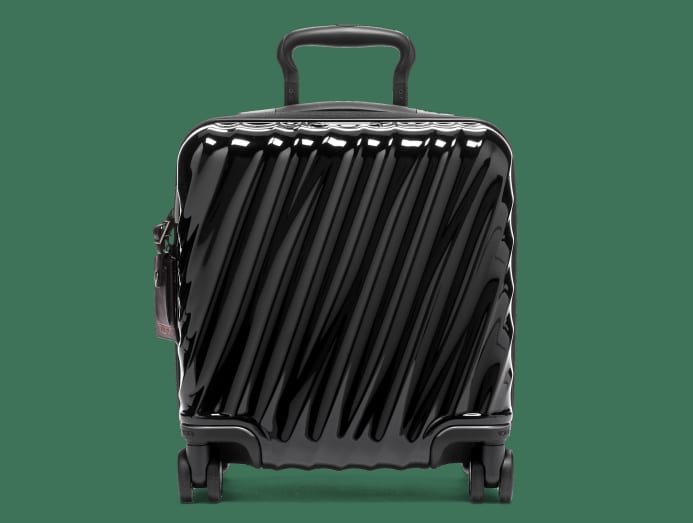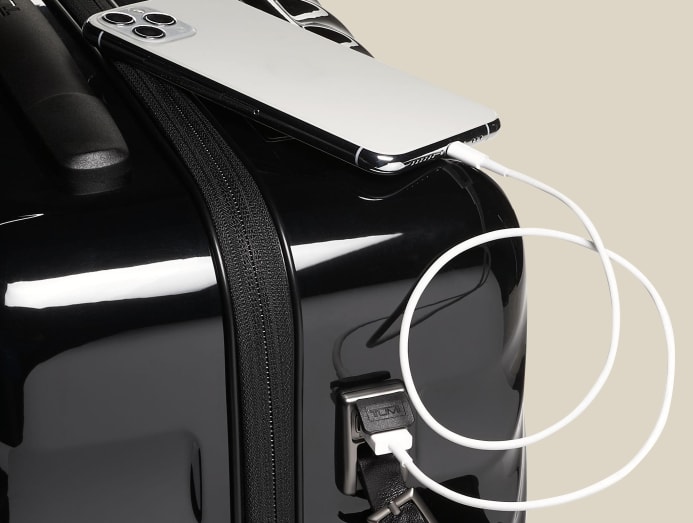 And finally, whether it is to celebrate an inked deal or whether it is simply meant as an unforgettable gift to your client, this incredible One Bottle Case from Rimowa is the ultimate piece for connoisseurs.
Designed to hold most bottles, it is made from anodised grooved aluminium and features high-gloss aluminium corners and a black leather handle and tag. Inside, a luxurious interior in black contrasts with the gleaming silver exterior. Melding craftsmanship with technical skill, the one-bottle case secures its cargo with a clever system of removable padded cushions that wedge the bottle neck to keep it in place. It will also keep your bottle insulated and cool for several hours, ensuring that it arrives ready to be enjoyed – so, cheers to that.