A watch not just for diving enthusiasts, but also for military history buffs
Two limited edition Blancpain Fifty Fathoms reissues for 2019, the Nageurs de combat and Barakuda, offer a reminder of Blancpain's extensive history with the French and German navies.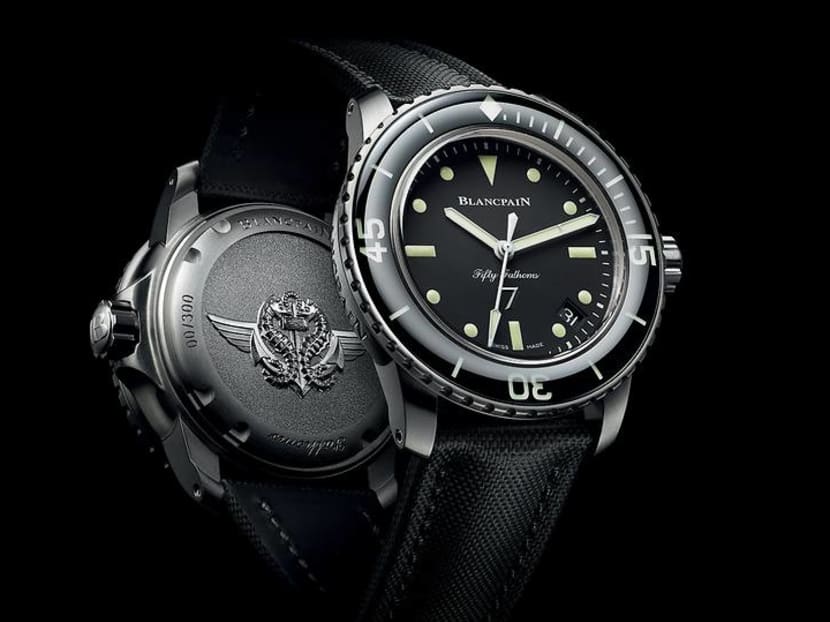 It is well documented that the Blancpain Fifty Fathoms is the first modern dive watch to be made, in 1953. It was also one of the first dive watches to be used in the military – specifically, the French Combat Swimmers unit.
As the story goes, when Jean-Jacques Fiechter, himself an avid diver, took the reins at the helm of Blancpain in 1950, he wanted to create a reliable and robust timepiece to take with him on his underwater adventures. With nothing of the sort in the market at the time, Fiechter had to come up with a set of criteria based on his own experience as a diver.
Being waterproof was a given, but more importantly, Fiechter wanted the watch to have luminescent hands and hour-markers contrasting with a dark dial, a secured rotating bezel, a self-winding movement and an antimagnetic case. Most of these are now listed in the official ISO 6425 certification, that allows a watch to be considered a dive watch.
In 1952, Captain Robert "Bob" Maloubier and Lieutenant Claude Riffaud, founders of the newly formed French Combat Swimmers unit, also began their search for a watch that would suit their aquatic missions.
Naturally, their aligned goals brought them together and in 1953 Blancpain was able to deliver a watch that passed all the military testing and went on to become one of the essential pieces of equipment for the French Combat Swimmers corps.
This year, Blancpain has reissued a 300-piece limited edition of that watch – the Fifty Fathoms Nageurs de combat – and with the permission of the French army, they have engraved the official Combat Diver Qualification Badge on the caseback.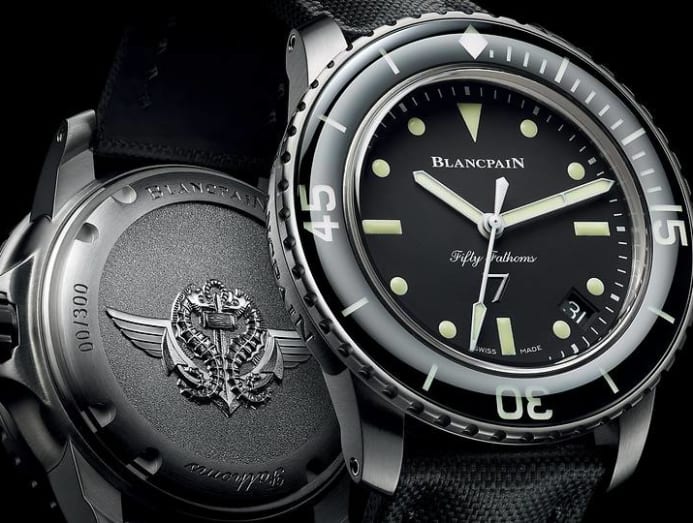 On the dial, you'll find the number 7 representing the maximum depth (in metres) that the commando frogmen can reach when using pure oxygen (the gas becomes toxic when its partial pressure reaches 1.7 bar). The watch is powered by the 1315 self-winding movement that has a silicon hairspring as an antimagnetic shield and three series-coupled barrels for a long five-day power reserve.
Following the success of Blancpain's watch for the French Combat Swimmers, other military elites began equipping their forces with the Fifty Fathoms as well. In the 1960s, the watches made their way into the German Bundesmarine, and this year Blancpain has also created a 500-piece limited edition of that watch, the Fifty Fathoms Barakuda.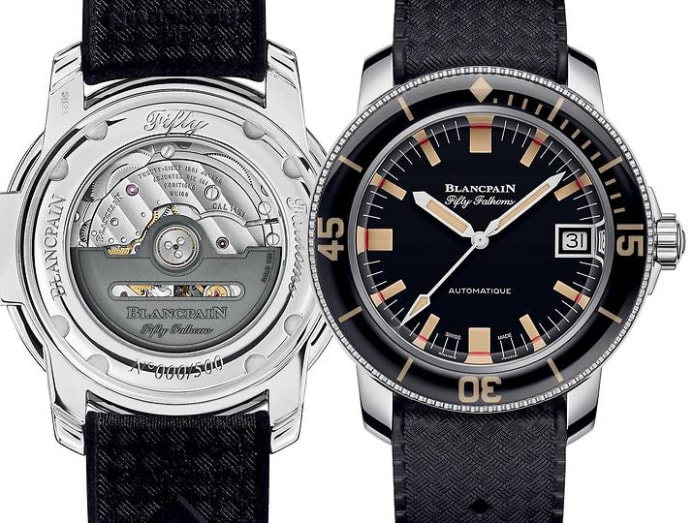 'Barakuda' derives from the name of the company that supplied the German Navy with the watches. The Barakuda sports distinctive two-tone rectangular hour-markers, white-painted fluorescent hands, as well as a highly visible date display at 3 o'clock.