Celebrating 70 years of the Fifty Fathoms: A collaboration by Blancpain and Swatch
There are five colours to choose from for this Blancpain and Swatch collaboration.
In a collaboration that embraces innovation, Swiss watchmakers Blancpain and Swatch have come together to create a fresh rendition of Blancpain's iconic Fifty Fathoms scuba diving watch. This partnership introduces the Bioceramic Scuba Fifty Fathoms collection, featuring five distinctive models that pay homage to the world's oceans, which are close to Blancpain's heart.
The Blancpain Fifty Fathoms debuted 70 years ago and it revolutionised watchmaking by becoming the first true diver's watch.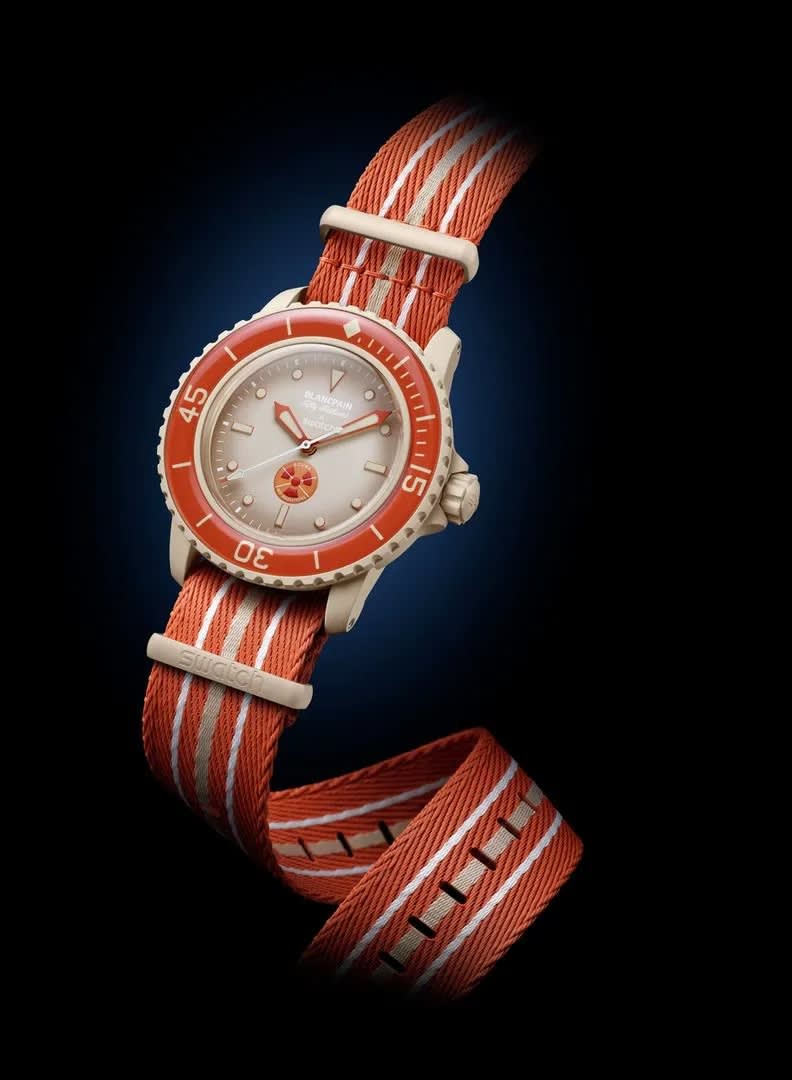 The Blancpain X Swatch models are crafted from bioceramic — a unique blend comprising two-thirds ceramic and one-third biomaterials derived from castor oil. Also the distinct colors signal a departure from the traditional Blancpain aesthetic. However, avid fans will instantly recognise numerous features and characteristics inspired by the iconic Fifty Fathoms — the distinctive case, the unidirectional rotating bezel for measuring dive duration, and the self-winding movement fortified against magnetic fields. In this instance, it's the SISTEM51, equipped with the Nivachron antimagnetic balance spring.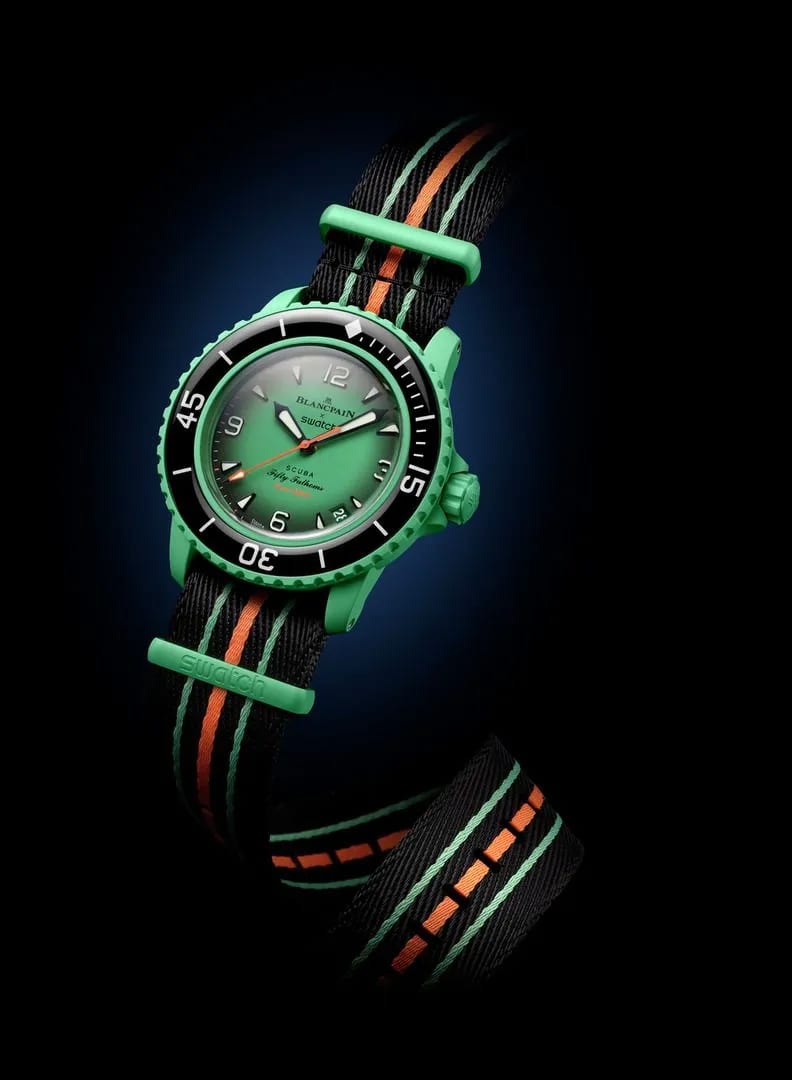 Blancpain's president and CEO, Marc A Hayek, views this collaboration as deeply symbolic. He said: "Without Swatch, the Swiss watch industry would simply not have survived and enjoyed such a wonderful destiny. This collection is a source of pride for me. We owed it to ourselves to work with this brand that is as much a pioneer as we are – a reality vividly proven with this collection. Swatch has brilliantly reinterpreted our iconic model, in its own way, with its own vision. As a keen diver myself, I really appreciate the attention to detail in this collection and the many references to the Fifty Fathoms. The fact that it is water-resistant to a depth of 91 metres – corresponding to exactly 50 fathoms, a nautical unit of depth – is a fantastic nod." 
Hayek was also responsible for relaunching the Fifty Fathoms in 2003.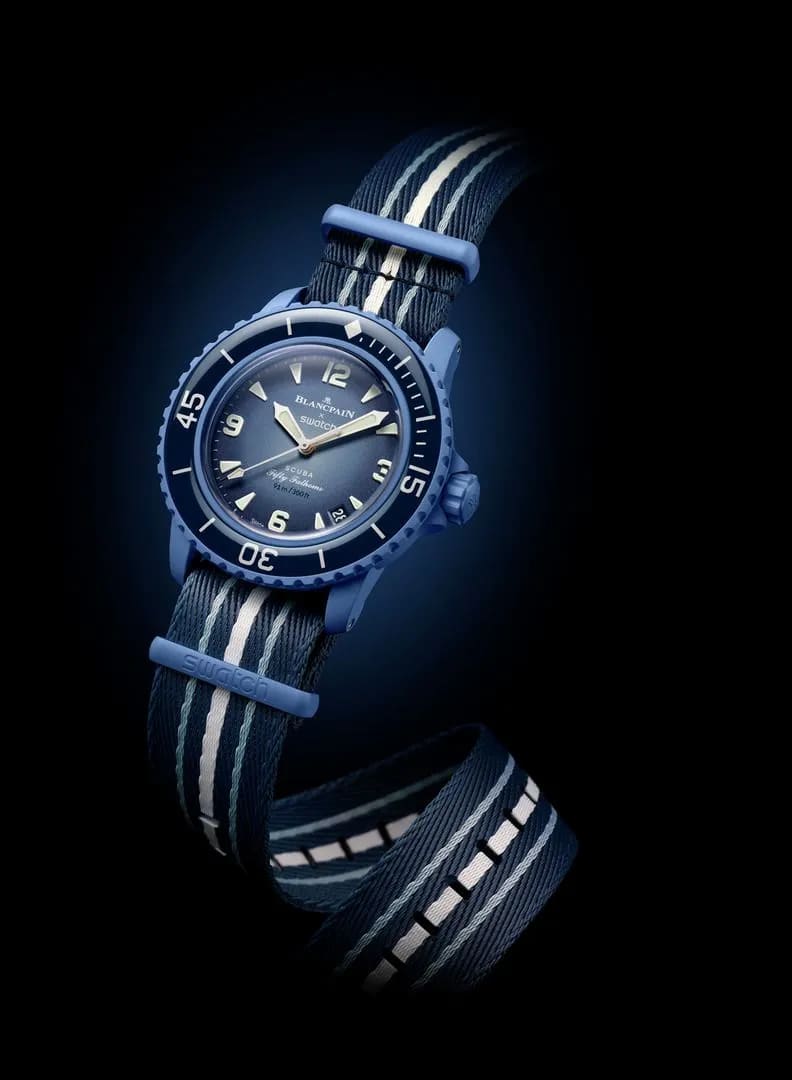 This new collection of five watches introduces colours previously unseen on the original Fifty Fathoms, infusing a playful touch to Blancpain's iconic diver's watch. Each model features the shared Blancpain X Swatch logos on the dial and crown, and the watch straps are crafted from recycled fishing nets that have been removed from the ocean floor.
The collection is now available at selected Swatch stores worldwide.