Meet the i Vision Dee, BMW's futuristic concept car that can wink, smile and interact with you in Singapore
Get up close with i Vision Dee, BMW's futuristic concept car that greets you with your very own avatar, at the BMW Joy Electrified exhibition, from now till Jul 30.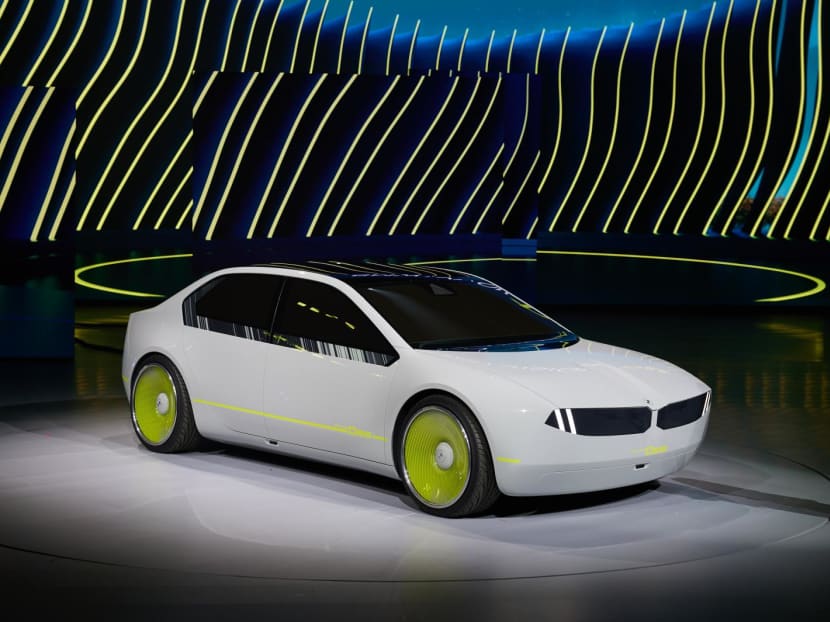 How would you like an avatar of yourself to accompany you on your drives? Or a car that's able to interact with you through a variety of emotions and expressions, and actually responds with a real voice when you speak to it?
This is the future that BMW envisions, personified in its latest concept car, BMW i Vision Dee. 
"The i Vision Dee is your true digital companion and it showcases how digitalisation will enrich our lives and amplify our driving experience," explained Matthias Junghanns, Director Automotive Design of BMW Designworks Shanghai, as he walked CNA Luxury through the car's unique features at an exclusive preview ahead of its public showcase opening today.
Currently in Singapore – its first time in Southeast Asia and fourth pitstop after Germany, the United States and China – the BMW i Vision Dee will be on display at the BMW Joy Electrified exhibition held at the Suntec City Atrium (Convention Centre) till Jul 30. 
Visitors will have the opportunity to view the car up close, experience the emotional capabilities of the BMW i Vision Dee, and learn more about the carmaker's sustainability efforts, as well as test drive the latest range of BMW's i Series of electric vehicles.
"The car is fully connected to your digital life and it's even able to react to you," said Junghanns, who was part of the team that developed Dee.
Dee effectively dismantles the centuries-old idea of the car as a non-sentient machine, and bestows it with a real personality and ability to express itself in a ground-breaking leap in technology we're seeing first here on this futuristic mid-sized sedan that's closest in size to the BMW 3 Series.
Its BMW Kidney Grill and headlights, for example, have been conceived as a digital canvas that can convey nine expressions and moods expressing joy, astonishment and joy among others, in response to you, the driver.
Did Dee just wink at me? Junghanns nodded with a smile, understandably pleased with his creation.
"Hey Dee, could you show me my avatar, please?" he said to the car.
A digital (albeit much younger) likeness of Junghanns materialises on the front passenger side window, and we brace ourselves for more mind-blowing moments inside.
Dee's deliberately minimalist design continues in its interior, as Junghanns waves his hand across the inside of the door panel and a white graphic – a parallelogram accompanied by arrows pointing left and right – appears.
"We call this Shy Tech, so it's only there when you need it, and it disappears when it's not active," said Junghanns. Tap the geometric shape with a finger and the door closes. There is no door handle, or any of the contraptions you would ordinarily associate with a car, of course.
Instead, Dee's cabin is exactly as you would probably imagine a futuristic car interior to be. No protruding knobs, gears, controls or buttons – the cockpit is completely bare save for an unassuming switch in the centre console.
"You operate this car as simple as an iPhone," said Junghanns.
Flick the switch left or right to select the drive or park mode, and flick forward or backwards to select the forward or reverse mode.
On what would have been the instrument panel with switches and controls or digital screens, a Mixed Reality Slider embedded in the dashboard activates the panoramic Head-Up Display which, in this case, transforms the entire width of the windshield into a gigantic screen that allows information to be projected and displayed on the largest possible surface inside the car.  The linear sliding scale features five nodules that glow upon touch, each initialising increasing levels of digital complexity up to an augmented reality overlay, transforming the car into a digital immersive experience like no other.
COME MEET DEE
This weekend only in Singapore, visitors to the BMW Joy Electrified exhibition at Suntec City will get a chance to meet Dee in person and experience first-hand its revolutionary take on electromobility. Junghanns, who has been flown in specially for this event from Shanghai where he is based, will be giving daily presentations so you, too, can discover some of Dee's hidden secrets for yourself.
Learn more about BMW's efforts in sustainable mobility through its array of electric vehicles also on display, including the BMW i4, BMW iX3, BMW iX and BMW i7, which will be available on-site for test drives for interested customers.
There will also be appearances by Mediacorp artistes such as Jean Danker, Elvin Ng, Gao Mei Gui and Ravi G who will no doubt be bringing the joy at BMW Joy Electrified.
BMW JOY ELECTRIFIED
Venue: Suntec City Atrium (Convention Centre)
Date: Jul 27 to Jul 30, 2023
TIME: 10am to 10pm
Register for your test drive at BMW Joy Electrified