BMW M cars are made for race tracks, so just how roadworthy are they?
Developed for the race track yet versatile enough for everyday driving, the M3, M4 and M5 models allow you to configure the engine, steering and brake settings according to your whim, as we discovered on a recent test-drive.
Few cars trigger the trifecta of power, emotion and desirability in petrolheads like a BMW M model. They are the very personification of performance, saying as much about its driver and their personality, skill, and ability. 
They're complex creatures, you see. Supercharged and highly configurable vehicles flexing supreme agility and requiring a certain degree of proficiency to coax the best out of these beasts.
So what a treat it was when we had the opportunity to drive not just one M model, but three in a day when we put the new M3, M4 and M5 through their paces through the city at a recent M Power Day with BMW.
With JW Marriott Hotel Singapore South Beach as our starting point, we zipped through different routes from Upper Peirce Reservoir to Changi Airport with pit stops in between, interchanging vehicles in succession as we tested their muscle and might. 
And a delight to drive they are – particularly if you know what you're doing – and favourites quickly emerged, as each offers a distinctive drive experience thanks to their high configurability.
One would therefore benefit from a little tutorial of the electronic operating systems because the beauty of these babies is their ability to deliver a tailored drive experience, based on your choreography of the various settings.
This gives the trio of rear-wheel drives something of a transformer character, changing the way they behave with just a few flicks – making them as versatile and adaptable for the race track as for everyday driving. 
RAW, RUGGED, UNDULTERATED POWER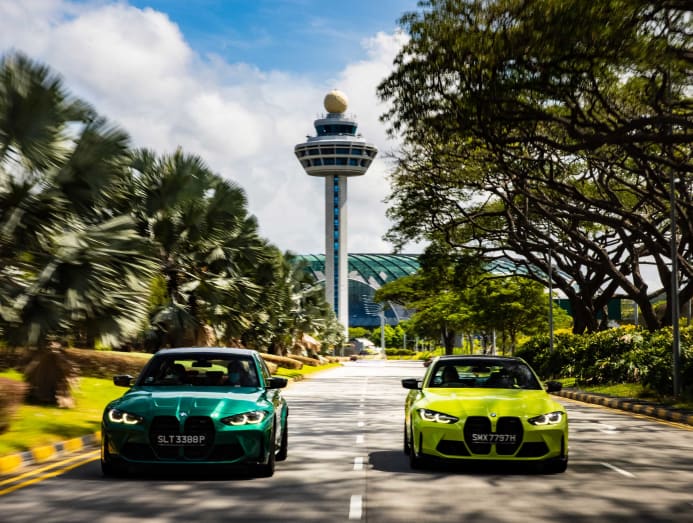 The M3 Competition Sedan and M4 Competition Coupe share the same drivetrain and performance, just housed in a different body form; the former a four-door sedan with space for five, while the latter is a four-seater coupe. 
Both are powered by a new 3-litre inline-six engine boosted with M TwinPower Turbo technology that makes 510hp of power at 6,250 rpm and peak torque of 650Nm between 2,750 rpm and 5,500 rpm.
Faster than you can say 'faster than a speeding bullet', both cars can hit the century sprint in a blistering 3.9 seconds, up to a top speed of 250 km/h. This represents an 18 per cent increase in power compared with the last generation that has been on the market for the past six years. Speed has also improved; now 0.2 seconds quicker than before.
With supreme power delivery comes the hope of awesome agility, and both the M3 and M4 do not fail to deliver.
Poured into an M-specific chassis proffering extremely high torsional rigidity, both models withstand lateral forces superbly for more precise and joyful cornering while the adaptive M suspension with electronically controlled shock absorbers and M-specific kinematics and elastokinematics on the front and rear axles (standard) add to the fantastic drive experience.
The seven-speed dual-clutch transmission in the previous generation has now been stepped up to an eight-speed M Steptronic automatic transmission with Drivelogic for extremely sporty gear shifts.
And this is where it gets interesting – the characteristics of the engine, chassis, steering and brakes can all be individually configured according to your mood of the moment. You can create two pre-selected combinations that you can deploy at the touch of a button via the two red M tabs on the steering column, or you can call up other combos you have pre-stored via iDrive access.
Meanwhile, variable traction control allows you to fine-tune the level of electronic interventions you wish to have – giving the driver the option of controlled drifting ability so you can learn to drift on a race track, safely and progressively (when borders reopen and a trip to the Sepang International Circuit in Selangor up north becomes a possibility, perhaps). Or, it can be disabled for more experienced drivers.
Besides Track mode that allows you to access the vehicle's unadulterated power on outings to the race circuit, there are Road and Sport modes for everyday driving. Paddle shifts on the steering wheel allow you to switch spontaneously between automatic and manual mode, thus adding to the fun.
SHARP STYLING AND STUNNING SHADES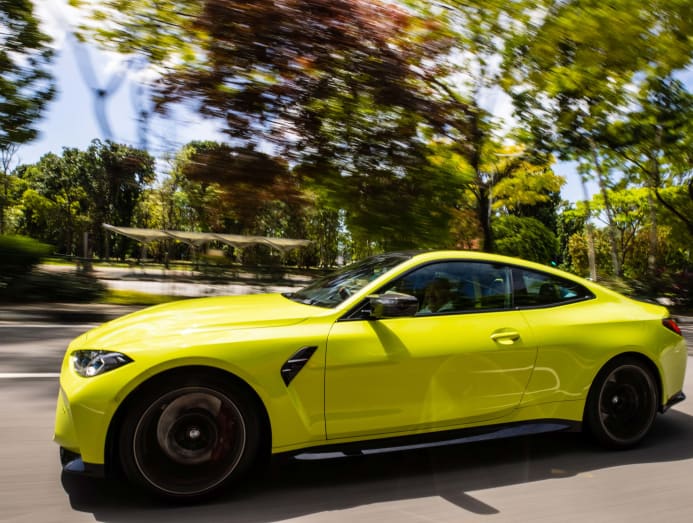 What will strike you on sight is how emotive the duo's styling is, particularly the M3 in that stunning shade of Isle of Man Green. A little less love, though, for the M4 in Sao Paolo Yellow, which could unfortunately be mistaken for a CityCab at a quick glance.
From the front, however, those sporty M lines and features are unmistakable, comprised of BMW's somewhat divisive new-style kidney grill (frameless here) set between adaptive LED headlights with BMW Laserlight – buttressed by large air intakes to facilitate optimum inflow with flics integrated into the air curtains to optimise aerodynamics at high speeds.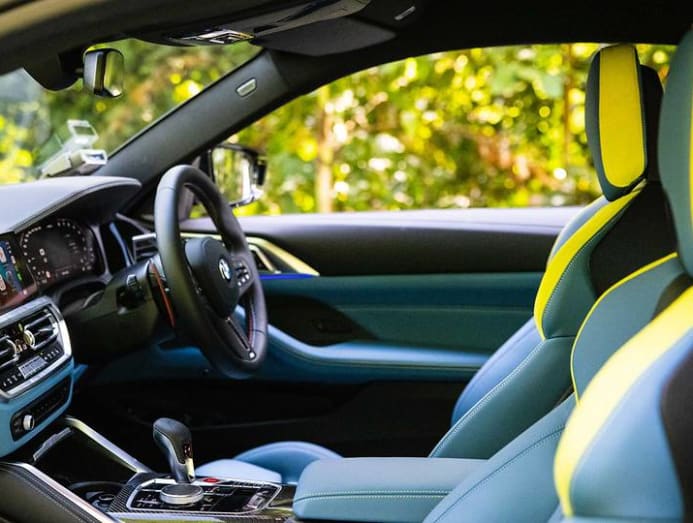 Moving towards the rear, you'll find racing car-inspired extended side sills in High-gloss Black, topped with a roof made from carbon-fibre-reinforced plastic with two aerodynamically optimised fins running longitudinally alongside. Or you can opt for a steel roof with integral glass tilt/sliding sunroof as a no-cost alternative.
Black trims abound, from the rear diffuser to the pair of tailpipes, while the model-specific exhaust system with electrically controlled flaps promises to deliver an emotionally rich soundtrack.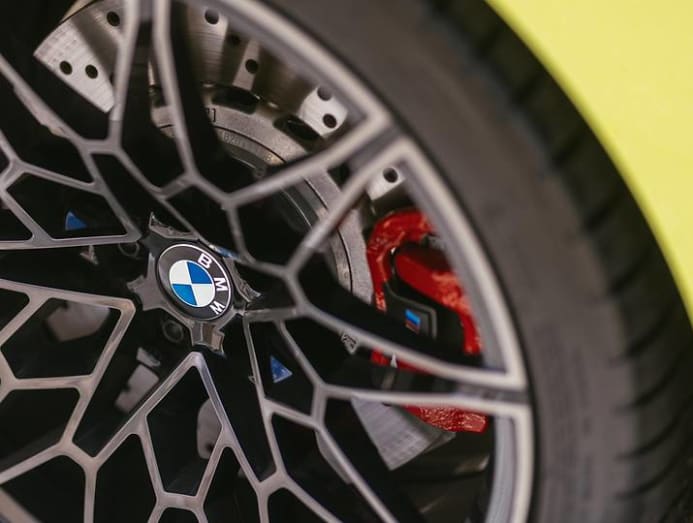 Just as thrilling is the M3 and M4's flashy interior, starting with newly-developed, electrically adjustable M Sport seats in fine-grain Merino full leather trim as standard, with seat ventilation available for the first time. More exciting M Carbon bucket seats make their debut here, as an optional add-on. Meanwhile, tri-coloured M stitching on seat belts make for a simple detail that invokes the pure joy of belonging to a very exclusive club of M enthusiasts.
When it comes to wheels, size certainly does matter and, the bigger the better. So the M3 and M4 are fitted with newly-designed, forged M light-alloy wheels (19-inch at the front, 20-inch at the rear), with polished rim edges to accentuate their size.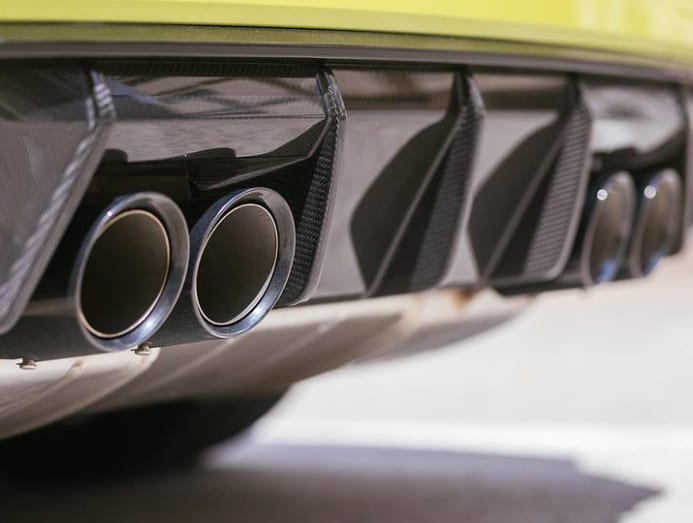 THE M5: MORE POWER CUSHIONED IN GREATER COMFORT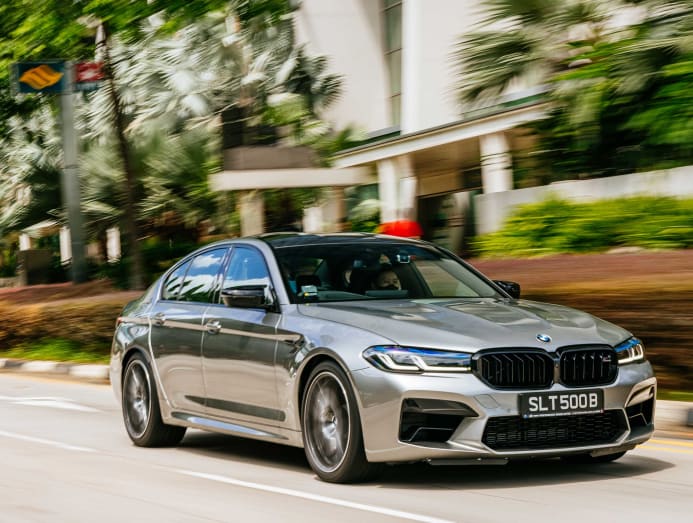 Saving my favourite for last, the M5 Competition ups the ante with a more powerful 4.4-litre V8 engine with BMW M TwinPower Turbo technology that generates a whopping 625hp of power and 750Nm of torque. This powers up the M5 to smash the century dash in an even more sensational 3.3 seconds.
Unlike its two siblings that are more niche in appeal due to their raw and rugged drivability, the M5 negotiates the dynamic tightrope between everyday usability and track-worthy performance quite wonderfully. It offers a more comfortable and smoother ride for those who prefer a more cushioned experience.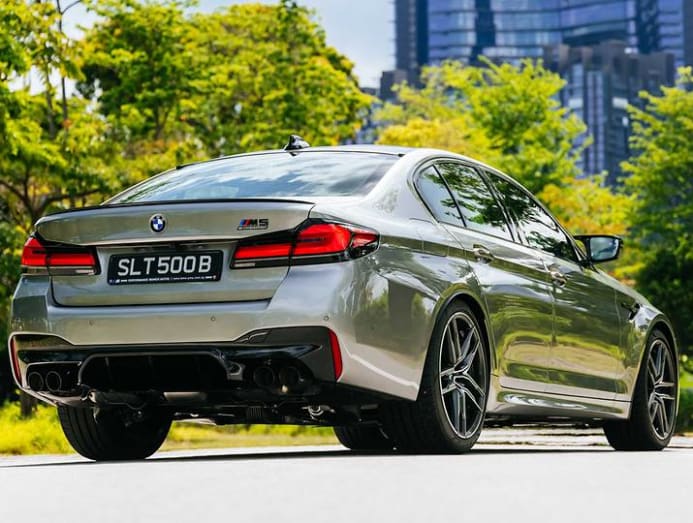 Credit goes to the M xDrive system and its centralised intelligent control for the Active M Differential technology that is responsible for agility, handling and traction. 
New shock absorbers shared with the BMW M8 Gran Coupe coupled with a retuned chassis and stiffer springs also come into play, as bumps and ruts in the road are passed through the body to a far lesser degree. The M5 thus takes sharp corners with ease, precision and poise whether at high or low speeds.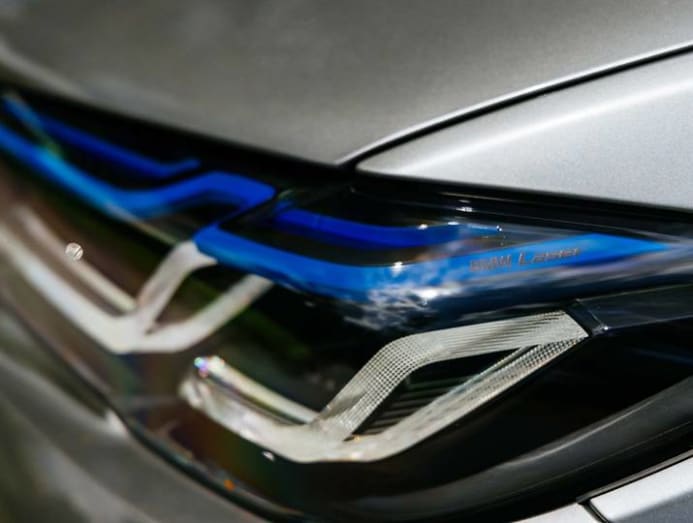 Now as the high configurability factor continues in the M5, you can still individually tweak its settings to get the car to twerk to your fancy. Just play around with the configurations for the engine, steering, transmission, etc and watch your M5 take on different character profiles.
There's even an M Sound Control button that summons a dialled down version of the M Sport exhaust growl for when you might prefer to attract a little less attention.
Speaking of rolling in with more style, your M5 rolls off the factory floor with forged, bi-colour, 20-inch M light-alloy wheels in double-spoke design, with M Compound brakes bearing the M logo as standard while the striking M Carbon ceramic gold-coloured callipers are the more exclusive option.
Matched with a metallic Motegi Red body (one of five new finishes including Brands Hatch Grey, Tanzanite Blue II, Aventurine Red II and Frozen Bluestone) – it's a sizzling combo for which, we believe, there's little competition. 
BMW M3 COMPETITION & M4 COMPETITION SPECIFICATIONS
ENGINE: 2,993cc inline-6 twin-turbocharged
POWER: 510hp at 6,250 rpm
TORQUE: 650Nm at 1,850-5,500 rpm
TRANSMISSION: Eight-speed M Steptronic transmission with paddle shift
ACCELERATION (0 – 100 km/h): 3.9 seconds
TOP SPEED: 250kmh (electronically limited)
FUEL CONSUMPTION: 10.1L/100 km & 10.2 L/100 km
CO2 EMISSIONS (combined): 234 g/km
PRICE FOR M3 COMPETITION: S$446,888
PRICE FOR M4 COMPETITION: $451,888
BMW M5 COMPETITION SPECIFICATIONS
ENGINE: 4,395cc inline-8 twin-turbocharged
POWER: 625hp at 6,000 rpm
TORQUE: 750 Nm at 1,800 – 5,860 rpm
TRANSMISSION: Eight-speed M Steptronic transmission with paddle shift
ACCELERATION (0 – 100 km/h): 3.3 seconds
TOP SPEED: 250 km/h
FUEL CONSUMPTION (combined): 11.3 L/100 km
CO2 EMISSIONS (combined): 259 g/km
PRICE: S$540,888