BMW's M3 is twice as powerful and pricey as the 318i, but is it twice as nice?
A car that isn't even half as powerful and costs half as much shouldn't be able to compare, right? Right?
Price and value are funny things, in that both are completely dependent on your point of view, and naturally, completely subjective.
Which is where we come in. The first in what we're informally calling our value series of stories explores what you're really getting between buying entry-level and top-of-the-line.
The first pair we're going to be looking at are the respective bookends of BMW's all-new 3 Series lineup. The compact executive 3 Series has been a stalwart of the up-and-coming for 50 years since the model's inception in 1975. As for the 3 Series' performance derivative, the M3, it's been a segment benchmark for accessible performance since it hit the market in 1986.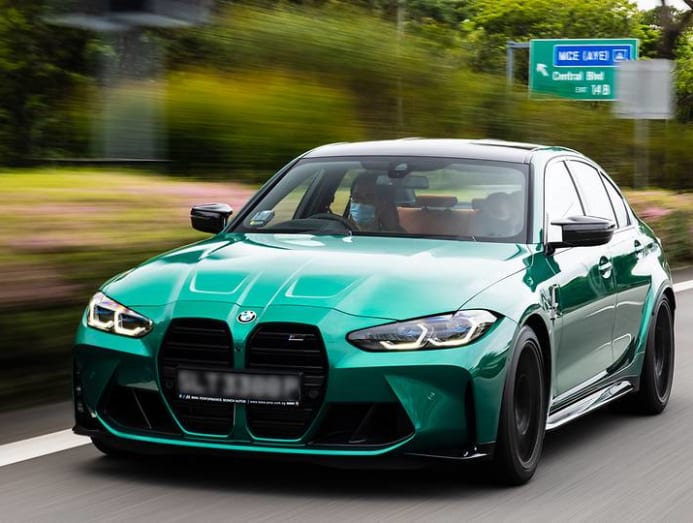 Of course, much has changed in the intervening decades. For starters, the 3 Series is no longer the cheapest or smallest BMW money can buy, with the particular baton being passed to the 1 Series hatchback. That's something reflected in its price, and even the entry-level variant, the 318i will cost you in the neighbourhood of S$220,000.
And the M3, well. These days, the price tag of a new M3 will run to nearly S$500,000, which is money you could well use to buy, say, a bona fide sports car like a Porsche 718 Cayman S. On the bright side, the M3 is a four-door saloon, which means that unlike the Porsche, it seats five in comfort. And because it's packing 510hp under the bonnet, it's more than powerful enough to give most bona fide sports cars a serious run for their money.
The bigger question, then, is this: Is it worth paying over twice as much for the M3 over the 318i? To start with, you are getting a car that's over twice as powerful.
POWER OVERWHELMING
To say there's a cavernous gulf in power between the 318i and the M3 would be an understatement. The former packs just 156hp from its 2-litre engine and the latter has a frankly ridiculous 510hp from a twin-turbo 3-litre motor.
Suffice it to say, the M3, available here only in even-more-powerful Competition guise, is about as fire-breathing as they come, and it's even more powerful than a mid-range Porsche 911 Carrera S. The M3 accelerates from 0-100km/h in 3.9 seconds, which is performance that could put some "true" sports cars in the shade, with the added benefit of it having a roomy boot and an equally roomy rear bench.
Floor the throttle in the M3 and it catapults forward with a gravelly roar. In some ways, the way the M3 gains speed is curiously undramatic, in that it just gets on with the job of translating the motor's vast reserves of power into (quite a lot of) forward momentum. But be in no doubt, while there aren't any histrionics in the form of screeching tyres or the like, the M3 has the potential to land you in hot water with the authorities in no time flat.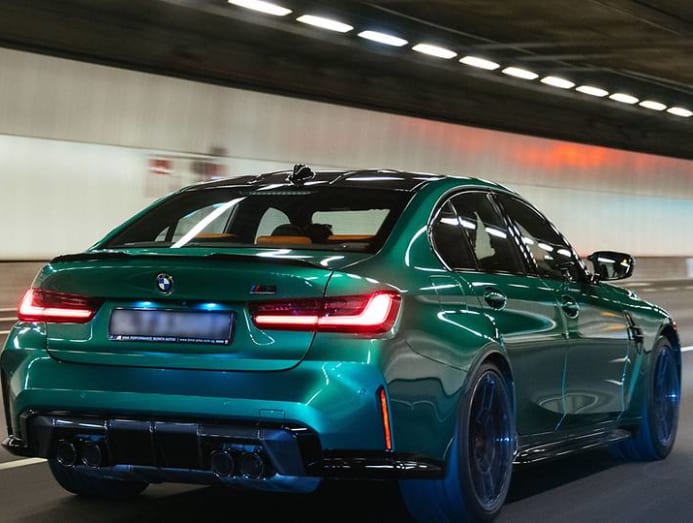 Contrast this to the 318i, whose performance can best be described as adequate. It certainly is enough for the rigours of the daily commute, and with 250Nm of torque at its disposal, the 318i will see you through most overtaking situations with ease.
Of course, when compared directly against the M3, the 318i does seem a little reedy, especially in the looks department. The M3 sports that monstrous grille first seen on the 4 Series coupe, and with its blistered wheelarches and squat stance, it looks every inch the mean machine.
As for the 318i, well. It comes as standard with 17-inch wheels, which even when seen in isolation, can seem tragically undersized. Butch looks the 318i does not have, though in its defence, it does come fairly generously specced.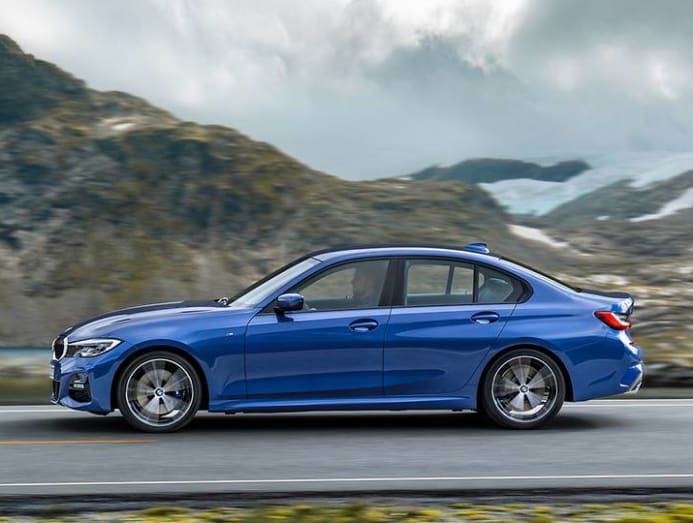 IT'S WHAT'S ON THE INSIDE THAT COUNTS
So the 318i may be down on power, and with an asking price of around S$220,000, it isn't exactly what one might call the budget option these days, especially not if COE premiums continue to head northwards.
Thankfully, unlike this 3 Series' predecessor, which was notoriously spartan, the 318i has an impressive amount of kit in spite of its entry-level leanings. A 10.25-inch touchscreen infotainment system takes pride of place in the centre of the dashboard, its instrument cluster is a digital screen, and there's a wireless charging tray for your phone.
Oh, and not forgetting BMW's Siri-esque, voice-activated assistant. It does get caught out flat-footed at times, necessitating repeating yourself, and some functions still require you to fiddle with knobs/buttons, but on the whole it's remarkably intuitive.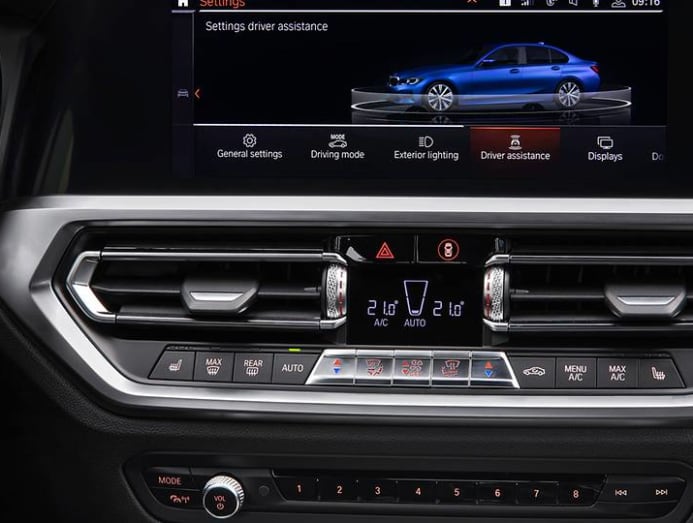 In short, the 318i has all the creature comforts you could want, though you'll have to do without interior ambient lighting strips in this 3 Series. So, no turning your car into a mobile discotheque, sorry.
Well, what about the M3, then? If you were expecting it to be dressed to the nines with everything found on the 318i and more, you'd be absolutely right. Dressed to the nines in carbon fibre, naturally, the material of kings (of the racetrack).
Seriously, though. Just about every conceivable surface is covered in the stuff, even the sliding door of the central cubby hole. What isn't carbon fibre is clad in BMW's buttery top-end Merino leather, which is nice.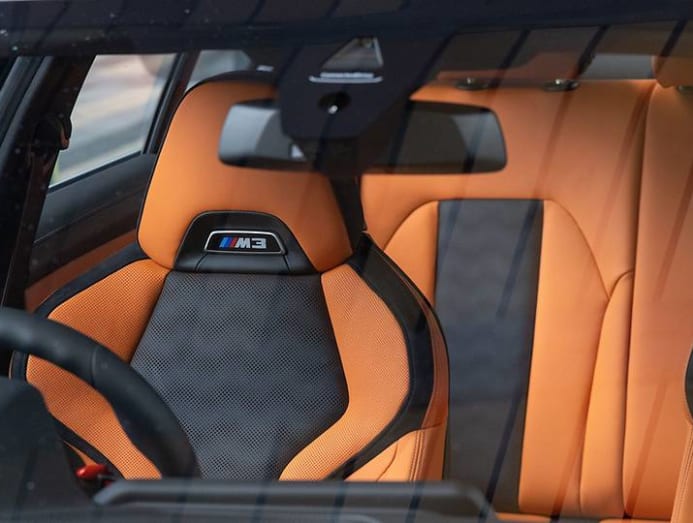 There's also an M3 badge on the (carbon fibre, obviously) centre console, with the same badge being repeated on the instrument cluster on startup and on the exterior. You know, just in case you, or any casual onlookers are in any doubt you're in a range-topping 3 Series.
BUT IS THE M3 REALLY WORTH HALF A MILLION BUCKS?
On the face of things, no. Close to half a million dollars for a 3 Series is a scandalous amount of money. To give that figure some context, the M3's current asking price of S$463,888 is some S$10,000 dearer than BMW's flagship, the 7 Series limousine.
In the M3's defence, however, you're also getting a car that's scandalously quick and is virtually unimpeachable from a dynamics standpoint. It doesn't just have sports car speed, the M3 also has the grip and grace of a vehicle that one would normally expect to have two doors less, plus be a good deal more low-slung and/or curvy.
That said, it could also be argued that the M3 and its fraternal twin, the M4, are just a bit too good and have a smidge too much power than is usable by your average driver.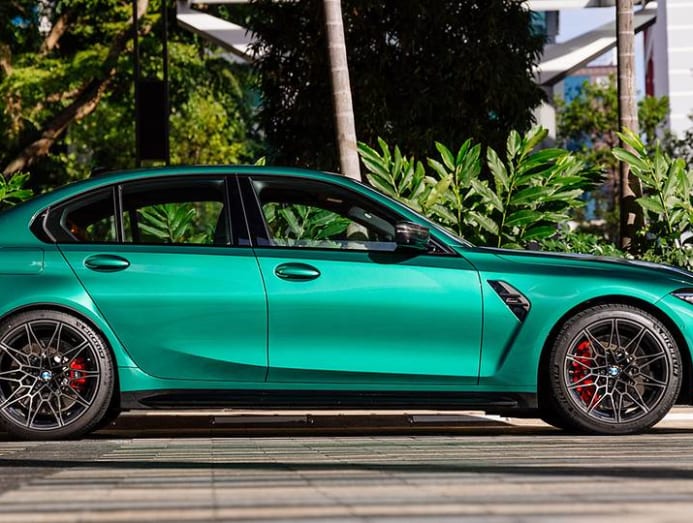 Then again, an equally compelling argument could be made about how complaining about a car having too much power is like complaining about having too much money.
At any rate, the 318i and its above-S$200,000 price tag, while outrageous just a decade or so ago (COE premiums back then and inflation notwithstanding), looks like an absolute bargain buy.
The democratising power of technology in modern carmaking has seen to it that apart from a somewhat-lacking power output, you won't be giving up all too much with the 318i. Its equipment levels are sky high, entry-level model notwithstanding.
The way it drives, too, is worthy of mention. Sure, you won't be setting any land speed records or humbling sports cars in the 318i, but it's got a wonderfully taut chassis, and easily the best one BMW has put into its compact executive in recent memory.
Either way, depending on your budget or needs, you won't go wrong with the 318i or the M3, with each car easily being the frontrunners in their respective segments.