Charity drive: How BMW is supporting Malaysia's underprivileged during MCO
As the MCO continues well into Ramadan, BMW Malaysia is deploying its vehicles to distribute much needed supplies to Klang Valley's underprivileged.
As luxury brands pivot and adapt to the new normal, BMW Malaysia is taking a hands-on approach to doing their part in aiding COVID-19 relief efforts.
Mobilising its vehicles from its dealers, Quill Automobiles and Ingress Auto, the carmaker is providing logistical support to bolster the efforts of NGOs like Tenaganita, Refuge for the Refugees, Liga Rakyat Demokratik and Dapur Jalanan Kuala Lumpur. The aim is to reach the underprivileged affected by the extended Movement Control Order (MCO) in over 110 locations across Kuala Lumpur and Selangor.
According to Sashi Ambi, Head of Corporate Communications of BMW Group Malaysia, a few days before the MCO began (on March 18), NGOs had begun posting distress calls on social media for aid, especially in terms of logistics and transportation. At the same time, BMW realised the need to keep employees motivated, engaged and connected to the company.
After evaluating the number of vehicles that could be deployed, BMW worked quickly towards connecting vehicles, staff and dealers with the necessary NGOs to make the initiative possible.
"We have vehicles and volunteers, and this was the main criteria for us in deciding how we could help out. We are just glad that we are able to deploy our vehicles and help in a very meaningful way. Creating value and making a difference are the two fundamentals that the BMW Group strives for in everything that we do, and we are able to pursue this with these initiatives," enthused Ambi.
Drop-offs take place twice a week. The BMW team typically starts their day at 9am by picking up the vehicles from BMW dealers and making their way to downtown Kuala Lumpur.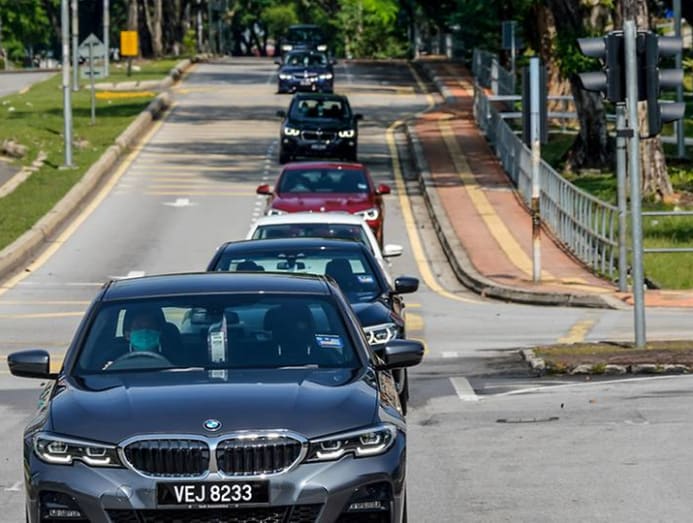 Once there, they are briefed regarding the deliveries, safety and medical procedures to follow to ensure their safety while carrying out their drop-offs. Volunteers are then assigned the drop-off zones and the vehicles are loaded according to the varying distances needed to travel. Basic necessities such as rice, eggs, cooking oil, milk and other essential items form the bulk of the load.
The vehicles are then deployed across the Klang Valley, from as far afield as Dengkil and Balakong in the south, to Batu Caves and Klang in the north and west, respectively. Deliveries take place from 11am to 5pm, when volunteers return to base and debrief the NGOs about how the drops-offs went.
They also discuss if anything could be done to improve the process. The volunteers then disinfect the cars thoroughly before sending them back to the dealerships where the vehicles are cleaned and disinfected again for the next deployment.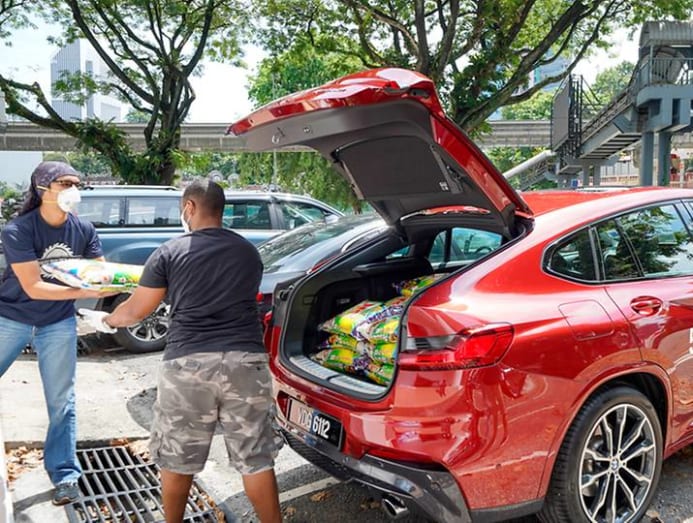 According to Tenaganita – whose initial target was to send 1,000 food packs each week primarily to refugee households, migrant and B40 (lower income) communities – the assistance of BMW has been invaluable in reaching their goal.
"BMW came on board during our second week of distribution and at that time, we were running behind schedule in our dispatches due to some delays in logistics. So during that second week, the loaned vehicles helped us get the food items delivered a day earlier – and that meant families and groups didn't have to go hungry another day," stated Elise Arya Chen, Tenaganita Programme Officer.
For Ambi and his team, participating in this project has been as much an eye-opener as it has been an inspiration: "My team and I are really inspired by this project. Personally, it has [filled] me with more ideas on what we could or should be doing during this time, as well as when the MCO is lifted.
"As an initiative, it is very different from the work the team does on a day-to-day basis. And while BMW Group Malaysia has been involved in several social projects over the years, this project is particularly special because it came at time when a response was needed and BMW was able to do so.
"During some drops where there are families and children, the people receiving are so thankful that you are helping them. The graciousness is so overwhelming that it stays with you and motivates you to want to do more.
"In some places, we came across children who recognised the vehicles and they would be calling out the BMW brand name and at that moment, you feel like breaking the health and safety protocol, letting them in to experience the car, hoping a simple gesture like that would inspire them and make their day. But you can't."
"During some drops where there are families and children, the people receiving are so thankful that you are helping them. The graciousness is so overwhelming that it stays with you and motivates you to want to do more." – Sashi Ambi
Currently, BMW has close to 30 employees on standby for the project with numbers increasing steadily. BMW's goal is to get a consistent team with rotating team members working on a once- or twice weekly basis with the support of 20 cars or so for social projects, whether it is delivering PPE materials to the frontliners, or food aid to the underprivileged.
While BMW would like to extend this project beyond the Klang Valley, they are still looking for the right partners and people to help them execute similar projects in a meaningful way.
In the meantime, as Malaysia's extended MCO continues well into Ramadan, these drop-offs are lifelines to the underprivileged who don't have access to necessities or whose livelihoods are affected by the pandemic.