Would you pay a deposit for a watch and then wait several years to get it?
Over 200 years ago, watchmaker Abraham-Louis Breguet launched a subscription watch to keep his business alive in times of turmoil. Would that business model still work today?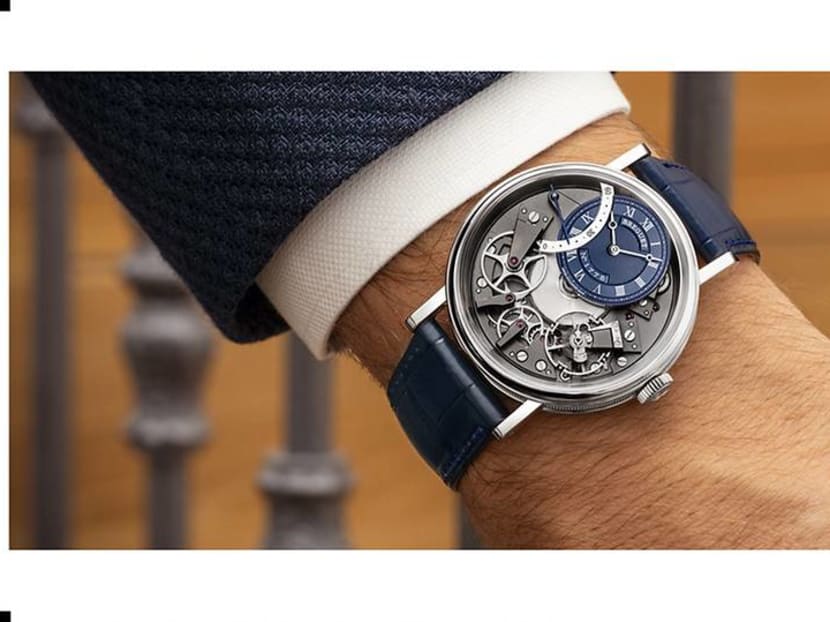 Based on how we understand subscriptions today, a luxury watch subscription would generally refer to businesses that will rent out high-end timepieces on a monthly basis to people who can't afford to own them outright.
But in 18th-century Europe, that wasn't the business model that watchmaker Abraham-Louis Breguet had in mind, because what he came up with wasn't a watch subscription, but a subscription watch. Stay with us.
In 1795, Breguet was making his return to Paris after spending two years in Switzerland to escape the chaos of the ongoing French Revolution. The French economy was in shambles and his company needed to restructure to survive.
So the inventor of some of the most complicated timepieces in the world decided he needed to do the opposite: Make an extremely basic yet reliable movement and allow patrons to cough up just a quarter of the watch's price as a downpayment. This was set at 600 livres at the time, or approximately S$10,000 in today's currency.
This amount allowed Breguet to buy the materials for the watch and the client could pay the balance when the watch was finished, usually several years later. This "souscription" watch, as he had called it, was made quite wide at 61mm for the sake of readability. After all, the watch only had one hand, and it swept past each of the 12 hour divisions every five minutes.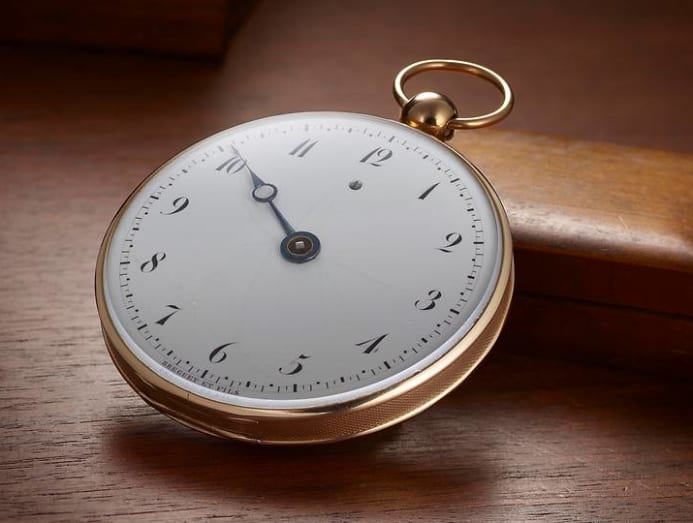 It was a novel approach with an equally interesting construction, and that movement's striking design served as the basis for modern Breguet's La Tradition line. In fact, the three new La Tradition models for 2020 still bear a respectful resemblance to their 200-year-old predecessor.
Aside from its blue-coloured, off-centre gold guilloche dial, the exposed movement parts of the Tradition Automatique Seconde Retrograde Ref. 7097 bear the same symmetry as the original souscription movement, with the pare-chute anti-shock system inside the regulator on the right, and the gear wheel on the left. The 40mm white gold watch is matched with a white gold rotor in the shape of a hammer, another nod to historic Breguet movements.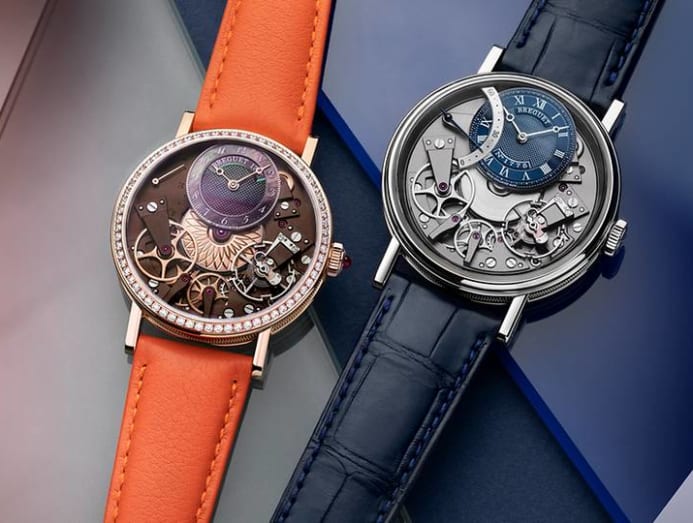 The Tradition Dame Ref. 7038 is sized at 37mm for ladies, and follows the same blueprint but with a greater amount of embellishment. The time-telling dial is Tahitian mother-of-pearl, the pink gold case is set with 68 diamonds, and the 505SR movement (which is basically identical to the Ref. 7097's 505SR1, only prettier) has been galvanised to a deep brown to complement the bright orange strap. This watch also comes with its own matching orange calfskin purse. This model, along with the Ref. 7097, is a boutique exclusive.
Even with the Tradition's visual complexity, additional indications are often still clear and easy to read, as is the case with the Tradition Quantieme Retrograde Ref. 7597. Its standout feature is the retrograde placed neatly at the bottom of the dial. The 40mm watch is available in white or rose gold.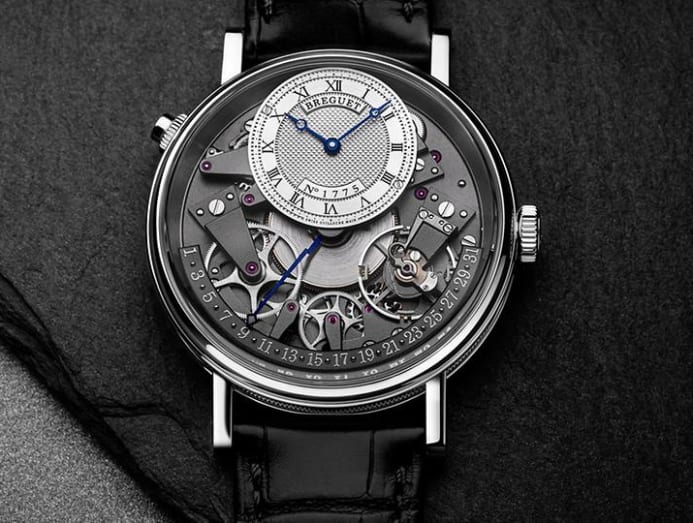 These novelties certainly don't require a downpayment or a years-long delivery schedule. The actual subscription part of the "tradition" was no longer needed. Or, according to Crown magazine's editor-in-chief, the concept was simply dressed in a different package.
"I think the model of asking clients to place a deposit for watches has evolved," said Alvin Wong. "For one, luxury brands offering bespoke or customised watches are doing the same thing. And for entry- to mid-priced watches, I believe customers and buyers are spoilt for choice."
Su Jia Xian of watch blog SJX agreed, stating that it works for certain products as crowdfunding platforms like Kickstarter have proven. Singapore's own watch micro-brand Zelos was successfully launched thanks to Kickstarter, and its initial goal of S$30,000 in 2018 eventually reached a pledge of S$302,702 in 25 days.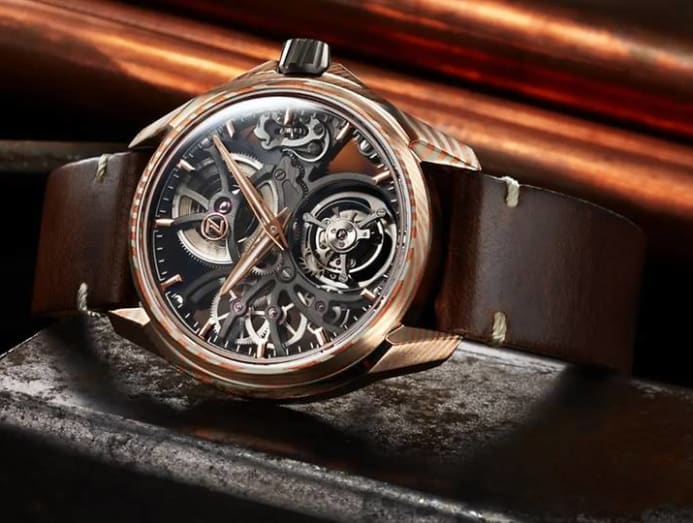 "But for very expensive watches it is more difficult, since the buyer has to risk a sizeable amount," continued Su. "It's also less common among independent watchmakers, perhaps because the luxury watch business is more developed now, and brands have found it easier to get off the ground."
Indeed, the only famous example of a modern watchmaker borrowing Breguet's subscription idea is independent superstar Francois-Paul Journe.
In 1991, Journe set out to make a watch that included both a tourbillon and a remontoire d'egalite – a feat even the biggest brands would find intimidating – all by himself. The resulting F.P. Journe Tourbillon Souverain only made it to commercial (but still highly limited) production seven years later thanks to the deposit model, and this paved the way for more souscription watches later.
Of course, it helps that Journe already had a sterling reputation to drive demand and secure funding. His souscription watches are also fiercely bid upon at auctions. An early Tourbillon Souverain and Chronometre a Resonance (another souscription watch) recently sold at Phillips' Geneva Watch Auction in June for CHF1.4 million (S$2.09 million) and CHF`1.04 million respectively.
Basically, you need to be exceptional for clients to be willing to put thousands of dollars worth of faith in you.
And yet one 23-year-old Remy Cools is already confident in his calibre of watchmaking. The Greubel Forsey alum and winner of the 2018 F.P. Journe Young Talent Competition launched his eponymous independent brand only a year ago and, inspired by Breguet and Journe, launched his first series of watches, the Tourbillon Souscription, in August.
The downpayments will afford Cools the resources needed to build just nine of these watches using hand-crafted parts with a high level of finishing. Each (steel) watch is going for €85,000 (S$137,000).
Although the subscription watch model never really caught on in the strictest sense of the word, the spirit of trust between watchmaker and customer has lived on through its various evolutions. Even for brands that don't necessarily need the deposit, the idea of being able to maintain a dialogue and connection between watchmaker and buyer for the time it takes to complete the final product could be something people would subscribe to.