Kendo, Karate, Sumo: The rare Japanese whisky set with martial arts illustrations
Each bottle in The Budo Collection – Karuizawa 35 Year Old features individually hand-painted illustrations by Japanese street artists, inspired by martial arts like Kendo, Karate and Sumo.
In spite of a pandemic, the rare Japanese whisky market has performed exceedingly well. According to the Japanese 100 Index, which tracks the performance of Japanese drams, the prices of Japanese whisky surged 300 per cent from 2014 to 2020. In comparison, the price of gold surged by 60 per cent during the same period.
Online spirits retailer Dekanta has now unveiled a private bottling of rare Karuizawa single malt that's sure to attract collectors, especially those interested in Japanese art and culture.
Each bottle in The Budo Collection – Karuizawa 35 Year Old Japanese Single Cask Whisky features art from one of three Japanese street artists, individually hand-painted and inspired by Japanese martial arts – Kendo, Karate and Sumo.
Budo is a Japanese term to describe martial arts, and translates to "The Martial Way". The name was chosen to celebrate the dedication to craft, which is shared by martial arts practitioners, street artists and master distillers alike.
The streets artists all have a background in martial arts. PHIL, founder of SCA-Crew, a group of prominent streets artists who work between Tokyo and Kanagawa, painted a Yokozuna (a grand champion sumo wrestler) in stance for the Sharanui style opening ceremony.
FATE, also from the SCA-Crew, represented Kendo with an abstract design that incorporates details such as the Shinai sword and the Japanese dragonfly. 
TwoOne, a Yokohama-born contemporary artist recognised globally for his large-scale mural works, painted the controversial karate master Masutatsu Oyama, founder of Kyokushin Karate.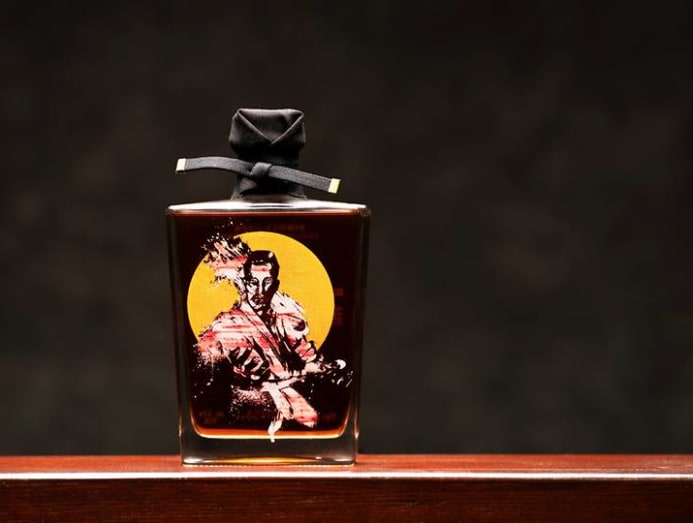 The martial arts influence extends to the display on which the bottles sit. "Our stand takes influence from traditional outdoor Sumo Dohyo and traditional Japanese roof structures, but with a modern twist," said Stu Cox, Head of Design at Dekanta. 
"We thought it was fitting to place these spectacular bottles, filled with liquid from the iconic Karuizawa distillery, at the centre of our arena; the place where the culmination of years of training and dedication are put to the test under the eyes of the attentive audience."
This release from Dekanta is likely to be among the very final casks from Karuizawa to be bottled. Closed in 2000, the Karuizawa distillery has enjoyed increased interest since. Demand for stock from the distillery has increased dramatically, along with the price of the remaining bottles, which have reached tens and hundreds of thousands of US dollars on the secondary market.
"This collection has been many years in the making, intended to celebrate the craft of Japanese modern martial arts, and draw parallels between the discipline of their practice and that of artists and master distillers in Japan," said Makiyo Masa, Founder and Director of Dekanta. 
"With that in mind, the collection has gained new significance in light of a year in which so many sporting, art and cultural events have sadly been cancelled."
The Budo Collection – Karuizawa 35 Year Old Japanese Single Cask Whisky is a limited edition of only 129 bottles, comprising 43 sets of three bottles each, available at dekanta.com. Bottles go on sale on Nov 19.
"This collection has been many years in the making, intended to celebrate the craft of Japanese modern martial arts, and draw parallels between the discipline of their practice and that of artists and master distillers in Japan." – Makiyo Masa