New property launch: A 'bungalow-inspired' condo in District 10
With bungalow-inspired apartments that are "close to the ground", Jervois Mansion aims to enable residents to experience living within a nature sanctuary, a rarity in the city.
In Singapore, there has been a renewed interest in Good Class Bungalows (GCBs), courtesy of a recent spate in buying activity by some of the country's most successful tech CEOs.
Indeed, GCBs are the most covetable property class in the country, but the reality is, these sprawling homes are few and far between.
Could Jervois Mansion, a newly launched freehold residential project by developer Kimen Group, be the next best thing?
Located in the prime District 10 enclave of Jervois Road, the property is a redevelopment of the former 38-year-old Jervois Mansions. Situated at 18 Jervois Road, right across the road from the High Commission of Malaysia, Jervois Mansions featured 32 units spread across three four-storey blocks. It was a redevelopment of three former GCBs.
Jervois Mansion bears almost the same name as its predecessor, albeit with one slight change. The 's' in Mansions has been dropped. This was deliberate, Arthur Aw, Executive Director of Kimen Group, shared with CNA Luxury. At the new development, he wants residents to feel like they are part of one community.
Aw's father, the late Aw Kim Chen and founder of Kimen Group, was the developer of Jervois Mansions. 
The new Jervois Mansion, which opens for VIP viewing on Oct 2 and public launch on Oct 16, will have 130 apartments housed in a total of six blocks. Due to the property's proximity to the Bishopsgate-Chatsworth GCB area, it has to be a low-rise residential development, and thus each block is only five storeys high.
BUNGALOW-INSPIRED LIVING
One of the property's key selling points is that "it provides the resident with a bungalow-inspired living experience," said Aw. "I think that is very rare in Singapore, as developments are getting higher and higher. You pay a very expensive price but all you see is the view of a concrete jungle. We've lost the benefits of living close to ground."
The design team of the development is led by Christopher Lee, co-founder of Serie Architects. Several elements of bungalow living have been retained in Jervois Mansion. For example, each unit will be shrouded in veranda-like sky planters. Each of the six blocks is also nestled loosely within nature, with ample outdoor garden spaces in the development offering fresh air, natural lighting and lush greenery.
Apartments are designed to promote cross-ventilation. Each apartment will have two doors – a timber door that can be left open, while an additional door grille ensures security. "More importantly, residents will develop neighbourliness. With their doors open, they can say hello to their neighbours," shared Aw.
Each block also features its own roof deck, or what Kimen calls "rooftop quarter", which caters to a range of lifestyles. The Family Quarter features amenities catered to family gatherings, such as an alfresco lounge, BBQ pavilion and leisure lawn.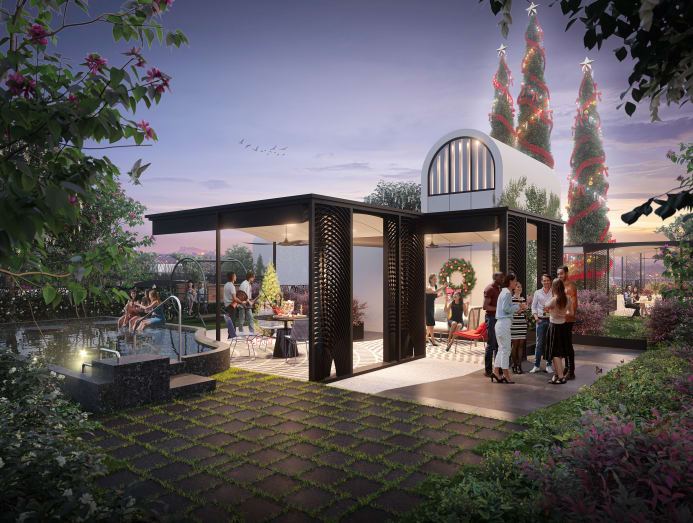 The Social Quarter features a conference suite and party pavilion, while the Sunrise Quarter features a sun tanning lawn and hammocks. Each block is interconnected through a link bridge.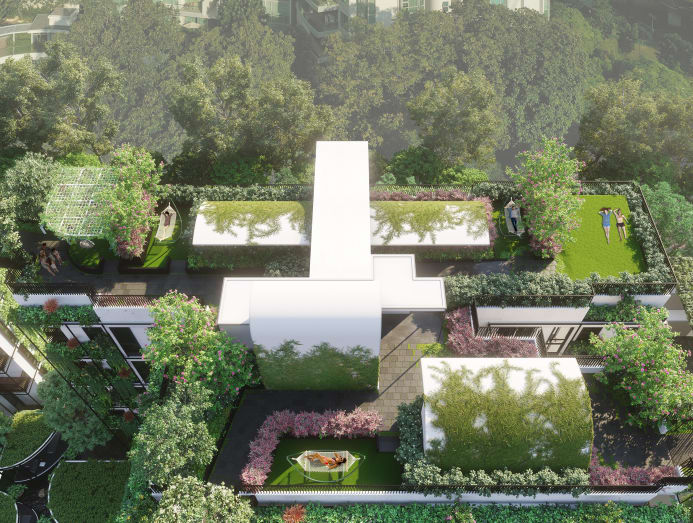 In order to ensure vitality in the community, Jervois Mansion features diverse unit types. There are 70 one- and two-bedroom units and 60 three- to five-bedroom units. This will allow the development to attract different profiles of homeowners, from singles, to couples and families.
ECO-FRIENDLY, SUSTAINABLE LIVING
Jervois Mansion is the first private residential development in Singapore to be granted the BCA Green Mark Gold Plus Super Low Energy Residential Building rating, Kimen said in a press release. "On all our roof pavilions, we have solar panels that will power 30 per cent of the common facilities," said Aw.
The developer hopes to foster a sustainable lifestyle amongst its residents too. Situated atop the Harvest Quarter block is a community urban farm and garden. From time to time, workshops will be conducted here for residents to harvest their own edible, medicinal and usable produce, or try their hand at composting.
There is also a Regenerative Woods situated above the Wilderness Quarter, a nature plot left untouched to flourish naturally. Once a month, residents will be allowed to enter the plot to discover the "wilderness".
Other amenities at Jervois Mansion include a central and wading swimming pool, a total of seven gardens, a gym, work pods, clubhouse and more. While the plot allows for the building of 137 units, Kimen decided to build only 130 units in order to make space for more shared amenities. 
"We focused on maximising the healthy living experiences that residents can enjoy, rather than maximising the total number of units we could build," said Aw. 
Jervois Mansion is targeted for completion in late 2026. Indicative launch prices start from above S$2,200 psf for two- and three-bedroom apartments, close to S$2,400 psf for four- and five-bedroom apartments and above S$2,400 psf for a one-bedroom apartment.