Can Burberry's new creative director Daniel Lee make Britain cool again?
His vision for the British luxury fashion house is intended to increase sales to £4b (S$6.45b)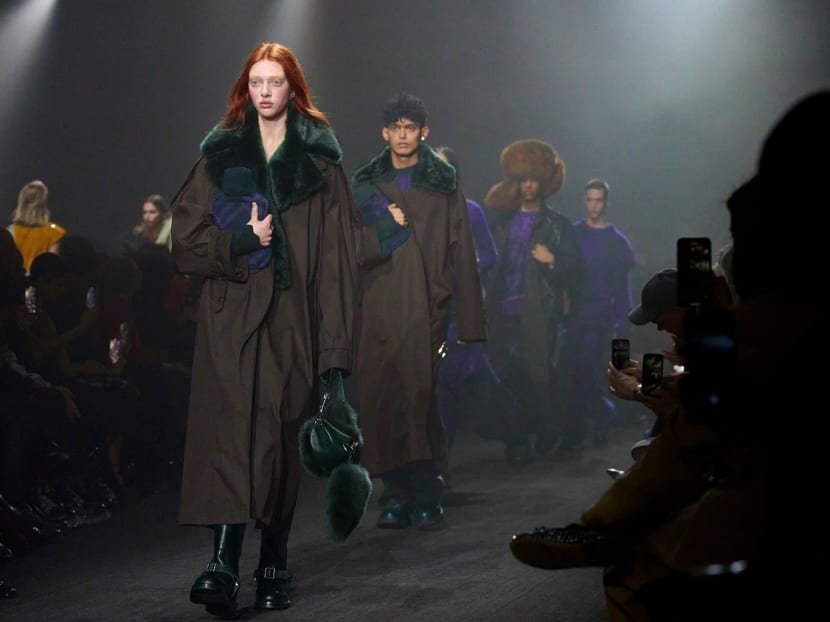 Daniel Lee, the new chief creative officer of Burberry, unveiled his first runway show in London on Feb 20 (Mon), which is meant to help turn the British luxury brand into a £4bn business.
Held in a vast tent pitched in Kennington Park, it had all the fizz and thrill of a big debut, with an eclectic mix of guests in attendance.
The film director of Elvis, Baz Luhrmann, was there alongside Vogue editor Anna Wintour and former Burberry designer and chief executive Christopher Bailey. Activist Bianca Jagger, actress Selma Blair and artists Skepta and Shygirl, who both starred in Burberry's first campaign under Lee, were served hot toddies and vegan hot chocolate out of stainless steel mugs as if in south London for a night of branded glamping.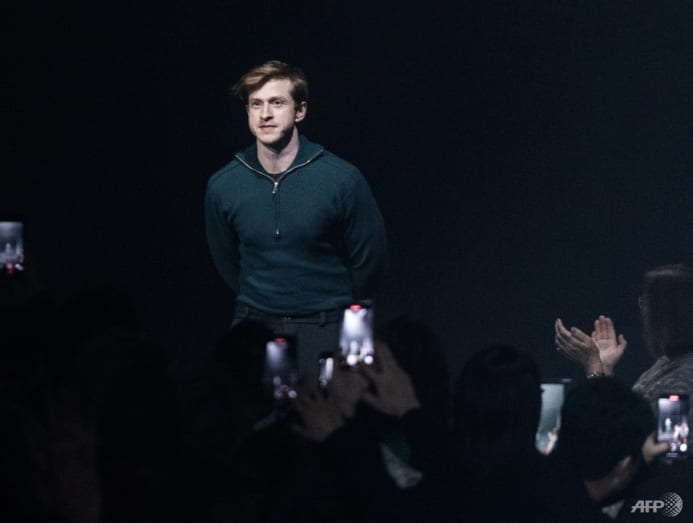 They were there to take in Lee's new vision for Burberry, a brand he and chief executive Jonathan Akeroyd, who joined from Versace in April, have pledged to make "British" again.
It is Burberry's main point of differentiation in a €353b (S$505.21b) luxury goods market led by conglomerate-backed French and Italian brands, and a key pillar in Akeroyd's strategy to increase sales from £2.8b (S$4.51) to £4b (S$6.45) in the next three to five years.
"It's unique and helps us stand out in a crowded market," the chief executive told investors in November.
The decision to show in a tent alongside a street that was formerly home to London's longest-running squat, rather than returning to predecessor Bailey's glasshouse show space in Hyde Park, was pointed.
"I wanted to celebrate what's great about Britain," Lee said. "What's so unique about London is you go down the street and are surrounded by people from so many walks of life, all living together."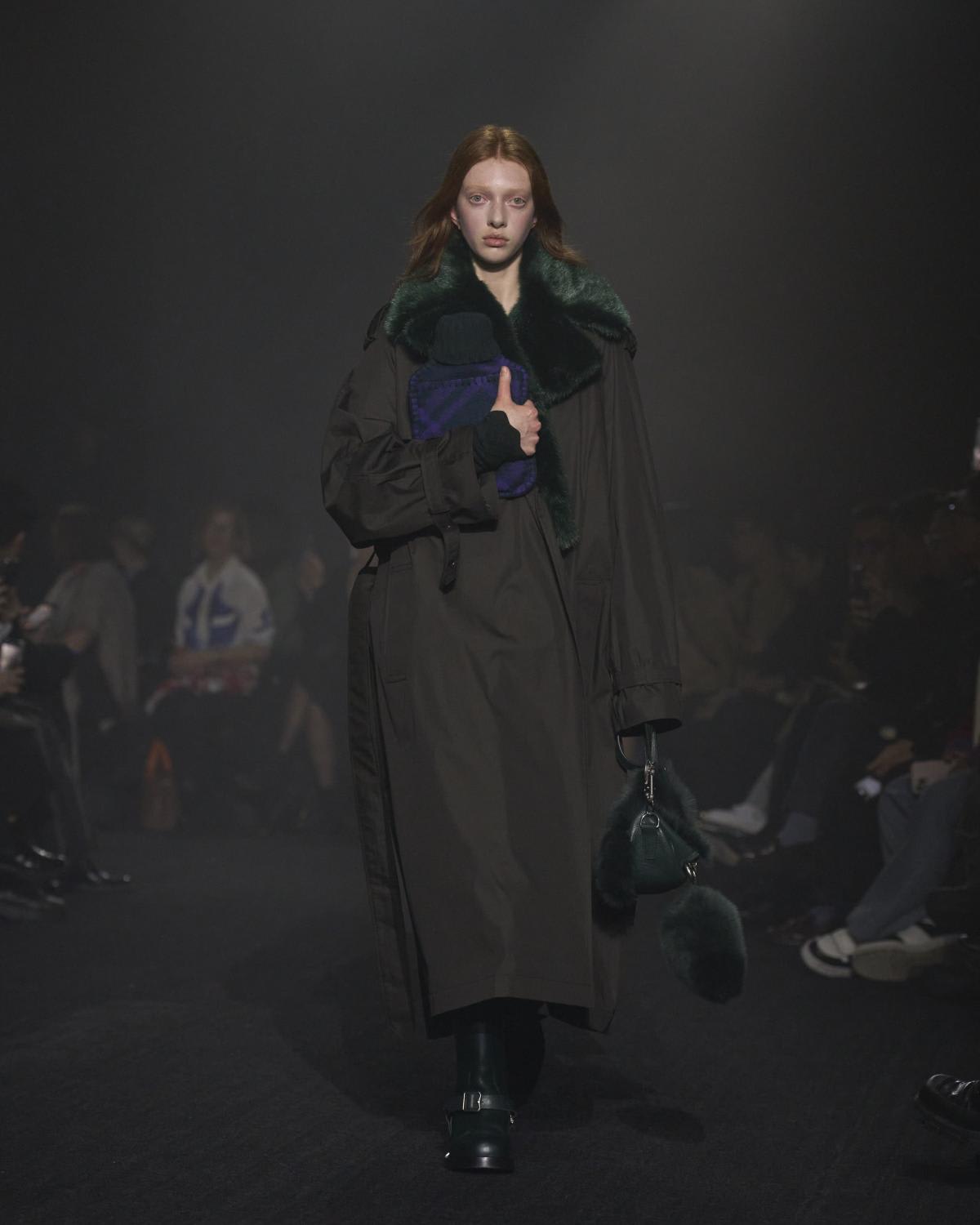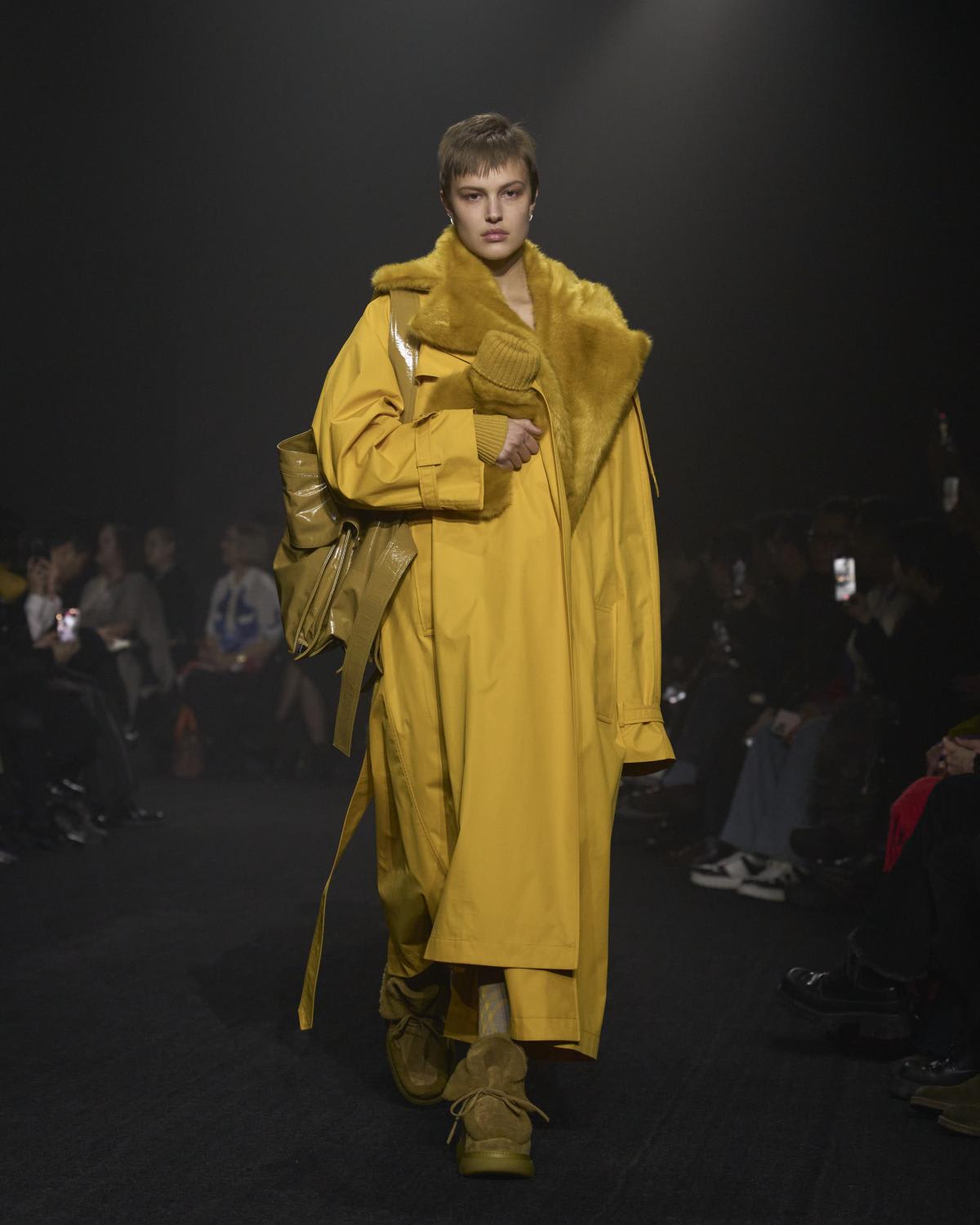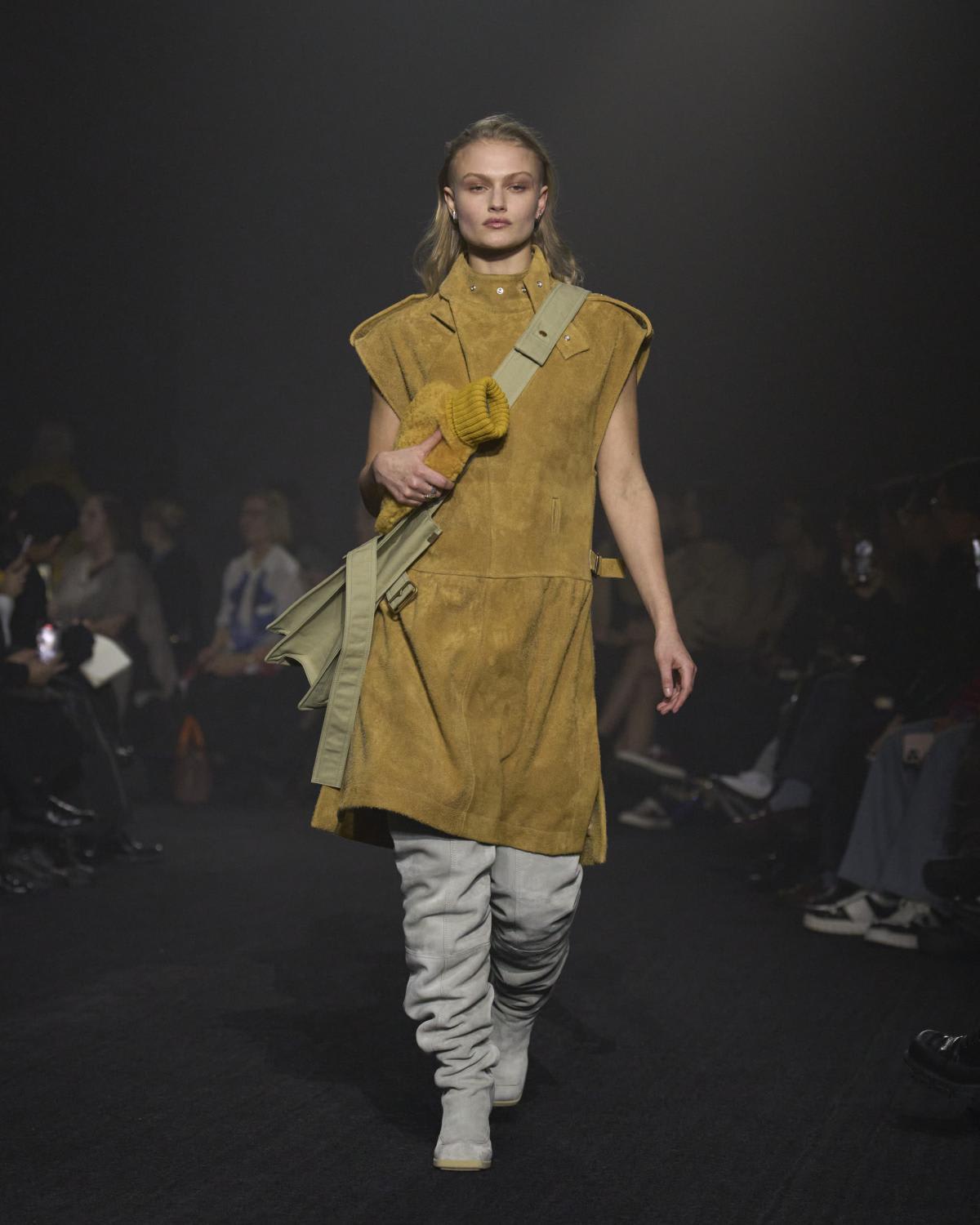 Out came the models swathed in mud-coloured trenchcoats trimmed with faux fur collars in petrol green, clutching hot-water bottles to their chests. There was a display of field jackets and trousers cut from summer-weight garbardine and a sturdy rose-print cotton brought back from the archive.
The logomania that had been such a flashpoint in former designer Riccardo Tisci's collections was absent, but it was replaced by an onslaught of the house's signature check in a clashing palette of chocolate and blueberry, yellow and violet on frayed kilts with matching tights, flannel shirts and men's suits.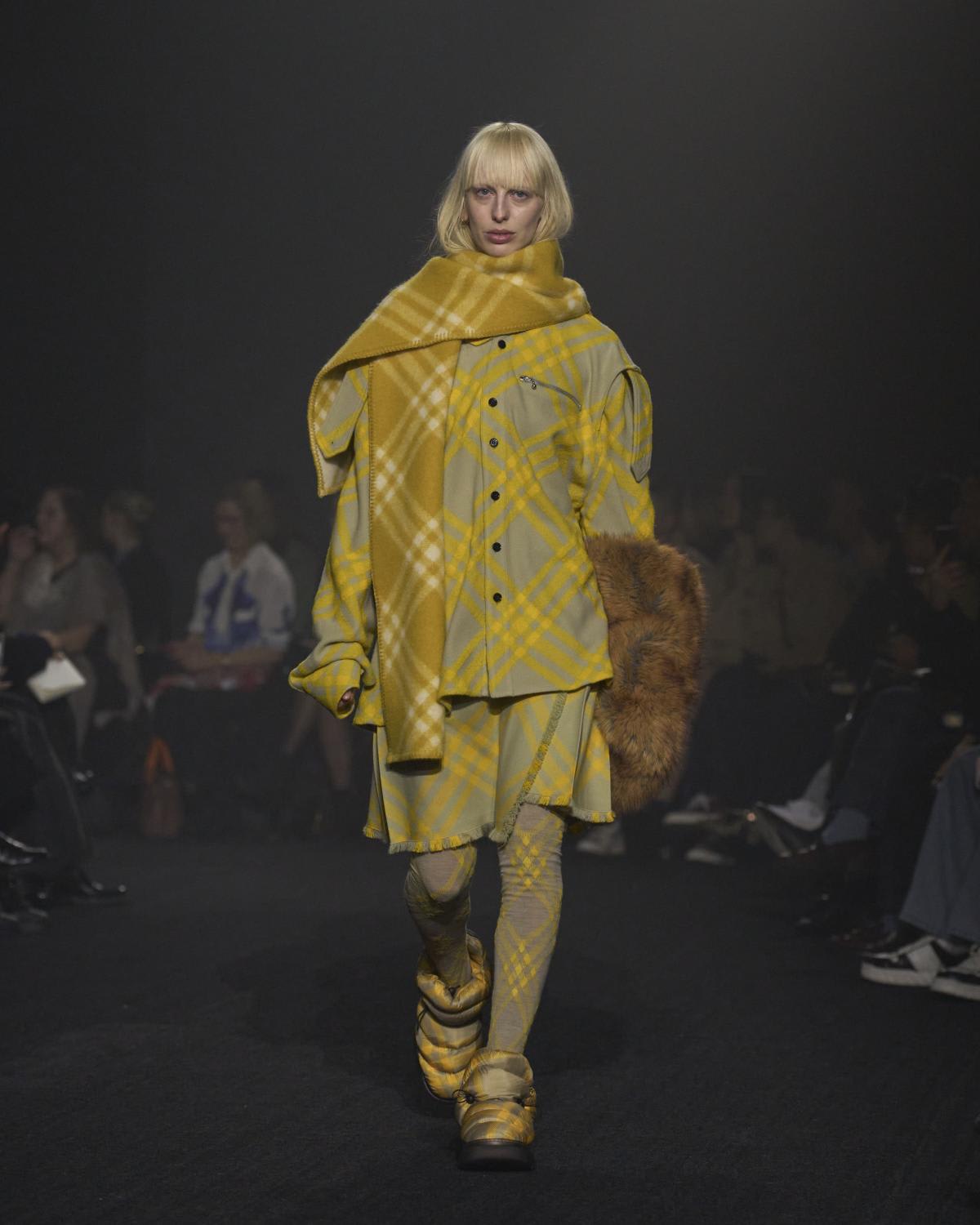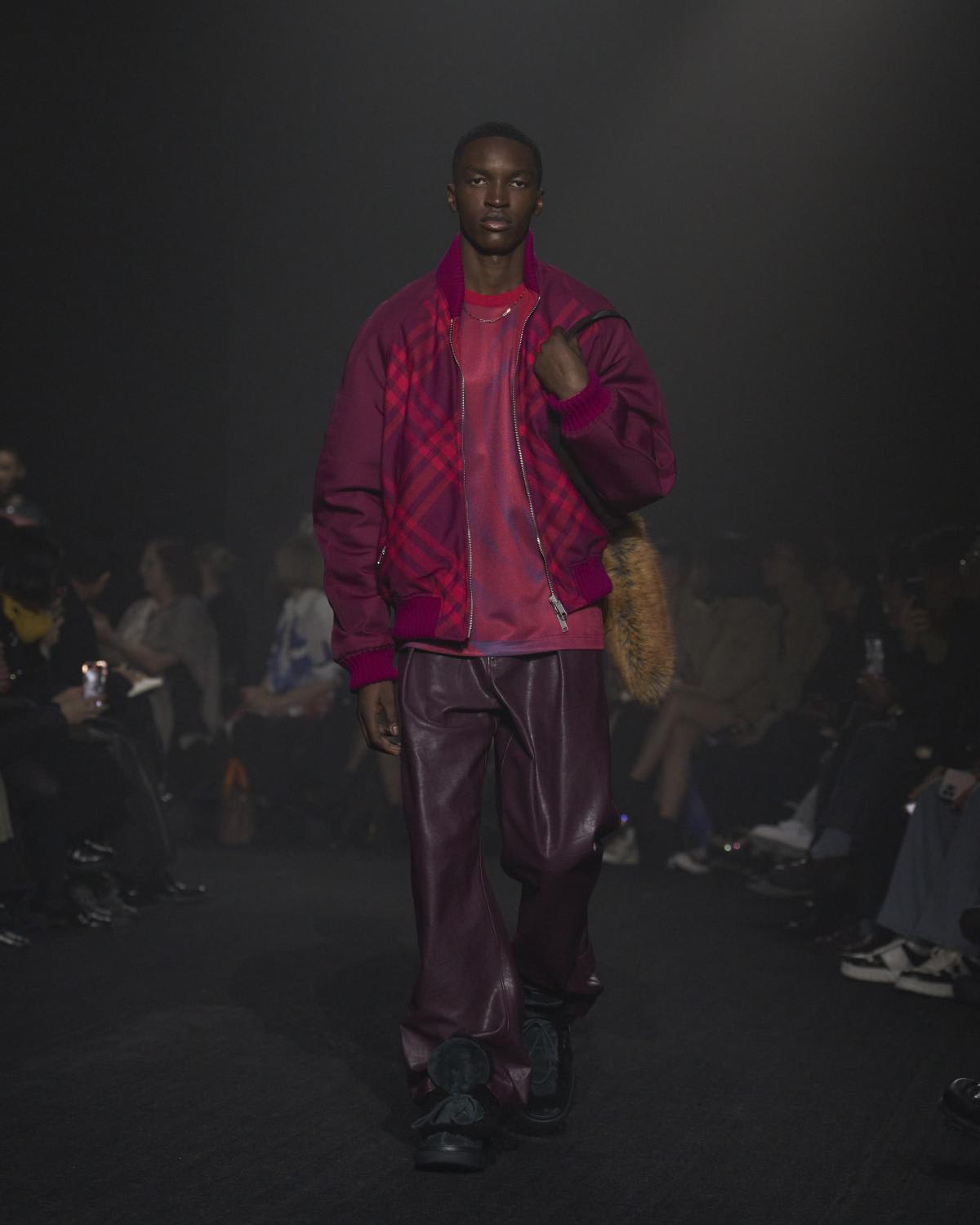 Dresses and blankets were splashed with the house's recently reinstated Equestrian Knight Device emblem, which Tisci had stripped from the Burberry logo in 2018. If it was not clear that this was a new Burberry, T-shirts emblazoned with the words "winds of change" were a recurring reminder.
More important than the clothes — to Burberry's finances, at least — were the accessories.
Akeroyd has promised to "broadly double" sales of the brand's shoes, handbags and other accessories by 2027, and he is banking on Lee's ability to conjure up hits to rival the Pouch bag and woven Lido mules that were such a success for his previous employer, Kering-owned Bottega Veneta.
Lee said he had spent more time at Burberry's leather goods factories in Florence than in London since he had started. His leather saddle bags and satchels, fastened with lower-case 'b's and copiously draped with faux fox fur, are meant to be the kind of "bags you can chuck on the floor," he said.
More promising were the chunky hiking boots and square-toed suede moccasins he fashioned into mules and knee-high boots, which are distinctive enough to appeal to shoppers on the hunt for status-signalling accessories.
Certainly the event was effective in showcasing a new chapter for Burberry, one that did feel more British. But whether this new Burberry is desirable and aspirational enough to enable the brand to achieve its lofty sales targets remains a question mark.
Lauren Indvik © 2023 The Financial Times Ltd.
Source: Financial Times/bt