Scaled up: Bvlgari's latest Serpenti collection has a slinky new bracelet
Continuing to draw inspiration from its spirit animal, Bvlgari introduces the Serpenti Seduttori, a watch with a fluid bracelet that turns a snake's scales into glorious gold hexagons.
Animals are some of the most powerful sources of inspiration in fine jewellery – Cartier has its imposing and mysterious panther, while Bvlgari is synonymous with the seductive serpent that has slithered its way through many of the Italian jeweller's iconic jewelled creations.
Those who are familiar with Bvlgari's well-loved Serpenti designs will know that the line doesn't solely comprise jewellery – the sinuous form of the snake has also been wrapped elegantly around women's wrists as some of the most exquisite and interesting watches we've seen.
Whether fitted with a Tubogas bracelet, a Bvlgari signature that is made flexible via a special metal-coiling technique; or a slim leather strap, Serpenti watches share a couple of common characteristics – they all spiral beautifully up the wrist in double, triple or quadruple twirls, depending on your liking, and have a drop-shaped case that resembles the head of a snake.
A classic yet modern fashion statement, the Serpenti watch has taken on distinctively different styles through the years while retaining its essential form. This year is no different, as Bvlgari unveils Serpenti Seduttori and opens a new chapter for the line of watches.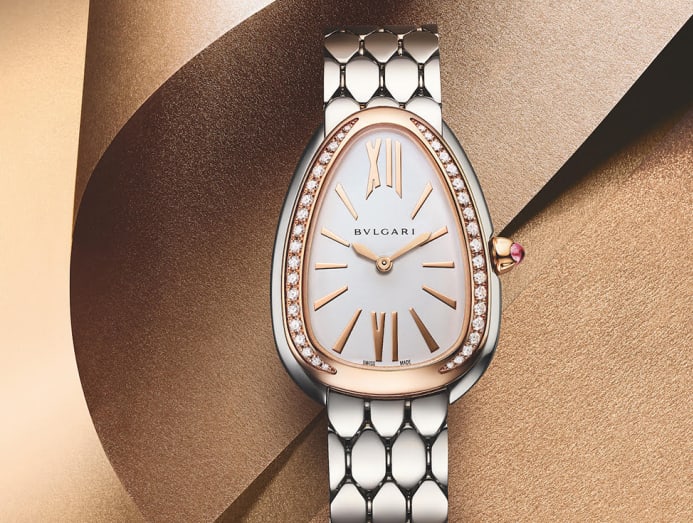 The timepieces were first seen at Baselworld earlier this year and then officially launched at London Fashion Week in September, with a celebration that had international celebrities in attendance at a party befitting the glam and bold style of Serpenti Seduttori.
These latest arrivals bear a drop-shaped case that, while similar to its predecessors is, however, slimmer than ever before. The most notable new feature they carry lies in the unique bracelet, which has a completely flexible structure composed of hexagonal links that are crafted to resemble snake scales.
This bracelet, unlike those that came before it, doesn't spiral up the wrist and is secured by a folding buckle – perhaps a better way to appreciate the details on it. The scales also serve as a canvas for dazzling bling – on full-pave versions of the Serpenti Seduttori, each scale is set with diamonds to create an all-round luminosity.
The watches are available in diamond-set or full-pave variations in pink, white or yellow gold and also bi-coloured models that combine a stainless steel bracelet and case with a rose gold bezel, which means the Serpenti Seduttori can be an everyday watch or an opulent statement accessory reserved for glamorous occasions.