Inside Chanel's world of haute couture: Beyond the expensive price tags of these lavish clothes
At Chanel's exclusive atelier in Paris, CNA Luxury finds out what haute couture truly means: Custom-made artisanal garments fashioned entirely by hand by dressmakers skilled in creating one-of-a-kind garb that are more than worthy of their price tags.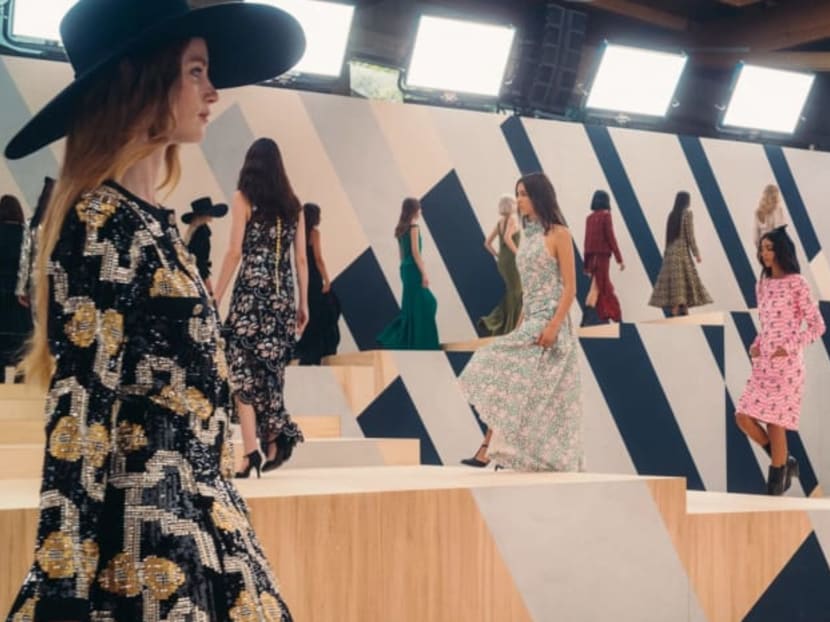 Thirty-one Rue Cambon is arguably one of the most popular destinations in Paris for the stylish set. Uttered in the same breath as the Eiffel Tower, the River Seine and the Champs-Elysees, the Chanel flagship boutique is chockful of French dreams.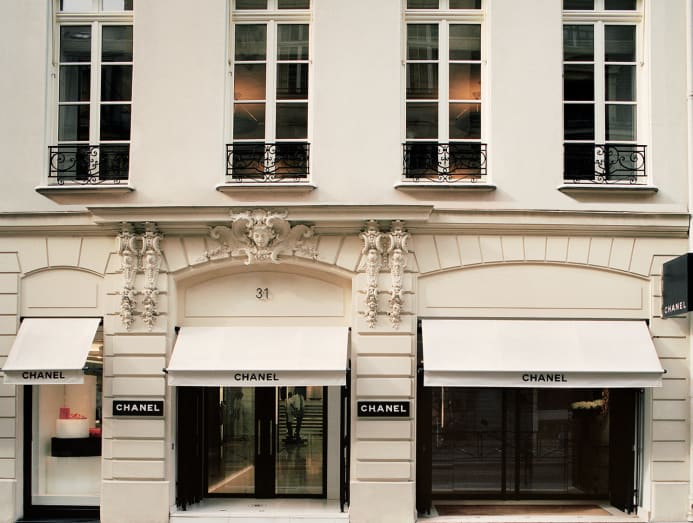 But scoring a quilted Chanel purse wasn't on my agenda during my recent visit. My "mission" was far grander: To meet with the premieres (or head seamstresses) who are custodians of the revered craft of haute couture (or high dressmaking) at their atelier (or workshops).
Back in 1918, Gabrielle Chanel acquired the building where she famously expanded her repertoire, going from mere milliner to full-fledged fashion designer dreaming up sartorial hits such as the tweed jacket, the "little black dress", two-tone slingbacks and, of course, the inimitable Chanel 2.55 purse. All of which continue to thrive as icons of her namesake fashion house.
The flagship boutique is, of course, one of the most well-stocked Chanel boutiques in the world and is notably the only one that hands out shopping bags that bear the celebrated address.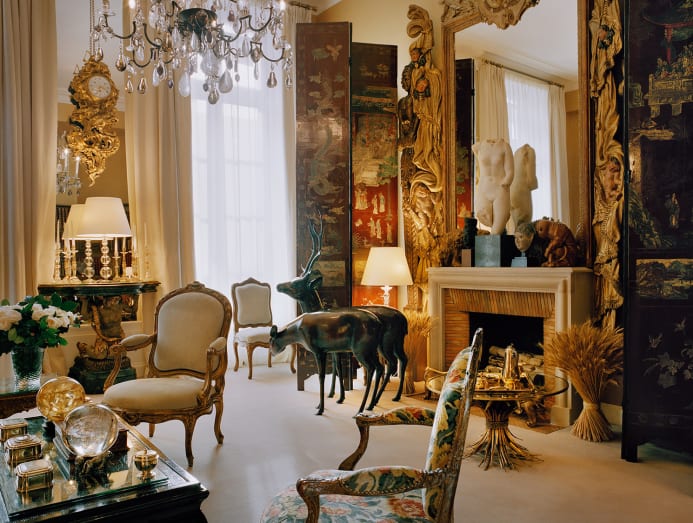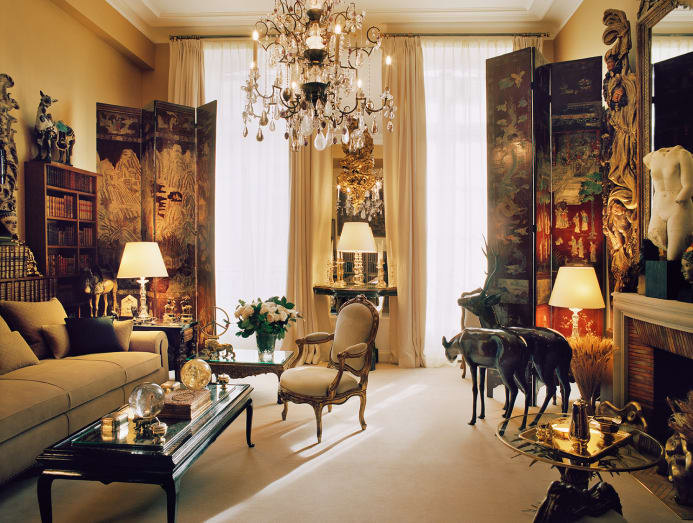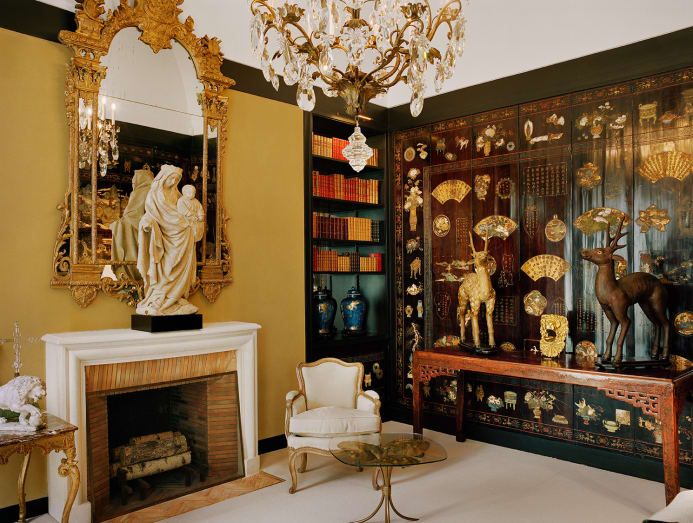 The select few who have ventured beyond the retail space will know that up on the second floor of the building is where Mademoiselle Chanel had an apartment where she used to work, daydream and entertain a small circle of friends. Curiously, the couturier never actually lived there, preferring to call one of the suites at the Ritz Hotel just across the road home. But the apartment was nonetheless classified as a historical monument by the French Ministry of Culture in 2013.
While the historical abode may be the crown jewel of the French house – every element of its decor, from gleaming sheaves of wheat to ornate coromandel screens to a chandelier decorated with camellias still impact present and future design – it is what lies above the famous mirrored staircase where Chanel used to sit along for a bird's eye view of her fashion shows, observing each and every reaction of her esteemed clients, that is the beating heart of her fashion empire.
Tucked away at the top of the building are five ateliers dedicated to its haute couture business – two dedicated to flou (the work of soft fabrics such as tulle, chiffon and organza) and the other three for tailleurs (or suiting).
Everything is made-to-measure and made entirely by hand.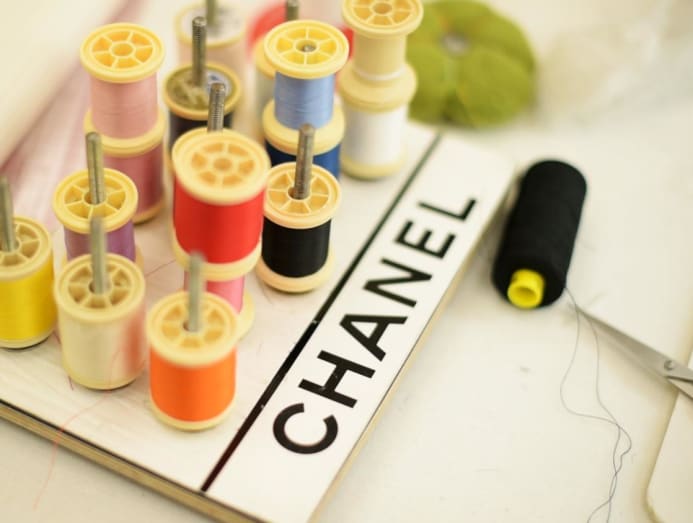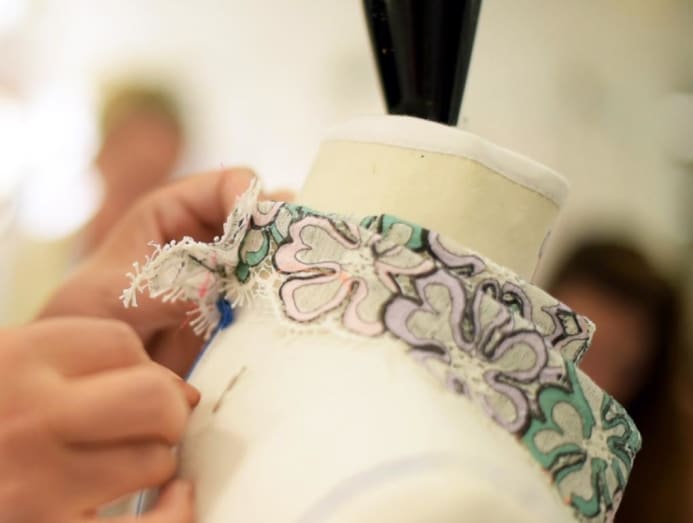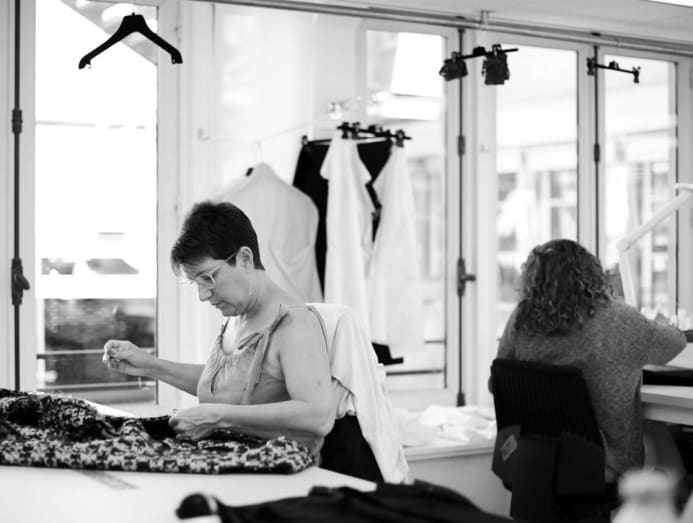 "Everything is made-to-measure and made entirely by hand," explained Madame Olivia, the premiere or head seamstress who presides over the Atelier Flou, referring to the Fall-Winter 2022/23 Haute Couture collection. "Haute couture is really about excellence. It is all about handwork and craftsmanship. This is the particularity of haute couture."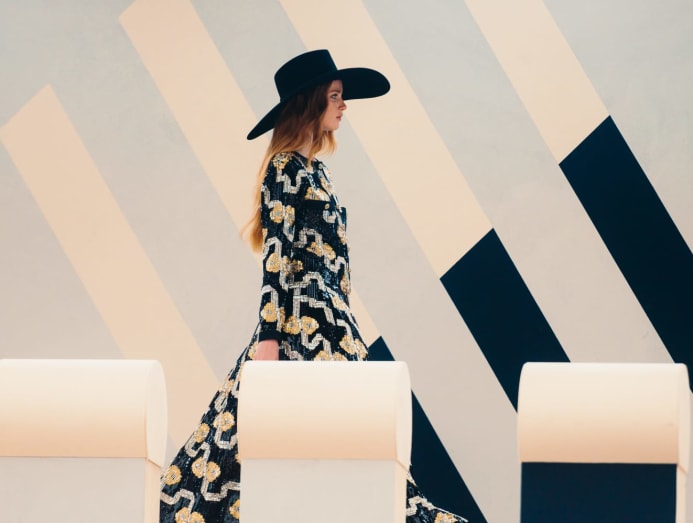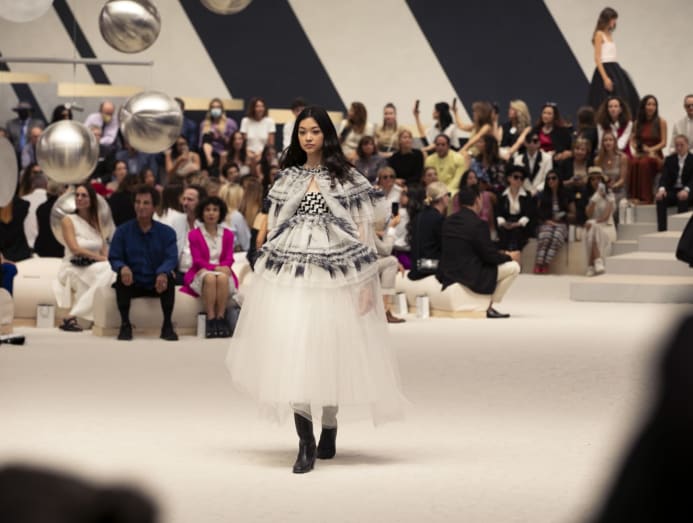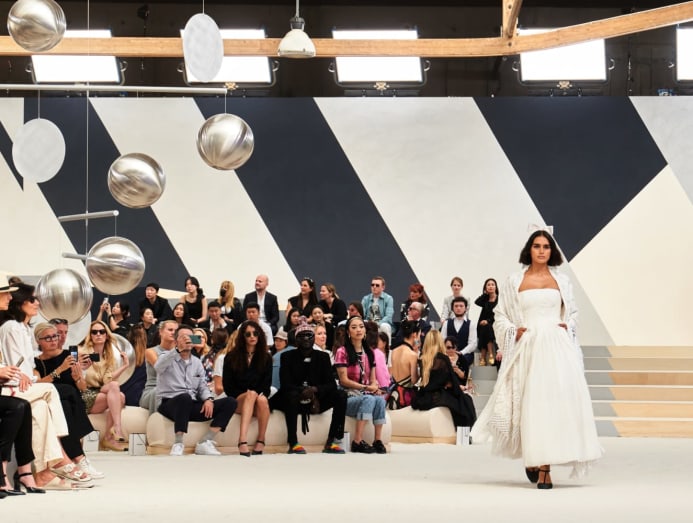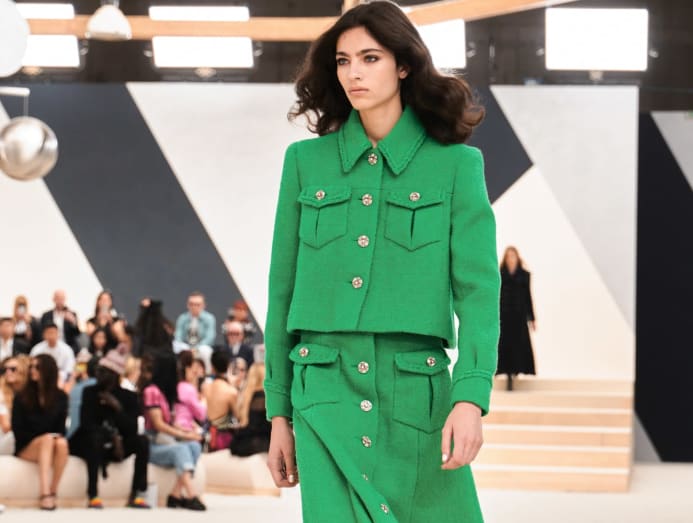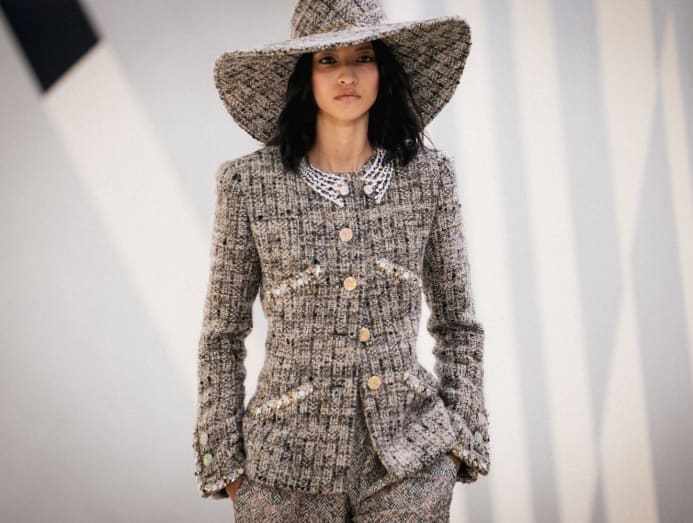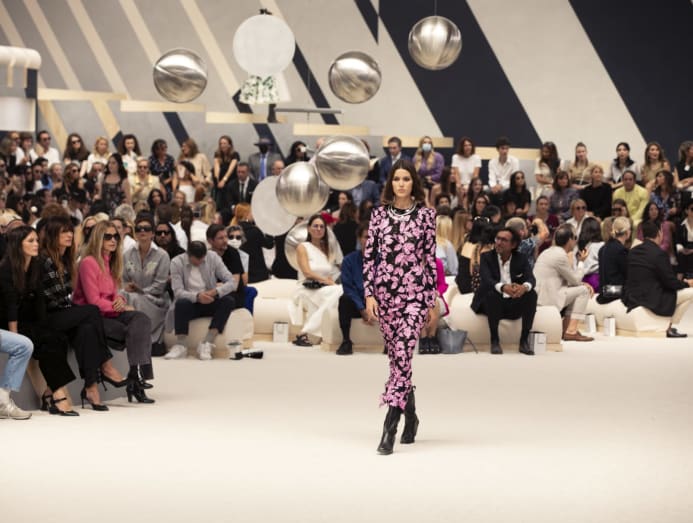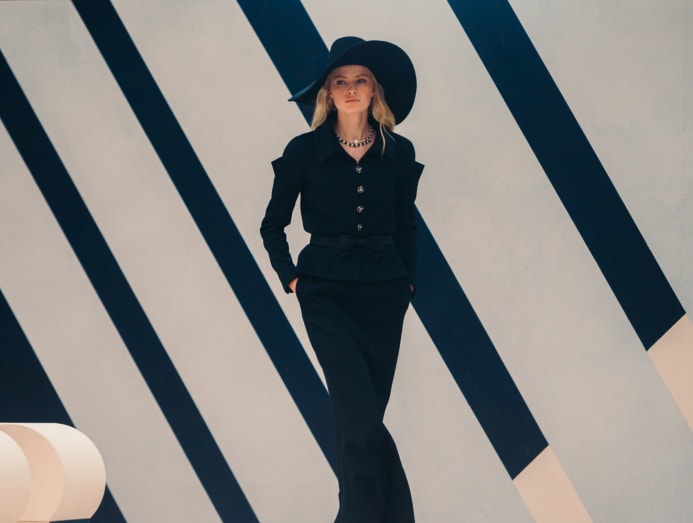 Each haute couture garment begins from a sketch. For this collection, artistic director Virginie Viard took inspiration from Chanel's silhouettes from the 1930s and it is the ateliers' task to translate her vision.
"After receiving the sketches (from Viard), we make the pattern on the mannequin," explained Olivia. "The first fitting is made in toile (calico cotton). After that, we choose the fabric – the choice of fabric is vital, we try to work with silk, organza or tulle to create a sense of lightness. Then we find buttons to match – it is always jewellery buttons for haute couture, never buttons with logos. And finally, we fit the garment on the model or the client and make the final adjustments."
It is always jewellery buttons for haute couture, never buttons with logos.
The process sounds easy enough but its execution is a whole different matter. According to Olivia, a "simple" dress can take upwards of 450 hours to complete. "The thing about haute couture is that the outfit sometimes looks simple but in fact, a huge amount of work went into it."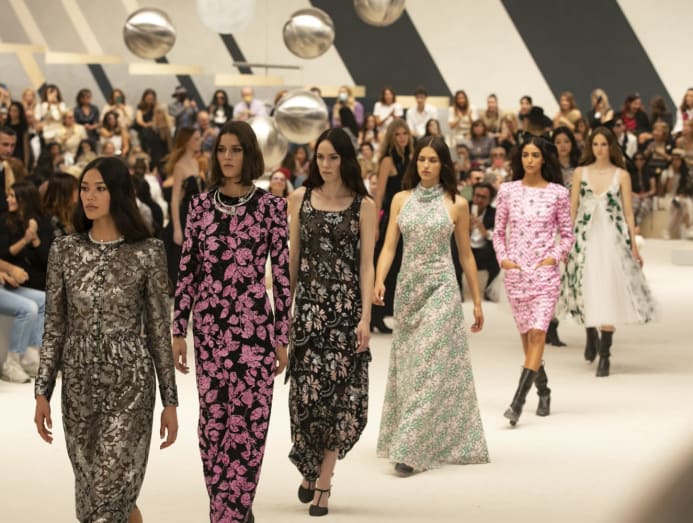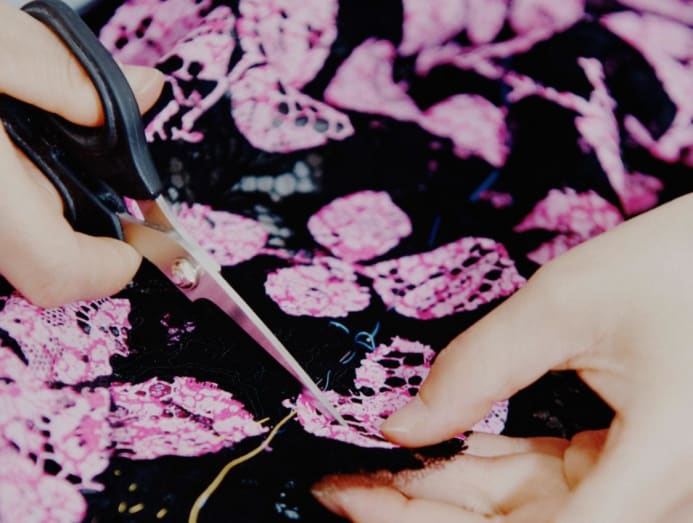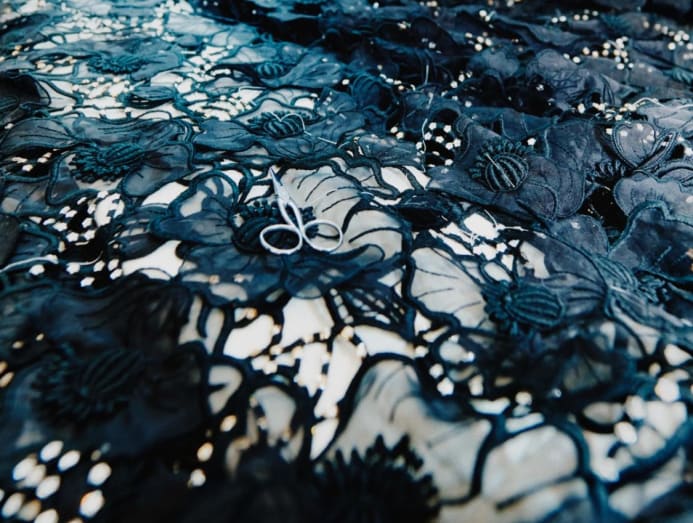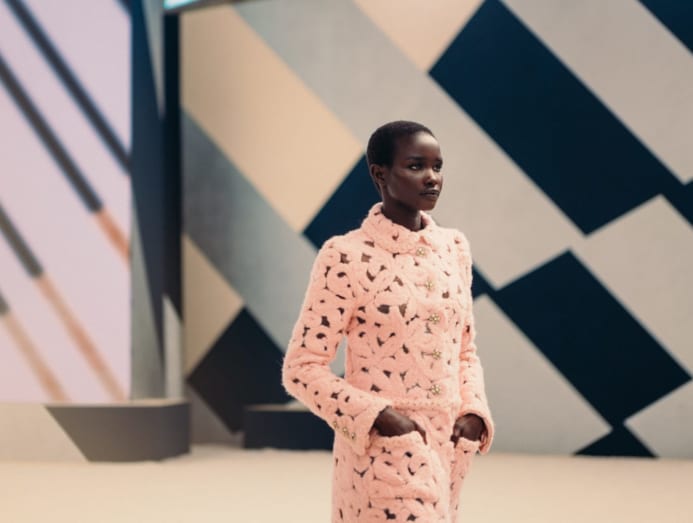 For instance, lace was a major theme in this collection. But Viard didn't just want any lace but rather an elevated take on lace that is "inlaid, reworked, not embroidered, but repainted".In order to meet this exacting brief, Olivia's team of les petite mains ("small hands" in English) or seamstresses, together with the embroidery house of Lesage, came up with unprecedented offerings: See-through Guipure lace layered with gossamer lace; coloured lace inlaid onto Guipure lace; lace patterns reworked entirely by hand with sequins; lace hand-painted in resin; and cashmere wool woven into lace-like patterns.
You won't hear the sound of sewing machines at the Chanel atelier, or workshop, because everything is done by hand. Find out what else goes into creating these special, haute couture pieces.
Not unlike perfect patchwork, the additional work done on the lace is almost imperceptible at a glance. "You never see the seams because they are all hidden," said Olivia, lifting the lace dress up against the natural light that filled the atelier to demonstrate its artisanal-grade finish. "You cannot imagine the work inside."
Not only are the seams on the outside hidden from view, even those on the inside of the garment are ingeniously tucked away to ensure that the garment's finish is exquisite inside and out. Nothing is left unfinished, everything is finished to perfection. The magnificently deft hands of these seamstresses attach contemporary flourishes one stitch at a time.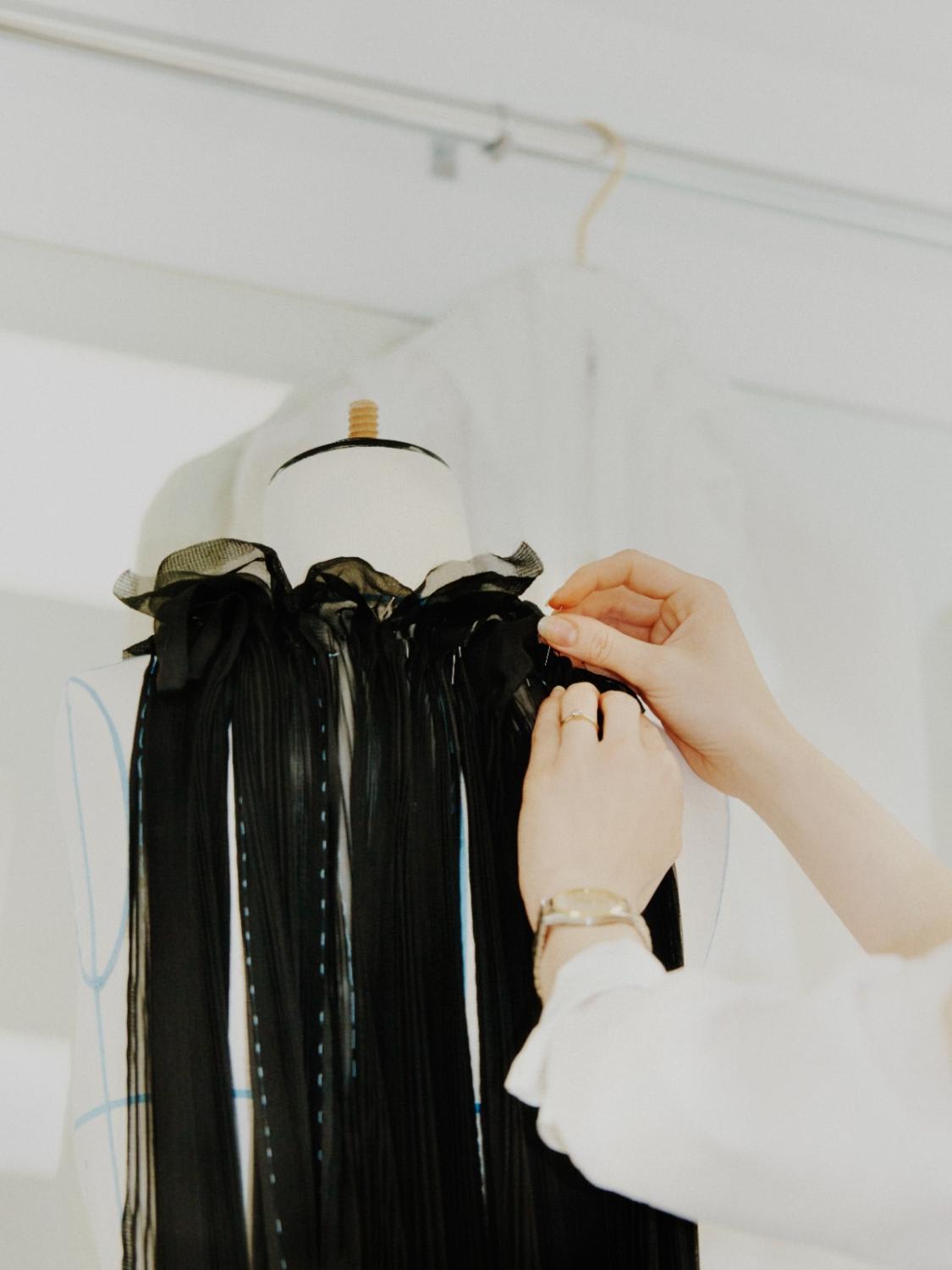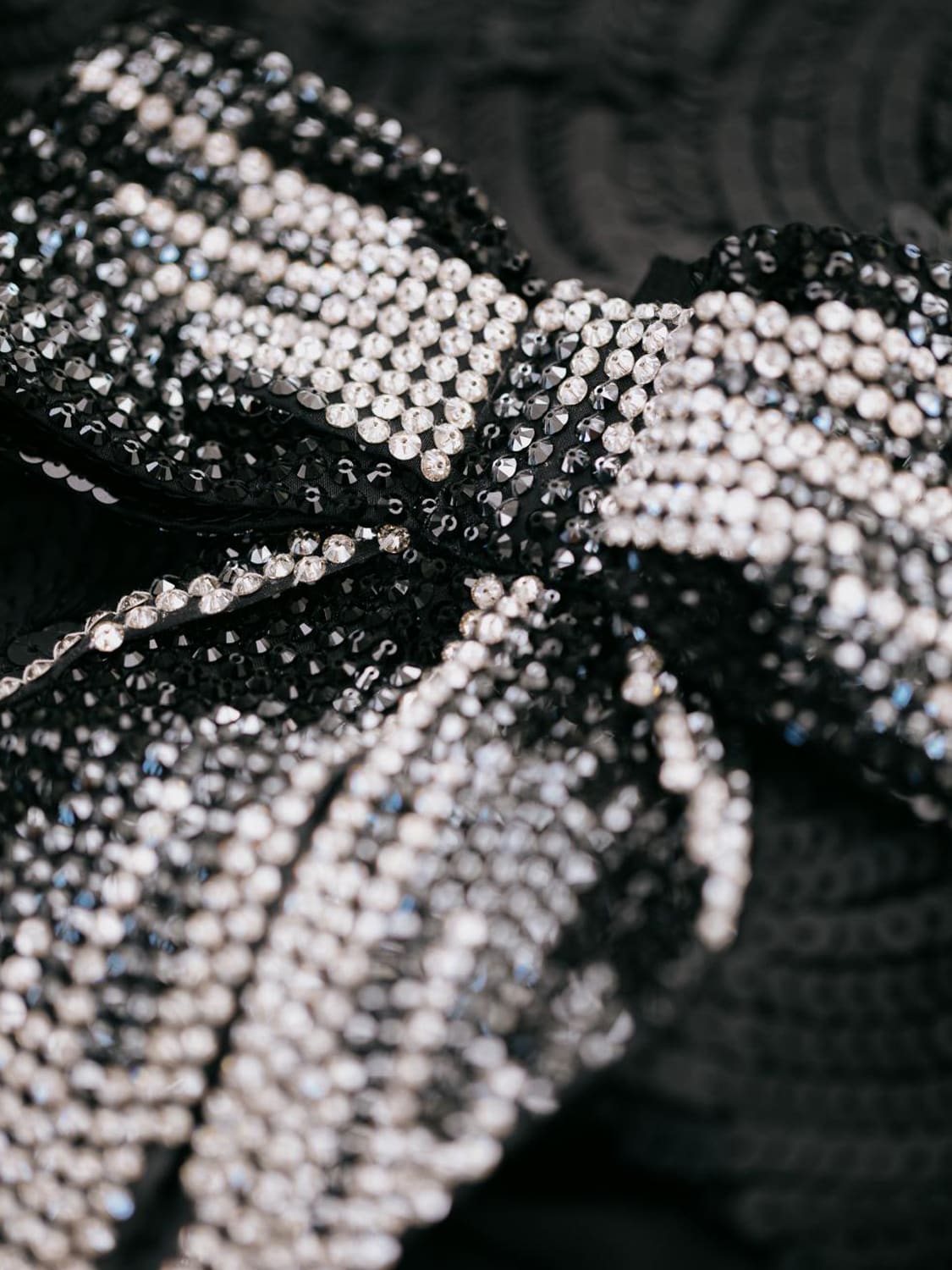 To the uninitiated, haute couture may sound just like a fancy tongue-twister for really expensive clothes. It is true that they don't come cheap: Haute couture garments typically don't come with a set price. The final bill is entirely dependent on the cost of the materials used, as well as the number of labour hours involved. A dress can range from €$9,000 (S$12,650) to more than €1,000,000.
Haute couture garments typically don't come with a set price.
Though these price tags can seem out of reach for many, there is absolutely nothing haughty about haute couture. Turning an idyllic sketch into wearable reality takes immense skill. Realising the grandeur of a couture look at Chanel requires the attention of one premiere and at least three seamstresses. It takes 450 hours to create a simple dress and well over 1,000 hours if the piece involves intricate embroideries and embellishments. At least three fittings are necessary to ensure the creation is perfectly customised to the body of the wearer. One-of-a-kind gowns may require as many as 10 fittings.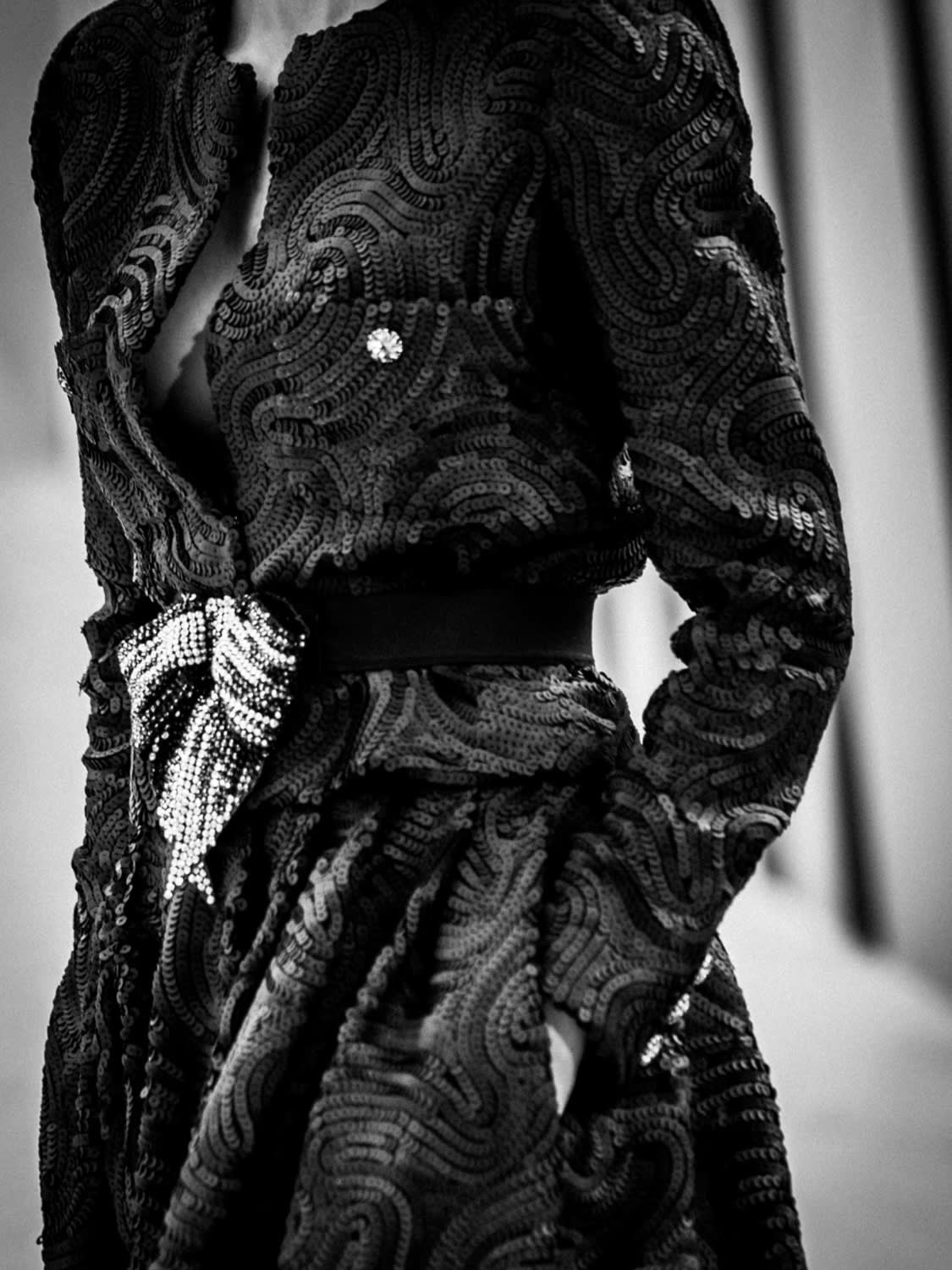 As Narnia-esque as the concept of haute couture may sound, it isn't just about splendour and escapism. At the heart of its vocation, the expertise of high dressing is engineered to serve the pragmatic needs of its top-tier customers.
Christine, one of three premieres for Atelier Tailleurs, shared: "Mademoiselle Chanel used to add pockets to evening dresses, which was not the tradition at that time but she really likes the practicality they offered. So at Chanel, we have pockets on evening dresses and because Virginie likes big pockets, we put big pockets."
She went on to explain, from the point of view of a tailor, "the addition of pockets really changes the way a woman moves". The very gesture of hands tucked into pockets exudes an air of confidence with which it allows the wearer to move with decided assurance. The contrasting style and size of the pockets on evening dresses or even tweed jackets though admittedly aesthetic, serve a constructive purpose.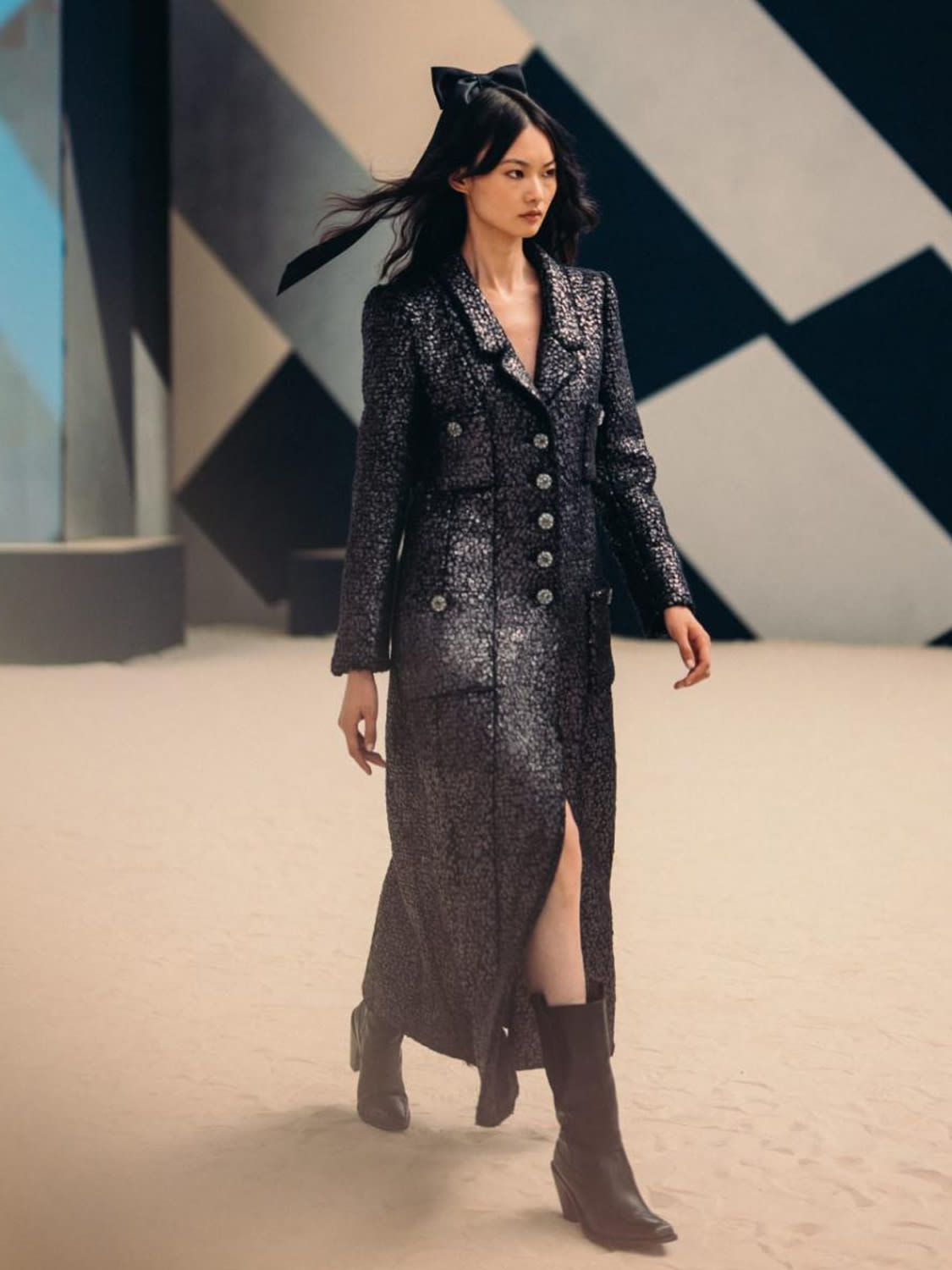 Suits also have a special place at the house of Chanel. "Mademoiselle Chanel used to borrow ideas from menswear, today there are still similar references. For example, this suit", Christine gestured towards a black velvet suit. "It could be a men's suit, but it's very feminine and it's open in the back as well. This idea of contrast allows the wearer to have some men's elements from menswear, but still look very feminine."
A little bit less masculine, a whole load more feminine. A snip here, a cut there. Every single detail matters. After all, this is haute couture, where precision is the name of the game.
CNA Luxury was in Paris at the invitation of Chanel.