In Singapore, a S$3.7 million necklace and other unique jewels on show
French luxury house Chanel has brought a specially curated collection of 42 high jewellery masterpieces to Singapore. We highlight some of our favourites.  
In partnership with Chanel.
In Paris, the iconic Place Vendome is one of the city's most famous and grandiose neoclassical squares. Over the course of history, it has emerged as the home of high jewellery, boasting an enviable array of the most illustrious brands. 
For the house of Chanel, 18 Place Vendome is home to its high jewellery atelier, where jewellery collectors convene from all around the world to admire its remarkable creations, each a reflection of Gabrielle Chanel's life and spirit.
With many unable to fly to the City Of Lights as a result of travel restrictions, Chanel has brought the magical allure of 18 Place Vendome to Singapore with a private presentation of 42 high jewellery pieces, collectively termed L'Opulence de Chanel.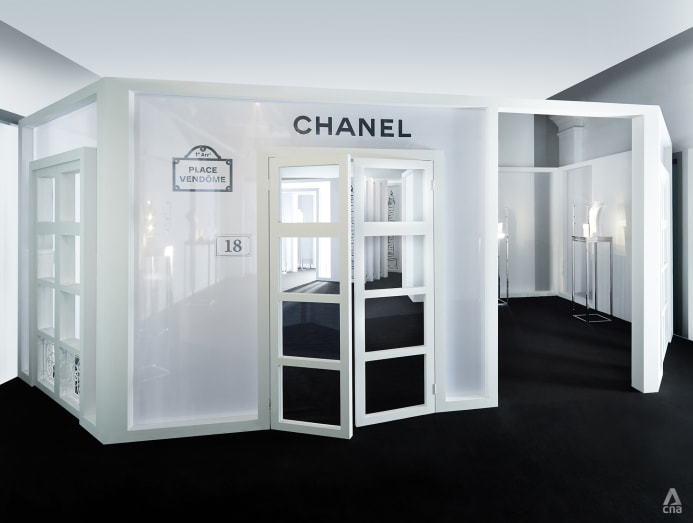 The exhibition, held in Sentosa's Mess Hall, transports guests to an imagined Paris, with French windows and motifs of Place Vendome's famous Vendome Column. Interspersed within the space are some of Chanel's most revered jewellery creations.
Each collection traces the evolution of Chanel's high jewellery design aesthetic, how it has modernised over the years while staying true to Gabrielle Chanel's baroque and Byzantine inspirations.
The jewellery pieces will be available for public viewing at Chanel's Ngee Ann City boutique from Oct 9 to Oct 24, a rare opportunity to admire Chanel's spectacular masterpieces through the years at a glance.
Here are some of our favourites from the showcase.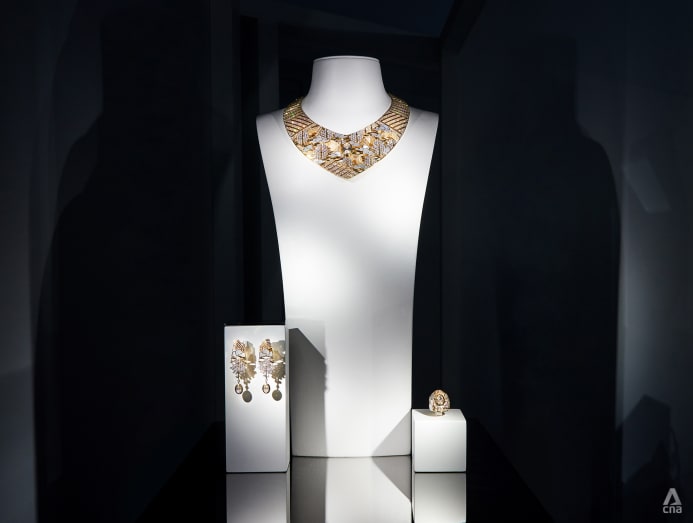 While Chanel is a French luxury brand at its heart, Gabrielle Chanel constantly drew inspiration from Asian and Oriental design. For one, she was known for her deep passion for antique Chinese coromandel screens, which could be found in her apartment. 
The Horizon Lontain necklace is a spellbinding piece inspired by her love for coromandel screens. Gold, platinum, diamonds and mother-of-pearl, set at different heights, form an interweaving dreamlike landscape on this bib-style necklace. At its centre is a 6.52-carat oval-cut diamond.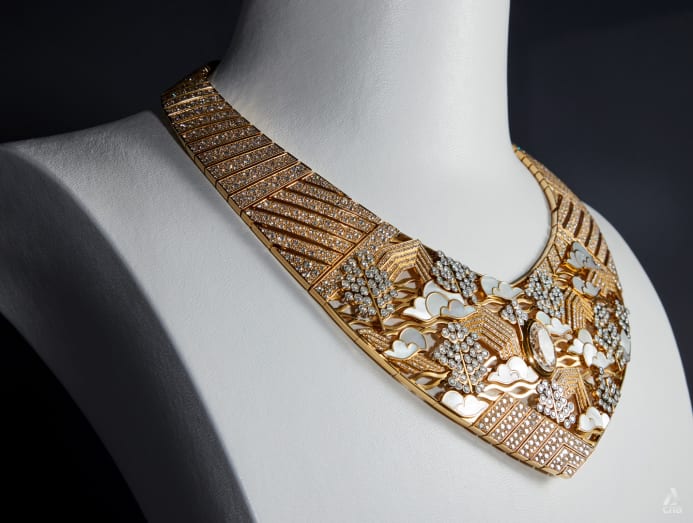 At an eye-watering S$3.7 million, the Horizon Lontain necklace, displayed alongside the Horizon Lontain earrings and Horizon Lontain Ring, is the most expensive jewellery piece on show.
GANSE NOIRE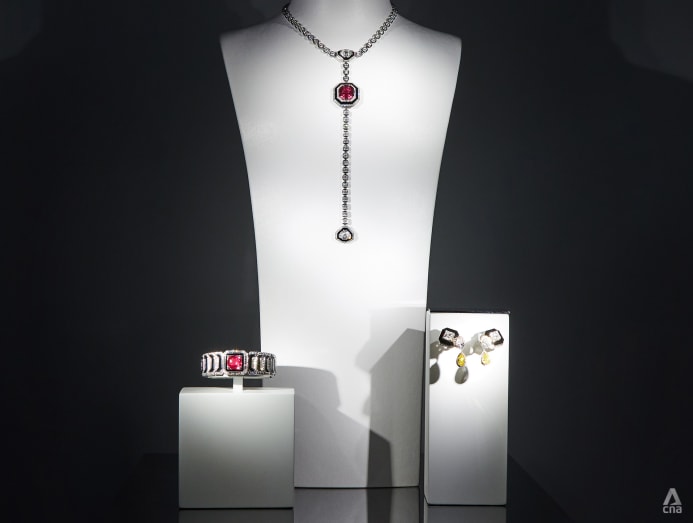 Place Vendome is a source of creativity and inspiration for Gabrielle Chanel, who once lived in a suite in the Ritz Paris, overlooking the square.
The Ganse Noire Spinelle necklace, the second most expensive jewellery item on show at S$1.6 million, is punctuated by a reddish-pink 14.73-carat spinel. The octagonal cut of the stone draws inspiration from the octagonal shape of Place Vendome. Chanel lovers will also recognise the octagonal shape on the stopper of the brand's No 5 perfume bottles.
The S$1.5 million Ganse Noire Diamants Jaune earrings feature fancy vivid yellow pear-cut diamonds, princess-cut diamonds and black onyx detailing. The use of black onyx throughout the Ganse Noire collection is a nod to Chanel's signature house colour.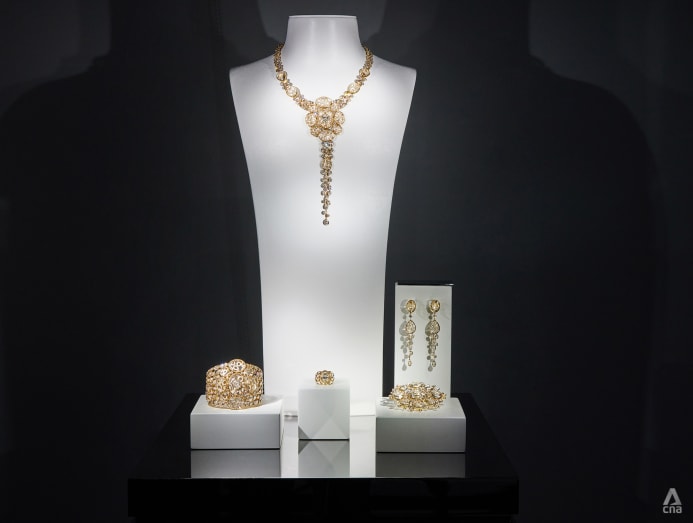 The enchanting Magnetique collection is a modern interpretation of Chanel's baroque and Byzantine aesthetic, laced with yellow gold, diamonds and cabochon-cut rock crystals, a talismanic stone that Gabrielle Chanel surrounded herself with in her apartment. The rock crystals magnify the brilliance of the stones, their translucency playing on the bare skin of the wearer.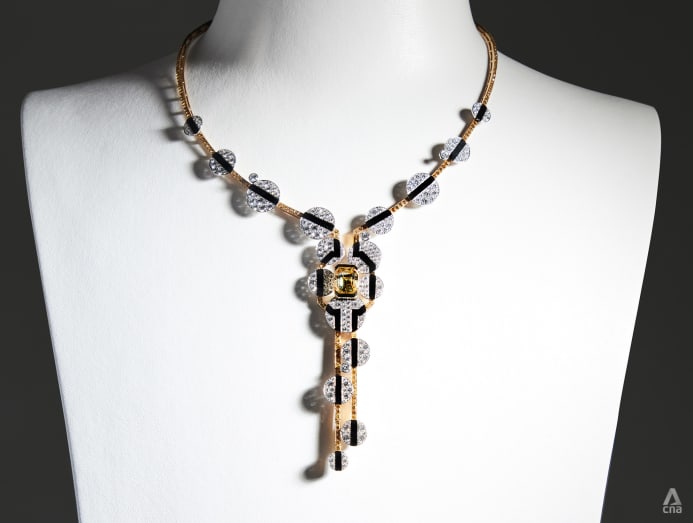 The Morning In Vendome necklace depicts the sunrise in Place Vendome, with vibrant yellow sapphires reminiscent of the soft golden rays of the morning sun. A statement piece, it features geometrical domed discs crafted from diamonds, punctuated with black onyx graphic lines. A technical mastery, the onyx is cut from a single, uninterrupted piece.
ENVOLEE SOLAIRE
Gabrielle Chanel once famously declared, "Go fetch my pearls. I will not go up to the atelier without my pearls." Indeed, the inimitable designer was known for her love for pearls, encapsulated in the Envolee Solaire creations.
Unabashedly opulent, the pieces are distinctly baroque in style. Nestled in the centre of each piece of jewellery is a yellow cushion-cut diamond, surrounded by delicate diamond swallows that appear to take flight. The colour of the pearls were deliberately chosen to depict a gradation in colour, warming up in tone as it moves from the back to the front.
The L'Opulence de Chanel curated collection of high jewellery will be available for viewing at the Chanel Watches & Fine Jewellery boutique in Ngee Ann City from Oct 9 to Oct 24