Animal parade: The whimsical appeal of Chanel's spring 2023 haute couture looks
Creative director Virginie Viard finds wonder and inspiration in the menagerie of animals in Chanel's legendary Rue Cambon apartment and, unexpectedly, peppy majorette outfits.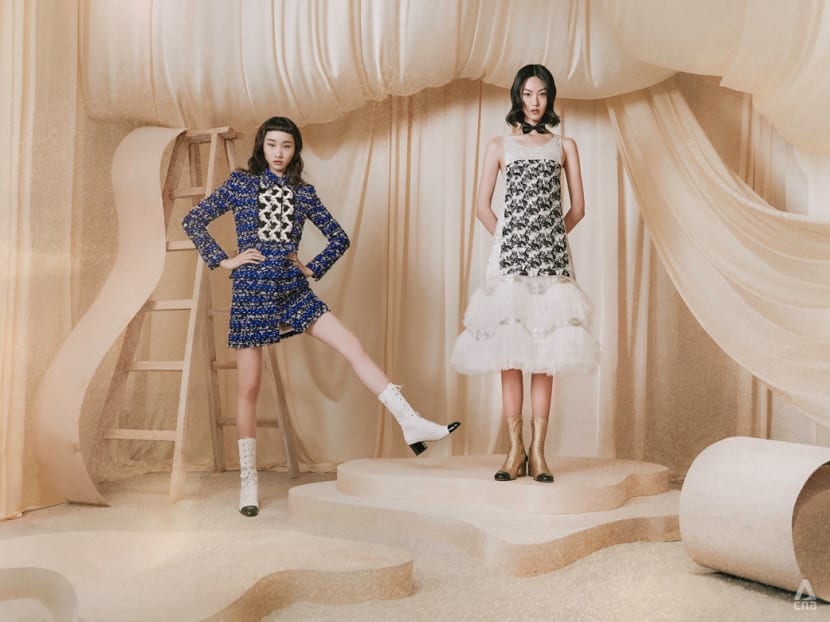 Surreal and yet whimsical – that's what the set of Chanel's spring/summer 2023 haute couture presentation immediately brought to mind. Huge animal sculptures, including a camel, bird, dog and more – made out of plywood, paper and cardboard – form an abstract setting from which models dressed in the collection emerged at various points throughout the show.There's a perfect reason for putting up these towering creatures – the inspiration for this new collection came from the animal icons found in Gabrielle Chanel's Rue Cambon apartment. The set design is a result of a collaboration with French artist Xavier Veilhan, who also produced a film and a series of photos centred on the haute couture concept and collection.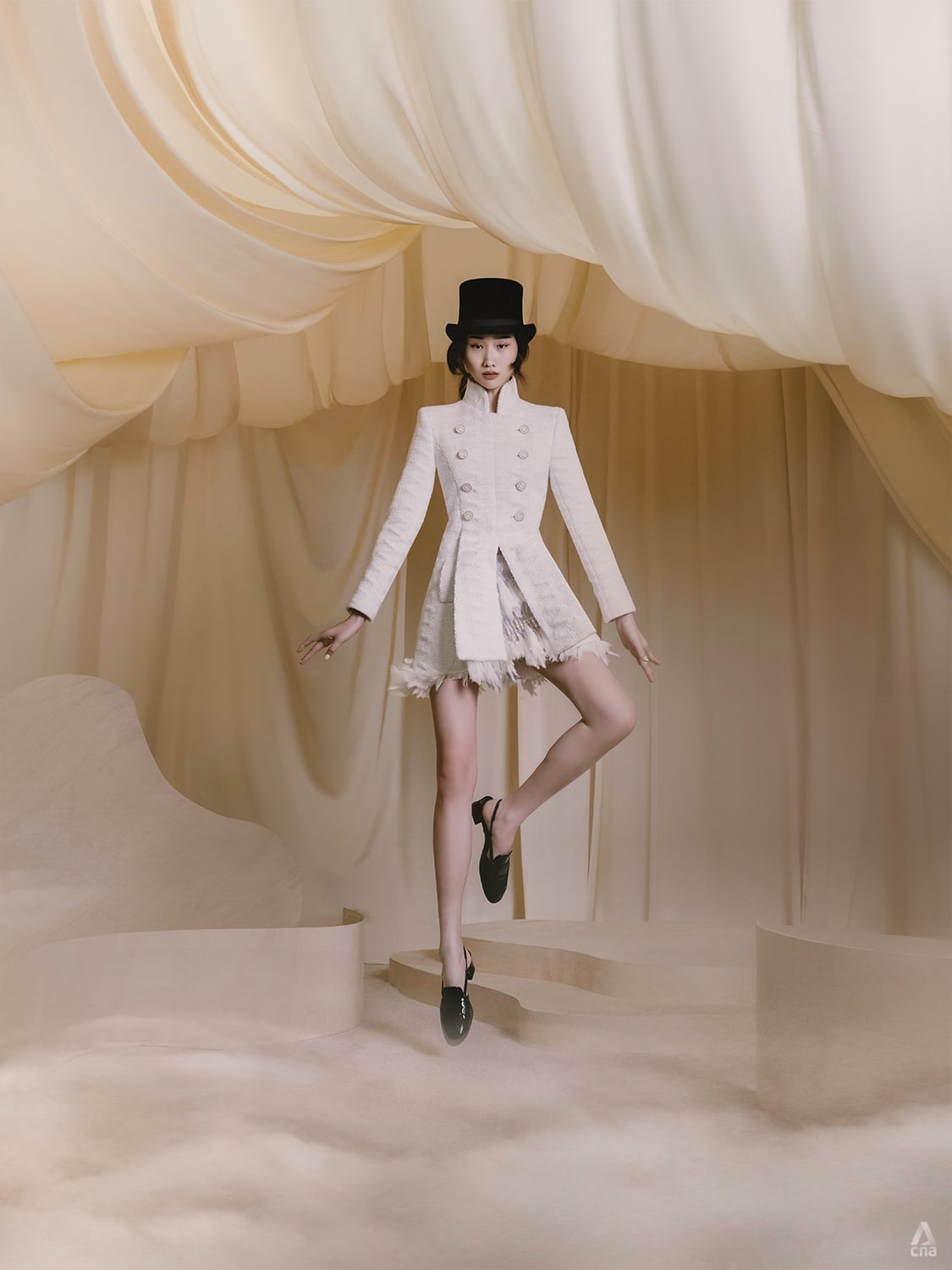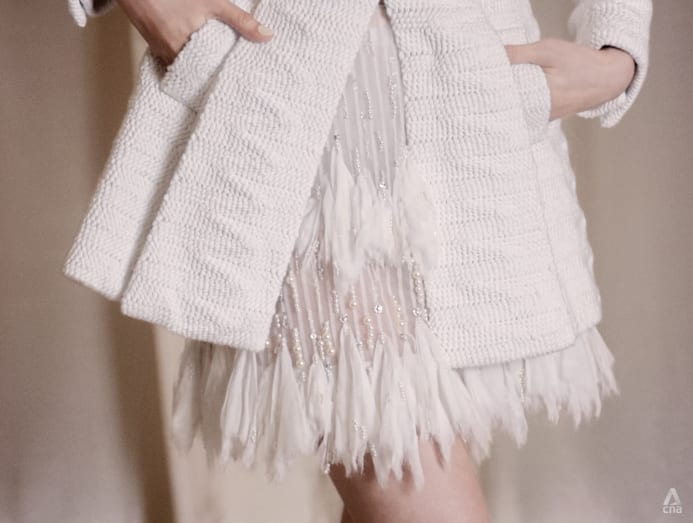 Kittens, corgis, rabbits, swallows, does and stags find their way onto short tweed suits and coat dresses in the form on embroidery, imbuing in them a youthful twist that is mirrored in the whimsy of the runway decor. In fact, according to Chanel's creative director, Virginie Viard, the whole embroidery universe of the collection is turned towards the animal world.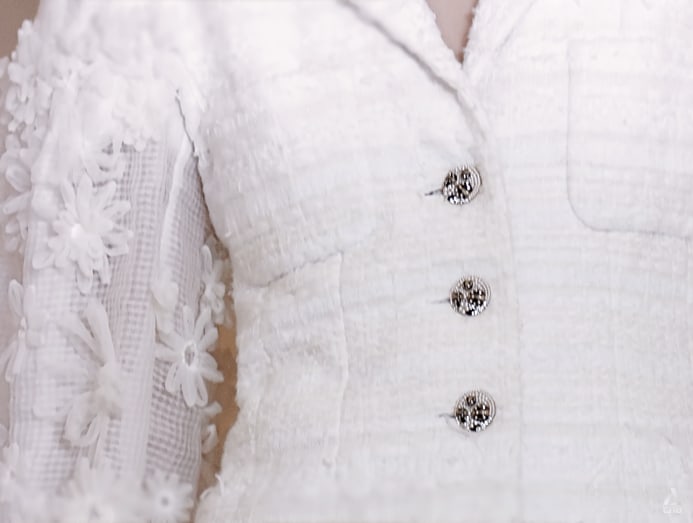 Viard also took cues from the dressing style of baton-twirling majorettes in festive parades – think short shorts, pleated skirts, tailed or double-breasted jackets, all of which are a nod to the peppy uniforms they typically wear. High hemlines naturally dominate this collection, but are also interspersed by jumpsuits and long dresses. The looks are aptly accessorised with top hats, bow ties, gloves and toe-capped lace-up boots, completing Chanel's high-fashion take on majorette style.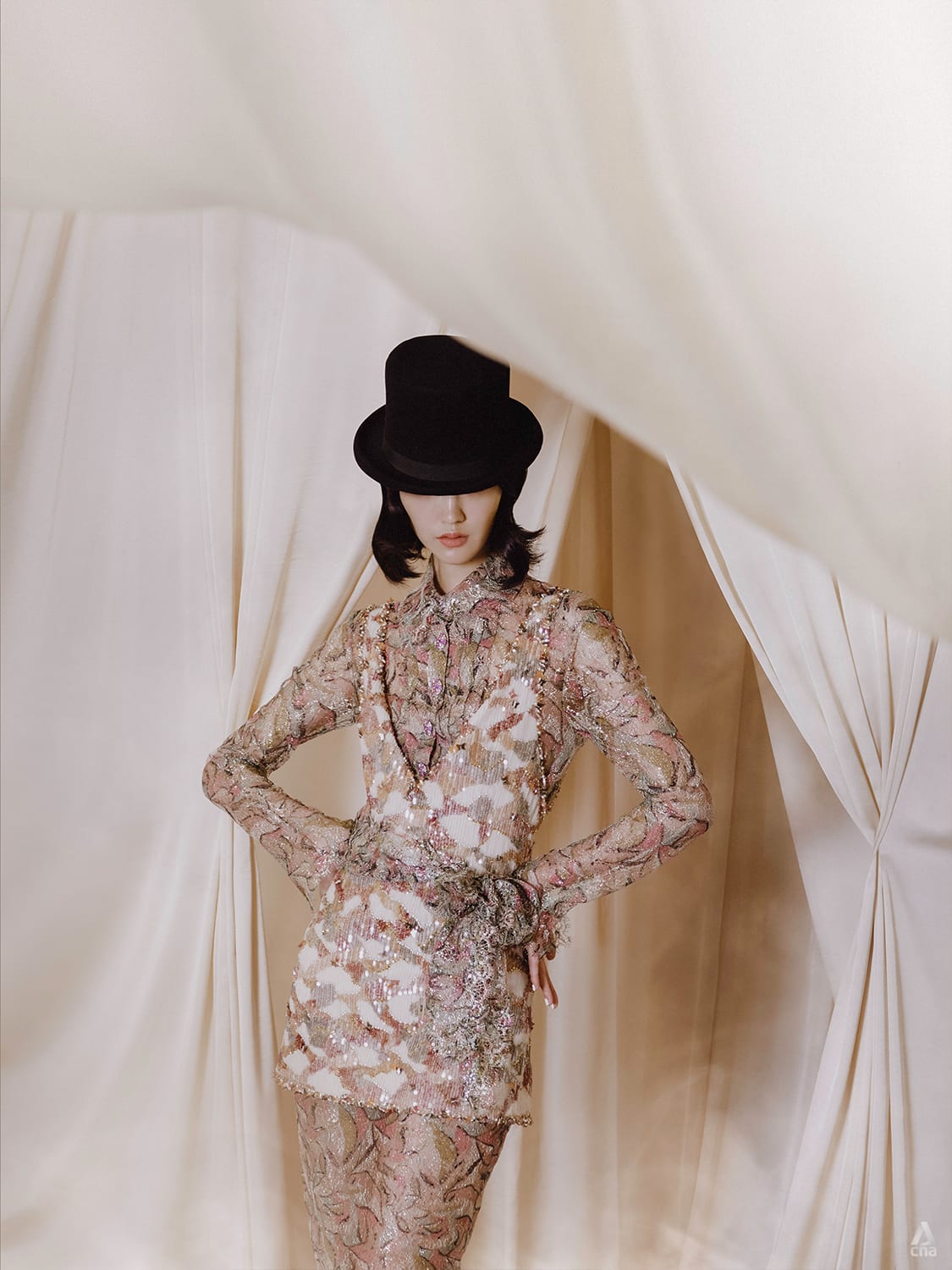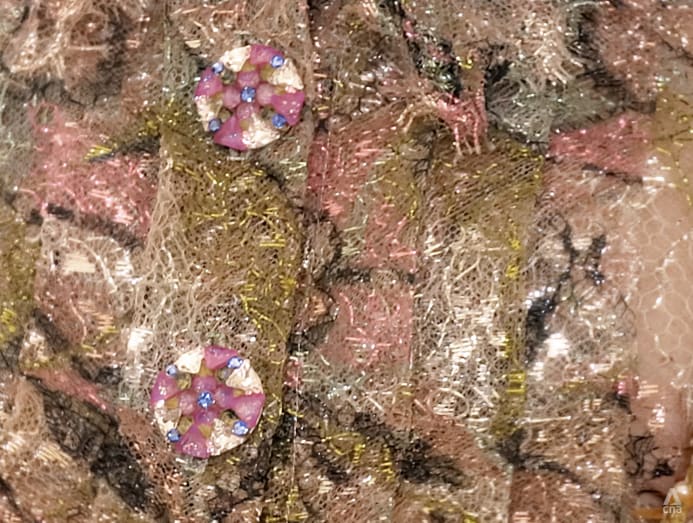 The maison's signature Lesage tweed is used to give form and structure to coat dresses and jackets, embellished with jewelled buttons and – in one stunning example of the latter – playful and feminine cigaline flowers.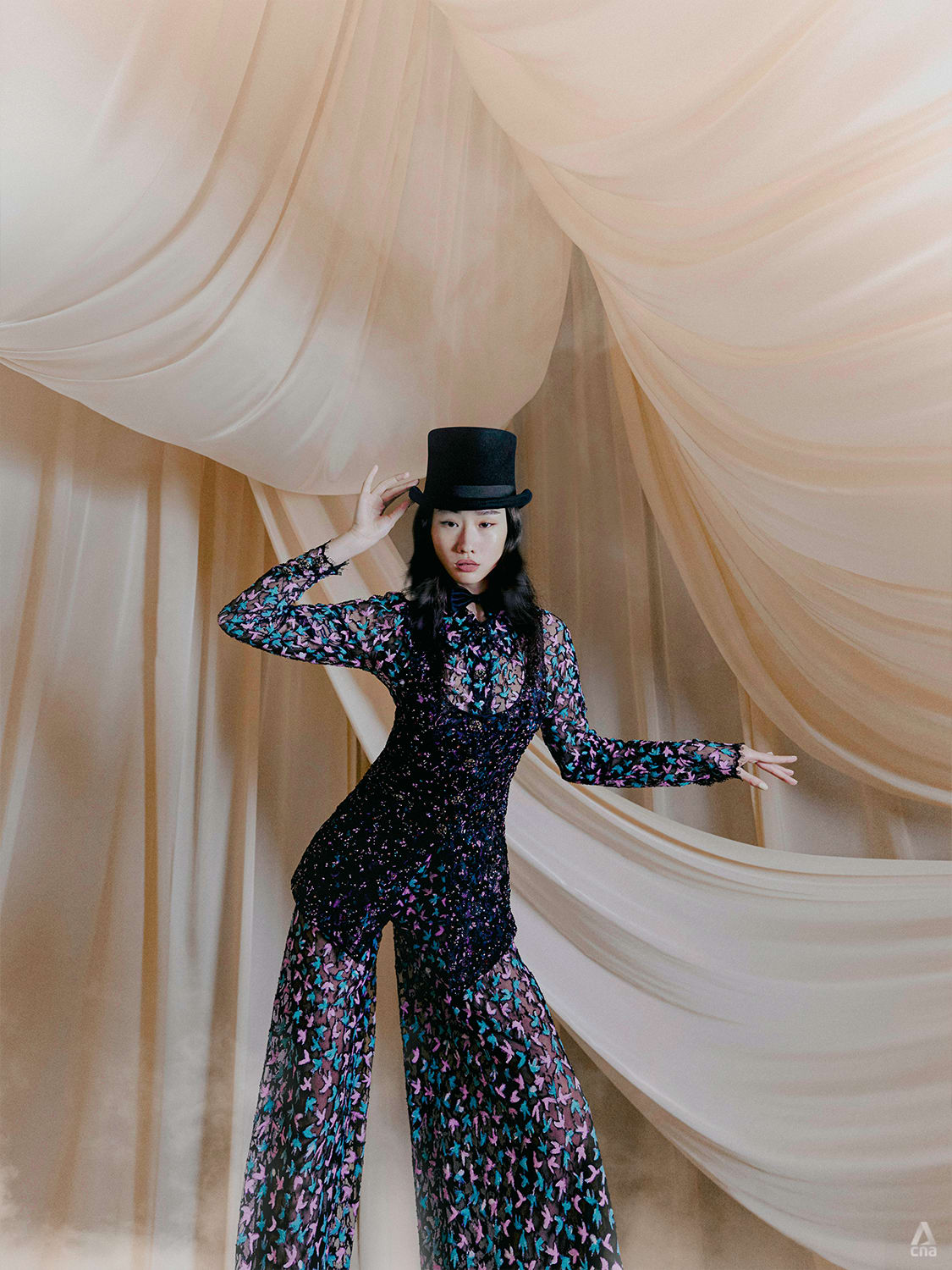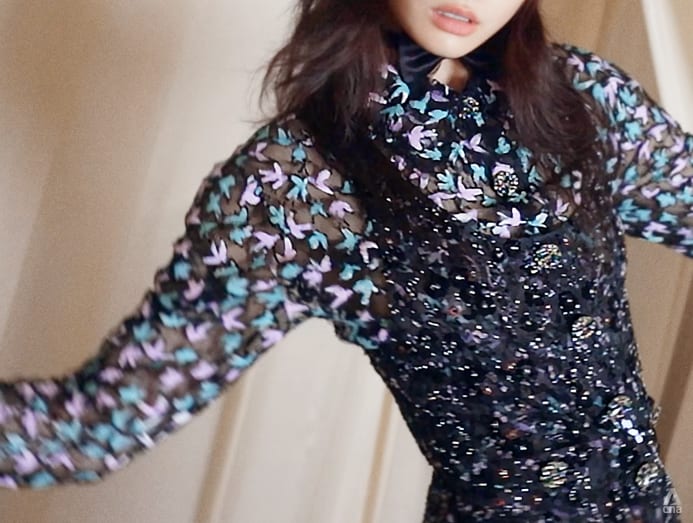 At the same time, Viard also introduced lightness and transparency to the collection with lace, taffeta, organza and silk tulle. These were heavily embellished with sequins to create patterns and motifs, or hand-painted all over with floral or animal motifs for a girlish, whimsical, spring-ready feel.
The animals at the centre of the theme play a game of hide and seek on a number of the looks, and are subtly but cleverly incorporated into each design. Take, for example, the dog motif used to compose a houndstooth-like motif, delicately outlined deer standing amid trees in a forest, and rhinestone cats seemingly camouflaged by colourful swirls of sequins. In fact, one might miss them if they weren't told where exactly on each outfit to spot them.
Worth noting is the fact that petticoats are a key component of many of the looks, even if they are not visible. Worn underneath skirts and dresses, they provide that all-important volume and flare characteristic of the majorette uniform.
Elsewhere, volume is created via massive amounts of flounces and days of painstaking work by the masters at Chanel's metiers d'art ateliers. On one dress, it took 120 metres of soft tulle gathered and laid in scrolls to create the flounced layers that adorn its bottom, while another dress with a full, ballgown-style long skirt required the use of a whopping 1,350 flounces, 750 circles of different sizes and 70 metres of organza in total.
The fresh and youthful vibe may, at first glance, belie the intricate work that went into these haute couture creations. But the attention to details and exceptional skills that they took are at once evident on a closer look, not least the playful takes on the animal iconography that was the starting point to it all.
Creative director Virginie Viard finds wonder and inspiration in the menagerie of animals in Chanel's legendary Rue Cambon apartment and the whole embroidery universe of the spring 2023 haute couture collection is turned towards the animal world.
All outfits from Chanel haute couture collection.
Senior editor: Serene Seow; art director: Chern Ling; senior producer: Jialin Lindsay; photography: Reuben Foong; fashion direction: Joshua Cheung; videography: Alycia Chong; set design: Shilin Lim; art assistance: Arthur Nauer, Elton Low and Germaine Ng; fashion assistance: Kelly Hsu; makeup: Peter Khor using Chanel Beauty; hair by Colin Yeoh and Dorene Low/Tress & Curvy using Hair + Lab; models Kaci Beh/Basic Models and Zi Qi/Mannequin