In China, millennials are rejecting luxury fashion brands in favour of niche labels
Niche foreign labels have been gaining traction in China for at least the past five years, but recently their appeal has accelerated. Here's why.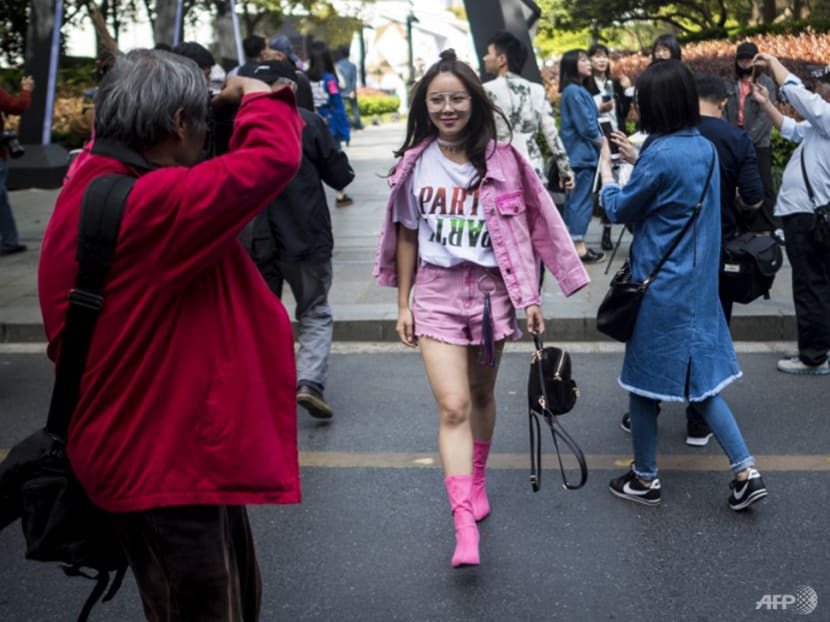 Keira Kong, a millennial Shanghai-based agent for South Korean music artists, is trying to explain her newfound love for French brand Coperni. "I hate looking like a million dollars. I want to look independent and smart – like I'm different, but not too different."
Since designers Arnaud Vaillant and Sebastien Meyer relaunched the label in 2019, Kong has built a small wardrobe of Coperni staples, including two dresses, two tops, three jackets and a pair of trousers. She commends the brand's tailoring, its signature asymmetric cuts and its prices (T-shirts sell for about 839 yuan on farfetch.cn, or S$178).
"The fabrics are never going to be at Chanel's level but their cut, their concept and the way they see women is never too girly," continued Kong. "They like strong, independent women and that's who I am trying to be."
Like Kong, a growing number of Chinese consumers, often part of the Gen Z and millennial cohorts, are using clothing and luxury purchases to differentiate themselves from their peers. Purchases are less motivated by the older generation's paradigm of "status" and more influenced by elements such as "identity statement", says Federica Levato, partner at Bain & Company in Milan. This shift has opened the way for lesser-known and edgier brands to provide a point of difference from the big luxury labels now ubiquitous in the country.
It's a trend that hasn't gone unnoticed by Wenyan Jiao, director of Shanghai and Wuxi-based multi-brand boutique Mushion, which stocks brands such as Cult Gaia, By Far and Nanushka. "[Young consumers] in first-tier cities such as Beijing, Shanghai and Guangzhou are showing increasingly personal characteristics in their fashion styles," she said. "The previous generations may not have such a high level of acceptance when it comes to trying things outside of their comfort zone."
Independent multi-brand boutiques, which have been expanding in the country since the late 2000s, have contributed to this shift. Their owners, such as Jiao, often studied abroad and are particularly attuned to international influences. Meimei Ding, chief executive of showroom DFO International, describes a new generation of buyers that are less attached to institutional logos and luxury brands and more interested in being tastemakers. "They want to be the selector of what's cool, rather than being led by very large brands," she said.
"I want to look independent and smart – like I'm different, but not too different." – Keira Kong
Niche foreign labels have been gaining traction in the country for at least the past five years, but recently their appeal has accelerated. The arrival of foreign e-commerce platforms hosting a wide variety of smaller labels have made these brands much more accessible across the country. Farfetch opened a digital storefront on Chinese e-commerce platform JD.com in 2019, and is now also available on Tmall, and Ssense launched its Mandarin site in 2018.
But a larger shift in consumer culture is also under way, says Adam Knight, co-founder of China-focused marketing agency Tong Digital. He points to how more nuanced ways of defining success are emerging in the country, beyond how much money one makes or what luxury brands one owns, and sees countercultural movements such as "lying flat", with young people pushing back against overwork and the country's gruelling "996" culture (working from 9am to 9pm, six days a week), as a sign of changing priorities and values.
"Young consumers are looking for more meaningful forms of creating self-identity through luxury purchases," he said. "It's an exciting time for a lot of smaller brands to get in and start building reputable businesses from the ground up."
This was the case for London-based Yuzefi, which was founded in 2016 and is known for its sculptural handbags. The label makes 15 per cent of its £5 million (S$9.2 million) in annual sales in China, but expects that share to grow to 25 per cent in the next 12 months on the back of its recent launches on e-commerce platforms Tmall and JD.com, and on social platform Xiaohongshu.
Founder Naza Yousefi credits the label's Chinese success to a combination of product uniqueness and good timing, with a bit of help from Atlanta-based Chinese blogger Savi of @savislook, who independently started to wear the brand in 2017, exposing the label to her four million Weibo followers.
"We do well in that territory because our products look so different from other brands and that gives us an edge," said Yousefi. Similarly, Beste Manastir, co-founder of Turkish leather goods brand Manu Atelier, says Chinese consumers were attracted by the unusual design and bright colours of her Pristine handbags.
The label launched in 2014 and quickly gained a following in the country, despite not having a direct presence in the market at that time (the brand is now sold on Tmall and JD.com, as well as six offline retailers). China now represents 34 per cent of Manu Atelier's wholesale sales and is head to head with the US as the brand's largest market.
"The previous generations may not have such a high level of acceptance when it comes to trying things outside of their comfort zone." – Wenyan Jiao
To have a shot with China's new savvy fashion consumers, uniqueness of design is paramount, but Ding of DFO Showroom stresses that it needs to be combined with good fit, price point, brand awareness and availability.
Pascal Conte-Jodra, managing director of Mugler, seems to have followed this formula when he approached the Chinese market three-and-a-half years ago as part of the larger relaunch of the brand under creative director Casey Cadwallader. The brand partnered with six stockists in key locations and focused on building relationships with local talents, such as creative consultant Leaf Greener and singers Jike Junyi, Bibi Zhou and Cai Xukun.
"More than in other countries, in China is about taking the time to build relationships with local insiders to really become that indie fashion brand that everyone talks about on a very personal level," said Conte-Jodra.
Jamie Freed, global vice-president, private client, at Farfetch, says the e-commerce site's highest-spending clients, who spend at least 100,000 yuan a year, have been particularly interested in niche South Korean and western brands since the start of the pandemic.
"They are starting to abandon what was the hot genre of fashion pre-pandemic – luxury streetwear – and we are seeing more of a diversification of the fashion portfolio, shifting towards typically feminine brands like Alessandra Rich and subdued minimalistic brands like Rick Owens and The Row."
These changes in consumer behaviour are most evident across first and second-tier cities, where luxury consumption has already matured, but Danni Liu, managing director of iBlue Communications and a former media strategist at Chanel, says social media are breaking down barriers between city tiers, with trends seeping through more easily. "It's not only sophisticated groups, it's a wider trend," she said.
"I definitely think that there has been a very strong trend going into this direction down to everyday consumers," added DFO's Ding, noticing how posts about niche brands on Xiaohongshu, a popular social commerce platform with more than 300 million users, are on the rise.
Similarly, Knight says that rather than trickling down from well-off, fashionable shoppers to a wider set of consumers, these changes are a generational shift happening across the board. Brands that rest on their laurels are set to suffer, he believes. "It's this generation and these consumers who are going to power all consumption for the next decade," he said.
"Young consumers are looking for more meaningful forms of creating self-identity." – Adam Knight
By Annachiara Biondi and Sherry Fei Ju © 2022 The Financial Times
Source: Financial Times/mm