What to wear this Chinese New Year: Orange, black and stripes all over
The much-anticipated spring season commences this February, and luxury fashion labels are preparing for an intensive focus on Chinese consumers by dropping celebratory tiger-themed capsule collections.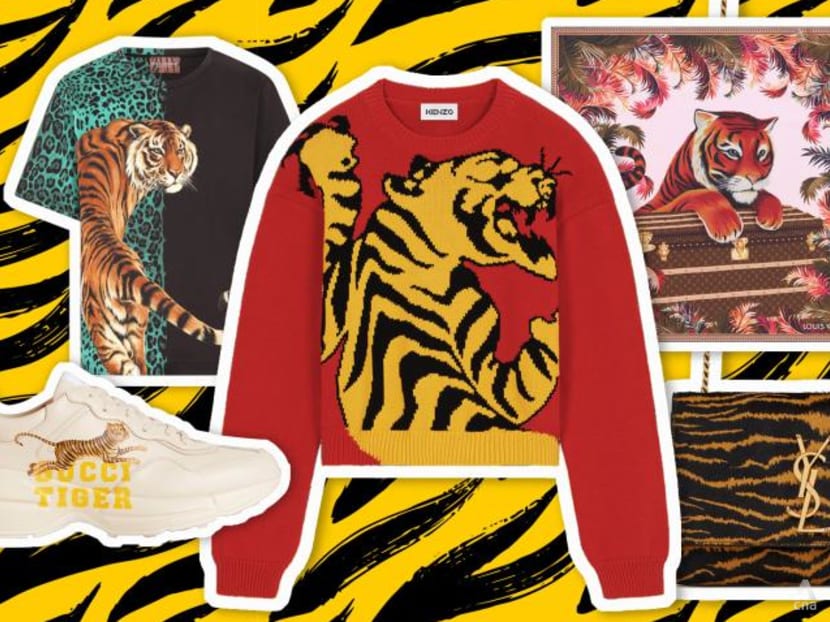 The Chinese zodiac sign of the tiger has long symbolised positive qualities of courage, confidence, and ambition. And these attributes are clearly reflected in the variety of bold styles presented by fashion designers this season.
Given the animal's iconic striped coat, the holiday has inspired plenty of labels to release capsule collections featuring the motif. From evocative and unmissable tiger-striped accessories such as jewellery and bags, to unabashedly bright red or orange garments that include shirts, sweaters and dresses, there is no surer sign that the big striped cat has arrived.
Italian label Fendi for instance presents its Spring Festival 2022 Capsule Collection that features a vibrant twist to signature Fendi elements. An orange tiger print animalier motif inspired by the Siberian tigers of China runs through the collection and brings to life the courageous and active personality of the zodiac sign.
Likewise, the house of Gucci presents Gucci Tiger, a wide-ranging selection of ready-to-wear and accessories. The designs feature various renditions of the animal – incidentally already a mainstay of Creative Director Alessandro Michele's collections and a reflection of his fascination with nature.
A new print, however, has been introduced: A reinterpretation of a late 1960s archival design that depicts the tiger against a colourful backdrop of greenery and flowers in a pastel palette.
Just like Gucci, the tiger has long been the signature animal for Kenzo. This year, the label launched a capsule collection featuring an exclusive vibrant print with the tiger naturally taking the spotlight. Presented as powerful and brave, the totem animal is incarnated in various forms across a complete line that includes accessories and garments for men and women.
Luxury stalwart Louis Vuitton has also jumped on the bandwagon and is ushering in the Year of the Tiger with a Precious Tiger capsule collection that is made up of textiles, fashion jewellery and myriad objets d'art for the home. While the French house has not delved into ready-to-wear for this collection, its accessories such as bracelets and bag charms will no doubt find their way onto outfits.
This Chinese New Year also sees Italian fashion house Dolce & Gabbana paying tribute to the animal long regarded as a symbol of good fortune in Chinese mythology. It is showcasing a selection of new prints that intertwine the iconic Dolce & Gabbana leopard print with the tiger pattern in different colours. Exuding a contemporary and dynamic vibe, the palette recalls the vivid colours of wild nature.
With the excellent array of options available, this Chinese New Year looks set to be a roaring success in the style stakes.
KEEPING IT DISCREET: FOR WOMEN
While the tiger may be all about boldness, ladies can keep things restrained by wearing just one tiger-themed item as part of their ensemble.
A pair of tiger-print denim shorts from Dolce & Gabbana is smart yet casual, making it perfect for a cosy reunion dinner. Those who prefer something more feminine can go for the tiger-print pleated silk skirt from Burberry. Patterned with an illustrated graphic, it is delicate and fluid, and can be easily dressed up or down.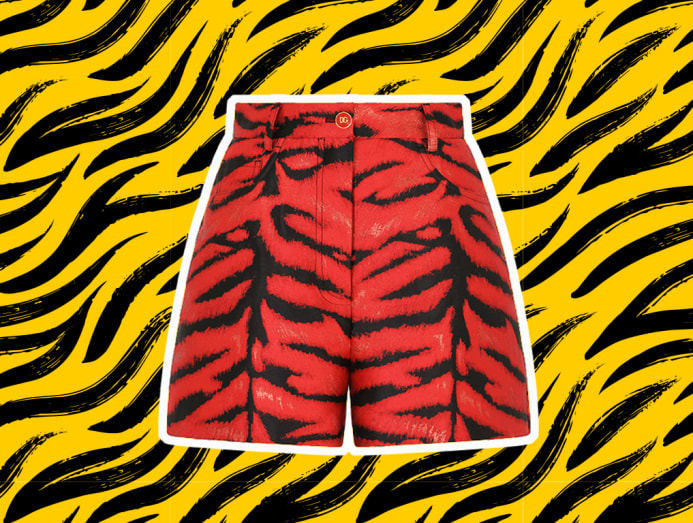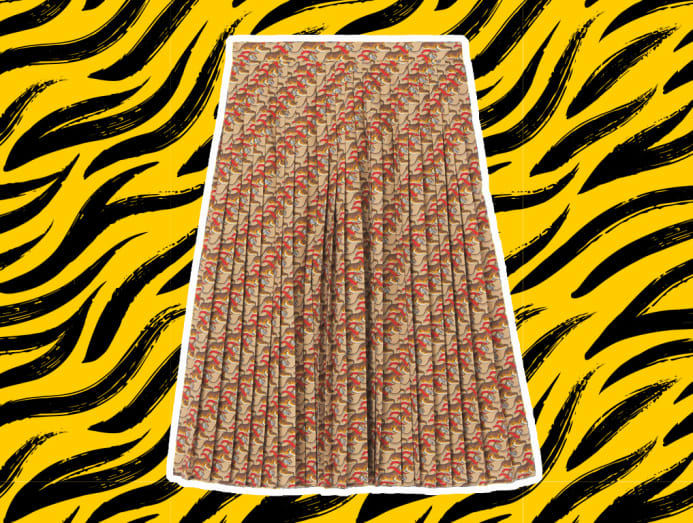 Featuring a similar look is a tie-neck blouse with a tiger and floral print from Hugo Boss. Distinctive yet demure, its pattern is contemporary without being overly bold. Not just pretty to look at but ethically responsible too, it is made from at least 60 per cent certified cellulose fibres that are sourced from responsibly managed forests.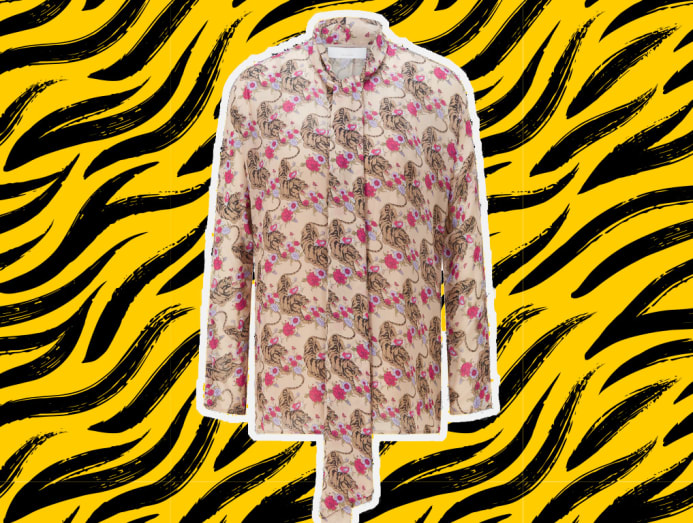 For a dressier option, an outfit from Saint Laurent in lame velvet jacquard is a discreet adherence to the New Year dress code. Featuring a round neck and three-quarter length sleeves, it is modest yet eye-catching and adds a much-deserved dash of glamour to the festivities.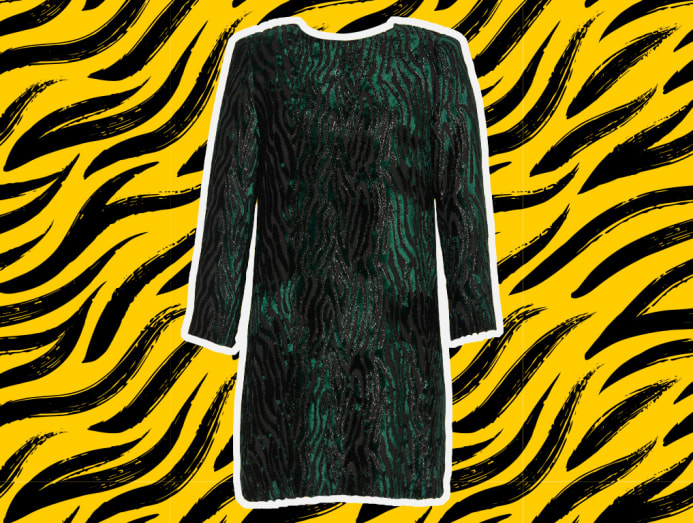 For something delicate and feminine, there's the Gucci Tiger Horsebit 1955 mini bag in off-white leather and rendered in Gucci's new print. The tiger, a motif often seen in Alessandro Michele's collections, is an expression of the House's fascination with the wild beauty of the natural world.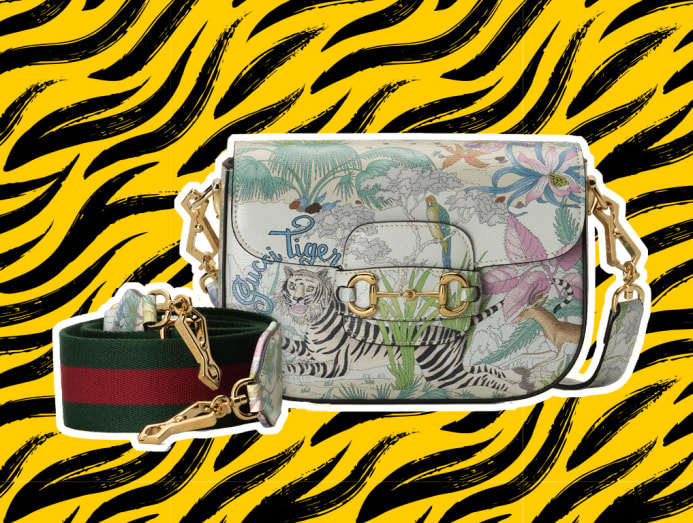 On the other hand, you've got a tote with a bit of oomph: A shoulder bag made from calfskin from Saint Laurent that is decorated with a distinctive tiger pattern and interlaced metal YSL initials. The chain shoulder strap gives it a modern look, and the interior is perfectly sized to hold hongbaos.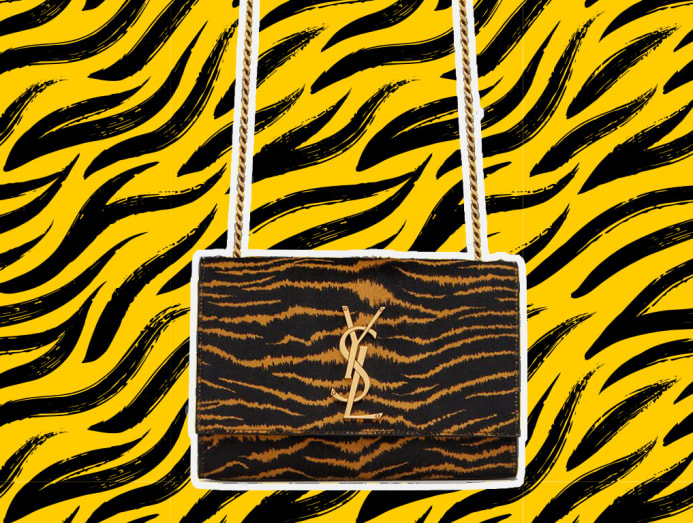 Eschewing prints or patterns is Bottega Veneta's subtle nod to the festive season. Its Arco bag crafted out of intrecciato slouchy leather and in a vivid tangerine hue is an unmistakable acknowledgment of the auspiciousness of the season.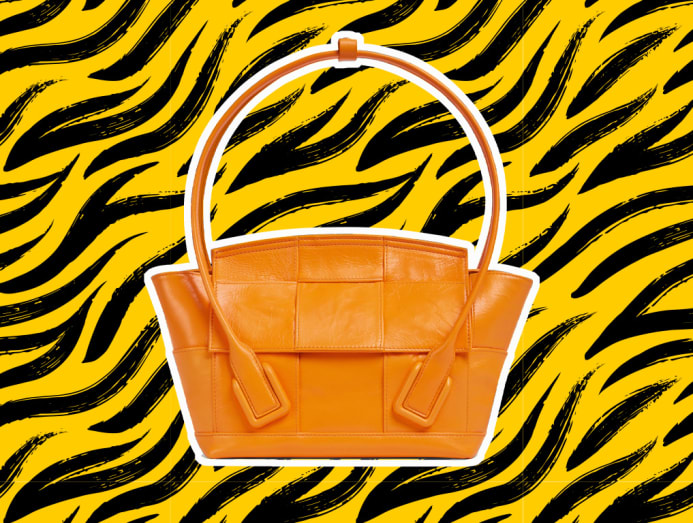 And finally, the elegant My LV Tiger necklace pays tribute to the revered symbol of the Chinese New Year with the gold-coloured hardware signed with LV Initials, while an LV Circle adds a subtle signature to the adjustable chain. This pendant necklace is especially striking when paired with the matching bracelet.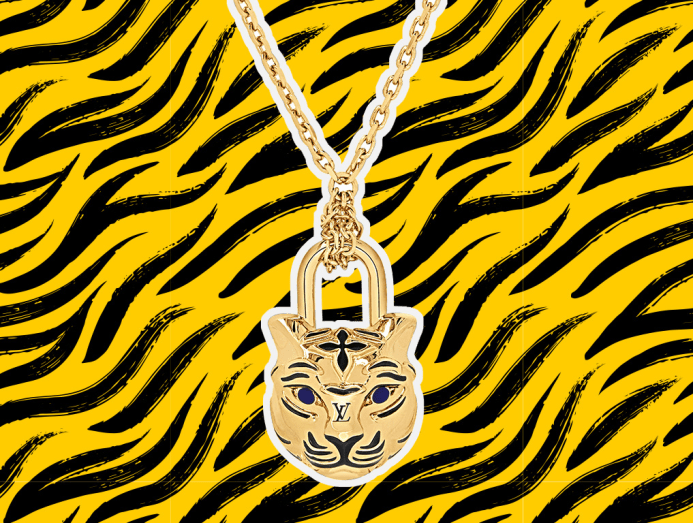 KEEPING IT DISCREET: FOR MEN
For Saint Laurent's Chinese New Year capsule collection, designer Anthony Vaccarello shows his stripes by playing with the motif of The Pink Panther masquerading as a tiger, swapping the cartoon character's famous pink body with an orange and black colourway. Should your festivities be a casual affair, this humorous take on the zodiac will be a definite conversation starter.
However, should street style be frowned upon, opt for the mandarin-collar shirt from Louis Vuitton, which is cut from Oxford cloth and adorned with tiger motifs on the chest and back hits the mark.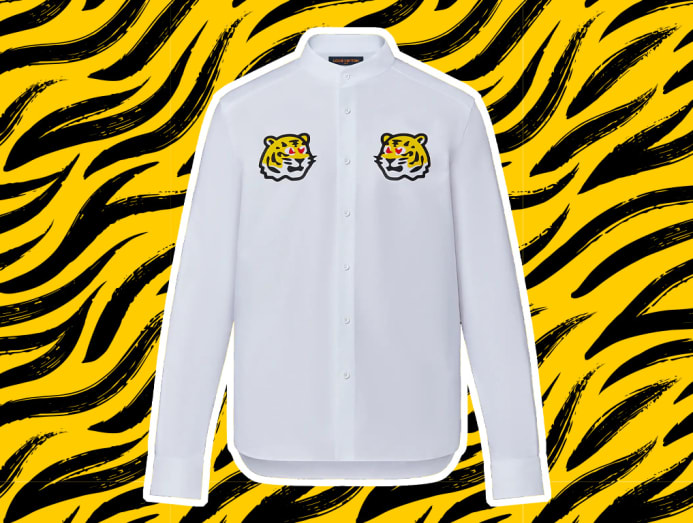 The designs are screen-printed for added texture and a more authentic finish, and the look can take you from visiting your in-laws to the bar (which will be much needed afterwards, we know). Finish the look with a pair of straight-cut denim trousers from Kenzo. The discreet tiger print keeps it versatile so you can easily dress this up or down while still sticking with the theme.
Maintain the casual yet smart vibe with a pair of Lunar New Year edition Rhyton sneakers from Gucci. Characterised by the printed motto "Gucci Tiger", these kicks are crafted out of leather and celebrate the animal of the year with a dollop of fun. Just like the Arco bag, Bottega Veneta changed its signature green to an orange hue and added a subtle tiger pattern to its Cassette intrecciato leather bag for its Chinese New Year capsule.
Likewise, you can opt for the orange coloured leather card holder from Bulgari. To celebrate the season, the brand has introduced an exclusive embossing service featuring a brand new symbol of a tiger. This hot stamping service is available for embossing on selected leather goods and accessories, and makes for a cute way to update your wardrobe essential.
And if you want to raise the style stakes without being loud, you can't go wrong with a bomber jacket from BOSS. Cut to a regular fit, this zip-up jacket is crafted in cotton-blend velvet with stretch and embossed with a discreet yet distinctive tiger pattern for impact. Gold-tone trims and a zipped sleeve pocket complete the look.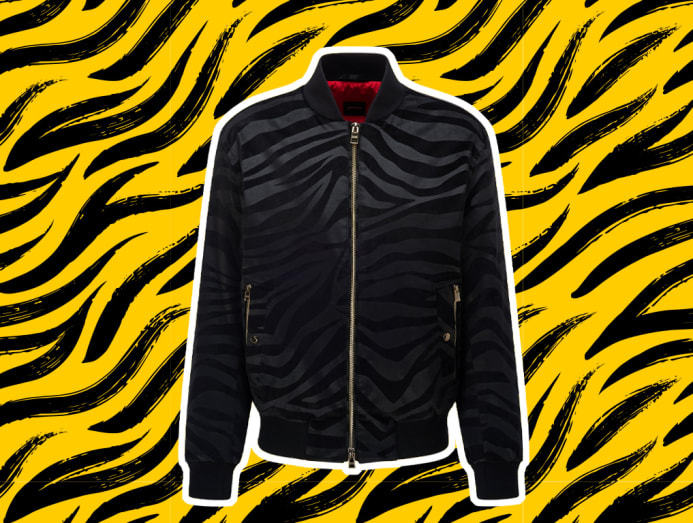 As for Balenciaga's super cute socks in beige with black tiger stripes – well, not more needs to be said.
LOUD AND PROUD: FOR WOMEN
There are times that call for a statement to be made – or for your authority to be asserted. And what better reason than the Year of the Tiger to leave a memorable impression?
For a casual get-up, you can ensure that your family reunion dinner this year will be immortalised with Burberry's Tiger Graphic Technical Wool Jacquard Dress. Essentially a short-sleeved knitted polo shirt dress in technical wool, it is patterned with a fun illustrated graphic of the tiger.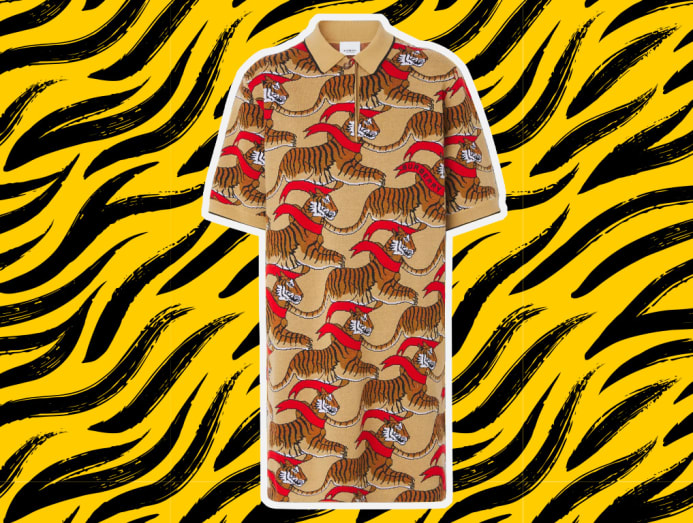 Or go all out with a ferocious roar with a Kenzo sweater. Featuring a powerful depiction of an orange tiger against red, even your grandmother will surely approve of its auspiciousness.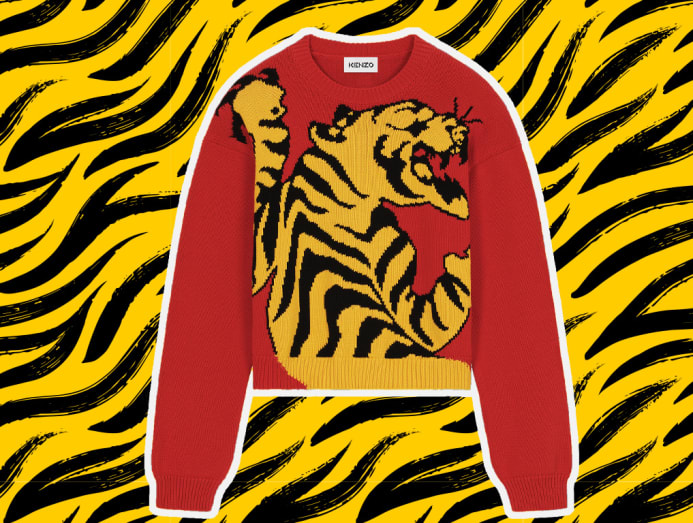 If you prefer to go with a striped pattern, an outrageously bold yellow and black tiger print skirt from Saint Laurent will fit the bill. Featuring a high rise, a tie waist and a straight fit, it not only commands attention but feels comfortable as well.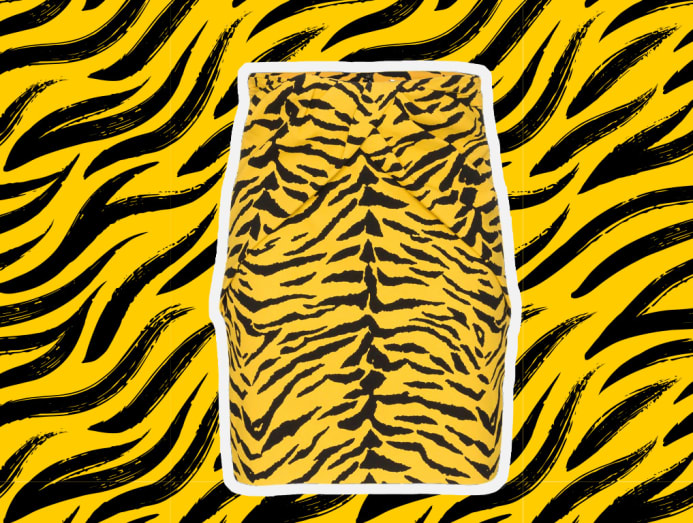 If separates aren't your cup of tea, you can opt for a short tiger-design brocade dress by Dolce & Gabbana. While it may be modest with its hemline and silhouette, its daring print is not for the faint-hearted and is perfect for those hoping to make a stand with their in-laws.
But what's an outfit without a bag? A tiger themed hourglass mini handbag with chain from Balenciaga comes in bold orange and black stripes printed on Arena lambskin and is given an edge with the aged silver hardware.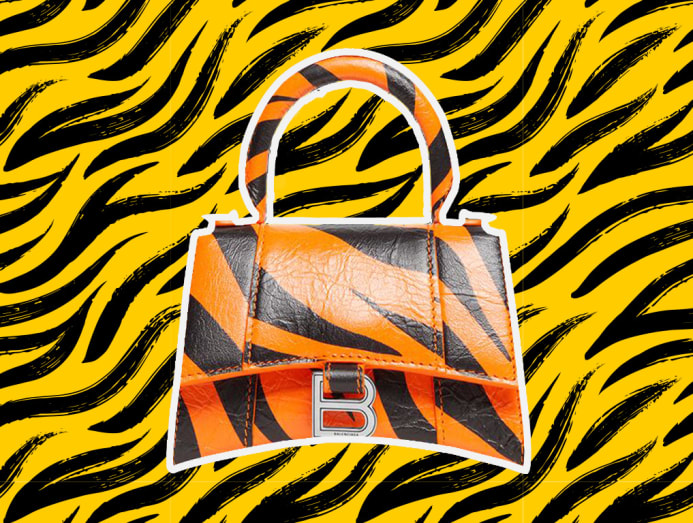 If, however, a classic Fendi baguette is your thing, you'll adore its iconic medium size version made of jacquard fabric featuring a tiger motif in black and yellow. Embellished with an FF fastening with black plexiglass insert, the bag can be carried by hand, or worn across the body, freeing up your hands for handing out mandarins and hongbaos.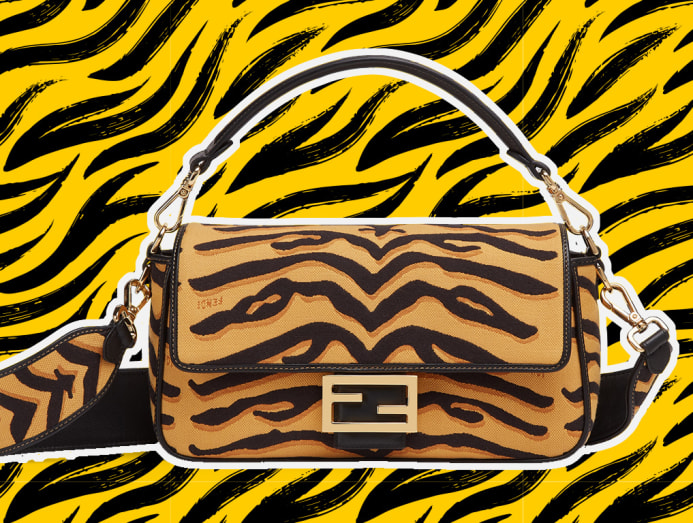 Round off the look with tiger-print pony effect leather peep-toe mules from Saint Laurent made of calfskin. Sexy without being vulgar, it is surprisingly versatile and will continue to work well with the rest of your wardrobe once the Lunar New Year is long past.
LOUD AND PROUD: FOR MEN
The Chinese New Year isn't a time for subtlety, and this casual Kenzo sweater makes that point clearly with its vibrant red tiger motif contrasted against a dark navy. If you want to make an even bigger impact, go with a T-shirt from Dolce & Gabbana. Featuring a realistic tiger motif, it is accompanied by a neon green leopard print on one half. A part of the capsule collection for the season, it also features a matching trouser.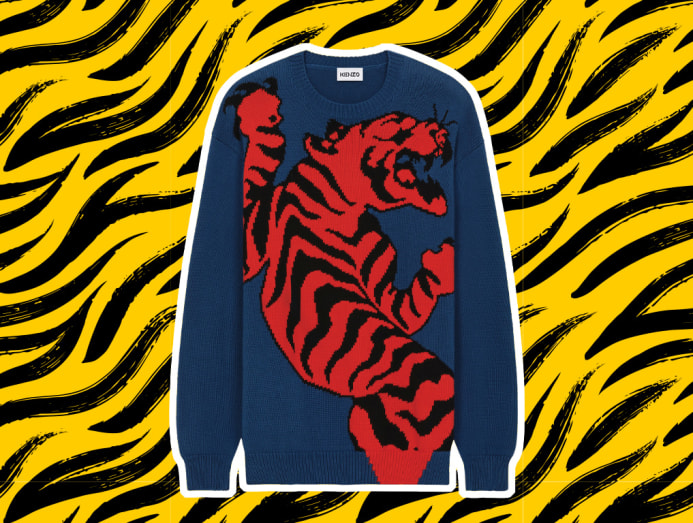 Keep your essentials handy in a 3D Tiger Motif Leather Crossbody Bag from Burberry. Delightfully playful, it features a tiger face made of different coloured leather and will no doubt be a hit with the nephews and nieces, so you might want to hold on to it tight. If you need more storage you can go for a tiger striped backpack from Versace, crafted from coated canvas with an exclusive tiger print. It is finished with leather trim and adjustable shoulder straps.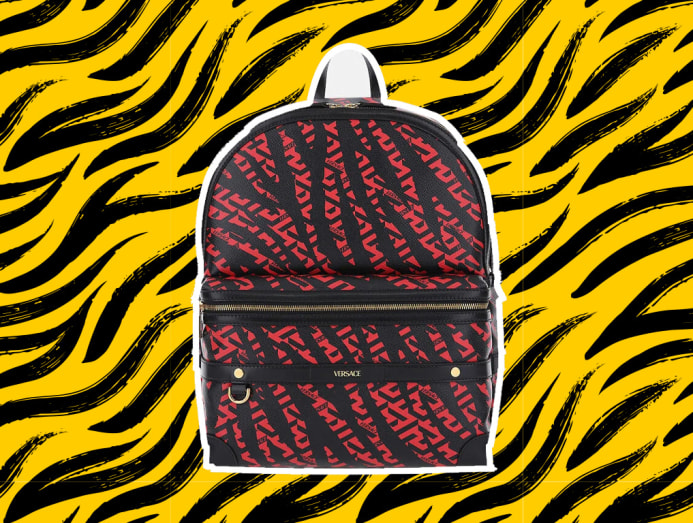 However, if shirts are the only accepted dress code at your grandmother's, you can opt for an eye-catching buttoned short-sleeve shirt from Saint Laurent. Made entirely of silk and embellished with metallic coloured dots, it will ensure you stay cool in spite of the barrage of invasive personal questions you'll have to endure from relatives.
Louis Vuitton also pays homage to the Chinese New Year with the Precious Tiger square in silk. The majestic animal is depicted in a stately pose resting on the iconic LV trunk, surrounded by a swirl of jungle leaves. This delicate silk design has been crafted using an innovative double-sided print technique.
And should anyone get too annoying, kick them aside in style with a pair of Tiger Print Cotton High-top Sneakers in cotton and sheep leather from Burberry. It's so bold, no one will dare step on your toes. Should you require a dressier option for nicking off to meet friends after the day is done, Derby shoes in patent and tiger-print pony effect leather lace ups definitely will do the trick.