How an 80s icon – Chopard's sporty yet elegant St Moritz watch – was reborn
Third-generation company owner Karl-Fritz Scheufele found a vintage St Moritz watch on his father's desk, realised its modern appeal, and decided to give it a new lease of life as the Alpine Eagle collection.
Looking back on one's first projects rarely leads to anything more than a slight cringe or a flush of nostalgia. But for Chopard's Karl-Friedrich Scheufele, it wound up becoming a whole new business opportunity for the family-owned business.
It began in 1980, when a 22-year-old Scheufele designed his very first watch, the St Moritz, named after the resort town in which Chopard's flagship boutique was based. Likely inspired by the would-be icons Gerald Genta had designed in the 1970s – Audemars Piguet's Royal Oak, IWC's Ingenieur and Patek Philippe's Nautilus – Scheufele convinced his father Karl that the St Moritz would be perfect for the current zeitgeist, where people were beginning to demand a new category of style: Sporty chic.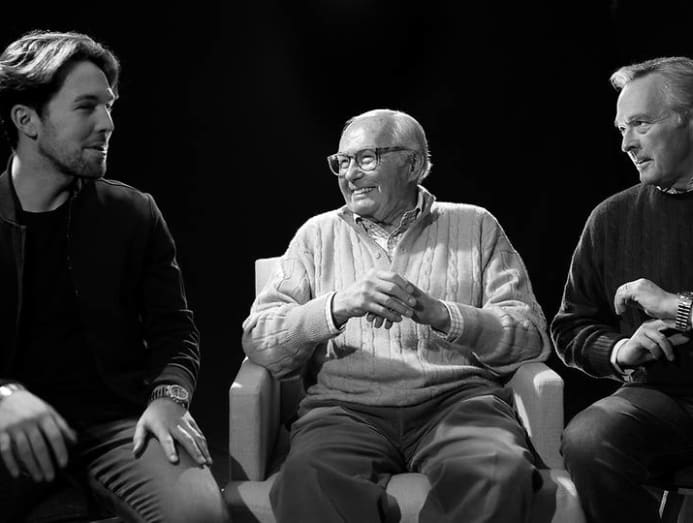 "(Karl-Friedrich) wanted to launch a steel watch at a time when Chopard was working exclusively with gold," shared the Chopard chairman. "When I reminded him of that he answered: 'But I want to work steel like gold, and that is precisely what is so innovative about this project.' He had a vision, and a typically entrepreneurial approach. When I looked at him, I saw myself at the same age and decided to accept the challenge."
Karl gave the go-ahead and the St Moritz became Chopard's first steel watch, though there were options in gold and bi-metallic steel and gold, as well as variations with complications and diamonds. In addition to featuring trendy exposed screws and an octagonal bezel, it was built to be water- and shock-resistant and available for both men and women.
Unfortunately, the St Moritz was eventually discontinued, and the focus went to the unquestionably dressy L.U.C collection, the sporty Classic Racing range and numerous metiers d'art and high jewellery references. There was no longer anything in-between.
Until now, that is. It's been almost 40 years since Scheufele, now Chopard's co-president, talked his father into giving his idea a chance, and today it is Scheufele's own son, Karl-Fritz who had to do the convincing. Not for an original watch design, but for the rebirth of the St Moritz. "About five years ago, I found the St Moritz watch on my father's desk," said Karl-Fritz. "I was immediately taken with its fresh design, its functional screws, its incredibly comfortable bracelet that feels like a second skin."
But Scheufele wasn't particularly interested in his son's offer. "To him, this watch was an icon and you don't touch an icon," Karl-Fritz continued. "But I persevered and asked my grandfather for help. Together we worked on the first prototype and when we presented it, my father's face lit up. He immediately saw the potential of the watch and agreed to launch the project."
With a backstory like this it could have been tempting for a lesser brand to call it something eye-rollingly masturbatory, but Chopard is above all that. The new collection would be called the Alpine Eagle. The maison has long believed in sustainable luxury, and has invested heavily in responsible sourcing of raw materials, such as Gemfields emeralds and Fairmined gold, as well as philanthropic ventures.
Similarly, the launch of the Alpine Eagle coincides with the forming of the Eagle Wings Foundation, a multidisciplinary environmental project designed to protect the beauty of Alpine biotopes. Its first project, the Alpine Eagle Race, kicked off this September and it allowed participants to observe images taken by a camera strapped to an Eagle which launched from five Alpine peaks spread over five countries.
The initiative is lovely, but so is the watch. The Alpine Eagle retains its predecessor's eight exposed screws and Roman numerals, but its overall design has been streamlined to suit modern sensibilities. The bezel is round and the brass dial, inspired by the an eagle's iris, is available in blue or grey with a sunburst motif, though diamond-set versions feature mother-of-pearl dials. The bracelet uses satin-brushed wide links and sides that contrast with the polished central caps, and is fastened by a steel triple folding clasp.
Though there are models in ethical rose gold, it's worth noting that the steel ones use Chopard's proprietary Lucent Steel A223, an alloy that required four years of research and development to produce. Thanks to a special re-smelting process, Lucent Steel A223 is hypoallergenic, 50 per cent more resistant to abrasion than conventional steel and has far fewer impurities. This last quality gives the metal a brilliance and brightness comparable to gold.
Powering the 41mm models is the COSC-certified 01.01-C calibre, a self-winding movement with a 60-hour power reserve. The 36mm models are fitted with the 09.01-C calibre that has a 42-hour power reserve, and is actually one of the smallest movements to be certified by the COSC. Both can be admired through the watches' exhibition case backs.