Blast from the past: Do you recognise this historic Cartier shape?
Named for its resemblance to a counter service bell, the Cloche de Cartier is back with more charm than ever.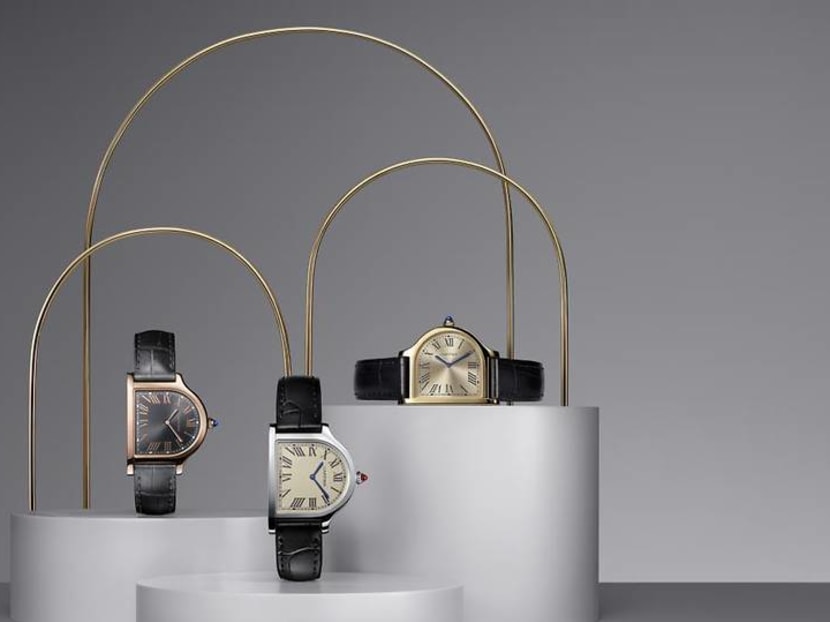 There are generally two camps when it comes to how men's dress watches look. They either stick to traditional shapes – round, square, rounded square, rectangle etc – or they look Lovecraftian. 
Cartier, which has built its empire by being somehow rebellious and mainstream at the same time, leverages this skilful balancing act by standing proudly in the middle, offering numerous watches that play on familiar shapes without being too predictable or outlandish.  
After the success of watches named after things like tanks and bathtubs, the brand releases another common shape for this year: The bell.
The Cloche de Cartier (cloche meaning "bell" in French), is part of Cartier's Prive collection, which means it is not an original design, but one that was pulled out of the archives for another shot at idolisation. 
Adding to its quirky shape is a watch face that's been turned on its side (90 degrees to the right), allowing the wearer to tell the time just by extending the arm, as well as remove it and use it as a tiny desk clock.
Long before it became the fifth addition to the Prive family, the Cloche de Cartier first appeared in the form of a diamond and onyx watch-brooch in 1920, and became a proper wristwatch a year later, dazzling in platinum and diamonds. It was discontinued after 1970, but has reappeared in limited editions in the decades that followed, in variations that included everything from quartz movements to Arabic numerals.
This year's revival comes in two flavours: Classic or skeletonised. The former is offered in yellow gold, pink gold or platinum, and the gold versions feature satin-brushed dials and crowns set with sapphire cabochons. The platinum reference channels a more vintage energy with a grained, cream-coloured dial, and its crown is set with a ruby cabochon. Each metal is a numbered and limited edition of 100.
If those feel too restrained, there are three skeletonised options to choose from – in pink gold, platinum or diamond-set platinum. All three have blued sword-shaped hands, but the pink gold model has a sapphire cabochon, the platinum has a ruby, and the gem-set piece has a diamond set in the crown. Only 50 pieces of each reference have been made.
At 37.15mm by 28.75mm, the Cloche de Cartier runs a little small so the hand-wound 1917 MC manufacture movement and its skeletonised counterpart, the 9626 MC (both of which come with 38-hour power reserves), were chosen for this range. The Cartier-style refinement combined with the unusual shape gives the Cloche a bit of attitude, so it's best for those who want to add just a little flair to the their usual formal getup.