Red, the colour of danger, luck and sex is making a full-blooded return
It was the early signs of autumn that first hinted at it: Russet leaves, fairytale toadstools and a hedgerow bursting with garnet-coloured blackberries. Then came a flash of Ruby Woo lipstick, the swish of a scarlet Dior dress and the clack of Versace's crimson platform heels. Red, an age-old signifier of the changing seasons, has returned – as much in our wardrobes as out in the natural world.
The shade has always been ubiquitous, but its prevalence on the AW22 catwalks points to a new era of sartorial authority. According to fashion search engine Tagwalk, the number of "total red" looks has increased by 90 per cent compared with last year, while searches for the colour are up by 88 per cent. Clare Coulson, colour strategist at WGSN, traces the current fixation to a "craving for a new sense of happiness". "Bright red in particular can induce a feeling of excitement by raising our heart rate," she says.
In Milan, Dolce & Gabbana took red to the future, offering a virtual landscape of neon lights, towering skyscrapers and spidery avatars. Using cues from video games – who hasn't been tickled by Fortnite's collaborations with Balenciaga or Moncler? – they added oomph to sharp-shouldered silhouettes with carmine latex and textured red leather. Even the invitation arrived in a glossy red box with a suspender belt and stockings.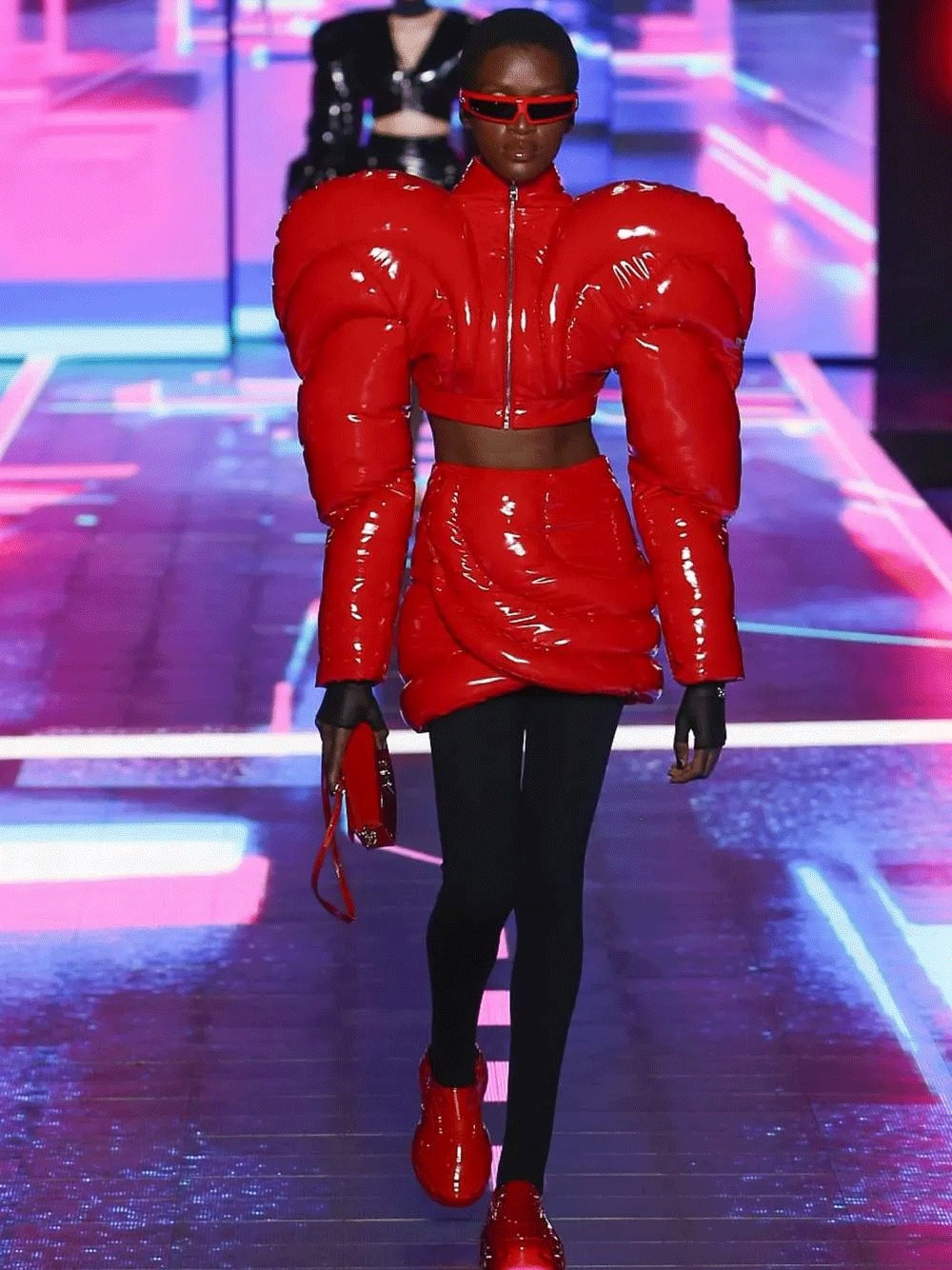 After all, red's oldest connotation? Sex. As Valerie Steele, director of the Museum at FIT and author of The Red Dress, points out, such symbolism is a double-edged sword. "You've got a multiplicity of negative ideas about red in connection with female sexuality," she says. "Passion [is] something desirable yet dangerous."
The decision to embrace this "danger" can be liberating – see Versace's vampish collection of candy-apple corset dresses with sheer panels and sexy ruching, part of a wider effort to embody "new-generation attitude". But it also can be vilifying: In Alexander McQueen's seminal 1998 Joan collection – all blood-red sequins, tailoring and lace – the designer presented his final look inside a blazing ring of fire, a nod to the execution of Joan of Arc. (In western culture, red was once synonymous with sin, witchcraft and heresy.) You could see McQueen's influence in the latest show by Italian brand Act No 1, where a model emerged in head-to-toe red paint. Founders Luca Lin and Galib Gassanoff described the look as a "birth of a new race".
Other places that you can admire red: In the Rothko-esque paintings of Reginald Sylvester II, currently on show at the Harvey B Gantt Centre for African-American Arts + Culture; on the headband of Chloe Kelly, who scored England's winner in the Women's Euro 2022 final; and in the prairie-style dress of Pearl, the axe-wielding heroine of Ti West's new slasher of the same name. Worn by actress Mia Goth, it isn't dissimilar to the ruffled crimson styles by Molly Goddard, who closed her show with a pair of vermilion lace-up boots.
Max Mara creative director Ian Griffiths also looked to the art world, this time to the palette of Swiss artist Sophie Taeuber-Arp. Closely affiliated with Dadaism, which began during the first world war, Taeuber-Arp used red to accentuate the lines of her geometric compositions where logic and order worked as a protest against the absurdity of war. Griffiths matched the artist with sleek, wearable shapes and colours punctuated with three total-red looks, including a floor-length knit dress and balaclava. "Red is pure, absolute and authoritative," he says.
The master of red, of course, is Valentino Garavani, who became enthralled with it after seeing the scarlet costumes of the opera Carmen in Barcelona. "It's my good-luck charm," he once said, alluding to the treatment of red in China, where the colour has symbolised luck and prosperity for centuries. Valentino took red and created a new uniform for women around the world, a legacy that current creative director Pierpaolo Piccioli has continued. In his autumn couture collection – 102 looks dedicated to the maison's history – a defining motif was a giant taffeta rose, which adorned everything from dresses to shirts. As a symbol it offers beauty, passion – and a little bit of danger. It's red all over.
By Rosanna Dodds © 2022 The Financial Times.
Source: Financial Times/bt