Jazz up your watch collection with these eye-popping coloured dials
Chopard, OMEGA, TAG Heuer and Richard Mille have one for every mood and occasion.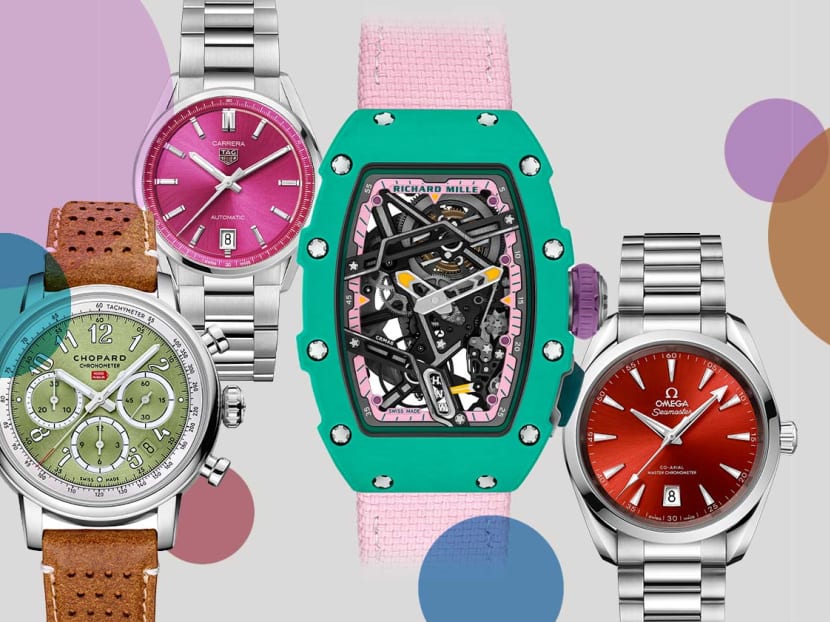 Pantone may have declared Viva Magenta the colour of the year for its expression of strength and bravery, but it seems the watch industry disagrees. If anything, the latest showing of wrist-takers for 2023 indicates that fearlessness lies not in limiting yourself to a single hue, but in taking pleasure in the array of coloured dials that watchmakers have thoughtfully put forth for your enjoyment.
While blue dials, a perennial favourite, have made a solid comeback once again — almost every brand from Audemars Piguet to Zenith has contributed to the theme — there has also been an enthusiastic embrace of colours that span rich, jewel tones to easy-going pastel. The results are collections whose looks have been transformed and revitalised for the effort.  
CHOPARD'S MILLIE MIGLIA CLASSIC CHRONOGRAPHY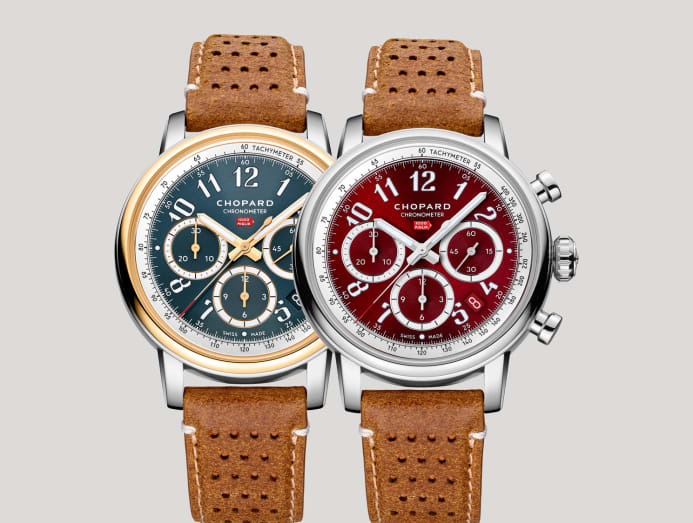 The lush hues found in Chopard's new Mille Miglia Classic Chronographs, for example, look to automotive bodywork and interiors. Verde Chiaro (light green), Rosso Amarena (cherry red) and Grigio-Blue (grey blue) each come with a circular satin-brushed finish, while Nero Corsa (racing black) features an engine-turned finish. A domed glass-box sapphire crystal adds to the watch's retro looks with its 1950 style, opening up the dial so you can better appreciate its details.
All these add up to an unsurprising source of inspiration considering the collection's celebrated namesake event: The 1000 Miglia, an annual Italian classic car race of which Chopard has been a world sponsor and official timekeeper since 1988. Other automotive elements found on the watch include the watch pushers that bear a motif that recalls brake pedals and a crown that features an increased number of notches for a more ergonomic grip — a feature that drivers will undoubtedly appreciate.
Following the year's trend for smaller case sizes, these new chronographs are just 40.5mm (the collection's existing models range from 42mm to 44mm). Also worth noting this the fact that these chronographs employ Chopard's exclusive Lucent Steel, an alloy that is 50 percent harder than conventional steel and responsibly produced with 80 percent recycled content.
OMEGA'S AQUA TERRA 150MM – SHADES
In keeping with the collection's name, the land and the sea provide the palette inspiration for OMEGA's new Aqua Terra Shades collection. Featuring 12 new references, including two gold models in Omega's exclusive Sedna and Moonshine golds, this year's additions can be found in 38mm and 34mm, and nine new colours. And what a difference the latter has made.
The Aqua Terra collection, first launched in 2002, has gained a reputation for its reliability and distinctive pared-down looks that recall design elements found on yachts. With this newest collection, you get the same reliability that comes with its Co-Axial Master Chronometer Calibre 8800, but with an added sportive vibe that provides a perfect balance of function and fun.
In the 38mm models, colours like Atlantic Blue, Bay Green, Saffron and Terracotta find their counterparts in the 34mm editions, with Sea Blue, Lagoon Green, Shell Pink and Lavender adding a subtle difference to the range. (Sandstone appears in both sizes.) Made from brass, the dials use both PVD (Physical Vapor Deposition) and CVD (Chemical Vapor Deposition) technologies before a layer of lacquer, and a sun-brushed finish enhance the colours' intensity.
TAG HEUER'S CARRERA DATE 36MM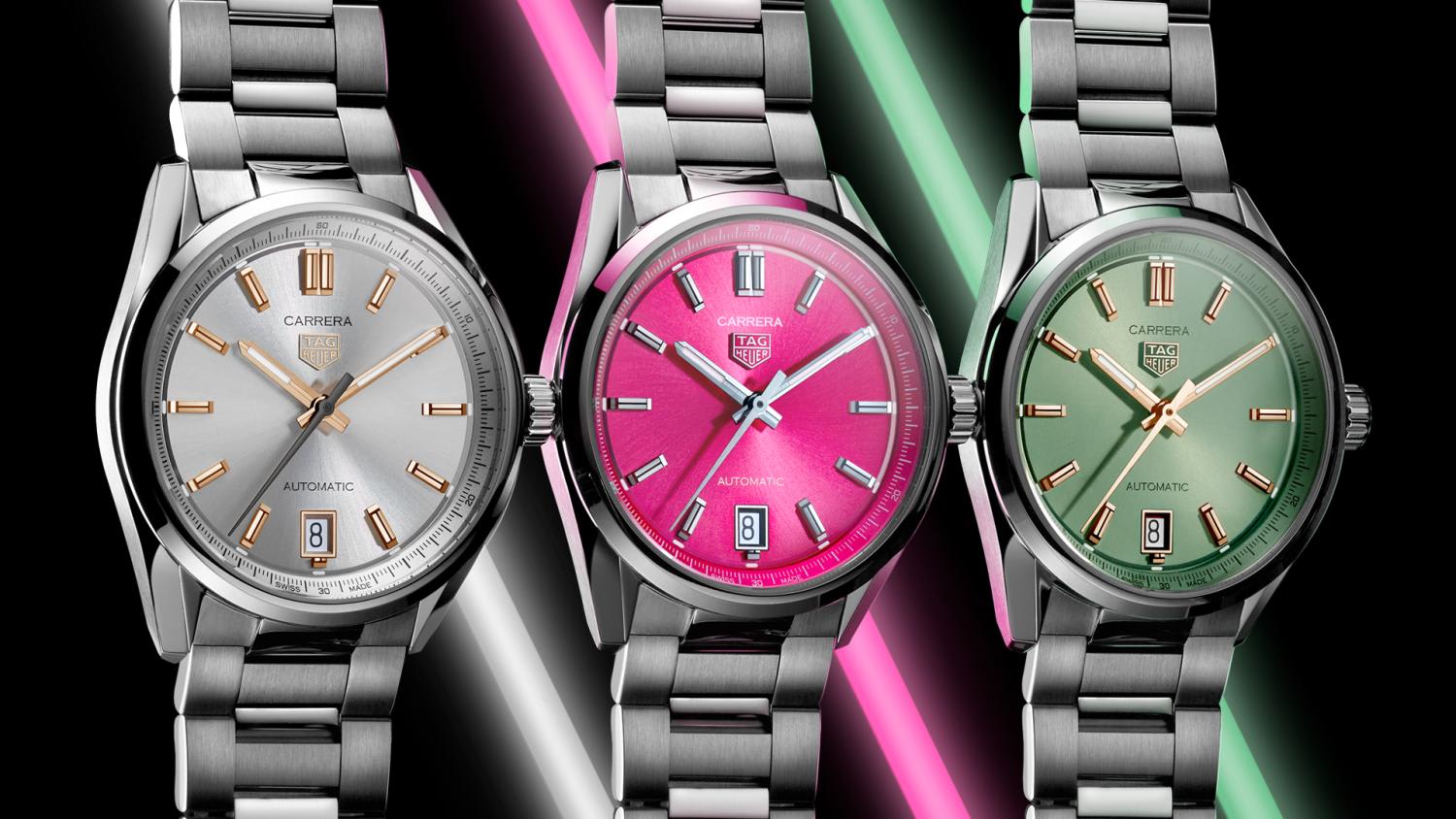 Over at TAG Heuer, it's the brand's beloved Heuer Carrera Date that takes the spotlight — and with good reason. Named after Mexico's Carrera Panamericana road race of the 1950s, the original Heuer Carrera was first launched in 1963, making this the year that the auto-racing collection turns 60. While the Carrera Chronograph 60th Anniversary Edition watch was released earlier in January, these sports-meet-spunk Date models continue the celebration with admirable gusto.
Returning to the original size of the OG Heuer Carrera, the Carrera Date 36mm comes with a clean, sun-brushed dial in warm silver, signature blue, pastel green and hot pink. These coloured dials alone would have completely transformed the watch's looks, but TAG Heuer took it two steps further. The watch's profile has been tweaked for a more ergonomic wearing experience: The case is 2mm thinner than existing models, there's a new tapered bracelet design, and the crown now sits squarer to the case edge. It has also been equipped with the Calibre 7 Automatic movement, which offers a 56-hour power reserve instead of the 38 hours of its previous Caliber 5 movement.
RICHARD MILLE'S RM 07-04 AUTOMATIC SPORT
Not one to do things the usual way, Richard Mille offers a vastly different take on the colour trend with its new range of RM 07-04 Automatic Sport watches — if only because the timepiece's skeletonised movement has meant pushing colour to the watch case instead.
There are six colours to choose from: Black in Carbon TPT, and cream white, mauve, salmon pink, green or dark blue in Quartz TPT. But what's astounding is that the entire watch, including its Velcro strap, weighs just 36g. That's equivalent to five S$1 coins.
It's not an unintended feature considering the RM 07-04 is billed as the watchmaker's first-ever women's sports watch. (Although considering its 30.5 x 44.95 x 10.35mm size, it would do just as nicely on a male wrist as well.) And for this grand debut, Richard Mille spent three years developing the watch's skeletonised automatic movement, the CRMA8 calibre, with hours, minutes and function selector. Titanium makes up the movement's baseplate and bridges to ensure assembly rigidity. It has also been subjected to rigorous tests to confirm its resistance to 5,000g's of acceleration — just so you have a watch that will make you proud on and off the playing field.
So why limit yourself when there's a rich spectrum of dial options to choose from? It's time to strap up and have some fun.