Pandemic comforts: The best roomy trousers for ease of movement
A relaxed silhouette is clearly the new order of the day, and the roomy trouser is having its moment. Here are 15 of the most versatile numbers that will work from management meetings to dinner dates.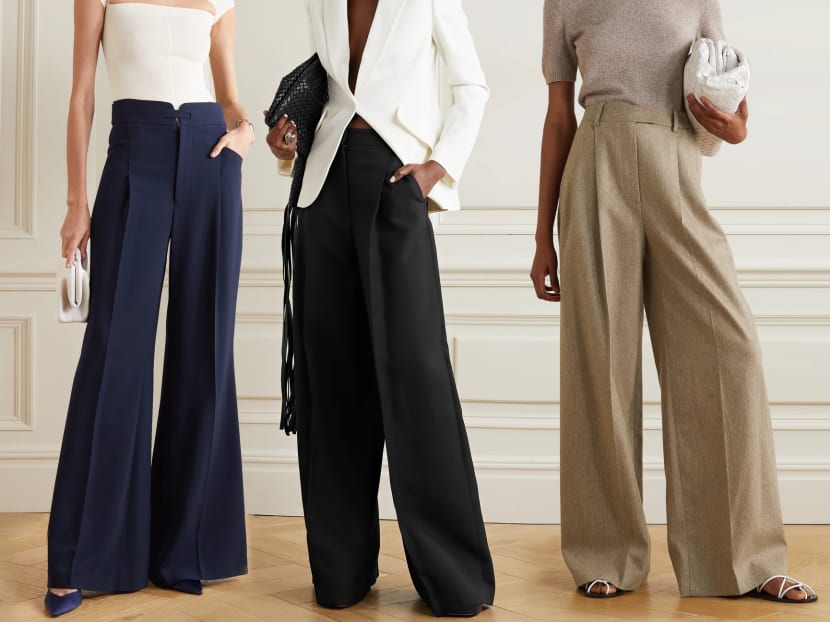 The sartorial freedom we enjoyed while working from home saw us all living our days in linen shorts or silk pyjamas for far longer than we would like to admit. Now, with in-office work arrangements and social lives slowly flickering back into sight, we need to be accustomed to the idea of actually having to dress up to head out again.
But if the thought of having to squeeze into skintight jeans or snug high-waisted A-line skirts is a frightful prospect, fret not because you are not alone; now, more than ever, we crave feeling relaxed and free.
It turns out that the year of the pandemic has had an effect on fashion designers too. Aware that customers are seeking comfort, brands appear to have doubled down on the capacious. Oversized tailoring was seen on the runways and in look books from Gucci to Marni. Waistlines are relaxed and lowered while blazers have gone loose and slouchy.
Pants, too, have taken a turn for the baggier. A relaxed silhouette is clearly the new order of the day, and the roomy trouser is having its moment, not that it was ever out of fashion. Wonderful for offering a sense of easy mobility and lightness, it's encouraging however, to observe the many iterations that have surfaced.
From linen to leather, and frayed hems to strict cuts, the baggy trouser trend nevertheless dictates a relaxed silhouette. Its beauty lies in its versatility – depending on the colour and cut, fabric and function, it can be dressed up or down to be work-appropriate or date-worthy.
Best of all? You can run and you can jump in them, literally things that you will want to do once the gloom of COVID-19 fades away.
FOR THE BOARD MEETING
Keep the lines sharp and the colours muted when wearing baggy trousers to the Monday management meeting. This pair of pleated crepe wide-legged pants from Alexander McQueen checks the boxes if you are hoping to command attention. Once an apprentice on Savile Row, the designer's affinity for clean lines and precise cuts still influences the label's designs today. Tailored from black crepe, emphasise the flattering high-rise and pleated front by tucking in your shirt.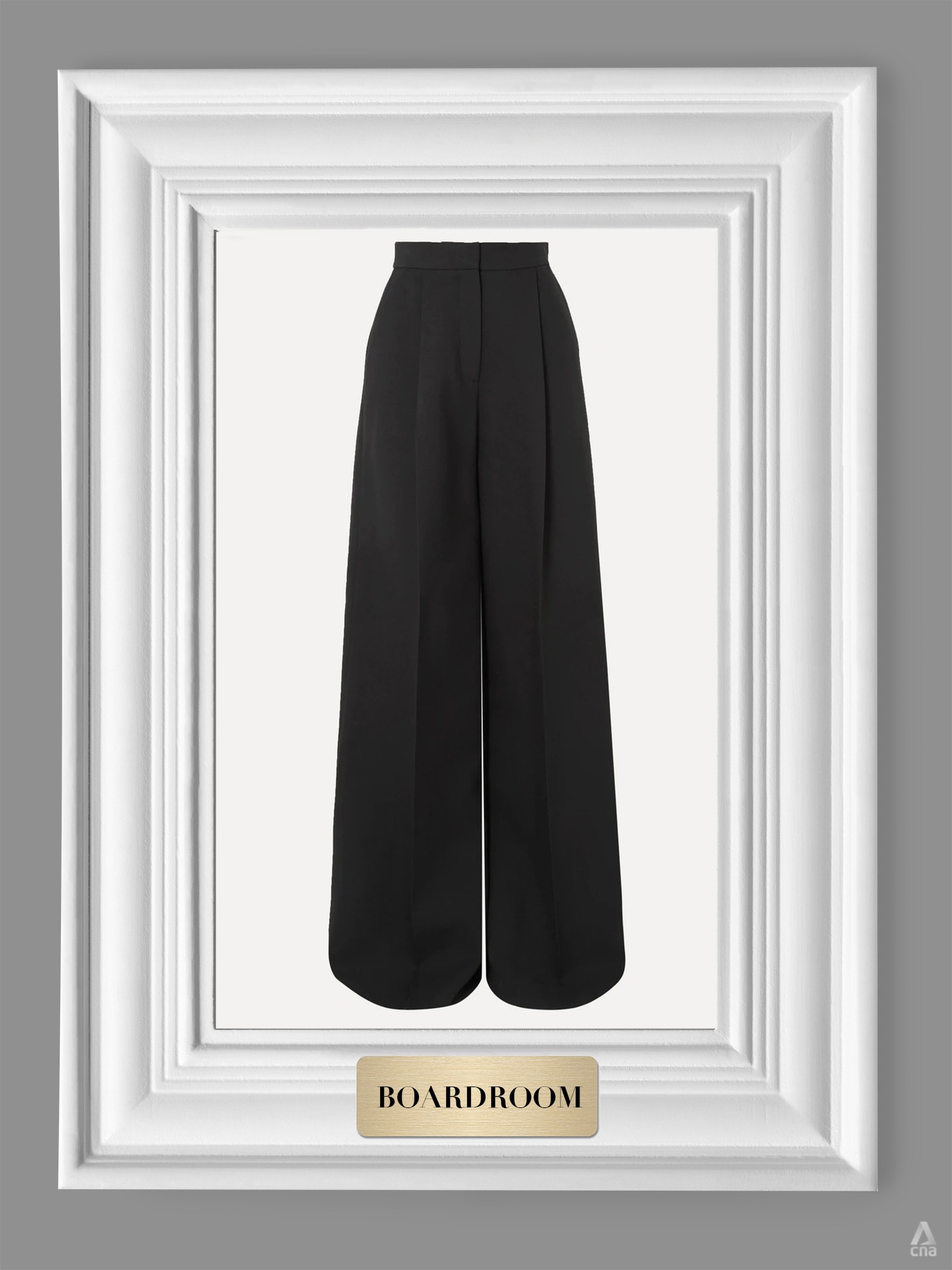 This grey version from Victoria Beckham represents modern minimalism at its best. Tailored from pinstriped herringbone wool, these pants sit high on the waist and have wide-legged hems that puddle effortlessly over heels. Style yours just as the former Spice Girl would – with a crisp shirt in a neutral hue.
If you prefer a look that is less severe, this pair from Dries Van Noten in a hazelnut tone manages to be both slouchy and tailored at the same time, thanks to the double pleats that accentuate the wide legs. Pair this with a matching blazer for a formal air, or simply slip on a soft white blouse.
For a style that's less strict and more forgiving, this pair of wide-legged pants from Bottega Veneta is beautifully constructed from brown wool-twill. Fluid in silhouette, it has a slim leather belt and sharp pleats that add just the right amount of structure without compromising femininity.
If you are after elegant drama however, you can't go wrong with Carolina Herrera. The beautiful cut on this pair that's made from cotton-blend sateen sits flatteringly at your natural waistline for an A-line effect. Match this with a voluminous blouse for a look that is demure yet professional.
BRUNCH WITH THE LADIES
It will be good to see friends again over a meal at your favourite dining spot. You can keep the mood relaxed with this extra roomy pair of pants from Marni. Representing the epitome of the season's relaxed vibe, this pair sits high on the waist, and the versatile army-green shade will go well with both vibrant or neutral tops.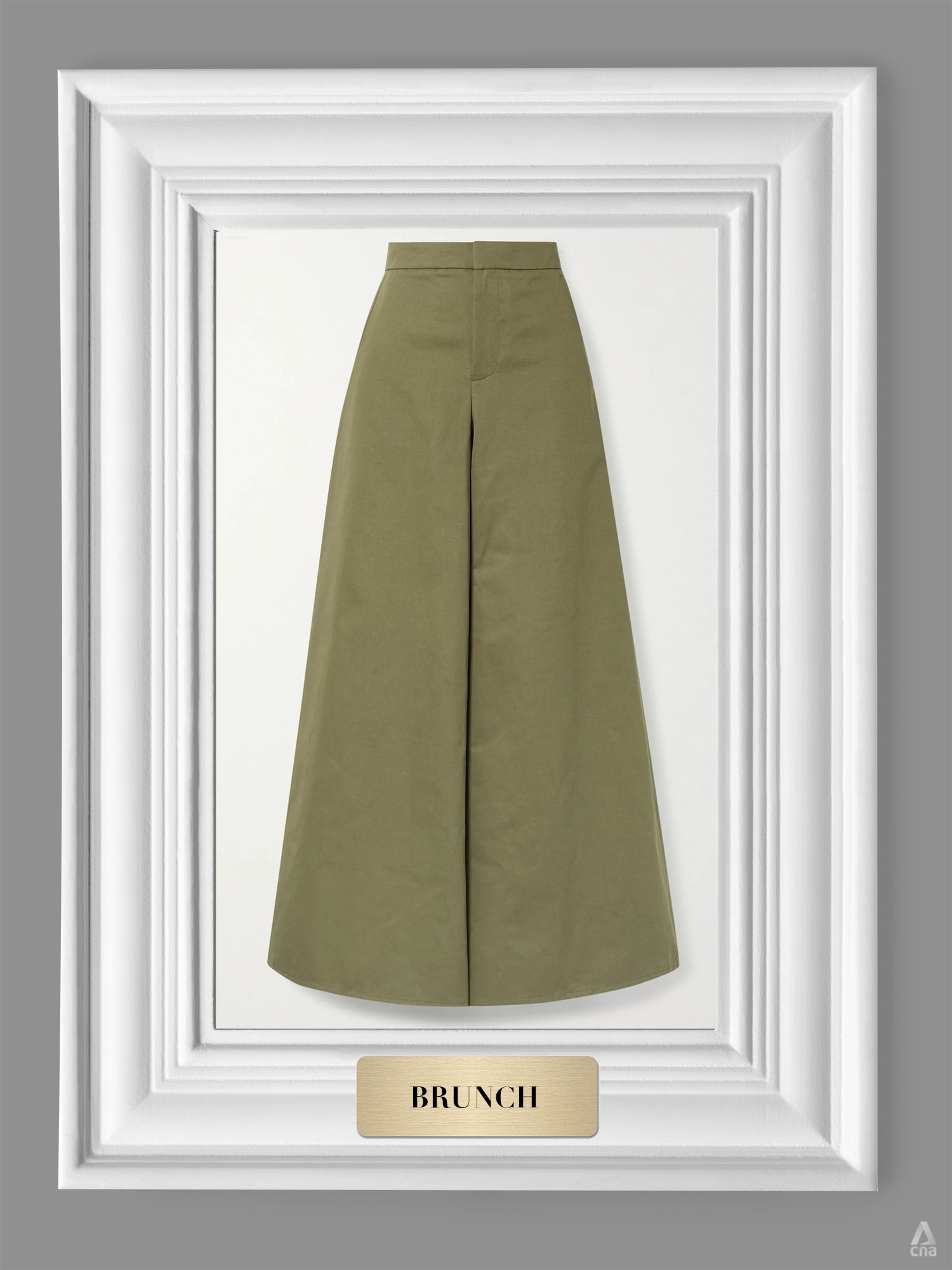 If you are a fan of leather, you will love this pair of trousers from Bottega Veneta that features exaggerated proportions. The long and super-wide legs have been crafted from buttery supple leather, so it actually feels as comfortable as it looks. But should you prefer a more classic fabric, this crisp linen number from Fendi promises understated elegance and timelessness.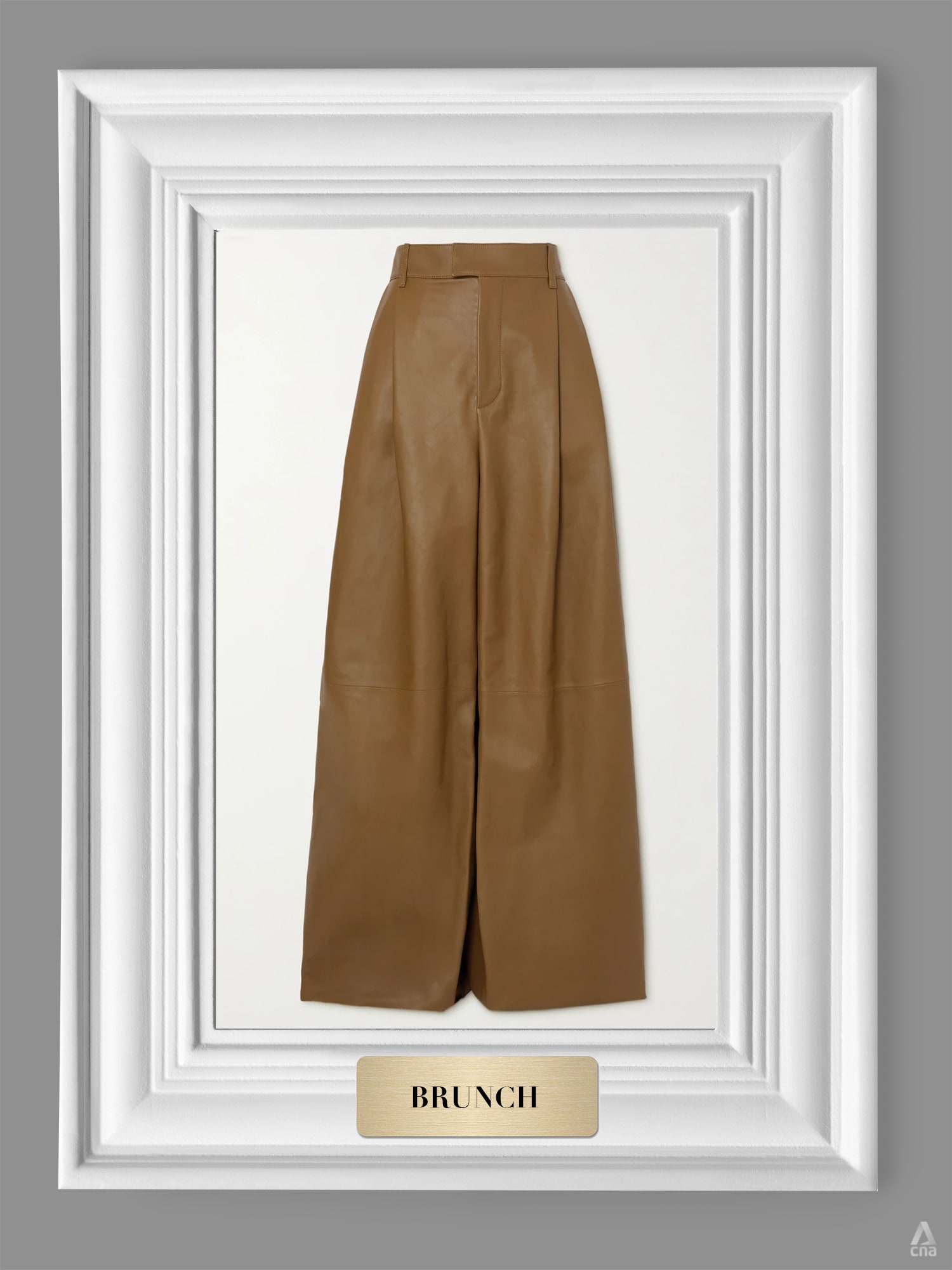 For a softer harem-style silhouette, this pair from Alexandre Vauthier with its high-rise waist and tapered cuffs fits the bill. Pair it with a silky blouse or take it up a notch with a sharply cut blazer. You also cannot go wrong with this pleated pair of pants made of stretch-wool from Altuzarra, which is designed with a flattering high-rise waist and sharp pleats that enhance the dramatically wide legs.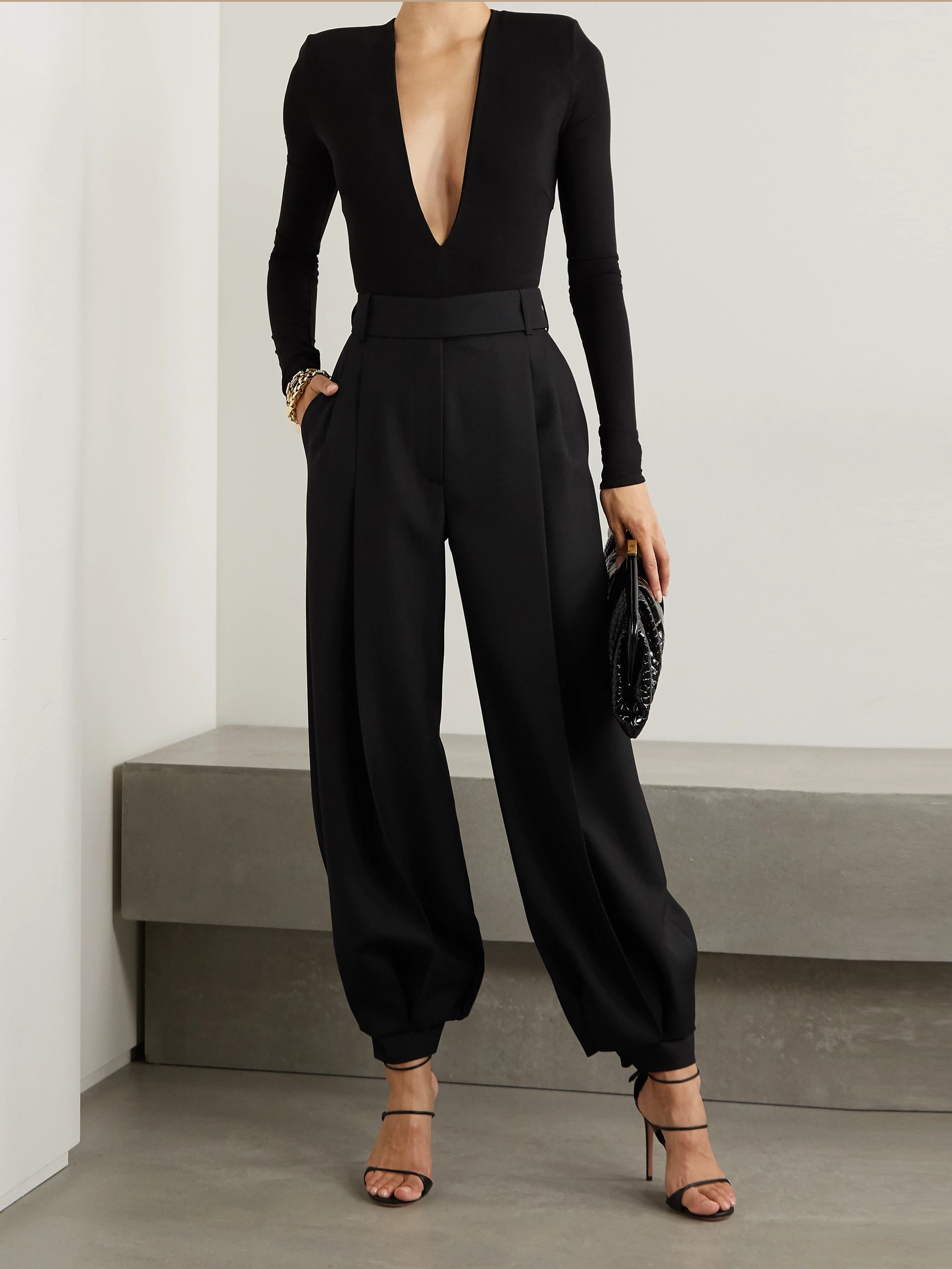 DATE NIGHT
Dressing up for an evening out with the beau has even more significance now, given that we haven't been able to do so for so long. So pull out all the stops with this pastel pink pair of cropped trousers from Dolce & Gabbana. Decorated with a gold-tone jacquard pattern, these trousers will make it an evening to remember. So too will this high-octane canary yellow pair from Gucci, which is delicately cut from wool blended with silk and jacquard, and woven with a discreet metallic silver GG motif. Punch it up with a black see-through blouse for added glamour.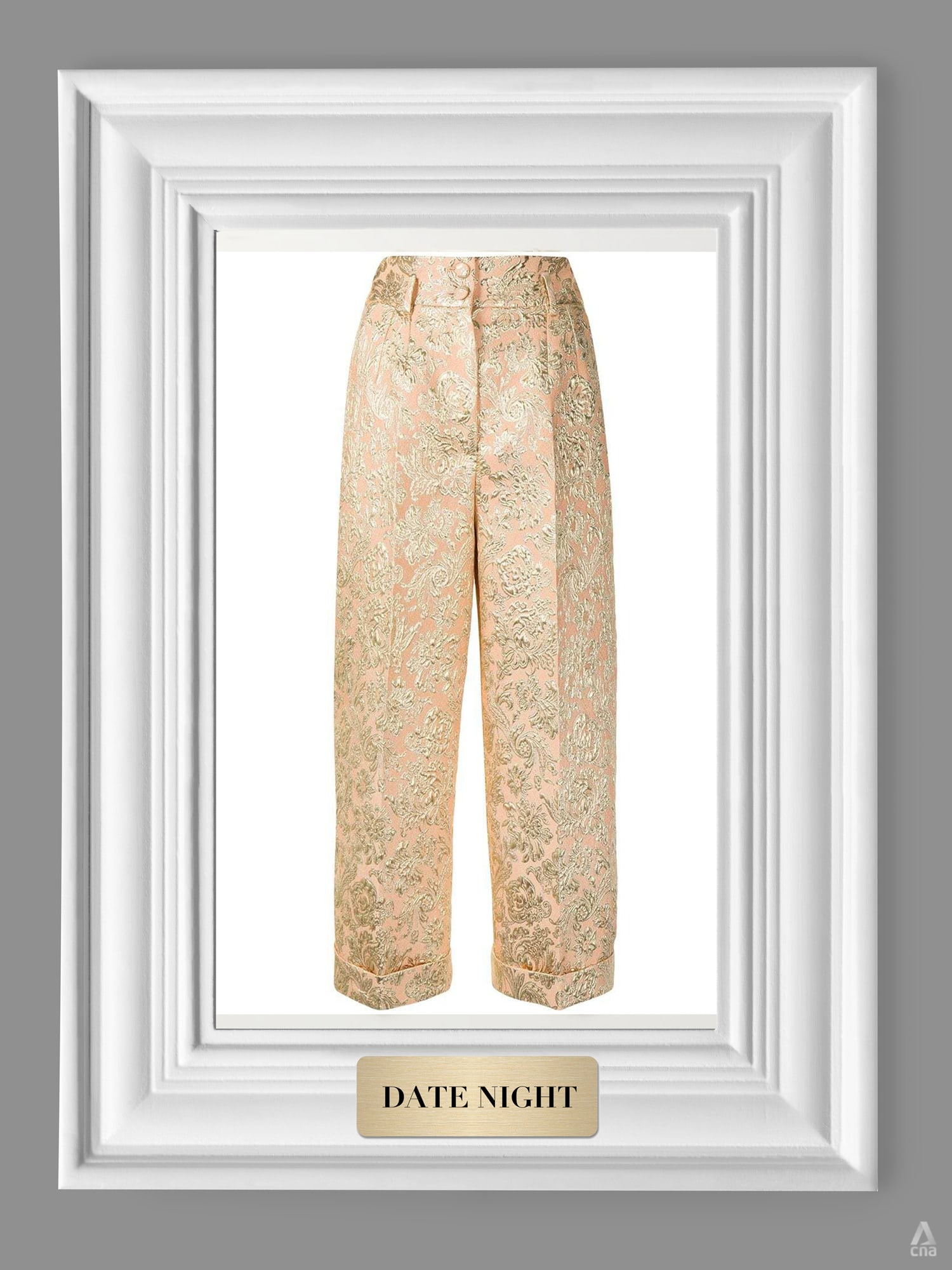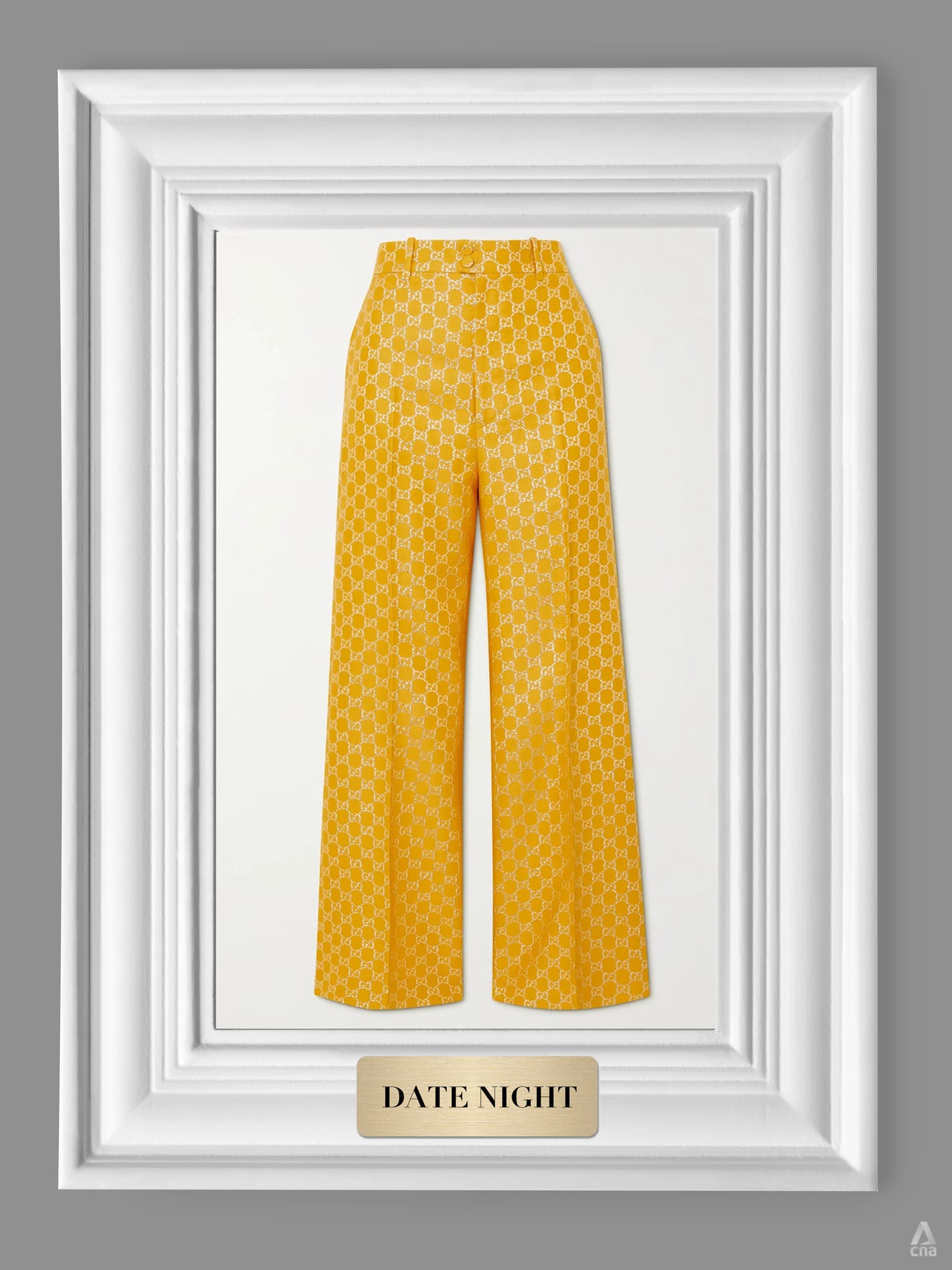 For something more muted but no less stylish, you can opt for this pair of chevron printed silk trousers from Giorgio Armani, which features a high waist and two side slash pockets. Its blue-grey colourway is at once fresh yet versatile, making it easily compatible.
Ultra sleek and feminine is how one would describe this fluid version from Roland Mouret that is deftly cut from navy crepe. The sharply pressed legs and midnight blue hue lend it unquestionable elegance. Classic, however, is how you could describe this gorgeous ivory tone wool-blend pair of wide-legged pants from Oscar de la Renta. While it is designed to be worn with a coordinating jacket, it can just as easily be styled with a blouse or bodysuit given its flattering high waist that enhances the figure and flowy legs that add inches to your height.