Which condos in Singapore are most conducive for cultivating inner peace?
Can your postal code help you cultivate inner peace? We round up five boutique condos designed as hidden sanctuaries to help you find your zen.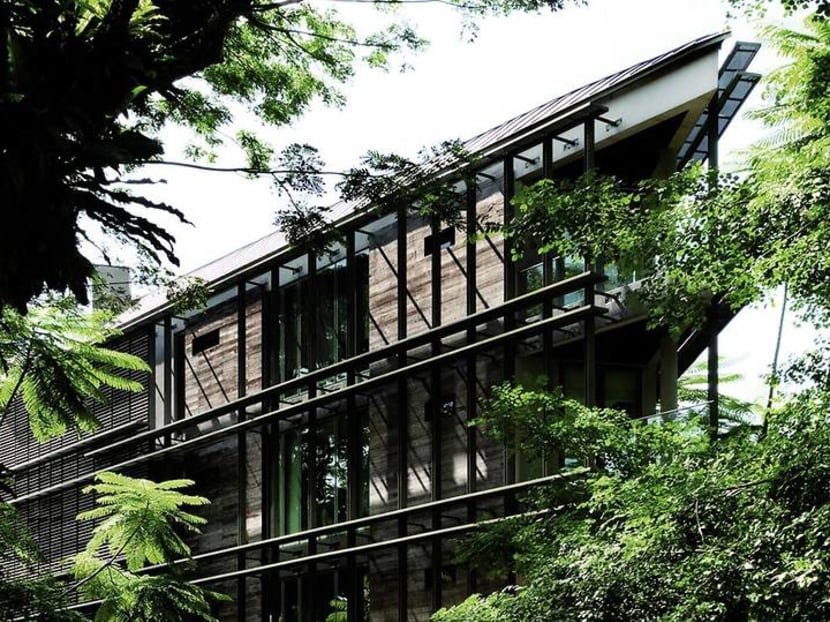 We don't know about you, but the circuit breaker certainly had us yearning for balconies, bathtubs and more spacious abodes. Not to mention the thirst to travel.
Armchair travelling only served to worsen the wanderlust. Thankfully, an almost-daily meditation practice did help keep cabin fever (mostly) at bay.
"Mindfulness is a great coping strategy," affirmed Stephen Lew, Founder of The School of Positive Psychology.
According to Lew, mindfulness refers to more than meditation practice; it can take many forms, such as mindful thinking, mindful writing, mindful speaking and even mindful eating.
"It's about how you to choose to engage with your thoughts and events around you. Mindfulness can increase self-awareness and increase our ability to manage our emotions; it is as important as physical exercise," he noted.
To assuage the surge of anxiety, fear and depressive feelings some of us may experience during this pandemic, Lew suggests developing a daily mindfulness practice, as it can also help boost our resilience, and recommends meditation apps such as Calm, Headspace, and Insight Timer to help anyone get started.
Mindfulness teacher and coach Sriven Naidu believes that every individual stands to gain from regular mindfulness practice, formal or informal.
"Both beginners and practitioners will benefit from even short informal practices like mindful eating and walking, or pausing deliberately during conversations to self-reflect and empathise more," said Naidu, whose corporate clients include Banyan Tree Hotels and Resorts, CapitaLand and Visa.
Human beings, said Naidu, are hard-wired for negativity. And the prolonged pandemic and its effects provide another reason to practice mindfulness.
"Bad news or forecasts affect us more strongly than optimistic news. Research shows that cultivating mindfulness, together with positive psychology interventions such as keeping a gratitude diary, helps us re-wire our minds and escape the contagion of excess fear and worry. Instead, we can maintain a useful level of concern and adapt where we have control," he explained.
Similarly, COMO Shambhala Resident Life and Mindfulness Coach Ralitza Peeva also encourages regular mindfulness practice.
"It empowers us to respond, not to react, and to observe and embrace the repertoire of choices that we have in any given situation," she said.
For those looking to practice mindfulness on-the-go, the wellness brand has just launched a digital wellness companion, COMO Shambhala By My Side, a monthly subscription service which provides access to a range of easy-to-follow video tutorials to help you deepen your personal mindfulness and meditation practices, recharge your health and well-being, and restore balance.
For those who prefer to practice at home, does the environment play a role in facilitating mindfulness practice, we wonder?
According to Naidu, first practice sessions should take place in a quiet, comfortable setting.
"[The] environment can be useful in many ways to both beginners and practitioners. Pleasant settings also make it easy to practice the virtues of appreciation and love for beauty," he said. 
If beauty be a harbinger for inner peace, sign us right up. To that end, we've combed the island in search of the postal codes that make for the most peaceful abodes.   
BOTANIKA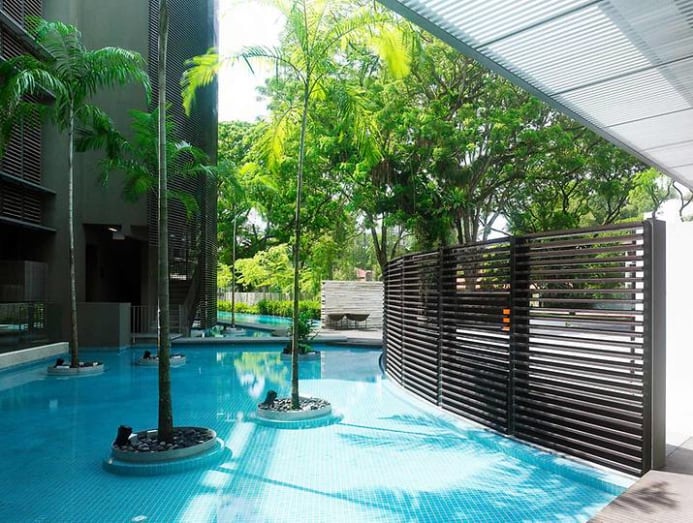 Imagine a modern, architectural structure encased in lush greenery.
Designed by Singapore's award-winning SCDA Architects, Botanika's hidden-in-a-forest feels come courtesy of each unit's wide, open terraces and floor-to-ceiling glass windows that reveal a green sanctuary at your doorstep.

With only 34 units in the entire development, this boutique condo along Holland Road in District 10 provides just the kind of quiet and serene environs perfect for contemplating life, love and everything in between.
CLUNY PARK RESIDENCE
Nothing channels peace and tranquillity more than being ensconced in greenery and Cluny Park Residence more than delivers.
Also designed by SCDA Architects, this four-storey development is the only condo in the Cluny Road neighbourhood of landed properties in the prime Bukit Timah district, located right next door to a UNESCO World Heritage Site – the Singapore Botanic Gardens.
Every balcony of this 52-unit property is angled towards the Gardens – guaranteeing you a bird's eye view of its lush landscapes as you perform your sun salutations to start your day energised yet centred and with a grateful heart.
Meanwhile, apartment windows beautifully capture the flora and fauna in frame, and intimate corners have been carved out as cosy book-reading nooks.
In the evening, take in soul-soothing sunsets from the infinity pool on the rooftop, also overlooking the Gardens.
The sense of spaciousness is amplified in the ground floor units, as these apartments open out fully to your own private terrace and pool.
EDEN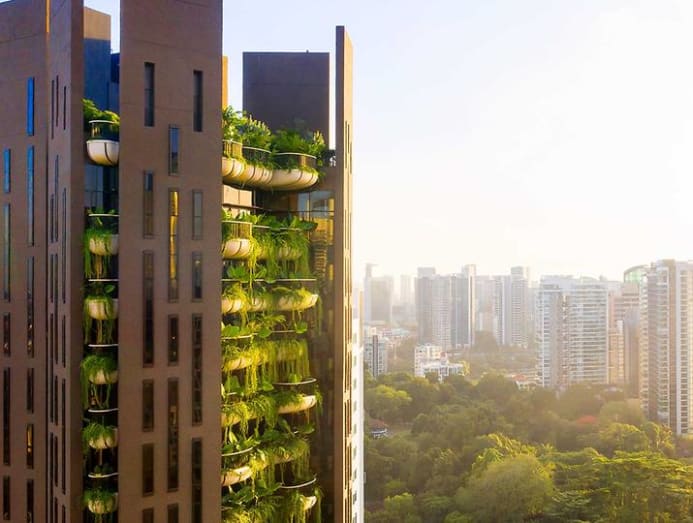 A Garden of Eden. That's exactly what multi-award winning British designer Thomas Heatherwick envisioned for this 20-storey development at Draycott Park, a stone's throw from Orchard Road.
But of the indoors variety, where you feel like you're living in a "private garden in the sky", the acclaimed starchitect described of his first-ever residential project, completed at the end of 2019.
EDEN is luxuriantly verdant, conceived around the concept of biophilia, which describes an innate tendency for humans to connect with nature.
Every floor of the tower features just one apartment with four en-suite bedrooms, spanning over 3,000 sq. ft. Natural ventilation within the space is optimised via nine doors that open out to the "gardens". These are cantilevered balconies fitted with garden planters large and deep enough to potentially even grow trees. Heatherwick hopes that when overgrown, the foliage will eventually almost camouflage the building's facade.
It's a concept that reduces the need for air-conditioning and therefore energy usage, thereby earning Hong Kong's Swire Properties' first local project a Green Mark Platinum rating from Singapore's Building and Construction Authority.
If the biophilia hypothesis holds true, residents should be living in the lap of luxurious wellbeing, at one with nature and perched high above the city. The balconies provide the perfect private garden-in-the-sky setting for mindfulness practice to expand the mind far beyond the sweeping 270-degree views of the city that this property proffers.
SEVEN PALMS SENTOSA COVE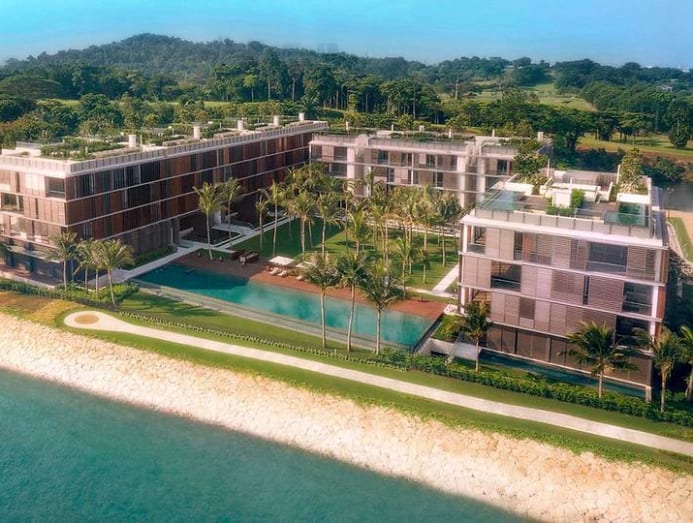 Who really needs an island getaway when your home is already a prized tropical paradise cocooned in unrivalled privacy and exclusivity?
As Singapore's only beachfront condo with its own private beach, Seven Palms' tropical holiday vibes simply can't be beat.
Its idyllic locale alone is enough to help you find instant calm; nestled in a quiet cul-de-sac between the golden sands of Sentosa's Tanjong Beach and the verdant rolling greens of the Sentosa Golf Course.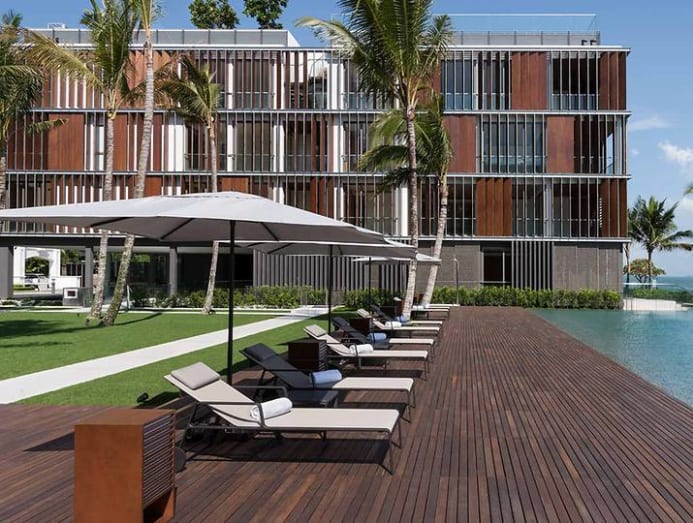 There are just 41 luxury beachhouse apartment units in this low-rise, four-storey development, each designed to invite the spectacular views of the South China Sea and beach lagoon right into your living space.
Built around a pretty coconut grove, the development's breathtaking seamless flow between its interior and exterior spaces earned it a nod at the 2015 International Architecture Awards by The Australian Institute of Architects Chapter.
The three-, four- and five-bedroom apartments range from 2,700 to 8,000 sq. ft., and all ground floor, beachfront and penthouse units come with their own private 10m lap pool.
All our worries would melt away, too, if we could end each day watching the sun descend over the horizon from our own private deck, lulled by the hypnotic ebb and flow of the waves.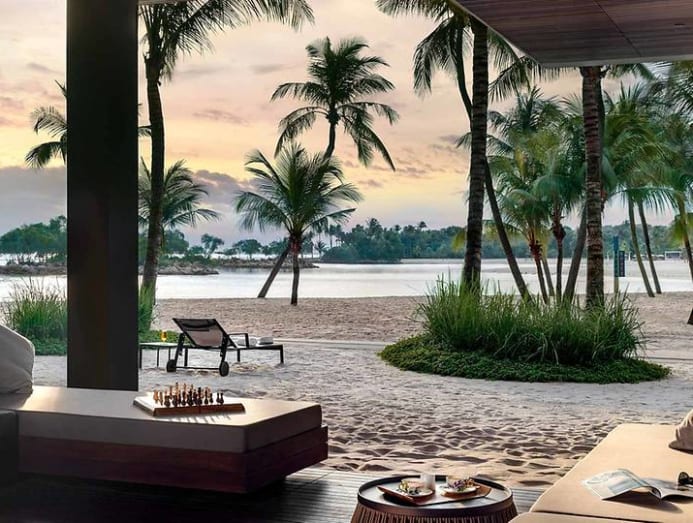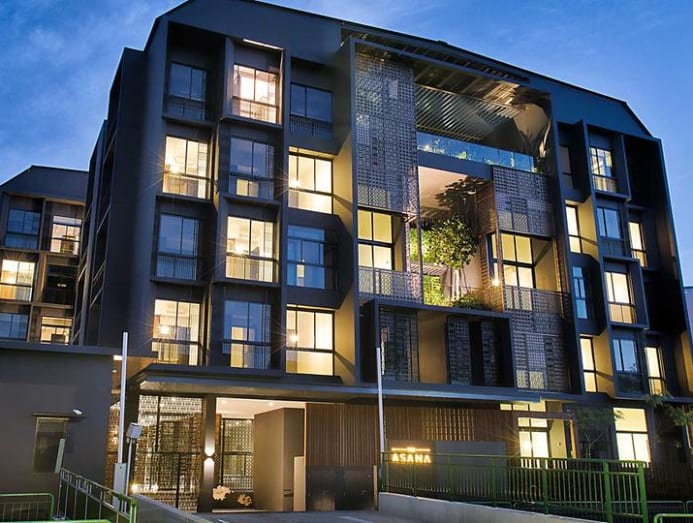 With a name like The Asana, you know this development is all about the zen.
Asanas refer to yoga poses, and yoga pavilions are an integral feature of this 48-unit development, spread across two tower blocks over five storeys, on Queen's Road in District 10.
So do sunken tea gardens, lily ponds and ornate screens, imbuing the condo's common spaces with a sense of tranquility and serenity, just as renowned architects Park + Associates intended.