Fashion conscious, conscious fashion: The French label making upcycling sexy
With consumers more than ever wanting to know where their clothes come from, French brand 1/Off Paris is among the current crop of designers looking at ways to recreate the supply chain, and succeeding.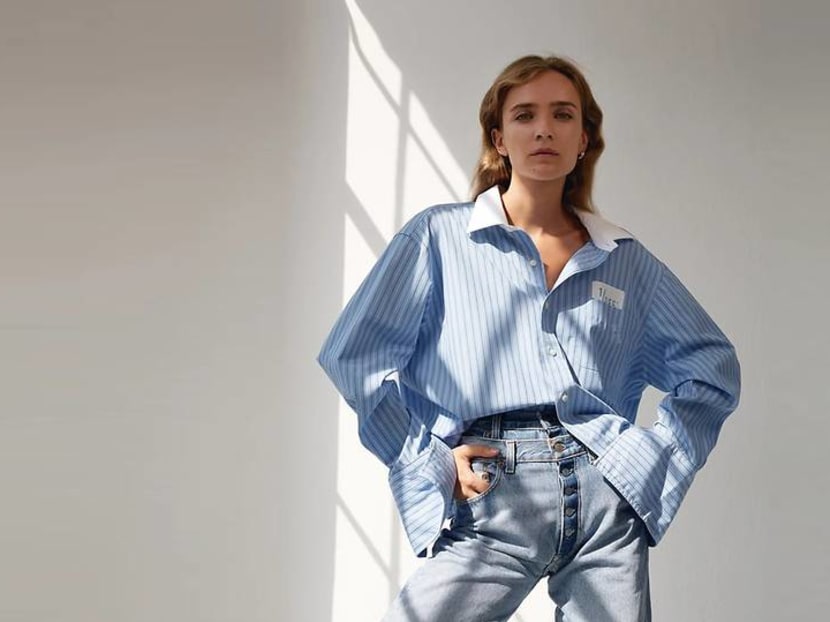 Denim jackets spliced with Chanel tweed, crisp white shirts with double Ralph Lauren collars and trenchcoats cut with oversized lapels, lined with Burberry's signature check. I am not looking at the perfectly curated rail in a "hype" Parisienne concept store; I'm standing in the showroom of 1/Off Paris, a new label selling genderless clothes upcycled from vintage items, many of which are designer.
Dutch co-founders Xuan-Thu Nguyen, head of design, and Renee van Wijngaarden, head of communications and marketing, met just 14 months ago. Both had seen first-hand the amount of waste produced by the fashion industry. Nguyen's family once owned large-scale clothing factories in the Netherlands, where she saw 20,000 sq. ft. storage facilities piled floor-to-ceiling with unwanted clothes.
Wijngaarden was formerly head of brand partnerships at luxury vintage etailer Vestiaire Collective and watched as warehouse after warehouse was filled with unwanted luxury products. Thus they decided to create a brand that would use these discarded clothes, extending their lifecycle and helping to make the industry more circular by using existing resources.
The response was immediate: Within six months of releasing their first collection, they have produced a capsule collection and pop-up shop for Harvey Nichols and moved into bigger offices in Paris to accommodate their growing staff (their atelier now boasts five full-time seamstresses).
Why? Because customer demand for their one-of-a-kind items is high – very high. Almost as soon as each trench, jacket or jean goes online, it sells out. This doesn't surprise me; most upcycled clothing looks drab, but 1/Off's pieces look as if they came fresh from the luxury stores in which they originated.
"I think our consumers see we have a very different approach to other fashion labels," said Wijngaarden of 1/Off's rapid growth. "They can understand our story and what we do, they can see it is authentic. Consumers more than ever want to know where their clothes come from and how they are made. Our process is transparent and so our clothes feel personal."
"I think our consumers see we have a very different approach to other fashion labels. They can understand our story and what we do, they can see it is authentic." – Renee van Wijngaarden
CONSUMER MINDSETS ARE CHANGING
Considering the enormity of the fashion waste crisis, 1/Off feels highly topical. A 2017 report by the Ellen MacArthur Foundation showed that one garbage truck's worth of textiles is wasted each second, and not even one per cent is recycled. It also estimates that by 2050 the industry's contribution to annual global carbon emissions will rise to 25 per cent.
However, consumer mindsets are changing. A 2019 Euromonitor International consumer survey revealed that 60 per cent are worried about climate change, and 64 per cent try to have a positive impact on the environment through everyday actions. That behaviour does not always translate to shopping, however, which is still driven primarily by aesthetics and price.
It's 1/Off's ability to compete on three fronts – looks, eco-credentials and, to a certain extent, price – that have made its collaboration with Harvey Nichols a hit. "Without doing anything other than putting them on the shop floor, all the blazers sold out in the first week," said buying director Laura Larbalestier.
Although 1/Off's clothes aren't exactly cheap, their prices are certainly competitive compared with box-fresh luxury garments. Shirts retail between £180-£350 (S$325-S$633), trenchcoats start at £850 and one striking Saint Laurent denim hybrid coat is online for £2,200 (on Saint Laurent's website trenchcoats retail between £1,930- £3,460).
"Fashion has for so long been dictated by season, old versus new, discount versus full price – 1/Off works outside of this cycle," said Larbalestier. "It's original, the pieces make a statement and are easy to mix with things you already own. They are extending the life of the clothes by reinterpreting them into something completely unique whilst also creating a more circular system."
The practice of upcycling is growing within fashion, highlighted at Paris Couture last month with houses Maison Margiela, Ronald van der Kamp and Julie de Libran all showcasing collections using second-hand materials.
But it's not just luxury houses making the changes, an entire cohort of young designers are forging a new future for upcycling and making it into a luxury concept.
London-based menswear designer Bethany Williams only uses organic or recycled materials such as discarded bell tents. Dutch designer Duran Latnik, like 1/Off, uses discarded vintage pieces from Gucci to McQueen to create his collage-feel collections, Latnik has also collaborated with retailers Liberty London and Browns Boutique. And last year, four out of the eight LVMH finalists used either recycled or waste materials within their collections (Williams among them). Upcycling also now has an official certification process, "UpMade", created by Estonian-based fashion designer Reet Aus, to ensure brands meet specific criteria.
"Upcycling has really started with designers themselves," said Larbalestier. "They are looking at ways to recreate the supply chain and consumers have really responded."
UPCYCLING IS NOT WITHOUT ITS CHALLENGES
One of the biggest challenges for the duo is sourcing their pieces to create a continuous and coherent ready-to-wear collection that is appealing and wearable. "We used to pick out a lot of the vintage pieces by hand going to vintage markets or buying loads of clothes by the kilo," said Nguyen. "It was hard to get a lot of similar pieces; it was too mismatched. We would find a great Saint Laurent jacket but not another."
The two now predominantly rely on specialised vintage buyers and second-hand sites such as eBay. "The vintage market itself is not transparent," said Wijngaarden, "but last year we worked to correct this within our business model, focusing on a supply chain with a more transparent network." The team has done this by attempting to work with suppliers who value a more sustainable process.
However, although 1/Off uses pre-owned clothing the duo do seek high-quality items that aren't necessarily always destined for landfills. Discarded luxury pieces are often sought out for resale. To counter this, both say that they are not using virgin materials (except for some strong thread which they do have to buy new to use on their more technical pieces), and this makes their business unique. Buttons are recycled, taken off old clothing and the majority of threads are old stock.
Making an item of clothing can take anywhere from four hours to a few days. Because each vintage piece is unique, and because the pair like to work almost exclusively with high-end labels such as Saint Laurent, Chanel and Ralph Lauren, their seamstresses have to tackle each garment individually from start to finish.
"Not all Chanel tweed blazers have buttons in the same place, or sleeves sewn the same," says Nguyen, "so it takes a lot of expertise to re-work it into one of our in-house styles. The trick is to make each old piece work within the current collection whilst keeping its identity. The pieces we choose are already of such high quality – we just want to update them."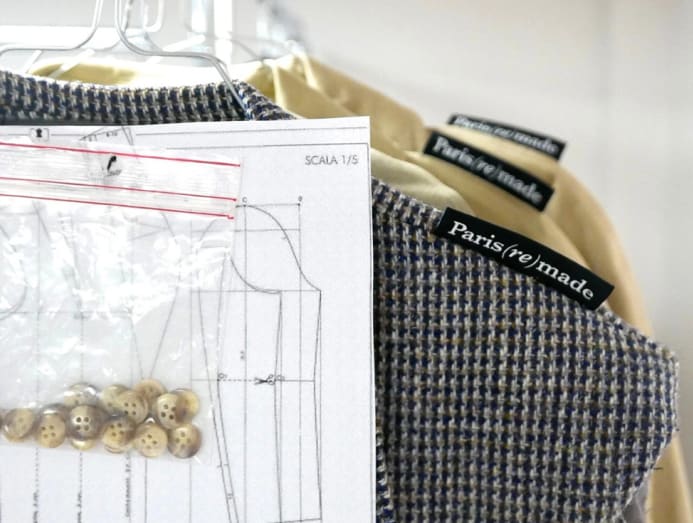 Due to the nature of 1/Off's model, surely the idea of scaling production is of some concern? Apparently not. "The vintage market is vast, there is so much waste and there are plenty of resources," said Wijngaarden. "And due to our production being entirely in-house, we can expand easily. We aren't limited; it's just a new way of thinking."
What does 2020 hold for the brand? "We now have massive labels approaching, like Levi's, to collaborate or asking us to give advice on our upcycling model," said Wijngaarden. "It's a super exciting time, for us and also for the industry. We hope to grow, sustainably, and we want to show that fashion's mindset can change."
"Fashion has for so long been dictated by season, old versus new, discount versus full price – 1/Off works outside of this cycle. It's original, the pieces make a statement and are easy to mix with things you already own." – Laura Larbalestier
By Flora Macdonald Johnston © 2020 The Financial Times