Not just for wine: What does a house built entirely out of cork look like?
The Cork House in the British town of Eton is garnering attention as one of the most sustainable – and adventurous – experiments in architecture in the modern age. But is it strong enough?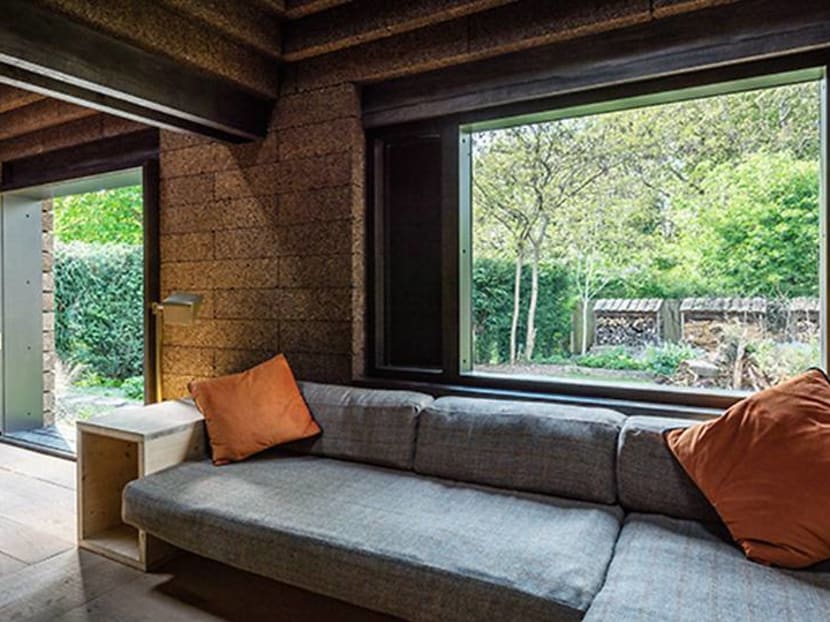 Wine corks often crumble on the end of a corkscrew, so cork may not seem a robust choice for building. It is difficult to imagine an entire house constructed from a byproduct of their manufacture. Yet robust is exactly what Cork House is. On a picturesque island between tributaries of the Thames at Eton, it is an odd little building with stepped roofs.
Dark, tactile and beautifully textured, Cork House must be one of the most sustainable houses built in the modern age and even gained a place on the 2019 RIBA Stirling Prize shortlist, announced last month. But cork? Seriously?
Cork House is not just clad or lined in cork but also built almost entirely out of the material. As its architects Matthew Barnett Howland, Dido Milne and Oliver Wilton guide me around, they show me a slide of a section through a typical house. There are layers of stuff – the blockwork, the brickwork, the cavity, the insulation, the moisture membranes, the surface finishes, plaster, paint and so on. "Could we get rid of all that and do everything in one material, one solid block?" Barnett Howland asked.
AIRTIGHT AND WATERTIGHT
He could, as it happens. We might not think of cork as the strongest material, or the most robust. But if it is deemed the best material to stopper bottles of expensive wine it must surely be airtight and watertight. "We wanted to reboot the wall," the architect said, "[with] one single solid material to replace all those layers. Cork was just the means to achieve that end."
It might be a new material for walls but paradoxically it forced the architects back to the most archaic of forms. "Cork is excellent in compression," Barnett Howland said (think of those wine-stoppers) "but absolutely useless in tension. We weren't using any mortar between the blocks so we ended up in the same architectural territory as the dry stone wall." That territory includes the oldest and most elemental forms of building: The beehive huts at the Skelligs in Ireland, the dry stone bunkers of the Bories village in Provence, the megalithic temples of Malta.
If these structures sound archaic and archetypal, the techniques used to build Cork House are a combination of archaeology and high technology. "I built it myself," the architect said, showing me his hands and gently knocking the walls to show how solid they are. "But the blocks were 3D-milled by a robot." The result is a compelling combination of the elemental and the futuristic. From outside, the house is characterised by its roof: A row of five truncated, stepped pyramids. There is a touch of the beehive about them, but also an intimation of Mayan temples and pagan tombs.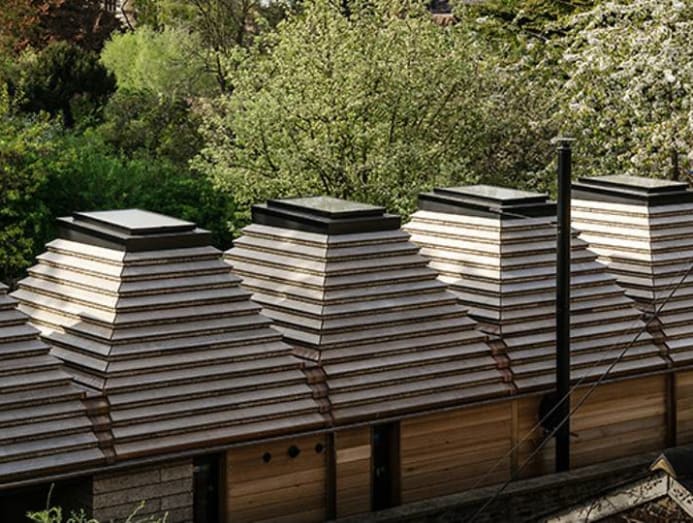 Inside, that same sense of timeless forms persists as those pyramids assert themselves from beneath as stepped chimneys capped with rooflights. The effect is as if they were open to the sky, the most elemental relationship between space and the heavens imaginable. "The roof lights are steel and they act almost like paperweights," the architect said. "They press down on the cork and keep it in place, stopping the roofs from blowing off. And the window lights also stop it getting too Hobbity." The windows are usually left slightly open, which creates a stack effect, sucking exhaust air out the top.
CLASSY CIGAR BOX
If cork sounds a little dingy, it is not. Quite the opposite. The interiors are rich and sheltering, evoking timber panelling. It feels like being in a very classy cigar box. "We were a bit worried about the anechoic chamber effect," he confessed. "Cork absorbs sounds so well. But there is just enough timber and furniture for it not be become a problem."
The set-up is simple. A kitchen and living room, bedrooms, bathroom and a cosy-looking sleeping space stowed under one of the pyramid roofs. Windows and a sliding door give on to the garden. The texture of the cork imparts an almost agricultural feel, as if this were a deeply functional structure whose use has been slightly mislaid, but which makes a lovely house.
The most pertinent thing about the material, though, is its impeccably green credentials. Cork comes from a type of oak tree that grows in Mediterranean climates, in carefully protected, biodiverse landscapes and is only harvested every nine years. It is the bark of the tree which is removed from the trunk, leaving clumps of trees looking a little like flocks of shorn sheep, their midriffs exposed.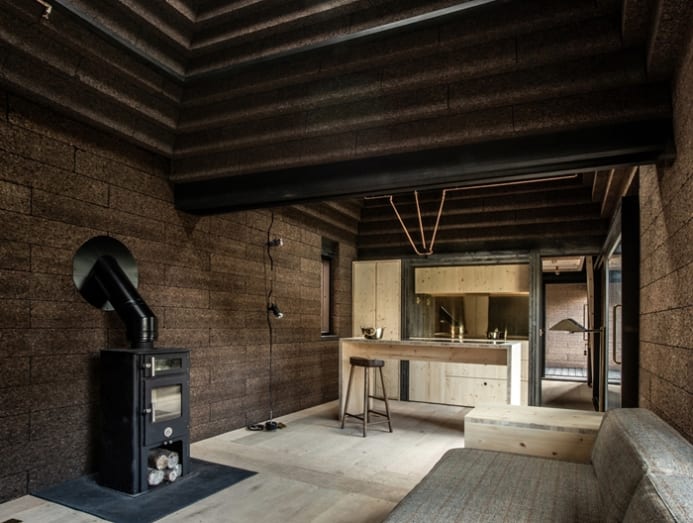 The best material is taken for the wine industry, the rest is used as a building material, mixed with a not-so-sustainable polyurethane and the material that is left over after all that is what the architects have used to build the house. These granulated dregs are bonded together using their own natural suberin, the hydrophobic biopolymer that gives cork its flexible corkiness. The lack of any other additives means that at the end of its lifecycle the material can be reused, regranulated and reformed or simply retired to the earth where, apparently, it helps to aerate the soil.
Many self-proclaimed green buildings perform well but often less thought is given to how they might end their lives. This is a material that not only sequesters carbon as it grows but can turn back to the earth without a trace. "It's a real cradle to cradle material, just going back into the soil when it's finished," Barnett Howland said.
EVERYTHING IS AN EXPERIMENT
What about price, I ask. There is a pause and a hesitant, slightly pained, expression. "Well, it wasn't cheap," he replied. As this was a house for themselves, that might have been a problem, had they not secured grants (from Innovate UK and the Engineering and Physical Sciences Research Council and assistance from cork manufacturer Amorim) covering much of the research. There were also academic partners, Bath university and UCL, enabling a project to go quickly from research to finished form.
The problem with developing what is, in effect, an entirely new building technology (albeit employing one of the oldest materials) is that everything is an experiment. Were this to be taken up at scale, prices could come down drastically, although this probably is not a solution to the mass housing crisis or environmental collapse. But it is a tantalising and intriguing experiment in a super-sustainable material that has, for too long, been overlooked and seen only as the slightly sad, cylindrical fragments that remain after a party.
CORK IS ALL AROUND
Cork has a rich history in modern architecture. In the 1970s when I was a child, cork floor tiles were modern – one of those postwar DIY fixes that people glued on the floors or walls of their Victorian terraces to transform them. As I got older I encountered cork tiles in rehearsal studios, huge planes of the lovely material with that tobacco tinge and holey texture.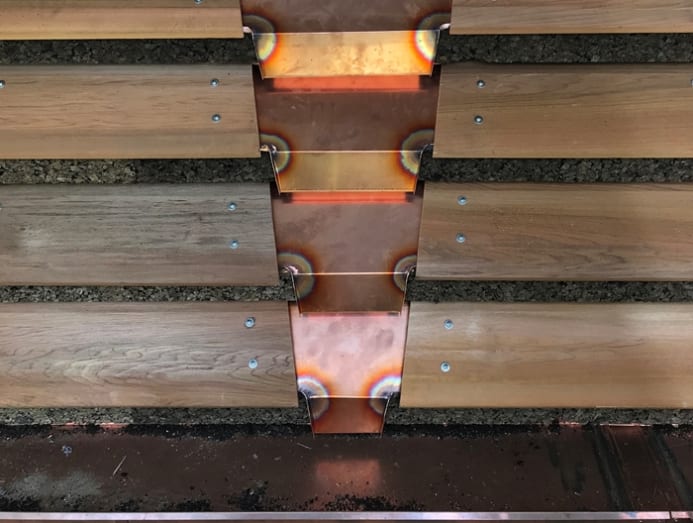 Cork is in the strange shapes of anechoic chambers, with their spiky walls designed to reduce echo to zero. It is in the peeling walls of Marcel Proust's bedroom, intended to insulate against the horrors of the outside world. And, more recently, it appeared in Eduardo Souto de Moura's Portuguese Pavilion at the Hanover Expo in 2000 and again at Swiss architects Herzog & De Meuron's dark, semi-subterranean Serpentine Pavilion, designed with Ai Wei Wei in 2012.
Jasper Morrison, Ilse Crawford and Herzog & De Meuron created beautiful cork furniture, and Portuguese architect Joao Luis Carrilho da Graça blended cork with concrete to lighten the structure of Lisbon's cruise ship terminal.
That cork is a modern material is evidenced by its use as a membrane covering the nose cone of space rockets, allowing them to withstand the heat of re-entry. This most earthbound of tree barks is a space-age wonder.
By Edwin Heathcote © 2019 The Financial Times